March 12, 1944. Seventy-three years ago this past Sunday, the North Carolina College for Negroes Eagles (now North Carolina Central University) played the Duke University Blue Devils' medical school team in what is widely considered to be the first integrated basketball game in the South, now known as the "Secret Game."
Again, this was 1944. That's three years before Jackie Robinson first played for the Dodgers, 10 years before Brown v. Board of Education, 23 years before Duke accepted its first black scholarship athlete. The game had to be played in secret because everything about it was illegal. Anyone caught would be arrested or worse. The teams met behind bolted doors in the Eagles' gymnasium on a Sunday morning, when most of the town was at church and, therefore, less likely to find out what was happening. The idea for the game first came up during secret prayer meetings between YMCA chapters of the two schools. At one gathering, the players started debating who had the best basketball team in town. The Eagles were 19-1 in the Colored Inter-collegiate Athletic Association but were not invited to the NCAA or NIT tournaments because those organizations did not allow black schools to participate. The Blue Devils had won the Southern Conference championship, but the medical school's intramural team was actually considered to be better. The Army and Navy had set up special programs at Duke and at other schools to train doctors for the war, and many of the medical students were more talented than the Duke undergrads. The teams eventually agreed to the matchup, and they arranged the game for March 12 of that year.
The Eagles won 88-44, leaving no doubt which team was superior. Afterwards, the schools mixed their rosters and played a truly integrated game of shirts-and-skins basketball. Some school students had climbed up outside the building and watched this game through the glass, no doubt in shock at the sight of it. Edward Boyd, a team manager for the Eagles, spoke of the near-surreal nature of the illegal contests, saying, "For the first five minutes, you felt like you were the biggest sinner in the world, in the biggest church in the world. But then we found out that the black wouldn't rub off and the white wouldn't rub of."[1] The Duke team ended up showering in the Eagles' dorms and sharing drinks and laughs with the players afterwards.
Despite all the good will the game sparked between the schools, nobody talked about it. After all, everyone involved had just committed a crime, and the consequences could have been severe, even violent. The game stayed a Durham secret for more than 52 years until Scott Ellsworth first broke the story for the New York Times Magazine in 1996. He subsequently wrote a book about the game—The Secret Game: A Wartime Story of Courage, Change, and Basketball's Lost Triumph.
It's tempting to look at the game as a sign of things to come, as the first step that led to wide scale integration, but this wasn't the start of a movement. The Eagles and Blue Devils did not make any attempt to integrate the NCAA. They just wanted to know who the best team in town was and wanted to prepare themselves for the post-integration competition they'd eventually see down the road. That was it. They just wanted to play.
***
March 14, 2017. There are five NBA games being played tonight. The Pistons are in Cleveland facing the Champs, the Pacers are visiting the Knicks, the Thunder are taking on the Nets in Brooklyn, the Blazers are battling the AD-led Pelicans, and the Sixers are in Golden State challenging the struggling Warriors. What these games all have in common is that they're diverse, they're integrated, and they're not being played in secret. This is something we've all come to take for granted, but this year, the anniversary of the "Secret Game" takes on an added significance because it comes at a time—and during a presidency—when diversity has come under attack in this country.
President Trump has consistently demonized and vilified Muslims, immigrants, and refugees from the earliest stages of his presidential campaign, painting them as fundamental threats to this country's security, despite evidence that they're not. What's more concerning than any individual policy of his, though, is his constant use of fear to drive his agenda, to pit Americans against groups of people by continually pointing to an Other that should be both feared and fought. At its core, this is a battle over our popular imaginations of one another, over how we see the person next to us, and those conceptions must be driven by empathy, not fear.
Popular images are important. Popular narratives are important. They can shape how individuals perceive other individuals, and we've seen time and time again how those perceptions can turn deadly. In his piece for Mic on the death of Terence Crutcher—an unarmed black man shot and killed near his car by a police officer in Tulsa, Oklahoma—Zak Cheney Rice writes about how white imagination distorts black realities and perceives blackness as dangerousness:
In a 2015 interview with the Guardian, poet Claudia Rankine observed that "blackness in the white imagination has nothing to do with black people." She was responding to a question about her poem, "Stop and Frisk," part of which reads, "Because white men can't/ police their imagination/ black men are dying."

Her point was that black lives are beholden to white fantasies. Black people are imagined as inherently dangerous, she suggests, and killed because of the threat they are presumed to pose, even if it has nothing to do with who they are as human beings.
James Baldwin said something in "The Devil Finds Work," his 1976 essay, "The root of the white man's hatred is terror, a bottomless and nameless terror, which focuses on the black, surfacing, and concentrating on this dread figure, an entity which lives only in his mind." It's this popular image of blackness as darkness, as wrongness, as danger that led that man in the helicopter to say of Crutcher, "That looks like a bad dude."
It's the same reason George Zimmerman got out of his car in the first place. But it's also the reason Adam W. Purinton shot two Indian immigrants in a bar in Kansas in February—killing Srinivas Kuchibhotla—after mistaking them for being Arab and taunting them about not belonging in the US (he also shot a third man who tried to apprehend him).
It's the same reason a Sikh man was shot in his own driveway in Kent, Washington earlier this month by a man telling him, "Go back to your own country." It's the popular image of browness as darkness, as wrongness, as danger that has become common during Trump's presidency.
Specifically, what we're left to confront more and more these days is the non-Muslim's imagination of the Muslim and the native-born's imagination of the immigrant. And the NBA has the opportunity to shape those images in the public imagination every night, to create empathy, not fear.
There are more Muslims in the NBA—11 at the start of this season—than in any other major American sports league, but most casual fans probably have no idea who they are. The NBA could change that. The League could make a concerted effort to celebrate its religious diversity and use its platform to create positive images of Islam in America. On Martin Luther King Jr. Day this year, The NBA on TNT ran a special broadcast celebrating MLK's life and work. It was thoughtful, enlightening, and entertaining television. Surely, the network or the League itself could do something similar shedding light on Islam in the NBA. A broadcast featuring current Muslim players like Dion Waiters and Enes Kanter, past legends like Hakeem Olajuwon and Kareem Abdul-Jabbar, and Muslim activists or political leaders could help to combat negative stereotypes about Islam and create more positive popular images of the religion.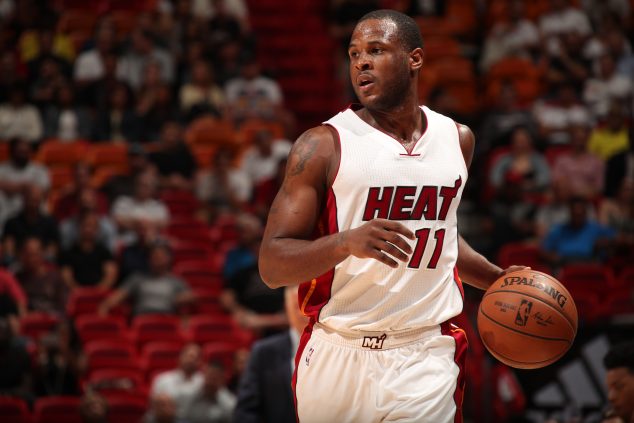 This may not seem like ordinary work for a sports league, but these are not ordinary times, and NBA Commissioner Adam Silver has already shown his willingness to engage important social issues when he banned former Clippers owner Donald Sterling from the League for life after racist comments of his came to light. Surely, Silver could be similarly bold now and could use the League's reach and resources to help shape the popular imaginations of its fans.
The NBA wouldn't be alone in these efforts. Elsewhere, on all levels of the sport, Muslims are using basketball to support one another and to change public perceptions of their faith. Two years ago, an all-Muslim AAU team in Michigan chose to name their team the "Motor City Muslims" to combat negative images of Islam and to prove that a Muslim team could be formidable on the hardwood. This year, the Chicago Muslim Basketball League—a rec league that raises money for charities and educates non-Muslims about Islam—is holding an interfaith tournament on March 25 and March 26 in Carol Stream, Illinois. In Dearborn, Michigan—home of the highest concentration of Arabic people in a city outside of the Middle East—Coach Osama Abulhassan has been leading an all-Muslim high school basketball team on the road for away games into rural Michigan towns, where the mother of an opposing player called one sophomore player a "terrorist," counseling them about the difficulties and potential dangers they face in opposing gyms and periodically reminding them about his own struggles living in America after 9/11 with the name Osama.
At the end of those games in 1944, Boyd said, "The black wouldn't rub off and the white wouldn't rub off," and that's still true today. Skin is skin is skin. Faith is faith is faith. Anyone telling you otherwise—politicians, presidents—they're all lying to you, and they're doing it for specific reasons. Let's all take a moment and celebrate the fact that tonight's slot of games don't have to be played behind locked doors, that no leader—however powerful—can hide this country's diversity. It's on display for millions of people every night. Finally, let's all appreciate that if the NBA chooses to, the League can play an active role in shaping how Muslims and immigrants are depicted and imagined in this country, and making those associations positive and empathetic can actually save lives.
Those players in Durham were not trying to be activists, and nobody found out about the "Secret Game" until decades later, but it still had a profound effect on everyone involved. They bonded. They saw themselves in one another, even if they couldn't tell anyone about it. And now, what went on for those students on a Sunday morning in the shadows when no one was looking, out of sight from the law and the land, is happening under bright lights in crowded stadiums and on national and international television, not so secret games being broadcast across the world to millions of people in almost 50 languages in over 200 countries.
Popular images are important. Popular narratives are important. The NBA has the opportunity to tell stories that matter, to affect how individuals perceive other individuals. That's a tremendous power. Here's hoping the League wields it for all it's worth.
—
[1] "The Secret Game of 1944," Duke Medical Alumni News. Spring 1998. 7.
Vinay Krishnan is an attorney and a writer living in Brooklyn. Follow him @vinayrkrishnan.
Images via NBAE/Getty