Bailey Howell just wouldn't listen on Sundays. He didn't want to hear his aching muscles screaming. Or his weary bones complaining. He was tired and beaten down. But there would be no day of rest for him. It was time to overcome the pain and fatigue. To summon the strength and discipline necessary to race past those who were listening to their bodies begging for relief.
The NBA was different in the '60s. There were no fat television contracts, and attendance was spotty, especially for mid-week contests. The League packed its action into the weekends, hoping for more fans, and that meant some stretches of three games in three days—and even a withering four straight sometimes. By Sunday, the strain of competition and travel would knock some players back. They might be on the court, but they weren't too keen on working all that hard. A cranky knee or bum shoulder made more convincing arguments than did pride and duty.
That was when Howell went deep. Back to the times when his school would let out in the fall to let the kids help with the cotton harvest. Some vacation, huh? He remembered the work he put in with his small-town Tennessee high school team that helped it reach the state tournament, despite being part of a graduating class of just 34. He would fix his mind, do the best he could to ignore the pain and play.
"I felt like every night you needed to contribute, whether you felt good or not," Howell says. "We played a lot of games on Friday nights, Saturday nights and Sunday afternoons. On Sunday afternoon, everybody was out there feeling sorry for themselves. If I could make my body do it with the strength of my mind, I was all right. I had some of my good games on Sundays."
Howell didn't just produce on the weekends. Throughout his Hall of Fame career, the 6-7 forward brought his roughhouse brand of basketball every game. A six-time All-Star and two-time World Champion, Howell scored efficiently, rebounded physically and competed with an abandon that made him the perfect teammate—and a fearsome opponent. Howell wasn't dirty. It's just that in a League that included some of the fastest and springiest, he was neither. He compensated with effort and overwhelming desire. No one was going to outwork Howell.
"He was a fierce competitor," Hall of Fame forward Billy Cunningham says. "He would do anything humanly possible to stop you from scoring or to score himself. He was right on the edge.
"When we were on the same team [in 1970-71], I made sure I didn't play against him in practice. I'd end up with a welt."
It's hard to imagine the soft-spoken Howell as a dervish on court, but he understood early that his basketball path would continue not because of physical gifts—although at 6-7 and 210 pounds, he did have a frame suited for the 1960s game—but because of his hard work. An All-American at Mississippi State, Howell played for four NBA teams, but it was his four seasons in Boston, at the end of the Celtics' run of 11 titles in 13 years, that earned him most notice.
With teammates like Bill Russell, Sam Jones and John Havlicek, Howell wasn't going to stand out, even though he was Boston's second-leading scorer twice during his time there. The Celtics didn't run plays for him, and that was fine. He shot when he was supposed to, created opportunities for himself on the offensive boards and fit perfectly into the Celtics' team approach. And why wouldn't he? After playing in relative anonymity with Detroit and Baltimore for seven seasons, a player like Howell was delighted to be with a franchise that operated the way he did.
"He was the perfect player for the Celtics," Cunningham says. "He didn't need the ball a great deal to score. When he was open, he shot it. He didn't pound the ball to beat somebody off the dribble. He knew his limitations, and he knew his strengths."
***
In today's hoops world, AAU ball is known for enough gear to fill a dozen gym bags, summer tourneys in Vegas and other hot spots and a rather laid-back approach to defense. When Howell finished his four years at Mississippi State, it was a much different scene. And he was thinking about becoming part of it—instead of playing in the NBA.
Back then, no high school kids played AAU basketball. Teams sponsored by companies around the country competed, usually with former college stars, and every four years the best of them all would represent the United States in the Olympics. Players received jobs that paid well and then practiced after work. It was a pretty good deal. There was only one problem.
"I wanted to play with the best," Howell says. "And, of course, the money was about double what you would make in the AAU league."
That's why, when the Pistons took him with the second pick of the second round in 1959, Howell decided against becoming a company man and joined the NBA. It wasn't easy for a product of the South's farming world to move to the industrial Midwest, but Howell had an adjustment to make that went beyond the cultural divide. From the time he was a prep star through his three seasons in Starkville (freshmen weren't eligible to play at that time), he had been a center and was strong with his back to the basket. The NBA didn't have any 6-7 pivotmen, so Howell had to change his game.
"Playing on the perimeter meant I had to learn a new skill set I had never developed before," he says.
Howell may not have been able to take people off the dribble, but that didn't matter when he was in high school and college. Despite growing up in Middleton, TN, a town of "about 300 people," he attracted the attention of SEC programs. Kentucky, then (as now) the biggest thing in Southern basketball, sent an assistant coach to recruit Howell. But Mississippi State dispatched boss man Babe McCarthy. "Ol Magnolia Mouth" lived up to his nickname, selling the Bulldog program to Howell and his family.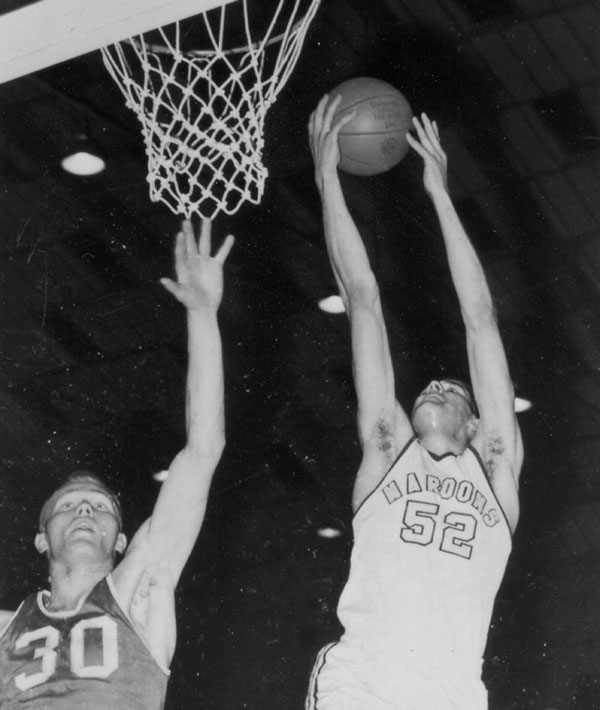 McCarthy's personal touch paid off handsomely. Howell became the bulwark of the MSU program and graduated as the school's all-time leading scorer. (Jeff Malone passed him in 1983 but needed four years to do it.) The '58-59 Bulldogs finished 24-1 and captured the SEC title, losing only to Auburn. Howell was a First-Team All-American, but Mississippi State never made it to the NCAA Tournament. The university's administration prohibited the team from playing because it didn't want the Bulldogs competing against rivals that had African-American players on their rosters. Howell had to settle for becoming Starkville royalty. The school has retired his number and named a street on campus after him.
"Most schools, once your eligibility is over, they kind of forget about you," Howell says. "That was not the case at Mississippi State. They have continued to promote me wherever they can. It has been a lifelong association."
Although Howell reports having to change his style of play to handle the switch from the pivot to forward, he was immediately successful in the NBA, averaging 17.8 ppg and 10.5 rpg with the Pistons as a rookie. Despite earning All-Star berths in each of his next four seasons in Detroit, the team finished below .500 every year. Because there were only nine teams in the League, the Pistons made the Playoffs four times but never truly contended.
In the summer after the '63-64 season, Howell was part of an eight-player trade that sent him to Baltimore. "They pretty much traded everyone on their rosters to each other," he says. His two seasons with the Bullets weren't much different than his time in Detroit. The team reached the Playoffs both years, largely by default, since it had an sub-.500 record both times. Howell continued his steady scoring and board work and played in the '65 All-Star Game, but he wasn't happy with being on the NBA's outskirts. That changed on September 1, 1966, when Baltimore traded him to Boston for Mel Counts. He'd gone from the margins to the NBA's seat of power. Boston had won nine of the last 10 titles. "Now, I'm in Fairyland," Howell says, laughing. Howell was perhaps the perfect person to join the Celtics, thanks to his commitment to the team and his tremendous competitiveness.
"Bailey was one of the nicest guys you were going to meet," says Kevin Loughery, who played 11 NBA seasons, including parts of four with Howell. "He was a deeply religious man. He never drank or smoked. But when the bell rang, he was a terror. He was one of the most underrated players of his time."
Philadelphia snapped the Celtics' string of eight straight titles in 1966-67, Howell's first year in Boston. "Was I the kiss of death?" Howell jokingly asks. As the '67-68 season dawned, many thought the dynasty was done. Russell and Jones were old, and Philadelphia was rising. But despite finishing eight games behind the Sixers in the East, Boston won a seven-game conference championship series over Philadelphia, overcoming a 3-1 deficit in the process, and took care of the Lakers in six games to win it all. Howell was magnificent in the clincher in L.A., scoring 30 points and grabbing 11 boards.
"The tradition was there," Howell says. "It's hard to explain what it does for a team. It kind of allows you in tough games to win."
Howell finished second in scoring on the Celts in 1968-69, when Boston won its final title of the Russell era, dumping L.A. in seven games. He lasted one more year with the Celtics before spending the '70-71 season with the Sixers. That was his last run. Howell could have extended his career, but he chose to leave the game before he became a deep reserve.
"At times [during the last year], I could play as well as I ever did, but night after night, I was behind some," he says. "I could have hung around and contributed at times, but I spent a lot of time on the bench. For most of my 11 years, I had played as many minutes as I could."
Howell took a job with Converse selling and promoting the legendary Chuck Taylor shoe that dominated the court. "For a long time, we were order takers, not salesmen," Howell says. He spent 23 years with the company before retiring to Starkville. He helped Mississippi State raise funds and relished a strong relationship with the school he served so well as a player and alumnus. Howell was inducted into the Naismith Hall of Fame in 1997, a well-deserved honor for a standout who had maximized his potential.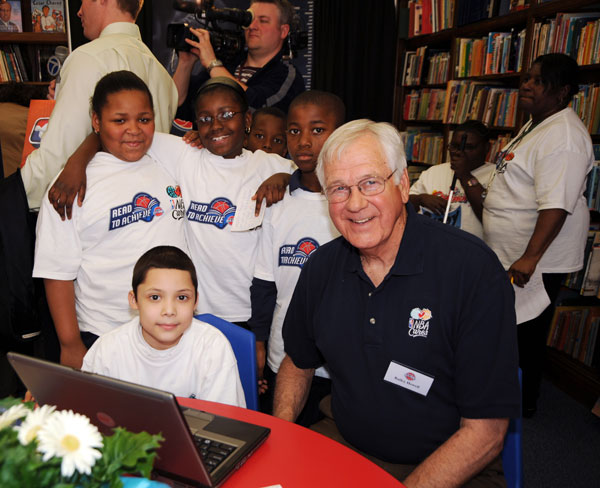 "A person should be judged on how close he gets to 100 percent of his talent," Howell says. "If I could make myself come to play every night, whether I was feeling good or bad, whether my legs were dead or whatever, I could compete."
And usually succeed.