There's 30 minutes remaining before the final regular-season game in Dallas, and the layup line has turned into an impromptu one-man dunk clinic. This is to be expected when there's a former Dunk Contest champion in the house, even if he only ever won one, and has long since left the Eastern Conference team he won it with far behind. It's still what he's best known for. He makes each dunk look effortless, catching the ball way above the rim before throwing it down with casual authority. Then, as the buzzer sounds, Gerald Green jogs to the visitors' bench.
On the home end, 37-year-old Vince Carter sticks to jumpers, high-arcing ones with picture-perfect backspin. He engages 5-11 rookie Shane Larkin in a bit of one-on-one and tries a couple of effortless 40-footers from the AIRLINES in "American Airlines" on the right side by the scorer's table. No good. As a video promo airs that pushes him for Sixth Man of the Year—complete with #VInceforVI hashtag—he's busy shooting a corner fallaway. It doesn't appear that he's paying attention.
But he did see Green's aerial display. "Easy stuff. Easy," he says after the game. "I remember when—I was like, ah fuck, I remember I could do that. Now it's just like, Yeah buddy, take care of your body. Take care of your body."
The thing is, Carter can still do that, just not as often as he used to. "It's actually amazing how athletic he still is for 37," says Dirk Nowitzki. "Once in a while he drives in there and just hammers on somebody." Carter agrees with his teammate's assessment but acknowledges he has different priorities now, ones that didn't concern him a decade ago. "Now I just think let me get it in and get back [on defense]. Because it's not even the going up, it's coming down now. That's the problem."
***
When Vince Carter talks about his own past, there's almost a sense of wonder in his voice, as if he's talking about a different person entirely. And in a way he is. The 37-year-old Carter is very different from the 22-year-old rookie who dropped 22 in just his third game and tried to dunk on every big in the League en route to a Rookie of the Year season with the Toronto Raptors. He played in all 50 games of that lockout-shortened season, starting 49, and put the fear of being on the wrong side of a SportsCenter highlight in everyone he faced. And, for a League that had once again gone Jordan-less, there was another heir apparent.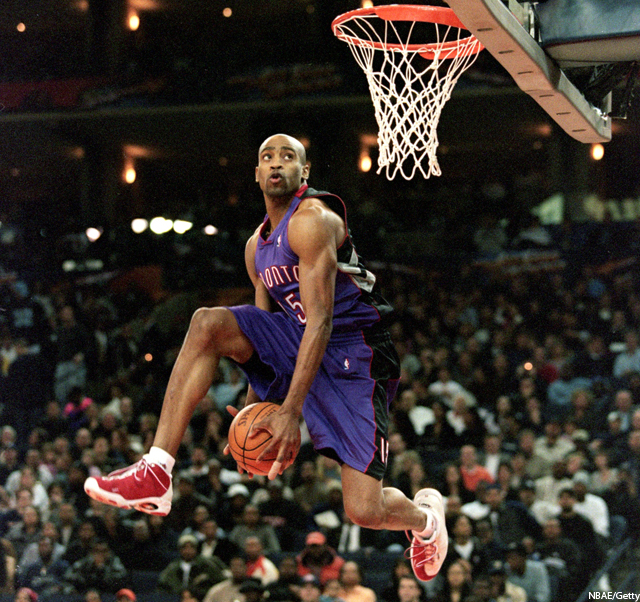 It's hard to describe exactly what watching Carter in his prime was like. For those of us who grew up watching Jordan and Dominique Wilkins destroy opposing defenses it wasn't entirely unfamiliar, but there was something more. Carter's dunks seemed to shift into slow motion even as they were happening, that half-beat of pause making the dunk itself that much more powerful. He flew like Jordan and crushed like Dominique or Shawn Kemp, the ball going through the hoop so hard it would hit the floor long before he did. He'd break out contest-worthy dunks in games—windmills, double-clutch reverses, 360s the wrong way. And once he did find himself in a Dunk Contest, well…let him tell it.
"I was looking forward to that, that was my moment," he says. "I wanted to—I used to watch it, tape the dunk contest, just study it. They didn't even have to ask me, I was gonna ask them if I could be in the Dunk Contest for one. I was excited about the All-Star Game on Sunday, but I thought, mmmm, Saturday baby. I was just like, I can't wait. I'm ready. I wanna show the world what I can do. Yeah, people think they know, you've seen some stuff, but…" He pauses. "It's funny, all of the dunks that I thought I was gonna do that night I didn't do. I didn't think I was gonna win."
Excuse me? Did you just say…
"Yeah, I didn't do it. I made that stuff up. The only dunk that I was gonna do was the 180 under the basket. The 360 windmill? I was barely making that dunk when I was trying it, so I was like, there's no way I'm gonna do this. But when I got out there in that layup line, and see all the people—friends and teammates, Antawn [Jamison] my former college teammate, my former roommate and all that stuff, celebrities and just the buzz in there for it, and I just feel like in the layup line I was just puttin' it in easy and I was like, those dunks might not work, let me just dribble back. I wasn't sure [about the 360 windmill], and then I was like, Well, if I'm gonna do it, I'm gonna do that on my first dunk so at least if I miss I'm gonna mess up on my first one but hopefully everybody else doesn't do too great and I have a chance to catch up on my second dunk, maybe third dunk. And when I took off, it felt like—I just powered up, I don't know, but when I took off, I was like, Oh man, it's over for these people."
Understand, while today's Dunk Contests may have devolved into prop-filled spectacle, in 2000 they were about sheer athleticism. And in that particular contest, guys were bringing it—from Carter's Toronto teammate Tracy McGrady to Rockets rookie guard Steve Francis, whose career may have reached both its figurative and literal apex that night. It didn't matter.
"Once I got that first one, I was just in another zone," Carter says. "I was just like, If someone's gonna beat me tonight, you'd better come up with somethin'. Because after that [first dunk] I was just sitting there thinking about some stuff that I could do. Like the arm in the rim stuff, I had never done that in my life. I thought about that right then and was like, Well, I'ma try the arm in the rim. That's how good I was feeling."
It was plenty good enough. Carter signaled it was over walking back from his first attempt, while Kenny Smith hysterically declared the same thing on TV. Carter would wind up with perfect 50s on three separate dunks, the first to do so since Jordan in '88. It wasn't absolute perfection, but it was close enough to where no one could really tell the difference.
I was in the building with current Ed. Ben Osborne, and trust me, the excitement was palpable.
The afterglow lasted surprisingly long. In fact, Carter's high-wire act didn't actually peak until that summer, at the Sydney Olympics, where an ill-advised pass turned a potential France fast break into one of the most-watched videos of all time. Carter picked the ball off in the backcourt, took two dribbles with his left, switched the ball to his right and went right at 7-2 French center Frederic Weis, who cringed in anticipation of a blow that never came.
"I never, I never, ever ever imagined jumping over a player in my life," Carter says. "I didn't even know it until after the game. I saw it on video."
The following season may have been Carter's best. He was named a starter on the All-Star team again, and although he chose not to defend his Dunk Contest crown, he still managed to throw down the defining dunk of the weekend in Sunday's game. Finally extricated from the Puma deal he signed as a rookie, VC did it all in his signature Nikes, whose brand-new Shox he had debuted in the Olympics. He averaged a career-high 27.6 ppg, along with 3.9 assists and 5.5 rebounds, and led the Raptors to 47 wins, a single-season total they wouldn't top until 2014. And while he had impressive games in the regular season—48 points on the Bucks, 45 on the Pacers, 46 on the Suns—he'd save his best for the Playoffs.
That was the year the young Raptors finally grew up. They won their first-ever Playoff series, beating the New York Knicks—who were just two seasons removed from their own Finals trip and had home-court advantage—in five games, before moving on to face the top-seeded Philadelphia 76ers. Led by MVP Allen Iverson, the Sixers were a blue-collar team assembled as complementary pieces around their unquestioned leader. Fans anticipated a showdown between Iverson and Carter, and they wouldn't be disappointed.
In the very first game, the Raptors wrested the Sixers' hard-earned home-court advantage away with a three-point win in Philadelphia, with Carter scoring 35 to Iverson's 36. The Sixers—and Iverson—responded with a Game 2 victory, spearheaded by Iverson's 54 points. Fortunately, the series was moving back to Canada.
Game 3 was probably the pinnacle of NBA basketball in Toronto, at least so far. It's easy to forget now, with Carter long gone and even the mention of his name still drawing the ire of select Raptor fans. But if it wasn't for Carter's high-flying game and his global popularity—he was one of only three players, along with Jordan and Julius Erving, to be the leading All-Star vote getter three times—maybe the Raptors are playing their home games in Las Vegas or Oklahoma City now.
Instead, they're still in the (since renamed) Air Canada Centre, the home of Game 3. And in front of his adoring home fans, Carter played the game of his life, scoring 50 points of his own and leading the Raptors to a dominating 24-point win. The tug-of-war continued. Iverson scored 50-plus again in a Game 5 Sixers blowout, putting the Raptors on the brink of elimination. But Carter responded again, scoring 39 in Game 6 as Iverson struggled, scoring 20 points but shooting just 6-24. This set up Game 7 back in Philadelphia. There was just one problem.
Carter, who left the University of North Carolina following his junior season, had finally earned enough credits to graduate, and his commencement was on the morning of Game 7. He chose to attend, knowing he could easily make it back for the 5:30 p.m. tip. Given that athletes are often excoriated for their topsy-turvy priorities, this should have been seen as a heroic moment, a superstar choosing to show what was truly important. It wasn't.
The game itself was a slugfest. Neither team broke 90, only the Sixers managed to score more than 25 points in a single quarter, exploding to a 31-21 lead in the first. But behind Carter and Antonio Davis, the Raptors fought all the way back, holding the Sixers under 20 in each of the remaining three quarters. With two seconds remaining, Toronto had the ball out of bounds, trailing by one. Carter fought free to receive the pass, put up a long two from the left wing…and missed. The Sixers moved on to the conference finals; the Raptors went home.
Carter would stay in the purple and red for three more seasons, but that shot was the beginning of the end. He was not only betrayed by fans and media, who used the missed shot to question his decision to attend graduation, but by his body, which was finally beginning to break down. After missing just seven games over his first three seasons, he missed 22 in his fourth, then 39 in his fifth. There were times when he must have felt like the oldest 26-year-old on the planet. He adjusted his game to ease some of the impact, but that decision wasn't lauded either. "I felt like I was always a pretty good shooter," he says, "but everybody wanted to see me dunk the basketball."
Traded to the Nets early in the 2004-05 season, he found some new life playing alongside Jason Kidd, and Nets PA announcer Gary Sussman found a new catchphrase in "DID YOU SEE…VC!" But these were the post-Finals, pre-Brooklyn Nets, and even as Carter rebounded to play 79 games in his first full season, averaging nearly 25 points and leading the Nets to a 49-win season and the conference semis, he still had a tendency to shoot rainbow threes instead of charging hard to the rim and emasculating shotblockers. It only made the dunks he did throw down—like one that utterly destroyed Alonzo Mourning in front of his home Miami crowd early in that 2005-06 season—all the more poignant. Why couldn't he do that all the time?
Regardless, Carter was still a star, posting some of the best games of his career, including an absolutely absurd 46-point, 16-rebound, 10-assist triple-double in 2007 (in an overtime game where Kidd posted a triple-double of his own). He also drew further ire from Toronto fans in 2008, as he responded to their boos with a three-pointer to send the game to overtime and a game-winning reverse alley-oop in the extra session. He'd finish with 39 points. But it appeared his popularity at least was waning. His eight straight All-Star selections ended in 2007. And upon being traded from the Nets to the Magic in 2009, he was clearly entering the second-star stage of his career.
Things went downhill rapidly from there. He had a 46-point game in Orlando and served as an able lieutenant to Dwight Howard. But he only lasted a year there, before being dealt once again, this time to the post-D'Antoni Phoenix Suns. He looked old and played older, and in 2011 the Suns bought Carter out of the final year of his contract, paying him $4 million to just go away. For all intents and purposes, his career looked to be reaching its end. At 34, Vince Carter was done.
Or maybe he wasn't.
***
Carter ended his third year in Dallas this May in a seven-game first-round loss to the San Antonio Spurs, a series in which he dropped 28 points—on the road, no less—in a Game 5 loss. He played out his initial three-year contract and seems set to receive another. "I think he has at least two or three years if he wants it," says Mavs teammate Brandan Wright. "He could easily play 'til 40."
Even if Carter retires tomorrow, he's long since silenced the naysayers and accomplished more than most. He's played in more NBA games than Jordan or Chamberlain and passed Adrian Dantley to become one of the top 25 leading scorers in NBA history. (He'll have to do it all over again next year, unfortunately, as LeBron James is just 20 points behind.)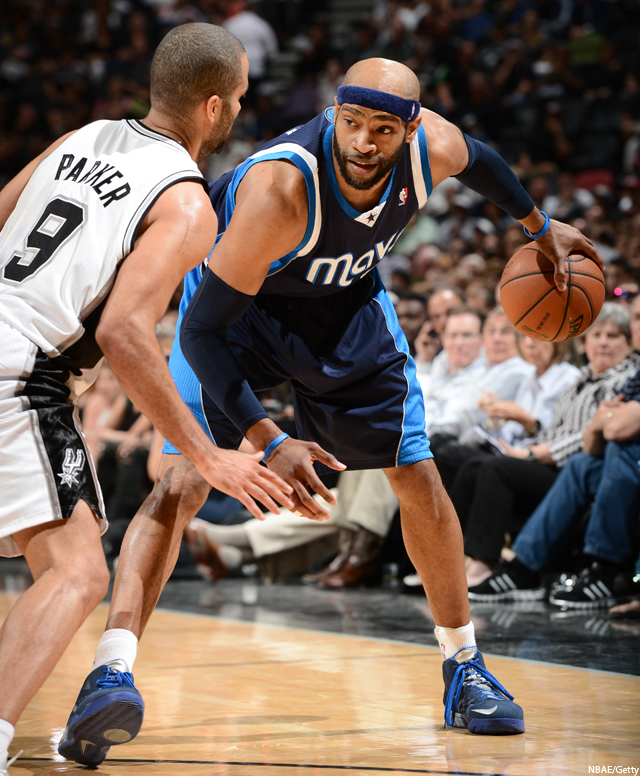 But most of all, Vince Carter is content, happily discussing his past in a way that wouldn't have been possible 10 years earlier. There's even a tiny Lego figure in a purple Raptors No. 15 uniform above his locker. He's somewhat noncommittal about his legacy—"I hope one day that it happens, Hall of Fame, jersey retirement. I'm just gonna keep doin' what I'm doin', and hopefully it's clear-cut when it's time"—but he's absolute in his desire to keep playing. Well, somewhere anyway. Told that the 26-year-old Wright hopes to have an equally long career, Carter smiles.
"I won't be playing [in the NBA]," he laughs. "I'll be playing in a men's league somewhere, best believe that. I know I won't be able to sit still. I won't be able to play in the big leagues, but I'll be in somebody's league tryin' to drop 30 every night."
Russ Bengtson is a senior staff writer at Complex. He tweets @RussBengtson.