It's a cloudy Sunday afternoon in downtown Miami, the skies dark and foggy. But inside a private gym on the 19th floor of the JW Marriott Marquis on the north bank of the Miami River, the Minnesota Timberwolves' future shines bright. Less than 24 hours after his first NBA start, Wolves rookie Zach LaVine is casually hoisting jumpers, his 6-5 frame draped in a team-issued hoody and a pair of Jordan Vs on his feet.
At just 19 years old, the Seattle, WA native is one of the youngest players in the League. Given his background, though, it's not surprising to see him succeeding so early. LaVine's father, Paul, is a former NFL linebacker for the Seahawks, and his mother, CJ, was a softball star. "We're a sports family," says LaVine.
When he wasn't hooping, LaVine played a mean centerfield on the baseball diamond. But even from a young age, his incredible athleticism always pushed him towards basketball. "I had a little hoop in my garage, my dad nailed a hoop to the wall. I always used to watch Space Jam, with Bugs Bunny and Michael Jordan, and then I'd go down there and practice Michael Jordan dunks," recalls LaVine. "Once, I got my feet caught in the net at five years old. I had to call for my dad because I was hanging upside down."
Not long thereafter, LaVine started to make a name for himself in the Seattle area, dominating players two or three years his senior on the AAU. He was slight in build, but strong-willed and fearless. Not to mention, the kid had bunnies beyond even his own belief.
"The first time I ever dunked a ball was actually in eighth grade in a summer league game, playing with my high school team. I caught the ball on a break and went up to lay it in with my left hand, and saw I was high enough, so I turned it over and dunked. The crowd went crazy. I was about 5-9, 140 pounds so people were like, 'What just happened?' I was confused, too."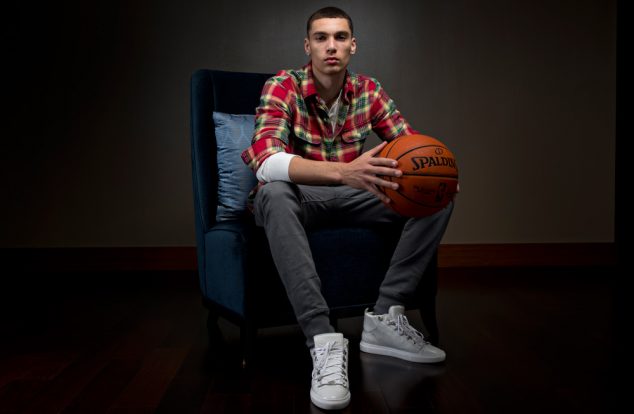 LaVine's hometown high school, Bothell, was only a three-year school, meaning he had to wait until 10th grade to play varsity basketball. He burst on the scene by leading the league in scoring as a sophomore, often battling longtime friend and current Sixers guard Tony Wroten. Despite averaging 28.5 points, 3.4 rebounds and 2.5 assists per game as a senior and being named Mr. Basketball in the state of Washington, LaVine wasn't invited to the McDonald's All-American Game or the Jordan Brand Classic, nor was he recruited like one of the top players in the nation. He considered Arizona, Louisville, Texas and Washington before ultimately sticking with UCLA, where he committed as a junior and where his father's family still resides in nearby San Bernardino.
In one season at UCLA, LaVine earned Pac-12 All-Freshman honors as the team's sixth man, averaging 9.4 ppg, 2.5 rpg and 1.8 apg while dazzling scouts with his athleticism. The Wolves made him the No. 13 overall pick in the Draft and now, with Ricky Rubio sidelined indefinitely, LaVine is Minnesota's starting PG.
"It's crazy, being able to look back and say, 'I told you so.' I like proving my critics wrong. I like making them look stupid," says LaVine. "I have a chip on my shoulder still from back then. I was recruited highly, but not like a Top-10 prospect. I could have made those All-Star games, could have been ranked higher. So every time I go out there, I try to prove myself."
Always able to elevate in the air, LaVine the pro needs to elevate his whole game while playing against guys he grew up idolizing—like Dwyane Wade last night. "It's crazy, watching these dudes on TV every night, trying to do their moves, and now playing against them. It's crazy how good these dudes are in person, too. People just don't understand," LaVine says with a laugh. "But on the court, you can't show any fear. You can't show anybody too much respect, because if you don't go at them, they're going to go at you. After the game, you can respect them and idolize them, but while on the court, you've got to play basketball."
If there's one thing LaVine has already proven, it's that he's supremely confident. But he's not stupid, either. He's eager to improve his game in all areas, from his off-ball defense to his ballhandling, and he's ready to be humbled as a rookie. "There's 82 games, I'm definitely going to get my Welcome to the NBA moment, I know that."
Abe Schwadron is an Associate Editor at SLAM. Follow him on Twitter @abe_squad. Portrait by Carlos Amoedo.
Watch and read about fellow rookies Shabazz Napier and Elfrid Payton by clicking here.
231