The SUV pulls up to the back entrance of a nondescript industrial-looking building in the Warehouse District of New Orleans. It's the last Sunday of June and the downtown streets in The Big Easy are calm and quiet as the car drives up to the discreet door in the back of the building. Although the building is empty, there is no room for error when the city's biggest star—and quickly rising as one of the main faces of the NBA—is pulling up to an unfamiliar location.
When the car doors open, though, the vibe changes completely. The necessary pre-arrival safety measures and planning is a far contrast to the feeling that suddenly takes over the building. Zion Williamson, sporting his trademark ear-to-ear smile, and accompanied by his family, arrives to his cover shoot with the same happy aura he's had since his first SLAM cover shoot back in Spartanburg, SC, in 2017, when he was just a 16-year-old phenom with a plethora of "could he" questions around his name.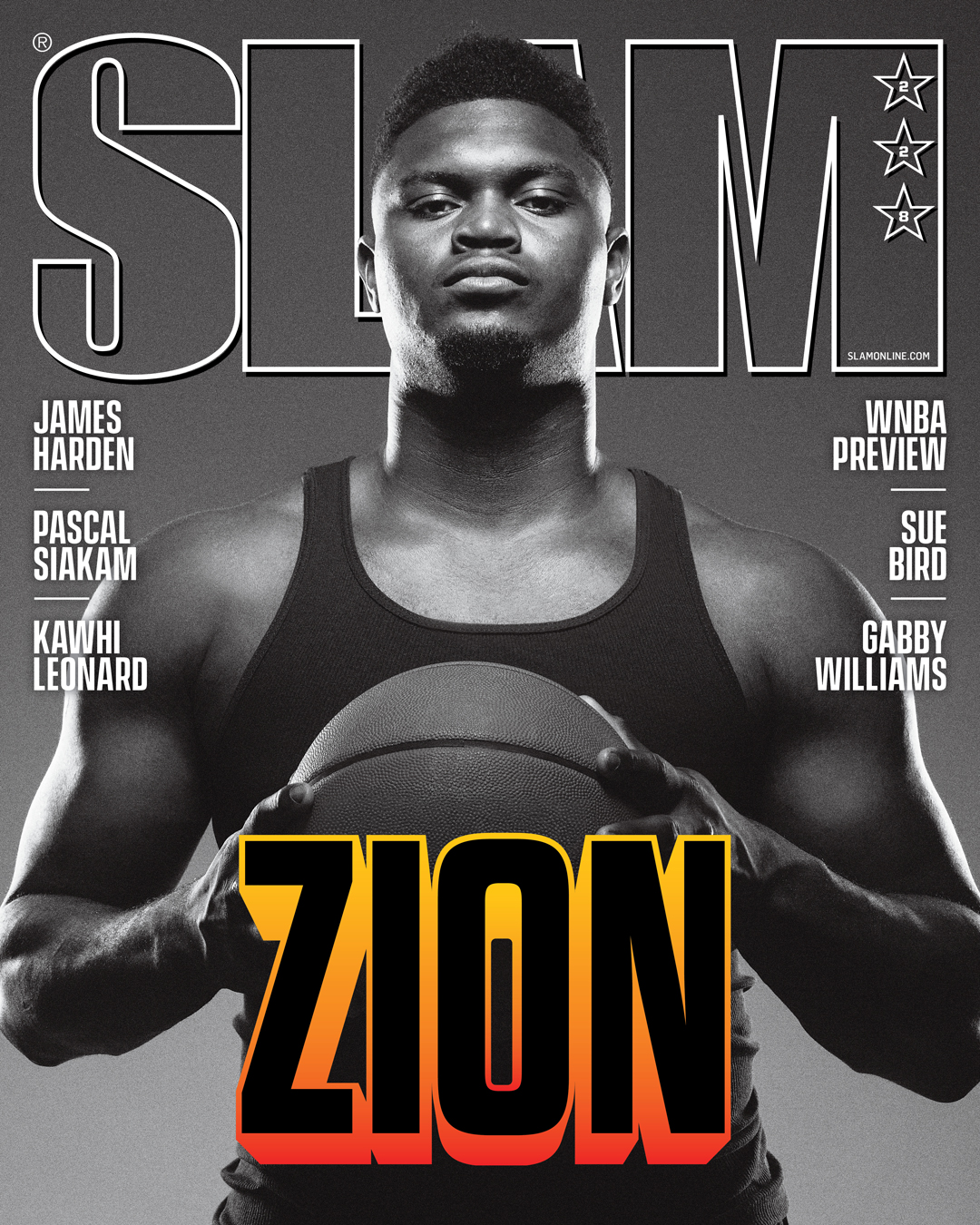 While a lot has changed since, the foundation still remains the same. For Zion, it's always been about letting his game do the talking on the court, while not looking to draw any unnecessary attention away from it. It's why he arrives at the shoot with just his family, as he's done at both of his previous solo SLAM cover shoots. There is no entourage or large group of friends rolling up with him. No team of publicists or handlers on set. No stylists with suitcases full of designer clothes for him to show off in front of the lenses.
In an era when many professional athletes, and especially NBA players, are expected (and many pressured) to be Renaissance men by proving their versatility and star value off the court, Zion is a refreshing change by continuing to do things his way. He isn't trying hard on social media—there aren't any fit pics or photos of him in front of expensive cars, in plush homes or any other behind-the-scenes testaments to the luxury of being a star on his Instagram account. In fact, out of the 63 posts he has on his IG grid as of early-August, all of them are either basketball-related or brand commitment posts, with the exception of a handful where he is just shouting out close friends.
Many would refer to the aforementioned flashy posts as part of a player's "brand building" strategy, but Zion has chosen to not partake in any of that extra stuff. And yet, he's one of the most followed players in the NBA with an ever-growing list of endorsement deals—Jordan Brand, Gatorade, Mountain Dew and 2K Sports, to name a few—without doing any of it. His personality and on-court performance have done all the brand building needed.
Therefore, it is only fitting that Zion opted to go with a modest look for his first solo SLAM cover as a pro. The plain workout fit perfectly depicts his outlook at this stage in life—focused on continuing to shatter records and cement his status in the League. All that other stuff is irrelevant.
After Zion makes his way up to the fifth floor, the photographer engages in some small talk to get the vibes flowing. Making it challenging and strange is the fact that everyone on the production side is wearing masks, gloves and keeping their distance from Zion in an effort to follow all COVID-19 precautionary measures with the Pelicans star preparing to enter the Orlando bubble in a couple of weeks. The photographer begins throwing out questions in an attempt to get Zion to produce different facial expressions based on his answers. One of the questions is about Zion's mindset heading into Orlando. He grins and then responds, "Like, the summer is mine!"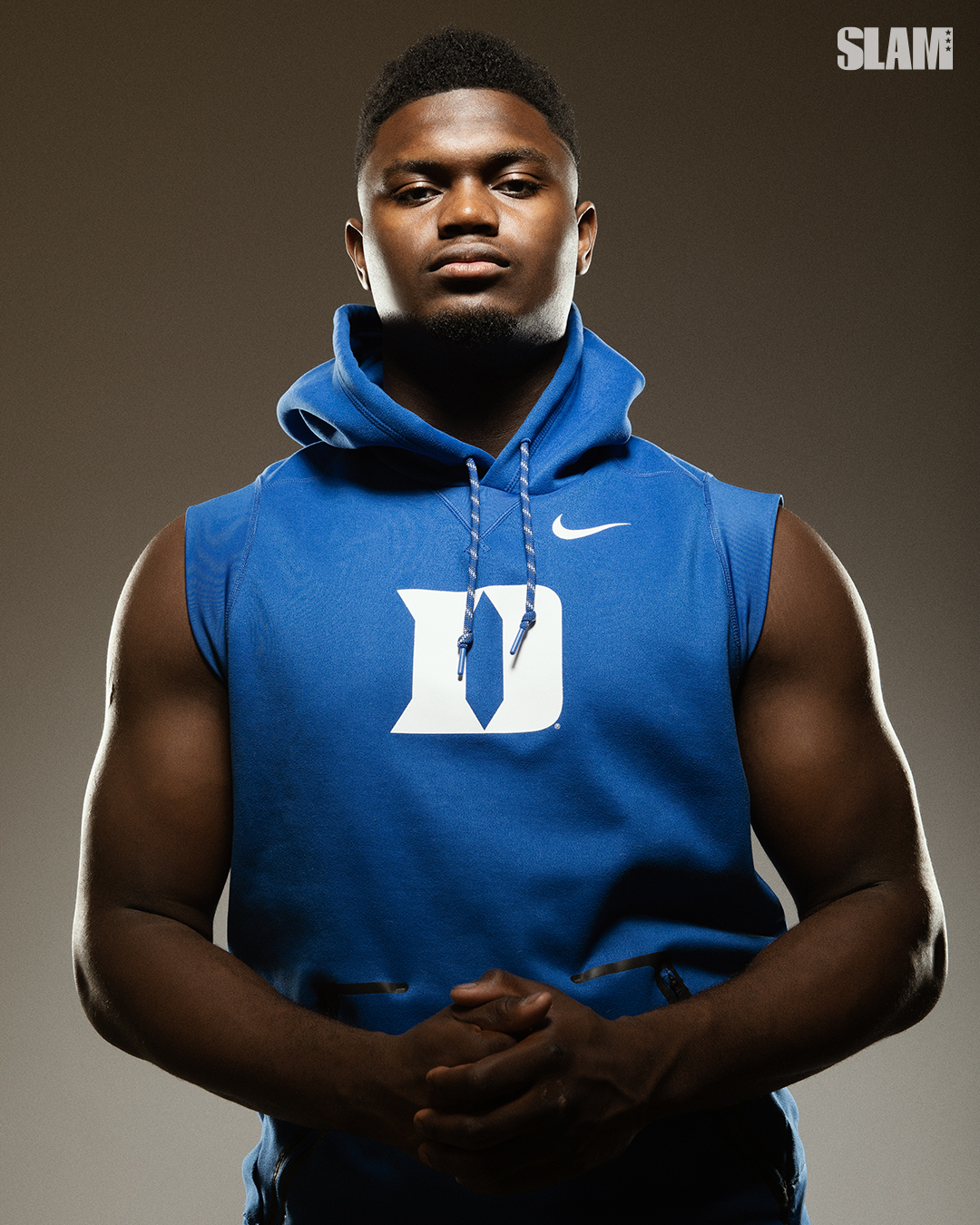 When Zion suffered a bruised left knee in his Summer League debut, which sidelined him for the remaining Las Vegas games, and then a torn right lateral meniscus during the preseason, which resulted in arthroscopic knee surgery and a three-month rehab process, the chatter on social media and in sports talk shows was rampant and as loud as ever. Folks (mostly critics) wanted to take the opportunity to bring up his injury history and cast doubt on his body's composition. They brought up the famous knee sprain at Duke and even the deep knee bruise in high school. Zion was seemingly being written off by many before he even got a chance to start.
"I did hear those things," he admits. "My mom taught me to accept the things I cannot change, and to change the things I can and move on. So, I can't tell them what they can think or they can't think. Not everybody is going to agree with what you do or like my body make-up or how you play the game. It's their opinion and that's fine. I'm my own person. So, when it comes to worrying about things like that, I don't."
Debates around whether Zion should redshirt his rookie season also grew louder. Ultimately, he returned, just as he did at Duke, despite many arguing that he shouldn't risk stepping on the hardwood again until he secured the bag. In both cases, his love for the game was just too intense for him to ever consider sitting. And so, he made his NBA regular season debut on January 22, 2020, in not quite the ideal circumstances he dreamed of growing up—thrown into the fire in the middle of the season after knee surgery, with the whole world tuning in and ready to critique.
But then Zion happened.
He set Twitter on fire by the end of the night after having one of the most memorable debuts in pro sports. After scoring only 5 points in 12 minutes of play through the first three quarters, Zion had a historic fourth quarter: 17 consecutive points in a three-minute span, which included four three-pointers and chants of MVP from the crowd. The Pels ended up falling short that night, after Zion single-handedly brought the team back from a double-digit deficit to within 3 before getting subbed out due to strict minute restrictions.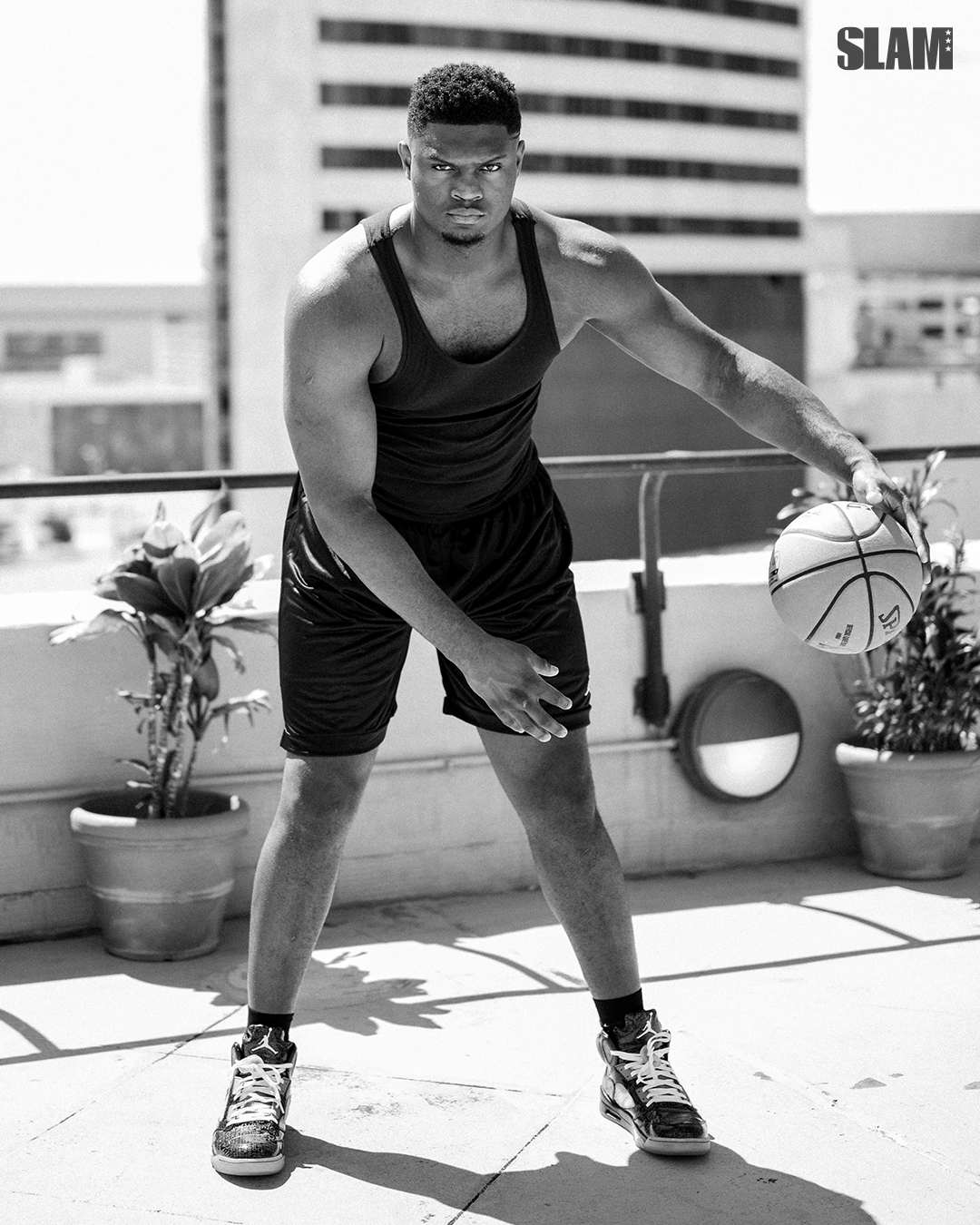 "When it comes to the whole 'all eyes are on me,' I feel like a lot of eyes have been on me since high school, so that feeling was nothing new. I don't consider it being thrown in the fire because I've been playing basketball my whole life. But it was definitely a dream come true to finally get thrown out there and enjoy the moment," recalls Williamson. "If I'm being honest with you, it was very frustrating at first. I'm in the game and I feel like I could maybe change the outcome and you hear the horn go off. You know it ain't for nobody but you because your time is up. It's one of those sickening feelings, because I'm one of those players that if I could do anything to help my team win, I want to do it. So it was very frustrating at first from that perspective. But outside of that, it was a blast."
It certainly didn't feel like the Pelicans had lost that night. If anything, it was probably the biggest win they've had in a long time. The franchise witnessed a transcending, generational-type talent. It was real. It was no longer just hype.
The 22-points-in-18-minutes debut shattered all kinds of records: most points per minute in an NBA debut in the shot-clock era (1954-55), most consecutive team points from a rookie in the fourth quarter over the last 20 seasons, first player in League history to shoot 4-4 or better from behind the arc in his NBA debut and most points in a player's debut in Pelicans history are just some.
As far as record-breaking performances go, that was only the beginning. He became the first teenager in NBA history to have 10 consecutive 20-point outings. He ultimately extended that streak to 13—the previous record was nine games by Carmelo Anthony in the 2003-04 season. His 28 points on 13-20 shooting against the Warriors made him the first rookie since Michael Jordan to have four consecutive games of 25+ points on 57 percent or better shooting from the floor. He dropped 35 points against the Los Angeles Lakers to start March. Zion ended up averaging 23.6 points and 6.8 rebounds in 19 games before the pandemic brought everything to a halt.
More importantly, though, Zion's insertion into the Pelicans lineup brought the team into the playoff conversation. After losing its first two games with Zion, the team went on to win eight out of their next 11. All of a sudden, the young Pels were in contention for the 8-seed, which seemed unthinkable just a couple of weeks earlier.
"No, I was not surprised at all, if I'm being honest, because I play the game to win," he says. "I consider myself one of the best competitors. It's as simple as that. I feel like I'm a competitor. I came back at the right time. The team—we were finding ourselves. And then I got added into the equation. It just fit and we won eight out of the next 11."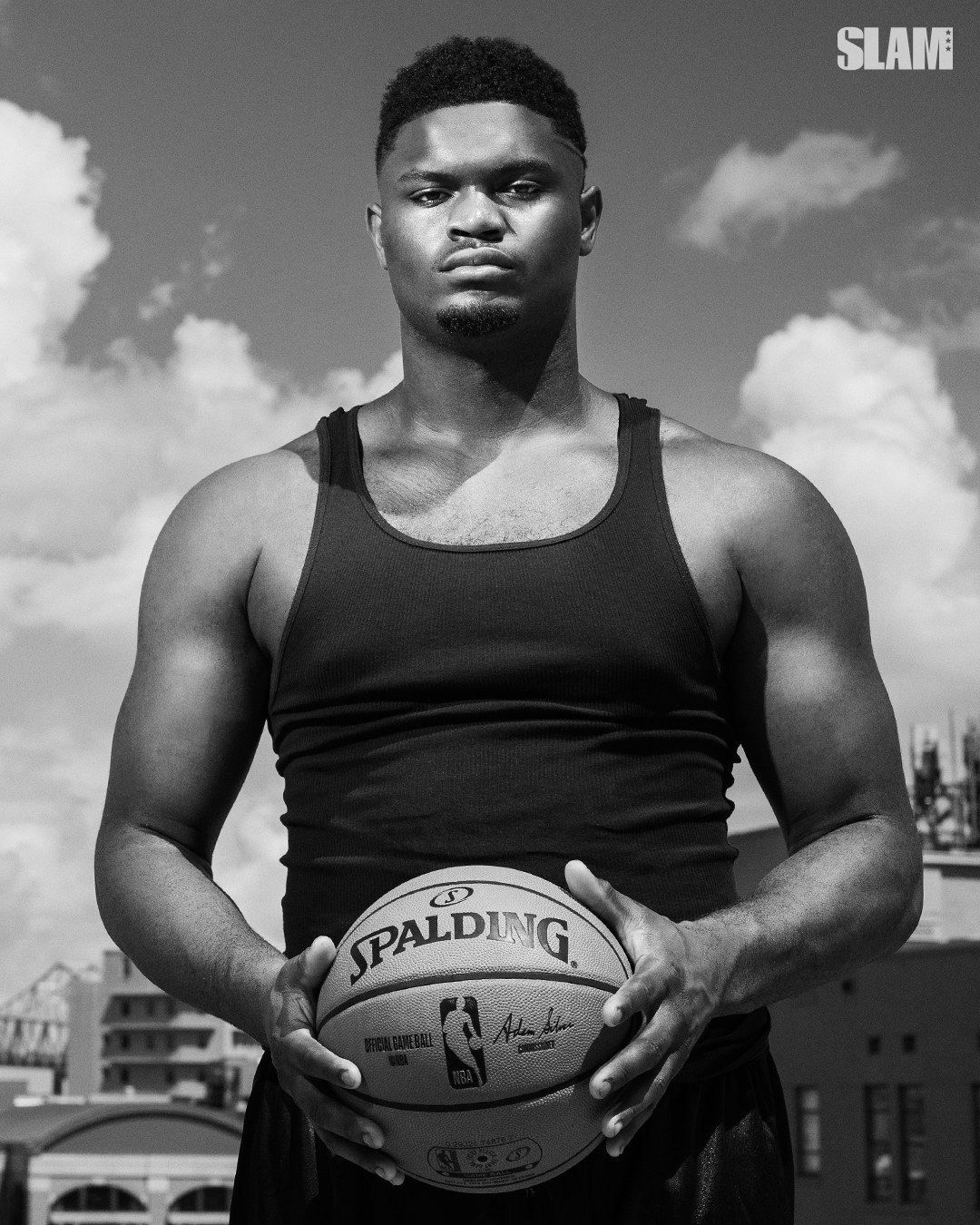 One week into the restart in Orlando, the Pelicans find themselves 2 games behind the Grizzlies for the 8th spot in the West and just 1 game out of the 9th spot–as they try to force play-in games. All eyes have been on them. It'll be a very tough but not impossible task for the young squad. It's been one of the biggest headlines going into Disney—can the Pelicans get into the playoffs, setting up a highly desired matchup against LeBron James and the Lakers in the first round?
The expectations and excitement have been through the roof. So much so that NBA Twitter has resorted to conspiracy theories around an alleged desire for the League to have the Pelicans reach the playoffs. Oh, and then there were all the debates surrounding Zion's chances at winning Rookie of the Year—a race that Zion doesn't shy away from discussing.
"I have social media but I don't let social media dictate my life. I will never let that happen," he says. "But as far as winning Rookie of the Year and competing in that race, I'm a competitor. If there's a chance that I could win it, I'm going to go after it. I'm not going to doubt that. Ja [Morant] has had an incredible season and he is the current front-runner, but it's not over until they announce who it is, so, I'm going to keep battling for it. [A few weeks after our shoot, the NBA announced that performance in Orlando would not be taken into consideration for the player awards.—Ed.] But my top priority is getting into the playoffs first."
Four days after our shoot, a photo of Zion at the practice facility circulates around the web. It's the first image of him in months. It quickly goes viral as fans and media alike are taken aback by his physique and how "ripped" he looks post-quarantine. Numbers get thrown around—like, losing 25 pounds of fat and adding 10 pounds of muscle during the shutdown. Wearing a mask, he draws Bane comparisons. It's a recurring topic on sports talk shows for the next 48 hours. While many wondered how players would stay in shape with team facilities closed, Zion made it his mission.
"I was focused on honing my game and my body and getting back to full strength," says Williamson, who was granted access by the League to the team facility (among other NBA players) to continue his rehab. "When people asked me during the season where do you think I am [health-wise], I probably said something like 80-85 [percent]. But working out the past few months, I was way off. I was probably at, like, 60 percent. When I say I feel like my old self, I mean like high school and college, in the sense of having fun with the game. Yeah, basketball is a business, but I love basketball. Whenever I play basketball with that love I've always had, I feel like I'm one of the best."
Regardless of what happens in Orlando, Zion isn't shying away from the noise. He's learned to embrace it all—the good, the bad, the weird. He's welcoming the expectations bestowed upon him—the chatter that comes with the territory. He's as confident as he's ever been. And that's the part that should scare opposing teams the most.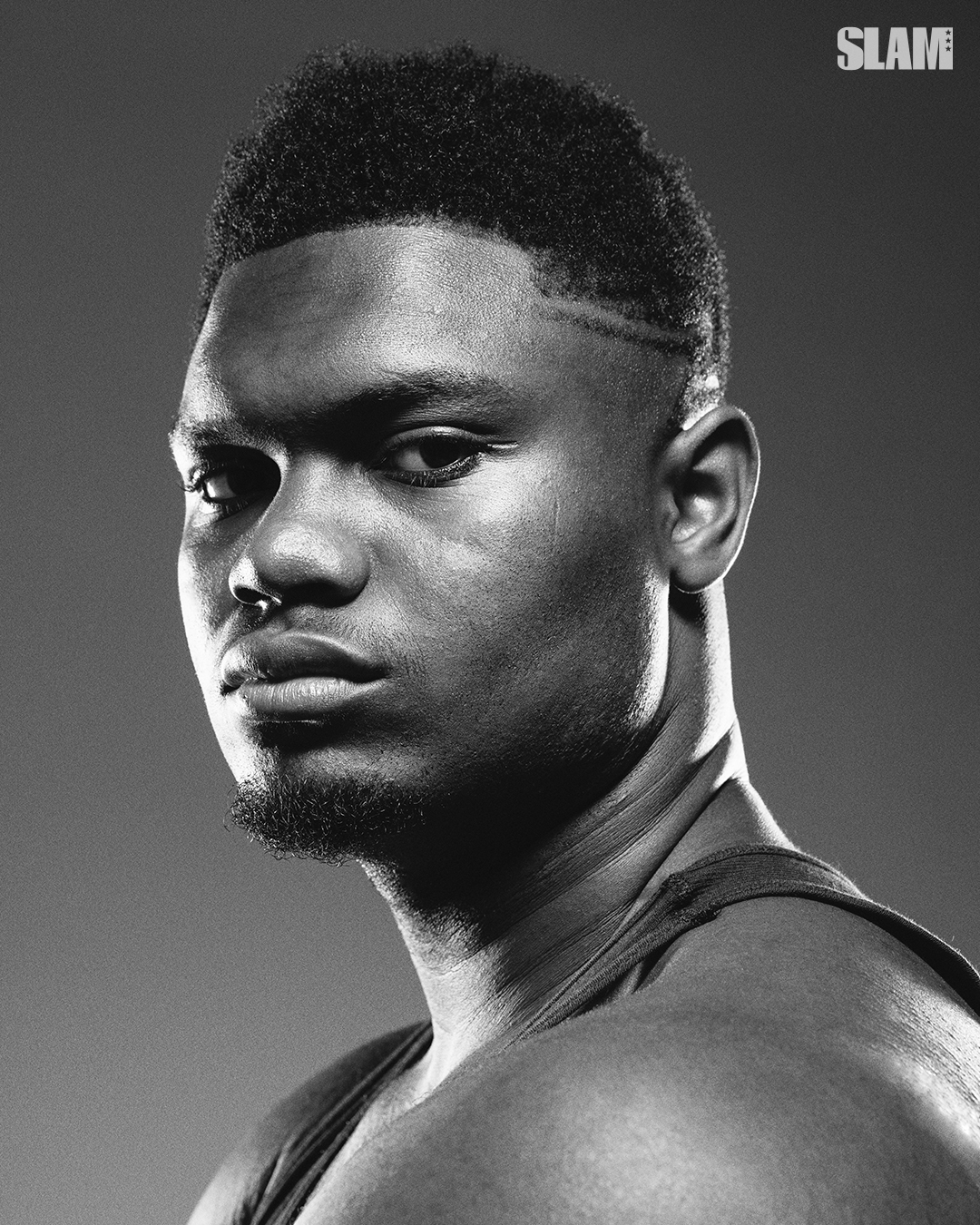 "We're going to compete. We're going to try to win," says Williamson. "The combination of my love for the game and me being an ultimate competitor, and some of my teammates having the same traits, it's a bright future. I feel like we're going to do the best we could do and we're going to compete.
"I don't struggle to balance that at all. If you want to know what's going to happen, tune in!"
—
Franklyn Calle is a senior producer at SLAM. Follow him on Twitter @FrankieC7.
Portraits by Zach Wolfe.