Speak to enough prospects in the lead-up to the NBA Draft and the conversations start blending into one another. Everyone is super competitive and also eager to learn. Also, they're super confident and all the weakness that you've heard about—yeah, those have been fixed, or they're just a product of the player being misunderstood.
The same goes for international prospects, only they usually mention how they're nervous for their interview, too. English, after all, isn't their first language. They then share how they've spent the past five years honing their speaking skills by imbibing every piece of American pop culture they can get their hands on. For Frank Ntilikina, the 18-year-old guard out of Strasbourg, France, that meant binging TV shows like How I Met Your Mother and Empire (interesting combination, no?) and devouring every piece of music put out by Drake or Meek Mill.
But also: "I read a lot," he says over the phone from France about two weeks before the NBA Draft.
Ok, so that's a bit different? But is he talking War and Peace or Instagram captions?
"I love basketball books," he says. "Phil Jackson's Eleven Rings."—a morsel that will certainly get play in New York, the city Ntilikina could very likely end up calling home following tonight's draft—"a biography on Michael Jordan, now I'm reading a book by (longtime NBA trainer) Tim Grover."
Ntilikina says the first two he read in French, but Grover's book was an English version. He says he was intrigued by all the different lessons Grover was able to share, tidbits the trainer picked up or witnessed throughout his three decades in the NBA.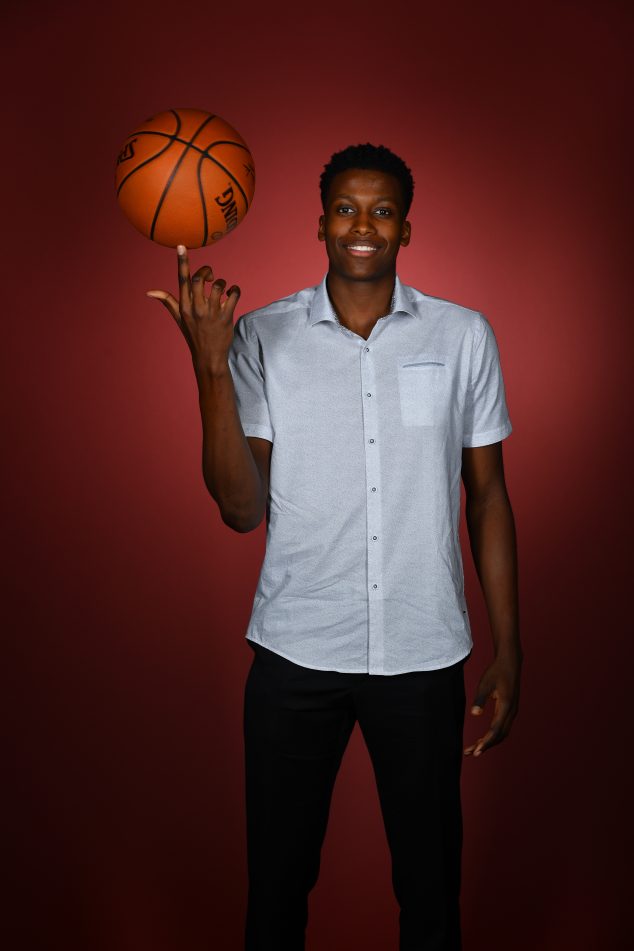 Which is to say, perhaps the clichés typically spouted by NBA prospects actually do apply to Ntilikina. Perhaps he has been preparing his whole life for this moment, and perhaps he is ready to make the leap from France's LNB Pro A to the League and reward whichever NBA team elects to take a flyer on the kid with a last name that most fans don't know how to pronounce (it's Nee-lee-Kee-na).
"His greatest strength is his versatility and age," says ESPN analyst Fran Fraschilla. "He's going to play his entire rookie season as a 19 year old and he does everything on the court pretty well."
Fraschilla projects Ntilikina as a "solid NBA starter and potentially an All Star." He does add, though, that Ntilikina has the chance to become a defensive stud. The combination of a 6-5 frame and 7-1 wingspan, of quick feet and a basketball IQ that's been honed over two seasons in one of the top basketball leagues in the world makes him the sort of versatile, queen-like chess piece that every team in the new, position-less NBA now craves.
"He's what I would call a no-mistake player," Fraschilla says. "He doesn't have dynamic athleticism, but he understands the game well and has a good feel for it."
Much of that comes from the countless hours he spent playing alongside his two older brothers—ten and 12 years his senior. Ntilikina, who was born in Belgium to Rwandan parents, moved to France with his family at the age of three. He spent years there watching his brothers and friends battle on Strasbourg's local courts, shooting on an open hoop and waiting for an invite into their game. Eventually it came, and it was in those parks where Ntilikina realized how his Inspector Gadget-like arms could be deployed as a weapon on the defensive end.
Then, at the age of 15, Ntilikina signed with Strasbourg's club team. He made his professional debut a year later and soon after was on the radar of every front office in the NBA, especially after a season in which as a teenager he averaged 5.3 points in 19.1 minutes per game for a team that made it all the way to LNB Pro A's finals (the series was undecided as of print time).
Even his jumper, once viewed as a weakness, has begun rounding out. Ntilikina drilled 39.1 percent of the 1.6 treys per game he hoisted this season and Chris Brickley, a former Knicks assistant coach who now trains NBA players and has worked with Ntilikina, says the Frenchman's stroke is NBA ready. He has proof, too: there's an arduous drill Brickley likes to put his players through; it consists of launching 100 3s from different spots on the floor. Brickley says that when Kevin Durant runs through it, he'll nail around 80 percent. Most guards, he adds, drain about 70.
"And the first time I ran Frank through," says Brickley, "he hit 78."
None of this, of course, makes Ntilikina a sure thing. But 18-year-old kids with professional experience who project as defensive wizzes and can also do a bit of everything on the floor, well players like that don't exactly come along very often.
—
Yaron Weitzman is a Senior Writer for SLAM. Follow him on Twitter @YaronWeitzman.
Photos via Getty Images