It's pretty crazy that Karl-Anthony Towns is only 22-years-old. His game is so mature, so complete, that he averaged 25 points and 12 rebounds in just his second season in the League. That's nonsense.
It wasn't that long ago that Towns was named the Gatorade Athlete of the Year. Now that Towns is in the League, he's partnered with Gatorade to help with their Play It Forward program. The program funds youth sports all throughout the country. We caught up with KAT, who is averaging 21 points and 11 rebounds this season, to talk about that and much more.
SLAM: As a New Jersey native, you probably understand how huge the Jelly Fam is in New York and in Jersey. Now that Isaiah Washington's in Minnesota, have you had a chance to meet him?
Karl-Anthony Towns: I've been able to meet him once. He has a lot of respect of mine, [I] love what he's doing out there. He doesn't realize that he's affected a lot of little kids' lives. I respect the way he handles himself. And [he's] putting on for Minnesota as well. He's doing a great job of doing what he does best, which is making them layups.
SLAM: We gonna see you coming down the lane, doing the jelly now?
KAT: [Laughs] I think I've hit the jelly a couple of times in my career so far. I've definitely made some layups that had a lot of jelly on 'em.
SLAM: Were you doing stuff like that when you were in high school, trying to come up with new moves?
KAT: I definitely remember doing a lot of things like that back in the day. It was always going to the park and working on my layup package. Just finding different ways to score when it was an unorthodox position. Especially my time I had with Kyrie when he was in high school and we were practicing together and working out together. He's one of the masters of the jelly. I was always trying to follow him on layups so I could make myself a better player.
SLAM: Kyrie's bag is unlimited, but it's interesting to watch him warmup pregame because he's so disciplined. The flashy part of his game is built on a solid foundation. 
KAT: I've always known him being disciplined because that's what he has to be. When you're the point guard you always have to be the most disciplined person on the floor. You're the one with the ball in your hand the most. When you're a person of his stature, there's a reason why he's had success. It's because he's been able to stay disciplined to his workout regimen and his skillset, but to his mind and never change it, regardless of how the game may go. He sticks to the gameplan and just continues to grind out wins and wins. That's why he's so highly regarded.
SLAM: That whole movement's definitely helping a lot of kids. Who were some of your inspirations when you were growing up?
KAT: My first inspirations were my parents, the way they raised me and the way they taught me morals and values and how to be a man. Basketball-wise, I always wanted to be playing like Magic Johnson, always wanted to impact the game like Kareem Abdul-Jabbar, Hakeem Olajuwon, KG, Tim Duncan, always wanted to win championships like I was Bill Russell, and wanted to impact the culture like I was Michael Jordan. You learn through all these stories and you just try to implement yourself into the best situation possible.
SLAM: How'd those amazing Halloween Hyperdunks come to life?
KAT: I have always respected [Kickstradomis's] work and we just had some conversations and we decided to try to impact the culture and the game. We came up with the Halloween kicks and obviously he killed it. I'm glad I was able to go out there and make 'em look good.
SLAM: What was the process in getting those?
KAT: He's such a pure talent so when I was talking to him about the Halloween kicks I threw out something about Jason and he made it work. He threw some Halloween ideas at me, made me think about Jason X, and he thought about Jason X. I think he brought it up to me, said, How would this look? I said it would look really cool and he made something crazy out of it.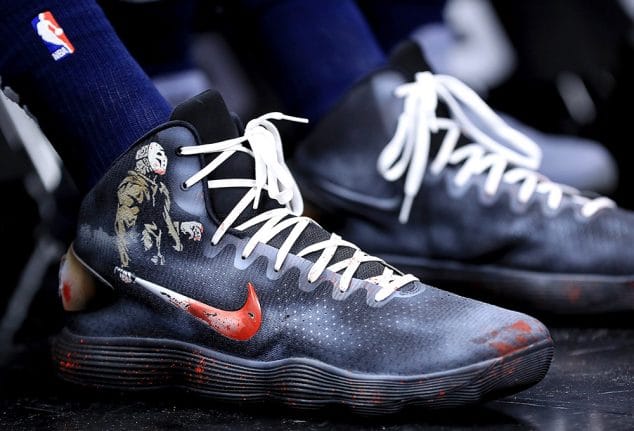 SLAM: Gatorade's using Play It Forward to help young athletes across the nation. What are the benefits of the program?
KAT: Just the funding to keep youth sports going, it's amazing. You've been seeing a double-digit decline in youth sports throughout the past decade. I'm very happy to be partnered with a brand like Gatorade who's committed to combating this by providing grants to keep athletic programs funded across the country. It's amazing when you think about how much youth sports has helped me in my life and my career. I couldn't imagine not being able to play baseball or play basketball because of funding.
—
Max Resetar is an Associate Editor at SLAM. Follow him on Twitter @maxresetar.
Photos courtesy of Getty Images