Wearing his blue plaid draft day jacket, palms sweating and visibly nervous, Jonathan Isaac walks to the podium to give his first sermon.
"This season is the best season of my life, but I'm not playing right now," the 20-year-old Magic rookie tells the audience on a Sunday morning in mid-January.
Isaac injured his right ankle just three weeks into the season and hasn't been fully healthy since. To say his rookie year hasn't gone according to plan would be an understatement.
"There's insecurities, and there's doubt in my mind," he continues. "Like, what are people thinking about me? Are people calling me a bust behind my back? Are my teammates, like, When is Jonathan going to play?"
"And I'm in the best season of my life because I'm growing [spiritually]," he says as the church erupts in applause.
The jitters quickly melt away, and Isaac delivers a message—quite naturally and authentically—about receiving God's blessings in 2018.
The sermon, streamed on YouTube, would later headline the NBA news cycle. Viewers commented, saying they were confused—what was this? And why?
Not playing and now misunderstood, on this mid-January morning, Jonathan Isaac is the most content he's been in his life.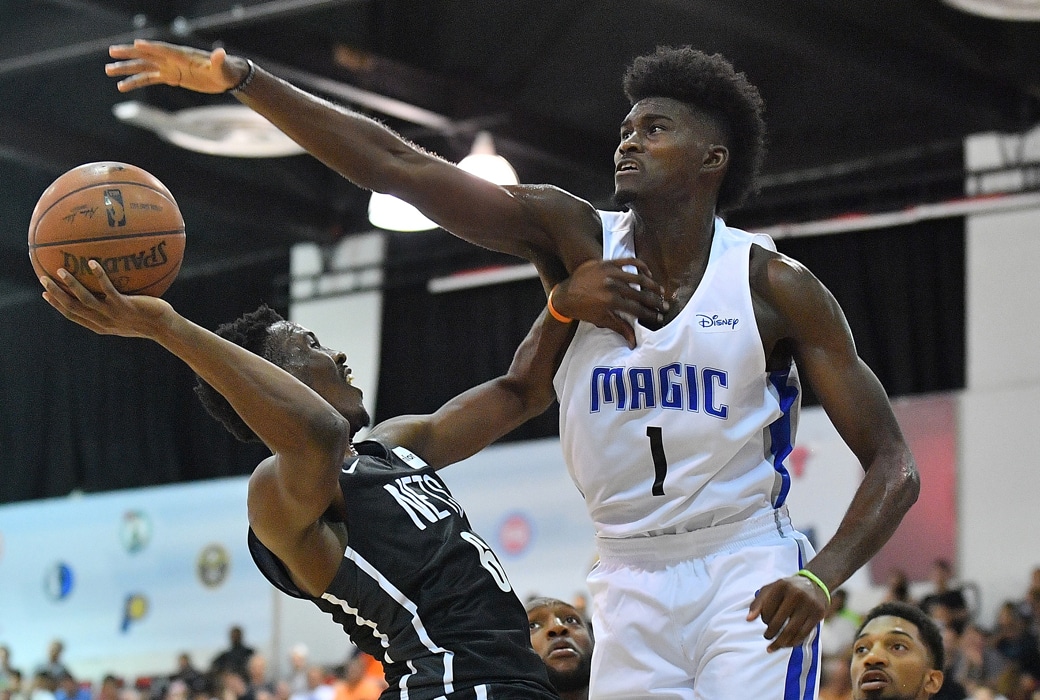 Until the age of 10, Jonathan Isaac grew up in the streets of The Bronx, NY. When his parents separated, Isaac and his siblings moved with his mother to Golden Gate, FL, a neighborhood outside the wealthy city of Naples. No longer living in the inner city, Isaac began to meet kids from much different backgrounds.
"School was a big thing for me to get used to," Isaac says. "Just being around different kids. Being around a lot of white kids. I was super aggressive as a kid. Got in trouble a whole bunch of times from being too aggressive."
But Isaac quickly made friends through sports, helping him adjust to a new way of life. "Sports in general, every single one of them, is a uniter," he says.
By the time Isaac was a freshman at Barron Collier High School, he had grown to 6-1 and was comfortable handling the ball and playing on the wing.
During his first stint on varsity as a sophomore, Isaac got a reality check. He averaged just 4.8 points while coming off the bench. The rough season stung, but he didn't have expectations of playing basketball beyond high school.
"I never thought there was college basketball or NBA. It was just right there and then," he says. "Of course, not having a great season was tough. But basketball was just something I loved to do, and I played it. And I kind of just got through it."
For his junior season, Isaac travelled to the other side of the peninsula to play for the International School of Broward. Gradually growing to a lanky 6-9, Isaac says he finished his senior year with just two offers and some interest from Florida State.
Weighing-in at a scrawny 174 pounds, Isaac took an honest look at the path ahead. While most high school seniors took their talents to the collegiate level, Isaac knew he likely would have to redshirt to focus on his body. He took the road less traveled and committed to IMG Academy for a post-grad year. That summer during EYBL play, Isaac took his recruiting to another stratosphere.
"That was really the time when I was like, Wow, I can do this. I can play college basketball. I can start to develop some of these dreams," he says.
With offers from top programs coming virtually every day, Isaac decided to remain loyal to the school that showed the most interest from the jump: Florida State.
Able to focus nearly full-time on his body and game while at IMG, Isaac finished his post-grad season as a consensus top-10 player in the Class of 2016. He considered the opportunity to enter the 2016 NBA Draft directly out of prep school (a path that IMG's Anfernee Simons chose this year), but once again, Isaac kept it 100 with himself.
"It just came down to…honestly…the same decision that I made going to post-grad. Like, man, I'm not ready to play professional basketball."
The decision proved to be the correct one. Isaac fit in perfectly alongside Dwayne Bacon and Xavier Rathan-Mayes as the Seminoles finished the season with a 26-9 record. A positionless hybrid with an analytics-friendly game, Isaac finished top-10 in the ACC in blocks, rebounds, PER and true shooting percentage—making him a surefire lottery pick. That is, if he actually decided to go pro.
"It was [a decision] I actually didn't want to make," he explains. "I actually wanted to come back to Florida State after my first year and the coaches weren't having it."
Three short months later, Isaac was walking across the stage in Brooklyn, shaking Adam Silver's hand as the sixth overall pick in the 2017 Draft. The highest Florida State draft pick in 47 years, Isaac had money and fame. He had made it.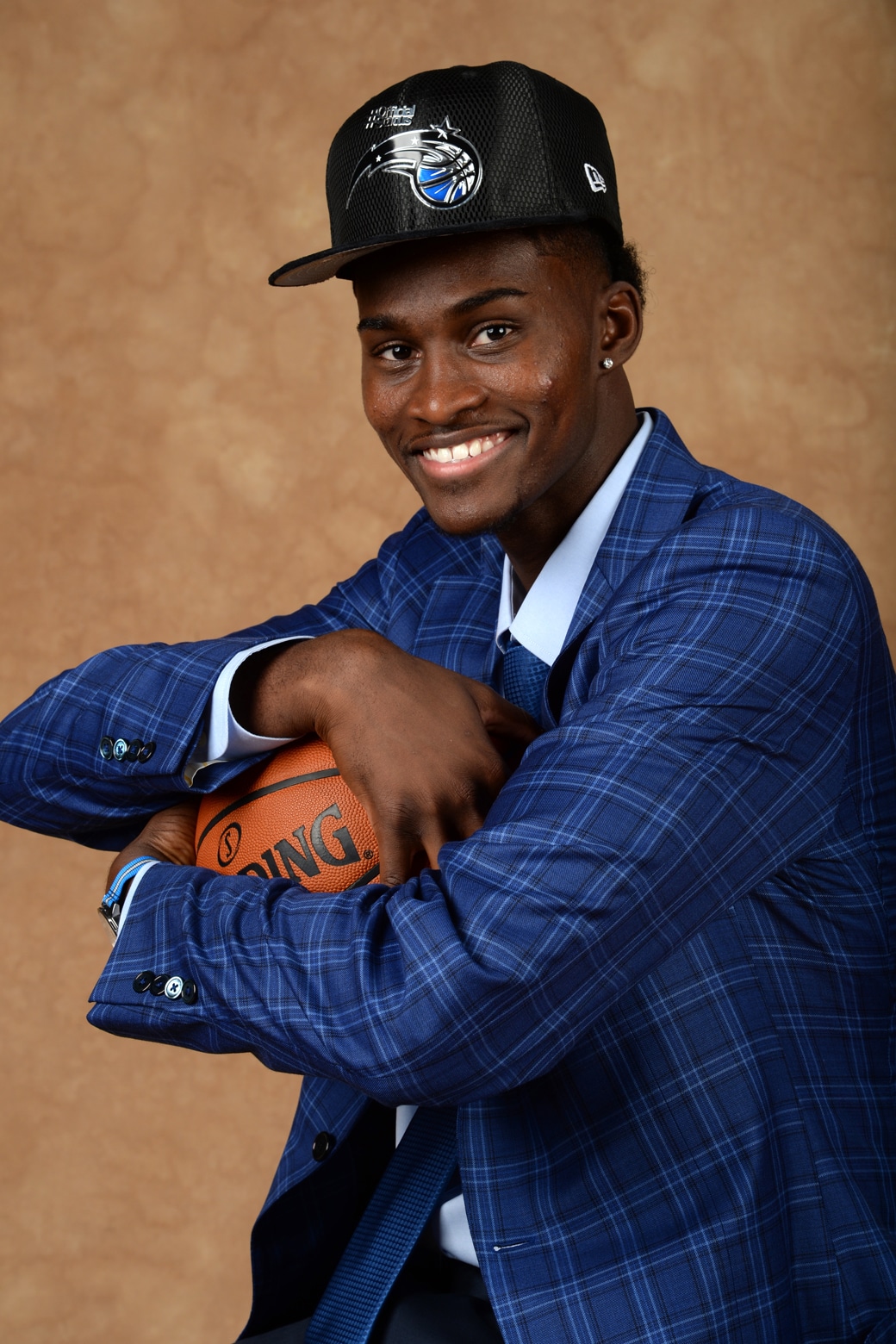 "I was focused on basketball. I was focused on women. I was focused on chasing the perfect night," Isaac would say during his sermon in January. But it was at chapel before one game early in the season that Isaac was faced with a spiritual fork in the road.
He came across the verse, Luke 6:46: "Why do you call me, 'Lord, Lord,' and do not do what I say?"
The message hit home for Isaac, who had professed to be a Christian but, admittedly, wasn't living like one.
"That verse just punched me in the stomach," he says. "I wrestled with that, and I came to a place of saying, I don't know what to choose: me or Him. And I said, You know what? I'm going to seek, and if I don't find, then I'm just going to drop the whole Christian thing and just be me."
He began to wake up early in the morning for 5:30 a.m. prayer. He made a conscious effort to study the Bible and pray more often, and he grew quickly in his faith at just the right time. On November 11, Isaac suffered a right ankle sprain in Denver, causing him to miss the next 17 games. In December, during just his second game back, he re-aggravated the injury in Chicago. He wouldn't fully recover until March.
In a way, the situation was a blessing. Isaac gained invaluable perspective and resolve during the 55 games he missed last season. "My faith was something that allowed me to stay focused and know that, perspective-wise, it's not the biggest deal in the world," he says. "I'm going to have more seasons. I'm going to get back on the court."
One Tuesday in early January, he felt compelled to give a sermon at his church. He contacted the pastor at JUMP Ministries Global Church in Orlando, Dr. Durone Hepburn, and pitched the idea.
"Done," Hepburn replied immediately.
The following Sunday, Isaac not only delivered the sermon; he crushed it. While at the podium, Isaac appeared to be anything but out of place. He spoke with ease and understanding. For nearly 30 minutes, he captured the attention of the room. Orlando Magic player development coordinator Kevin Tiller was in the building and couldn't have been prouder.
"That was him being as courageous and as vulnerable as you can be because he knew it would be in the media, he knew it would be on Twitter, he knew it would be everywhere," Tiller says.
Isaac understands that some people put him in a box because of his beliefs. But those people are mistaken. Finally healthy this offseason, Isaac dedicated his summer to staying in Orlando and working with the Magic's new coaching staff. He was Orlando's best player in Summer League, showing consistent flashes of being an elite two-way contributor. In just over 27 minutes per game, Isaac averaged 14.3 points, 7.3 free-throw attempts, 7.0 boards, 2.7 blocks and just 0.7 turnovers. His performance in Vegas was encouraging, but Isaac acknowledges that he still has more work to do in order to reach his potential.
"I can look at myself and say I need time. I need time to grow and to continue to develop. And I do believe that I have tons of potential—some of it tapped and a lot of it untapped," he says.
—
With the church crowd rapt on his every word, Jonathan Isaac explains how changing his mindset helped him turn things around during a season of turmoil.
"When I was a kid, when I was in high school and even in college, if you would have asked me, Jonathan, what do you want to be when you grow up? I was so ashamed to say NBA, I swear. When I first started meeting Doc [Dr. Hepburn], he said, You're going to be great. I was like, Man, miss me with that great stuff. And I'm at a point where I'm like, Doc, you ain't even got to tell me no more."
Isaac smiles from ear to ear. Today, he may be a misunderstood rookie on a young team slowly gaining its footing.
But soon enough, the world will see that Jonathan Isaac is on the rise.
—
Ryne Nelson is a Senior Editor at SLAM. Follow him on Twitter @slaman10.
Photos via Getty.
4,769