Jerome and Jeromyah Jones are master storytellers. The father and son's method of choice to share those tales? A paintbrush and a blank canvas.
For Jerome, the elder Jones, and Jeromyah, painting a subject in one specific light doesn't do justice to their life's story. Athletes are constantly immortalized in history for one iconic image, like Kevin Durant delivering his MVP speech, or Michael Jordan flying through the air—tongue out. For Jerome and Jeromyah, the challenge lies in embedding elements of their subject's entire life into one single portrait.
Jeromyah saw the aforementioned KD speech as a perfect way to share more about the MVP's family, not just his dominant 2014 NBA campaign.
"Any artist can paint that scene, but I saw a lot more out of it," the younger Jones said. "I'm not sure if you noticed but on that painting I showed her chains on her neck being broken, and that symbolizes the process of every chain in her life being broken as she watches the prayers being manifested into her son's life and that's why I call it 'Mother's Victorious Prayers Make Visions Possible For Most Valuable Player.'"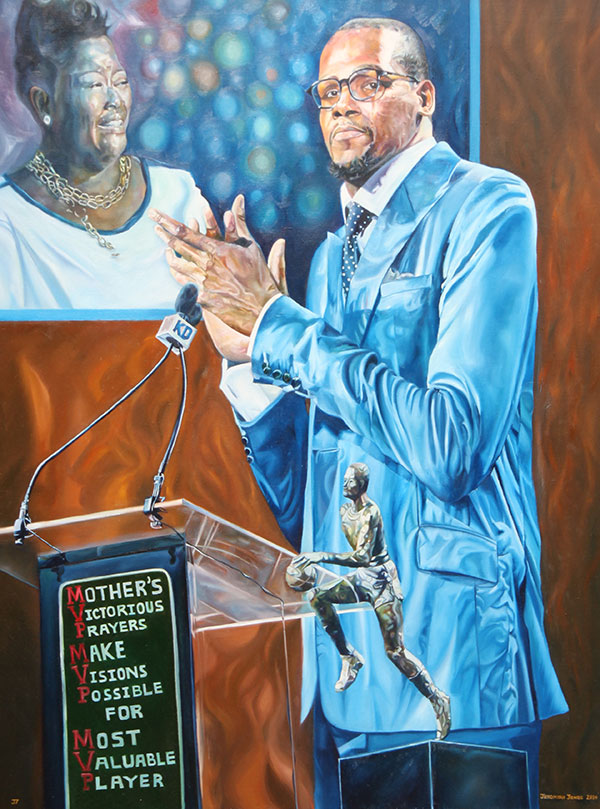 For Jeromyah, the reason to tell this particular story through art of mother and son is because it can relate to so many pairs of parent and child.
"So really this is about Kevin and his mother, this could represent so many mothers and their sons. So many of them who have high hopes for the future of their children. So it's personal and yet it's universal."
Family is what bonds the dynamic artistic duo, which Jerome promised that no brush was forced in Jeromyah's hand upon birth, but that it happened organically.
For the Jones', to extract a familial story out of an athlete's portrait is at the forefront of their goal. What better task for the father and son then to take on the story of the most intriguing athletes of all time—Michael Jordan.
MJ has been vocal about his close relationship with his father, James Jordan, who was murdered in their home state of North Carolina in the summer of 1993. In the collage-style painting, iconic images of MJ's career do not overshadow images of him and his father and with his own children.
Jerome named the painting, "I Am A Father I Want," with several portions of the painting featuring MJ in many different lights.
"I do a collage to not just share a portrait of the person, but what's important in his life—the basketball, the baseball, his first Championship," Jerome said. "But you see the image of his father in most of all the different facets of the painting. Then you see when he retired he had his sons and daughter there with him."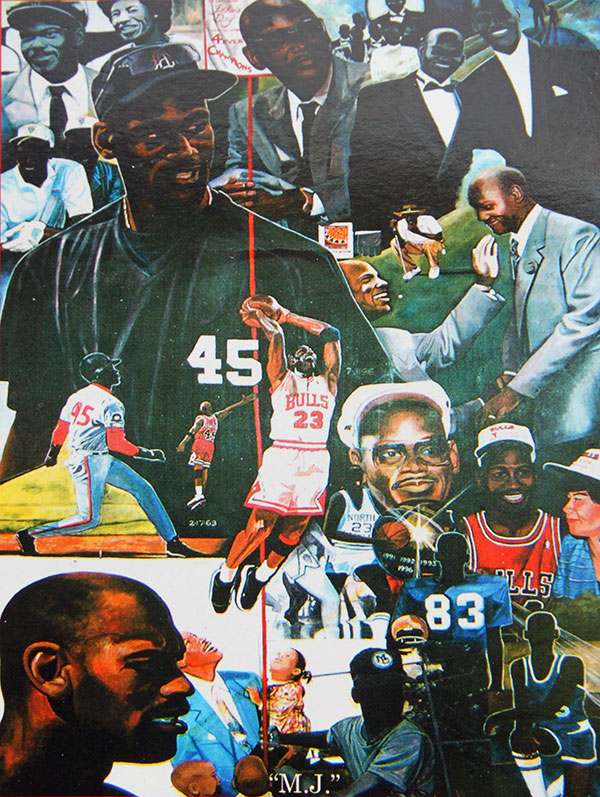 To tell this story of a father being taken away from his son is familiar with the elder Jones, whose father was killed when he was just a teenager. After explaining the unfortunate bond between them, Jones presented Michael with his masterpiece.
"Oh man, he was just touched because I explained how my father was killed when I was just 14 years old," Jones said. "He walked out the room after I did the explanation of the bloodline where you see that rope where his jersey is going up—that was symbolic of the bloodline between the father and son."
Familial storytelling is a focal point of the duo's work, but the Virginia natives also have something else in mind when painting basketball players. Not only does their work describe the lives of the players so narrowly defined as being just ballers, with each touch of the brush comes a link to the subject's style of play."
"We want our brush strokes and images to compliment the way these ballers play," Jerome said. "So the same way Dr. J was so finessed when he dunked the basketball and guys like Allen Iverson, how they creatively and poetically dribble the rock, we want our viewers to hear internalities when they see our external images."
The Jones' latest work comes courtesy of Orlando Magic guard Victor Oladipo, who inspired the title of his portrait, "Foreseeing the Victory," from an unknown talent he possesses far off from the hardwood.
"Victor Oladipo can actually sing. We heard it from outside the gym and at first I was like, Get out of here," Jerome confessed. "He was singing 'Amazing Grace.' Two lines he said in the song, it said: 'I once was lost but now I'm found. Was blind but now I see.' Those verses sung by the ex-Hoosier inspired the title of the portrait, if which Oladipo is standing still.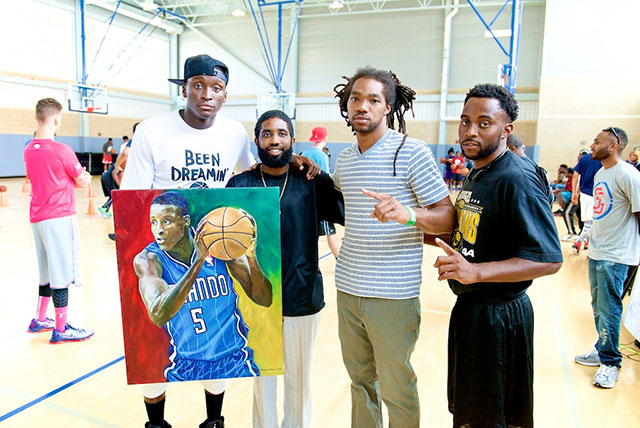 "It's almost like he just got the ball, he's just deciding in his mind what he's gonna do and that's why we call this series 'Ingenious Athletic Minds' because you're exercising not only your legs and your arms, but you're exercising your mind," Jerome said. "You can relate that to what you do on the basketball court or in life. You have be able to see where you're going before you get there."

Perhaps a mother and son bond like Kevin Durant and his mother relates to your life. Or maybe the tragedy of losing a parent like MJ hits closer to home. Regardless of the correlation, Jerome and Jeromyah's paintings set out to tell stories of world's most iconic figures that relate to the most common of men.

312

[ngg_images gallery_ids='881' display_type='photocrati-nextgen_basic_imagebrowser']