It was a swelteringly hot Friday and Saturday at DC's Barry Farms. The court that hosts The District's famed Goodman League felt more like a sauna than a place to get a pickup game going. But the ballplayers at the Red Bull Reign 3-on-3 World Finals wouldn't quit. They had come too far, worked too hard to pack it all up because of some inclement weather.
So they played as hard as possibly could. Squads from all over the globe, ranging from South Korea to a local team from DC, competed in a two-day marathon-like tournament. And on Saturday evening, with that unforgiving sun finally starting to set, the hometown DC Showstoppers won it all, capping off a nonstop, all-out sprint for the right to be named the 2017 Red Bull Reign 3-on-3 World Finals champs.
The DC Showstoppers win the 2017 #RedBullReign World Finals! pic.twitter.com/vbwc5ZEZoo

— SLAM Magazine (@SLAMonline) September 16, 2017
"Truthfully I'm too tired to show any emotion," Jamahl Brown, one of the Showstoppers unstoppable scorers, said with a big smile after their last win. "We played, like, 30 games in two days within 12 hours. I'm exhausted."
Nathan Flowers, another bucket-getter, Chris Howard, a tempo-setting point guard, and Jeff Allen, a do-it-all big man, rounded out the Showstoppers lineup. They soundly beat the group from Montenegro, even though the final score was just 14-10.
They had gotten plenty of buckets beforehand. Both Friday and Saturday's winners (until the concluding matchup) were determined by a points system and not by wins and losses. The Showstoppers were able to outlast Team Cleveland on Friday, barely squeaking out a 13-11 victory. They were standing after hoopers from Detroit, Chicago, Cleveland, Philadelphia, Indianapolis and New Orleans had fallen.
Flowers, after drilling the game-winning two-pointer on Friday, sat down on the bleachers and said, "It's nonstop competitive play. You're going at your maximum for 10 minutes, offense and defense, constantly changing. It's no breaks. Sometimes we had to go back-to-back and there was some good players out here."
And that endless style of play is exactly what Paul Gudde was looking for when he designed the tourney.
"It was cool for the local team to make it to the World Finals," Gudde, the Cologne, Germany, native said after everything had wrapped up. "And then for them, they had, like, 13 games yesterday. So I was waiting for their juice to run out today but it didn't happen because we were on their home turf. So they had that special energy in them."
That home turf played host to teams from Australia, Argentina, Chile, Indonesia, Kuwait, Montenegro, the Netherlands, the Philippines, Serbia, South Korea and Turkey. The international crowd brought a different level of physicality, quickness and competitiveness to the second day.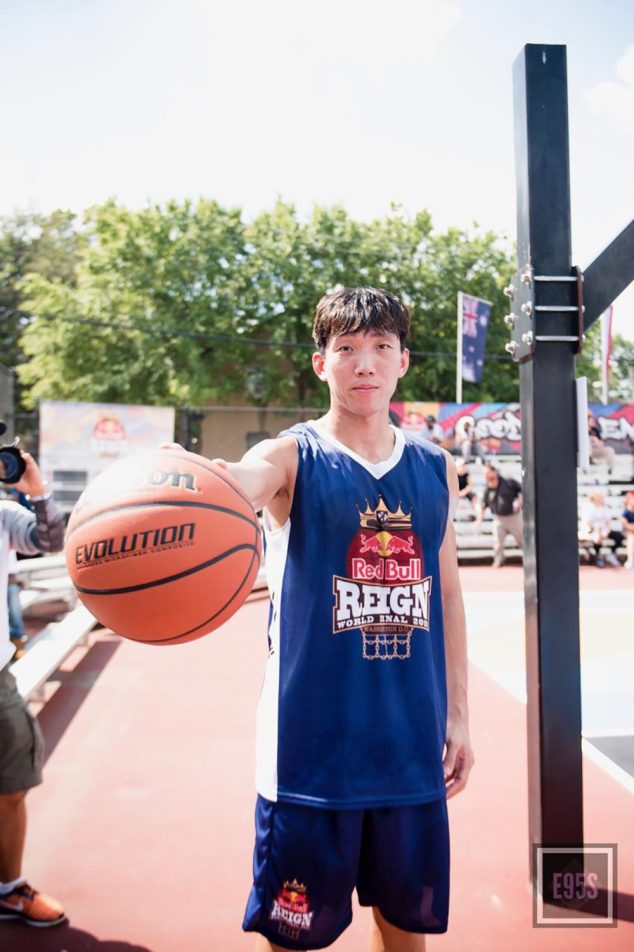 The South Korean team became fan favorites. Bobbito Garcia, sharing microphone duties with the legendary Miles Rawls, took a liking to the Chilean and Turkish players. Rawls spent all day hyping up the hometown boys. His support worked.

"I never signed an autograph down here until this tournament," Flowers said after the games. "That just goes to show the notoriety and exposure we're getting from Red Bull."

"Nobody could ever take it away," Flowers continued. "Definitely got bragging rights. I'll probably be talking about this until the day I die."

—

Photo gallery courtesy of Red Bull, body photograph courtesy of Jahaira Dixon

364

[ngg_images gallery_ids='2518' display_type='photocrati-nextgen_basic_imagebrowser']