To kick off 2015, Jordan Brand hosted their second annual Take Flight Challenge this past weekend at the Jordan Hangar in L.A. The stage was set as top HS programs from Southern California battled it out on the court. Orangeville Prep (Ontario, Canada) who has 7'1" Thon Maker—ranked No. 1 in the Class of 2016—was the only out-of-state team in attendance. Jordan Brand affiliate and Los Angeles Clippers guard Chris Paul was also in the building to watch some of SoCal's top hoopers.  The objective for the two-day event was simple: expose your talent or get your talent exposed.
Here are some players who exposed their talent:
Sedrick Barefield, 6-2, Senior PG, Corona Centennial (CA)
Sedrick Barefield is a flat-out bucket getter. He knows his spots on the floor and with his superb handle and quickness, it's a difficult task for any defender to try and stick him. Those that try are likely to end up on his highlight reel. The SMU commit capped in 16 points and a few oohs and awes in Saturday's 63-54 W over perennial powerhouse Westchester (CA).
Lonzo Ball, 6-5, Junior SG, Chino Hills (CA)
Aside from Thon Maker, UCLA commit Lonzo Ball might be the second most exciting player in the Class of 2016 to watch. There's no doubt that he could get 50 on any given night, but Ball's unselfishness makes his game that much better. And his IQ? Second to none. He uses his lanky frame to alter defenders' shots and plays the court like a safety using his quickness to get into the passing lanes for layups on the other end. He messed around and got a triple-double (28 points, 12 rebounds, 10 assists) and MVP honors in Chino Hills' 40-34 win over Alemany (CA).
Stephen Thompson, 6-4, Senior SG, Bishop Montgomery (CA)
Smooth is the first word that comes to mind when you see Stevie Thompson play. He doesn't have a quick first step or an array of crossovers, but he knows how to play the game well and how to make his defender pay the price if they make a mistake on defense. Thompson plays north and south and uses angles on the court to his advantage. And his ability to let it fly from three makes the Oregon State commit that much more lethal.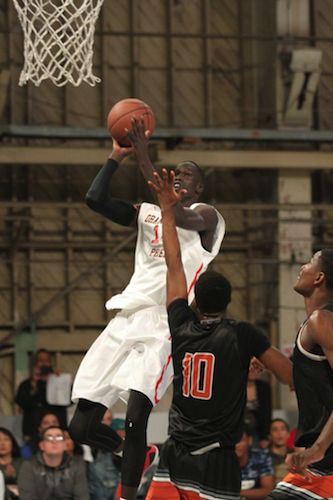 Thon Maker, 7-1, Junior F, Orangeville Prep (ON)
No matter the event or state, Thon Maker is going to perform at his highest level every time he hits the court. Dubbed as the No. 1 player in the Class of 2016, Maker is out to prove every game why he belongs at that spot. And somewhere in between the 32 minutes of the game, you can always expect a highlight from the seven-footer—as Balboa City (CA) guard Jeremi Hanks soon learned after he found himself under the basket (and on BallisLife) after Maker slammed it home for the off-the-backboard alley-oop from teammate Jamal Murray. After sitting out on the first night against Future College Prep (CA), Maker made his Take Flight debut earning MVP honors with 18 points, three blocks and the 55-48 victory against Balboa City during Saturday night's grand finale game.
Gligjorije Rakocevic, 6-11, Senior C, Cantwell-Sacred Heart (CA)
The Montenegro native currently living in the states is as fundamentally sound as they come. Rakocevic has a very soft touch for his size and can knock down that five-to-seven foot turnaround with ease—no matter the hand. He's also a lot to handle down low in the paint as Loyola (CA) center Henry Welsh figured that out trying to contain the 245 pounder in Cantwell's 62-55 victory over the No. 17-ranked team.
DeAndre Ayton, 6-11, Sophomore F, Balboa City School (CA)
Ayton's young KG-like body type and skillset at his age has college coaches across the nation salivating. His willingness to make it a priority to grab every rebound makes watching the youngster that much more exciting as he led in that category against Orangeville Prep with 12. Ranked No. 1 in the Class of 2017, Ayton went toe-to-toe with Thon Maker, who needs no introduction. Although Maker got the best of Ayton holding him to nine points, he made his presence known after he blocked Makers' shot in the first quarter. Ayton's going to be fun to watch on the hardwood these next two years.
Bennie Boatwright Jr., 6-9, Senior PF, Village Christian (CA)
One key factor that separates Bennie from other guys his size is his ability to shoot the ball from beyond the arc. His textbook jump shot is pure from beginning to end and that backspin is a thing of beauty to see from a big guy. Boatwright knows his spots and uses his shot to his advantage, occasionally stepping out making it difficult for true centers to stick with him. Some other key attributes are his footwork and court vision. When he wasn't scoring, Boatwright surveyed the floor dishing out to open teammates and split defenses making Santa Monica (CA) think twice about double-teaming the future USC Trojan—who finished with 20 points and the MVP award in Village Christian's 54-42 win over the Knights.
Aaron Holiday, 6-2, Senior PG, Campbell Hall (CA)
Explosive. Quick. All of the above. After Holiday breaks his defender down, he gets to the rim at will and his mid-range jumper is serious. He seemed to be on cruise control and toyed with whoever was in front of him as the Vikings dominated Mayfair (CA) inFriday night's 76-42 W. Holiday also earned MVP honors and is keeping the family tradition of staying in the Pac 12, following older brother Jrue's footsteps as a UCLA Bruin next season.
Ron Freeman, 6-6, Senior G, Future College Prep (CA)
Ron Freeman has a score-first mentality. He's never met a shot he didn't like, which at times makes him get a bit trigger-happy. Freeman's insane athleticism also gets the crowd going. He displayed that with a reverse dunk in Friday night's win over Orangeville Prep. A few minutes later, he brought more tricks out of the bag as he and Nu Williams (Santa Monica HS) battled it in the championship round of the Take Flight Dunk Contest.
(Photo Credit: Cassey Athena)
97