The Cleveland Cavaliers have just wrapped up practice on a bitterly cold Wednesday morning in January in Independence, OH. The snow flurries and biting winds have gotten the best of LeBron James and Kevin Love, both of whom are excused from practice due to flu-like symptoms.
The rest of the Cavs are scattered around the Cleveland Clinic Courts practice facility. Things here are loose and free these days. Tristan Thompson drills free throw after free throw while assistant coach James Posey playfully talks junk beside him. Ty Lue and a few members of the coaching staff chat with GM David Griffin in between the two adjacent practice courts. Richard Jefferson and Channing Frye exchange three-pointers with each other and James Jones pours in make after make on a side rim.
On the far court, Jordan McRae is yelling at RJ and Frye about something—probably teasing them for being old. McRae's working on his floaters with assistant coach Phil Handy. Kyrie Irving is there, too. For five minutes, they go through quick dribble combinations that lead into floaters with either hand.
Then Irving leaves the court, ducking through a backdoor. He reappears shortly with three boxes of the Nike Kyrie 3. He gives one to Handy who, on the low, has been rocking the best Kyrie colorways for the last three years. As a Cavs official leads Irving across both courts, the 24-year-old saunters behind, a man with the utmost confidence in himself and all that he's already accomplished.
https://youtu.be/FQLHu2ozPEo
The first signs of an evolved Kyrie Irving popped up in the first round of the 2016 playoffs. He averaged 27 per in the Cavs' four-game sweep of the Pistons, which isn't earth-shattering. But he was different. There was a you-ain't-stopping-me vibe bouncing off him that seemed to radiate more and more with each passing bucket.
In Game 4 of that series, Cleveland held a 97-96 lead in the final minute. Irving walked Reggie Jackson down the right side of the court. With his left foot, he took a step toward the middle of the floor before yanking back and hitting a dagger three-pointer. It's a mirror image of the shot Irving famously drilled in Game 7 of the eventual NBA Finals.
During those Finals, Irving found a new level. The Warriors targeted Irving on defense each time they matched up against the Cavs. They posted him up, involved him in pick-and-rolls and tried by any means necessary to get him in foul trouble. Then Irving began to fight back.
He punished Stephen Curry with the nastiest moves he had. He wanted Klay Thompson to guard him. LeBron, in all his wisdom, stepped back to let Irving hit his step-back.
"It's well chronicled, LeBron is the captain of this team," the veteran Jones says months after that Game 7 shot. "The best player in the world. He's our best player, but Ky's our most important player. He's our most dynamic player. When he's locked in, when he's even-keeled, it calms our team. Bron is forceful. Kyrie is calm. He's precision for us. LeBron's the hammer and Kyrie's the chisel."
Irving and LeBron found common ground to complete the game's most historic comeback and Irving used the game's biggest stage to show how deadly he could be.
"No rocket science, man, we just worked," Coach Handy says of Irving's development. "A lot of people don't know the work we put in. We work on his ballhandling; we work on his footwork; we work on posting up; we work on finishes. We try to get outside of the box to keep things fresh and creative. We watch film. To his credit, he really bought into it."
Irving wasn't always willing to hit the lab with Handy, though. They both say that their relationship goes beyond basketball now, but things didn't start out rosy.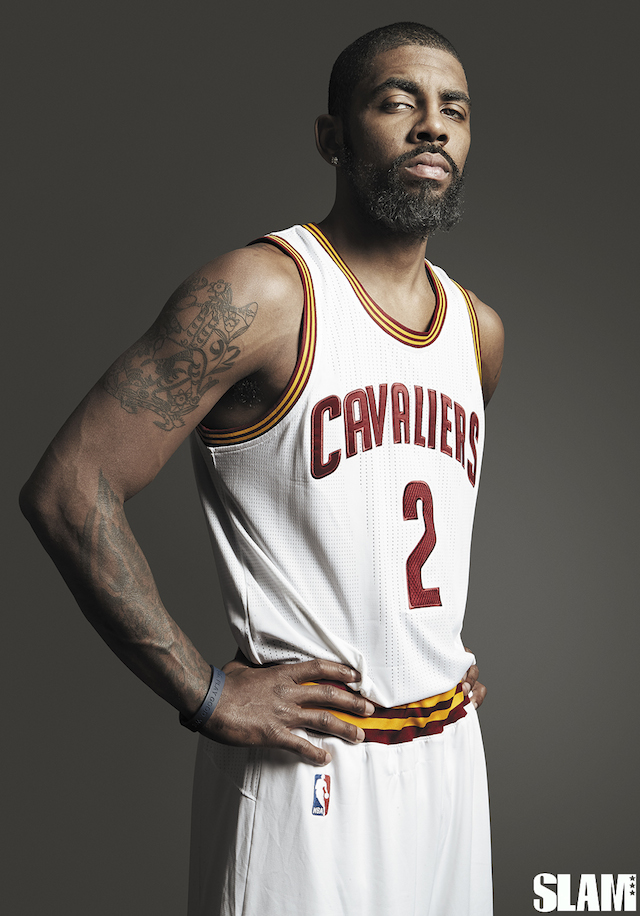 "I came here from the Lakers," Coach Handy says. "Kyrie and I, we didn't know each other. He had just gone through having [Byron Scott] get fired. When I was there, Mike Brown really wanted me to build a relationship with Kyrie and mentor him. He tried to curve me a little bit.
"He was spending the summer in Miami," Handy continues. "I told Mike Brown and the Cavs, Look, I'm going to have to get on a plane and go down to Miami and sit and talk with this kid. I had a man-to-man talk with him and told him what I was about and what the expectations were, from a level of respect, and really tried to help him understand that my relationship with him was going to be built on work and trust. From there, we took off."
There was also the influence of one of the game's most legendary—and fundamentally sound—players ever.
Before the Cavs, Handy was on the Lakers' staff, helping Kobe Bryant refine his meticulous footwork. He's still close with Bean, so he orchestrated a meeting between the two.
"When I first came, I told Kobe, I really would like you to build a relationship with Kyrie. Is it OK if he reaches out? And I encouraged Ky, Look, man, draw from him. Reach out to him. Talk to him. His work ethic, it really grew. He fell in love with working on his game and the success that comes from it. He's taken a lot from Kobe."
Thanks to Handy, Irving was able to finally advance the area of his skill set that needed the most help. Now when he dribbles, his feet cut, move and stop exactly where he wants them to. He has the ability to land on the same spot 10 out of 10 times. His hands move like lightning, but it's the feet that set up his famous crossovers.
"His footwork needed some work back in the day," says Micah Lancaster, a pro hoops trainer who worked with Irving when he was coming out of Duke and during the early part of his career. "That was the area that I think he had natural abilities in some ways. He had a great feel for the game but it was the area he probably needed to improve on the most.
"One thing about him, especially early on, there are certain things he would do that would take him 45 minutes to get," Lancaster says. "A lot of people think guys at that level don't have to take that much time, but there are some things footwork-wise that stumped him. His personality is, I'm going to do it until I get it. Then once he does it, he has it. He's always had a great handle of the basketball, but it's been his footwork that has complemented it and grown to the point where his ballhandling is better showcased. He's a master of his feet now."
This season, Irving's seamlessly made the jump from good to great. His scoring's up to a career-best 24.5 a game and he's shooting 47 percent from the field, also a career-high. He's passing more than ever, too.
In the '15-16 campaign, Ky had 249 assists and threw 2,711 passes. This year he's already recorded 2,404 passes and 275 assists through 47 games. He still drives the lane to score, and now he's driving the lane to kick to open shooters and to James and Thompson for dunks.
"He's always scored the ball well," McRae says. "This year, the way he sets his teammates up, it's elite-level what he's doing. To get 25 [points], getting 12 assists, 13 assists, those numbers are great. He works out every day. He watches a lot of film. He watches film on Kobe, Steve Nash, post players. He wants to have it all."
The sixth-year point guard has layered his offensive game like few others. He's the fifth-best pull-up shooter in the League and in the top-20 for shots from the midrange. Only four guys have scored more points in isos and only four point guards have scored more from the post than he has. And he's really, really, really clutch.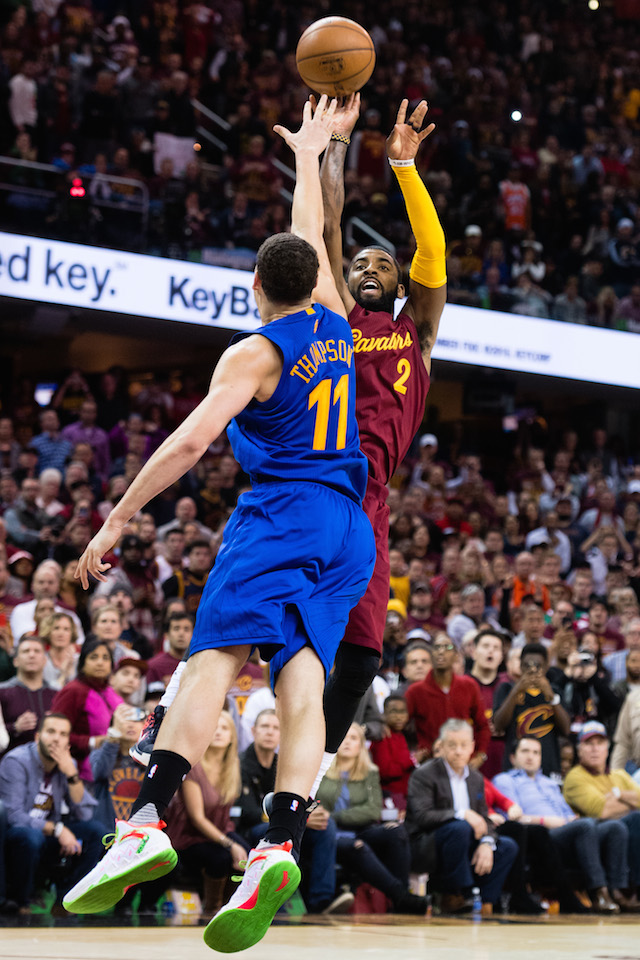 At the Cavs' facility, Irving sits by the media entrance, shifting in his chair. He's been interviewed too many times to count, but he remains genuine, always. When he answers routine questions about winning the title, he rests his head on the wall behind him and looks out at his teammates practicing. Then he wakes up. He turns his attention from his teammates to the conversation at hand. He gets real and shares a rare, vulnerable glimpse into his head.
It sounds crazy. Olympic gold medalist, three-time NBA All-Star and NBA champion Kyrie Irving is still searching for who he is. The former No. 1 overall draft pick and Rookie of the Year had to take some time this summer to find out what he valued in his life.
He started to read Courage: The Joy of Living Dangerously, a book by the Indian guru Osho. He meditated. He looked deeper into himself than he ever had before.
"I started reading a lot of Osho books, just trying to figure out a way to calm my mind down, basically calm the surroundings around me down," he says. "See the ultimate goal and what's important to me. It was hard at first, but you get used to it."
Once he gets going, Irving can talk for a while. He doesn't hold any punches.
"It all comes from the love that I have for the game," he says. "I love everything about it. I had to realize that about myself. I did a checklist of the reasons why I was playing this game. I was just like, OK, you do it for eventually being MVP. You do it for being an All-Star. You do it for winning a championship. You do it for your teammates. You do it for your family.
"Then the last thing on the list, I was like, God damn, I do this for the love, man." His voice picks up. "I strictly do it for the love of the game. You gotta love every part. The days you don't want to get up, talking to the media, being able to be accessible to your teammates, trying to become a better leader, lifting early in the morning, getting up, shooting shots, running in the morning. You've gotta love every part of it. That's what I've come to find.
"I found that in my quest of figuring out who the fuck I wanted to be," he continues. "Who I am—figuring out who I am as an individual. On that journey along the way, I just had to figure that out. Everything in my life, if I'm not loving to do it, loving to be a great brother to my sister, loving to be a great son to my dad, loving to be a great father for my daughter. I gotta love all those things. So I'm giving it everything that I have inside of me. I had a clear conscience after that."
He laughs when he says that winning a championship gave him a confidence boost—he already had all the confidence in the world. Irving went searching for something after he conquered the NBA last season. Now he knows what makes him happy. And it's making all the difference on the court.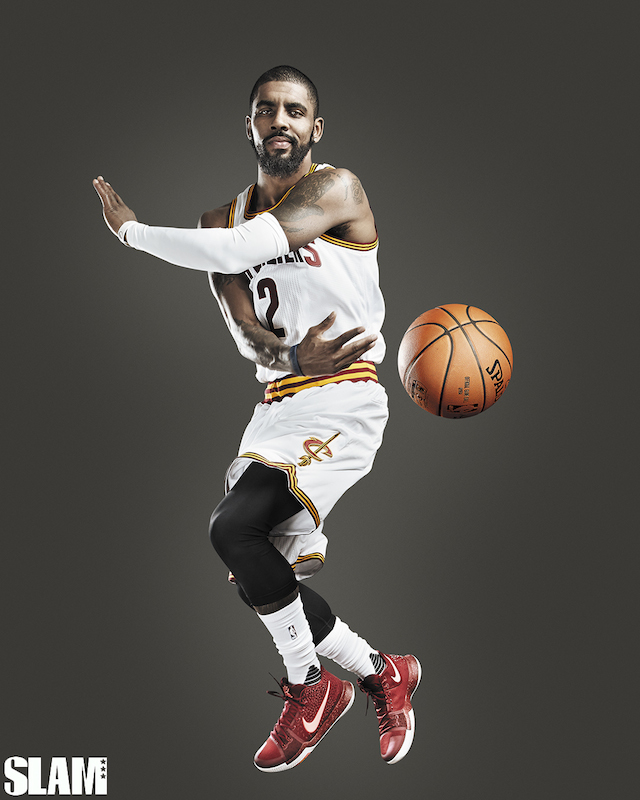 Cleveland has just started warming up on another insanely cold night, this time a Friday in Brooklyn. In a few hours, Cavs-Nets will tip off, with LeBron and Love in the lineup.
The King goes through his pregame shooting routine of hook shots and deep three-point attempts to the delight of the lucky few who get to witness it. He's a walking statue. Even at 32 years old, James is all muscle, intimidating as ever. Throughout his time on the floor, he yells at himself for missing shots and jokes with Cavs assistant coach Damon Jones, who talks some playful trash.
An hour or so goes by and the visiting locker room is loose and free. McRae laughs with Jones. Jefferson makes fun of Frye. For the most part, the whole squad has put up their shots and is ready for the game.
Then Kyrie Irving walks through the tunnel. Hundreds of fans zero in on him as Handy throws him passes. He shoots off either leg, strokes jumpers, makes floaters with his right and left hands. He zigs, zags and corkscrews his body to simulate his famous finishes. These moves are ingrained in your mind's eye, whether he's wearing a Cavs uniform or undercover as Uncle Drew, his equally popular alter ego born from the unforgettable series of genius Pepsi commercials, schooling unsuspecting youngbloods while rocking old-man sweats.
The crowd in Brooklyn is captivated. Little kids stare in awe. Fathers try to capture their smiles on smartphones. Grown men watch with unwavering attention. There's no show like The Kyrie Irving Show.
On this night, the Nets won't go away. LeBron has done his job—through three quarters he has 29 points, 8 rebounds and 5 assists. But it's Irving who delivers 16 points in the fourth, hitting the Nets with body blows and jabs until they can't hold on any longer. It's Irving who steps up to have a 32-point game. It's Irving who inspires the kids at Barclays Center.
"Getting up for a big regular-season matchup of a team that everyone is waiting to see, those used to be big games for me because that's all I had during the regular season," Irving says. "Once you go to the playoffs and you're playing in a Game 7 or a Game 6 on the road to close out a team in a hostile environment, you learn a lot about yourself in those moments. The work becomes different. Your mindset becomes a little bit different because the confidence is etched into you because you've been through the ringer. You've been down 3-1 before."
He lets that hang in the air for a couple seconds.
"I don't try to look too far ahead," Irving says. "I try to live in the truthful moment of every day that I'm living with every person, with everything I'm doing. As long as I stay with that attitude, I feel like I'm in a great place."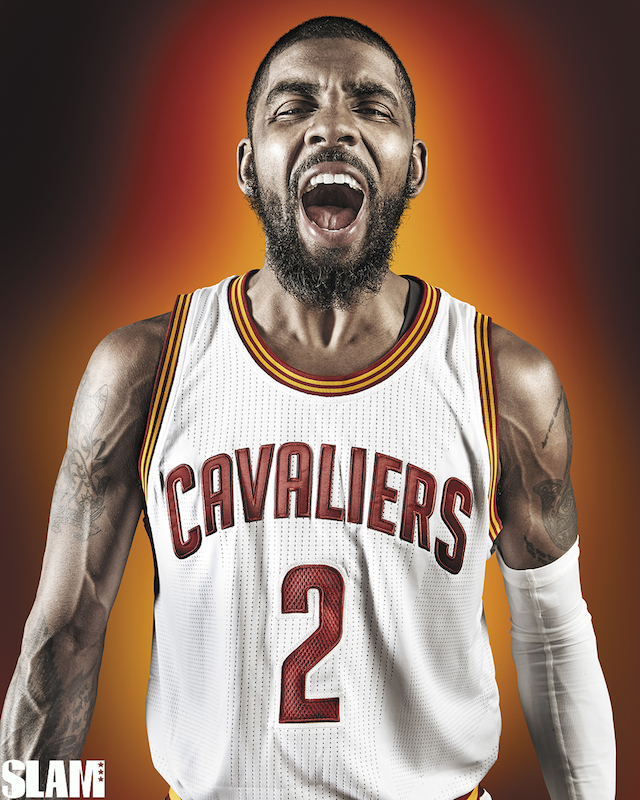 Max Resetar is an Assistant Editor at SLAM. Follow him on Twitter @maxresetar.
Portraits by Paul Aresu; Action shot via Getty Images