Ambition is something that can't be learned or created. It's an innate quality—people either have it or wish that they did. Brooklyn Nets forward Thaddeus Young wanted to become the best basketball player from his peers out of Memphis. Years later he has made good on his adolescent dreams, and he now has set his sights on becoming an elite businessman.
Ali Abdullah is an engineer that wrote code for Google. One day he had the notion to develop an app and branch out on his own. From there, Claim it! was born. Several months passed and after careful deliberation Thaddeus Young joined the Claim it! family as a partner.
Last week, I had an opportunity to meet up with them downtown Brooklyn to see how the app works and why it has risen to the top of the charts so quickly.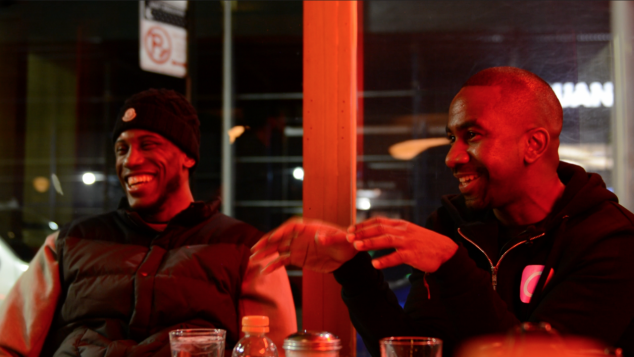 I took the 2 train from Manhattan and got off at the Nevins station. The wind was blowing off the East River directly into my bones at a frigid rate. Nonetheless I trekked up Fulton Street. My mind started to drift as I reminisced about shopping along this strip for rare and exclusive sneakers. That's when a moderate-sized neon pink truck appeared in my peripheral vision. This is New York, so nothing fazes anyone, but the large crowd and fanfare quickly proved to me that I was in the right place.
The Claim it! truck was in full operation and everyone was trying to get in on the act from high school teens, to grandmothers asking how to download the app.
A few minutes later an Uber arrived with Thaddeus Young and wife in tow. They got in the truck and happily began to give away hundreds of prizes. From what I observed, Claim it! is the people's champion of apps. It provides free goods to the public-at-large, and the social aspect of it has a real ice cream truck feeling as would be patrons line up for their rewards.
Claim it! has the mass appeal to do big things. It's only a matter of time and they will be a global leader that bridges the gap between businesses and consumers. Life after basketball will be good for Thaddeus Young and his family, and he is putting in the work now to best prepare for it.
Claim it! is available for download for Apple and Android.
Photo courtesy of Ali Abdullah/Claim It! | Video courtesy of @LoZerFiLms