UPDATE: The NBA fined Marcus Smart $25,000 for his "obscene gesture."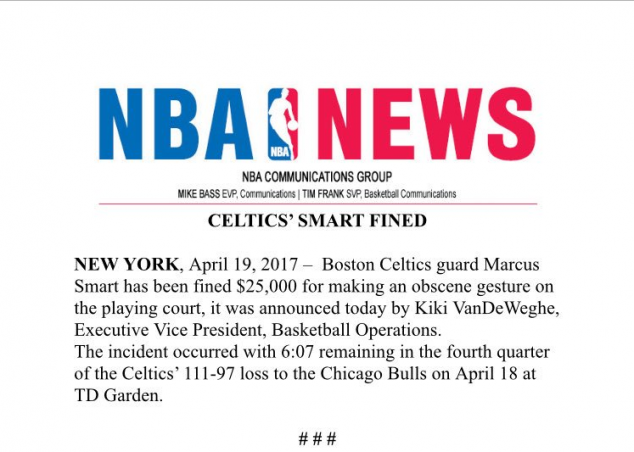 ***
Original story…
Celtic guard Marcus Smart exchanged words with a fan after he missed a three-point shot late in the fourth quarter of Boston's 111-97 Game 2 loss to the Bulls.
A closer look clearly shows Smart also flipped the bird before pointing in the fan's direction and putting his finger to his lips.
https://youtu.be/9xXpyhN9U0s
Smart let his frustrations get the better of him, and he could be looking at a fine as a result.
Celtic coach Brad Stevens wasn't happy with Smart's late-game behavior, saying, "Obviously, if he made a gesture it's unacceptable."
Stevens on Marcus Smart: "Obviously if he made a gesture it's unacceptable."

— Jay King (@ByJayKing) April 19, 2017
RELATED:
WATCH: Marcus Smart Has Heated Exchange with Assistant Coaches