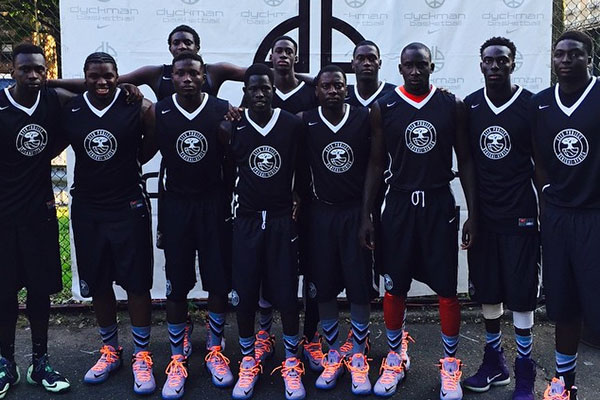 "The SEED Project is developing the next generation of African leaders. We use education and basketball as tools to help young people realize their potential. Through this we empower our students to become the mentors and the role models for future generations of African youth. Together – they will continue to build a stable and self-reliant Africa." – The SEED Project
Last Friday evening at the well renowned Dyckman Park in uptown New York City, some of the best young hoopers from Senegal showcased their talents under the bright lights of one of America's most hallowed blacktops. The home team, composed of the Dyckman All-Stars, went up against a visiting Senegalese all-star squad that was given the opportunity to play in Big Apple through the SEED Project program.
SEED, which stands for "Sport, Education and Economic Development", takes young kids from Senegal and offers them a better chance at life through hoops. The program finds American schools for the top participants to attend with the potential of earning athletic scholarships—supporting both the academic and athletic aspects of the initiate.
The SEED Project has three programs that they established in order to change the model of youth sports in Senegal and eventually around the world: SEED Academy, SEED Rise, and SEED Scholars.
SEED Academy is a top tier boarding school for high potential student athletes. SEED Rise offers an after-school sport and education curriculum for youth, where kids learn to use basketball as a tool to increase academic interest. SEED Scholars is a program designed for career and leadership preparation for college-aged student athletes. Participants receive internship and job placement support, as well as on-going visa and NCAA assistance.
SEED Academy has an immaculate record that includes 100 percent of their students having graduated from vocational school or high school and 100 percent matriculating to college or employment after six months of completing school. The opportunity to study at some of the top universities in Africa, the United States and Europe, and to become global citizens ready to contribute to their communities, Senegal and Africa as a whole is what separates SEED from any other international athletic program.
The SEED Academy is quite rigorous. It is composed of a top-tier high school education, academic tutoring and study hall, English classes and TOEFL prep, leadership development, basketball instruction along with team-based training. Additionally, students are provided with housing, meals and transportation. When dealing with college prep, SEED helps students with school selection, visa assistance, athletic recruiting support, and placement services.
The United States, Qatar, Italy, France, and Germany are just some of the countries where program alums have relocated to continue their education. Furthermore, 75 percent of SEED Academy alumni have matriculated to college (versus five percent of the general Senegalese population), 78 percent of SEED Academy seniors have passed the high school exit exam (versus 31 percent nationwide), and $5.8 million in college scholarships have been earned to-date by SEED Academy graduates.
This program has presented an excellent opportunity to players like Doudou Gueye, a 6-9 power forward senior at South Carolina State, Assane Sene, a 7-0 center who graduated from Virginia in 2012, and Mohammed Lo, a 6-7 forward who graduated from Toledo in 2011.  All three were among the names that made up last week's Senegalese all-star team. They went up against the likes of Mustafa Jones (6-7, Forward, Central Connecticut State '18), Adonis De La Rosa (6-11, Center, St. John's University '18) and Jahlil Tripp (6-4, Guard, Abraham Lincoln High School '16), who were some of the local talent that suited up for the Dyckman All-Stars.
The Senegalese team got off to a slow start but eventually found its rhythm. In the process they even began to win over some of the local Dyckman crowd, with the announcer creating his own personal chant for Gueye. But there were moments when it seemed like the Dyckman squad was just one step ahead and was the more aggressive of the two. Nonetheless, the SEED All-Stars were able to hold their own.
In the end, the Dyckman squad was able to successfully defend home court, emerging from the close bout victorious with a final score of  51-45. Vince Franklin (6-6 Forward, Casper College '16) was named the game's Most Valuable Player after putting up 10 points. Sidy Sall, a 6-9 forward who just finished up at Christian Brother's Academy, led the Senegalese team with 13 points.