September, 1991. Just a few months after winning his first NBA title—and five years before his co-starring role alongside an animated rabbit in a Hollywood blockbuster—Michael Jordan made his first great leap into mainstream popular culture when he hosted the Season 17 premiere of Saturday Night Live.
The episode was an instant classic, and not only for the Rev. Jesse Jackson's unforgettable rendition of Green Eggs and Ham or a pair of intense performances from musical guest Public Enemy. Jordan was practically perfect, knocking out a memorable monologue (in a quilted, olive-green jacket that later inspired a special makeup of the Air Jordan VI) and appearing in a half dozen sketches, three of which became iconic: "The First Black Harlem Globetrotter," "Bill Swerski's Super Fans" and "Daily Affirmation With Stuart Smalley."
Polished and composed, Jordan nailed nearly every line. Almost 30 years later, cast members, extras and writers remember being struck by Jordan's professionalism and star power—and by how well that episode holds up. "We had a lot of athletes on the show," long-time writer Robert Smigel says, "but Jordan was the pinnacle."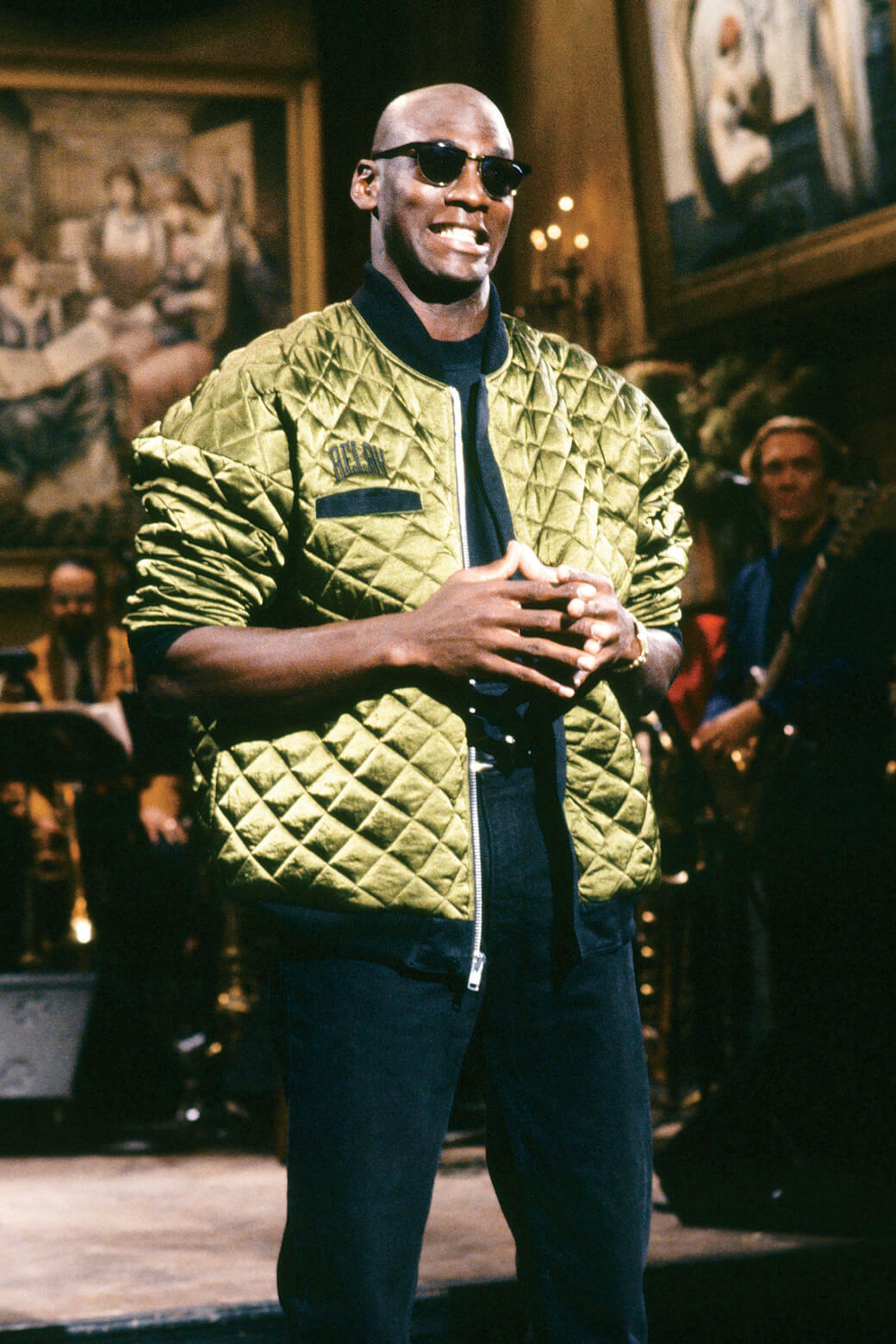 NO. 1 PICK
ROBERT SMIGEL (SNL writer and cast member): The preceding summer, there was a comedy tribute to Jordan at the Chicago Theatre. He didn't do a ton of comedy on that show, but he did the "Super Fans" piece with us that night. I met him, got to work with him and do the sketch with him—he was very laid back and friendly. The sketch was a big hit and he had a great time. I was told later that that gave him the confidence to host SNL. I'm sure they were already pursuing him heavily. He was such a great choice to host.
STUDIO 8H
JIM PITT (SNL talent coordinator): It's one of my favorite subjects. I was one of only two guys in the talent department, and whenever
an athlete hosted, it was like, "Why don't one of you guys handle this?" So I was sort of Michael's guy all week. I went out to New Jersey, picked up him and his wife at the airport and when it was call time, I'd just go hang and wait for him.
ELLEN CLEGHORNE (cast member): I was a new cast member. That Monday was my first day at work, and I got to meet Michael Jordan.
CHRIS ROCK (cast member, via Complex's Sneaker Shopping, 2017): He was the biggest star that had ever done the show…He was at the height of his powers. It was like hanging around Iron Man or something.
GARY NEWTON (SNL extra): It was always a big deal to host the first show of the season and obviously Jordan was at his zenith. It was like Babe Ruth had come in to host the show.
SMIGEL: It was like Babe Ruth—I remember Al Franken saying that. It's funny to think back on that; nowadays all the emphasis is on "rings." This guy only had one ring at the time, but there was no question in anybody's mind he was the greatest player anybody had seen. We'd had Joe Montana and Walter Payton, Wayne Gretzky; whenever we had an athlete, everybody's starstruck. With Jordan, people just couldn't believe he was there.
CLEGHORNE: I'm from New York, I was a big-time Knicks fan, but my mother's from Chicago, and I used to spend summers in Chicago. But it didn't matter—just the phenomenon of Michael Jordan, even if you were a Knicks fan, everybody was a Michael Jordan fan.
PITT: People would be surprised that athletes were such good hosts, but [SNL creator] Lorne Michaels would say, "They've been coached their entire lives—they take direction really well." That week of the show is unlike anything else in entertainment or sports; they've conquered the highest heights, but they don't necessarily know how to do this. They have to just trust the process.
ADAM SANDLER (cast member, via Dan Patrick Show, 2017): I don't think he had that much pressure on himself. I don't think he was like, "I want to be a great host." He wanted to do it right for the show's sake.
THE JORDAN RULES
ROCK: The cast is used to famous people—we had famous people on every week and nobody would ask for autographs or anything. But Jordan, yo…it got to the point, they had to put a guard, a policeman, outside Michael Jordan's dressing room for the cast. Just for us.
SANDLER: I remember Lorne was telling everybody, "Just stop with the autographs. Stop. Leave him alone." It was nuts.
PITT: It was the only time in my seven years that there was a sign on the host's door saying "No Autographs." That wasn't him—it was the show instituting that. But I will say, he signed a lot of stuff in the first half of the week and he was very gracious about it.
SMIGEL: I know he signed a lot of basketballs that week. I still have mine. I keep it in a closet, I'm so afraid of something happening to it.
ROCK: I remember at one point me, [Chris] Farley, Sandler and [David] Spade were gonna go to McDonald's and Jordan was about to come with us [laughs]. I think we got to the elevator and he's like, Eh, I can't go, guys. But it was cool. We got to hang out with him the whole week and he was funny in the sketches.
SANDLER: He was hanging out, we became tight—for the week, you know. He was genuinely lovable. He was just cool, man. Handsome dude. He owned the whole place.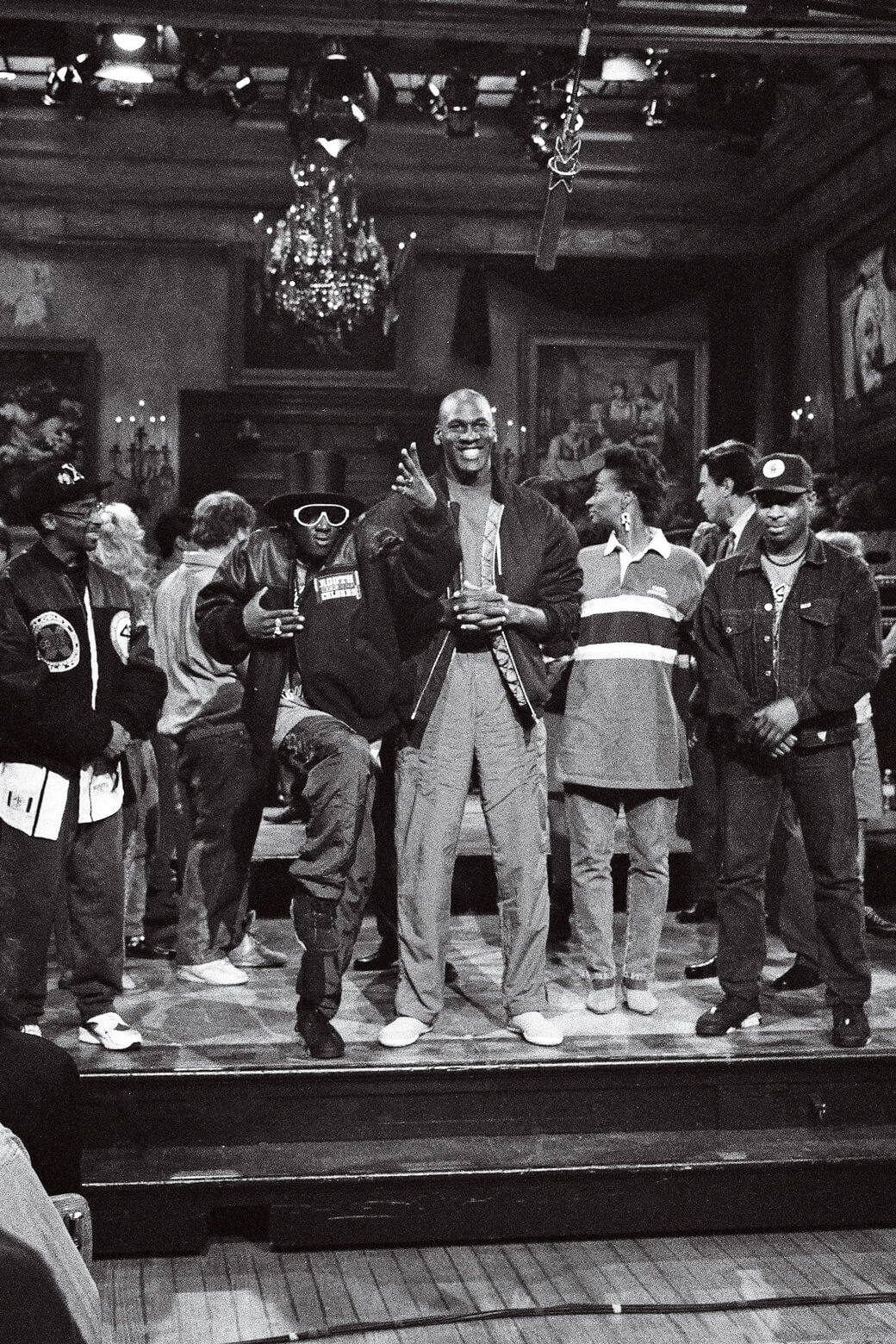 CLEGHORNE: He was very kind. You work with some people who aren't that nice, and then you see how this man, who's the best of the best in his industry, could be so nice. I wrote this sketch, "Zoraida the NBC page," and it's just me and him, and I keep touching him, grabbing his arm. We did a lot of takes in rehearsal, and he could've been like, "Uh, don't touch my arm." But he had a sense of humor. He played along.
PITT: He was great to deal with. I wouldn't say he gave up a whole lot, but he was super nice to people on staff. Once he got through that Monday meeting, where all the writers pitch their ideas, he got more and more comfortable. As the week went on, it gets a little more serious with rehearsals and it's a very regimented schedule. He did his work, he learned his lines.
"THE FIRST BLACK HARLEM GLOBETROTTER"
In Smigel's sketch, the all-white Globetrotters of the 1920s take a chance by signing their first African-American player, "Sweet River Baines."
SMIGEL: I'm a huge basketball fan and I grew up loving the Globetrotters.
PITT: Every once in a while, staff members would end up in sketches as extras. In this case, Smigel specifically wrote me into it. The idea was that the original Globetrotters were these slow white, ethnic guys. My name was "Mick O'Herlihy."
NEWTON: I worked during the day at the fitness center at 30 Rock, on the same floor where they filmed. That's how I got to know the casting directors and I did some extra work—probably eight or nine sketches over the course of three years. You come in, you don't make waves and hopefully they bring you back. For this one, they brought a bunch of people in, like an audition. There wasn't really a way to see if guys could play, so they started asking people basketball trivia questions—that way they could tell if you were a poser. I played in high school and I loved the game, so I did well on the trivia.
SMIGEL: Tom Schiller was this brilliant filmmaker who did short films for SNL and he had a real affinity for old-timey aesthetics. But he was also this hilarious eccentric, so he comes to the set and he's literally wearing an old director's beret and he's got a megaphone, almost like a character as he's directing. And Michael Jordan is looking at him like, Who is this guy?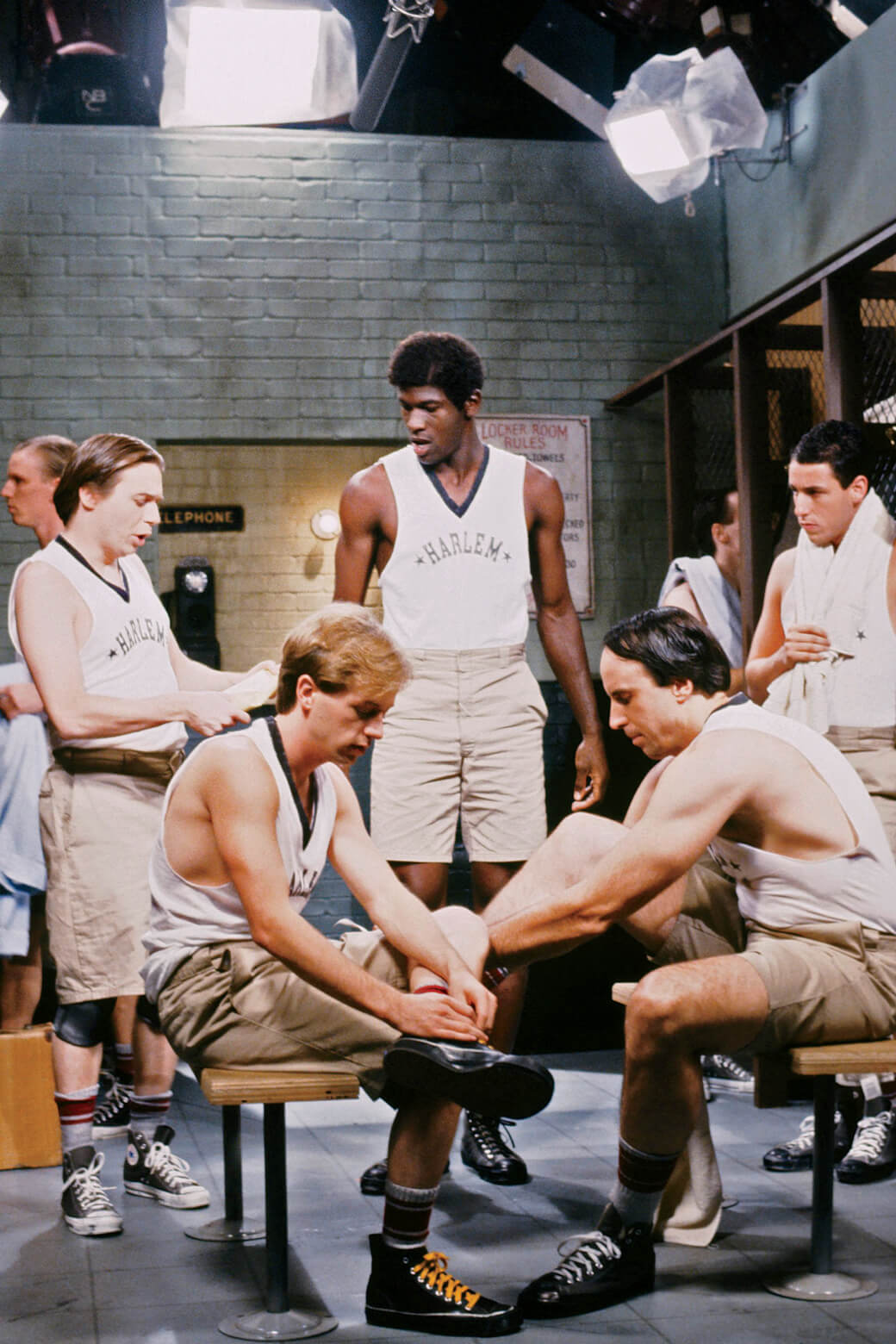 PITT: We filmed the basketball scenes earlier in the week, maybe on Thursday, at the 23rd Street Y. The basketball sequences were
pretty basic—old fashioned, two-handed set shots, hook shots and the Globetrotters' "magic circle."
NEWTON: We had to look really rigid—single bounce passes, maybe one dribble, that was it.
SANDLER: Michael was in some old-time wig. We were all on the same team as him—we got to pass him the ball and he'd take a shot.
SMIGEL: I put myself in the sketch—the scene where someone's taking a two-handed set shot and Michael blocks it so hard, just smashes it. I couldn't resist having my shot blocked by Michael Jordan.
NEWTON: I was on the opposing team. On one play I got position in the middle of the lane and he actually jumped over me and dunked. They didn't use it in the show, but just to have that happen…
PITT: There was a lot of downtime, so the amazing memory for me is really more than shooting the scenes, but shooting around with six or seven other guys and one of them is Michael Jordan. We were friggin' shooting around with Michael Jordan. It was pretty surreal. At one point I did a little drive to the hoop, no effort at all and I kind of threw it up and he stuck his arm out half-assed and it went in and he leered at me. I just realized, "Wow, everything is true. He is super competitive."
SMIGEL: You see him on the court and you know he's a crazy competitor. Between takes, he's watching the actors shoot around and he just looks at me with disgust, like, Look at these guys, just a bunch of weekend hacks.
NEWTON: At some point that day, one of the principal cast members goes over and gets his autograph. And then another one goes over and another one. It was those guys taking the lead that kind of gave us all permission. It probably helped that there were only 12 to 15 people at the gym. I'm not usually one to get autographs, but I had a basketball that I got signed for my little brother. I gave it to him for Christmas.
SANDLER: I remember Rob Schneider with a basketball. I was like, I thought we're not allowed to do that! He's like, It's Jordan. I gotta. I skipped it to be cool and now I regret it.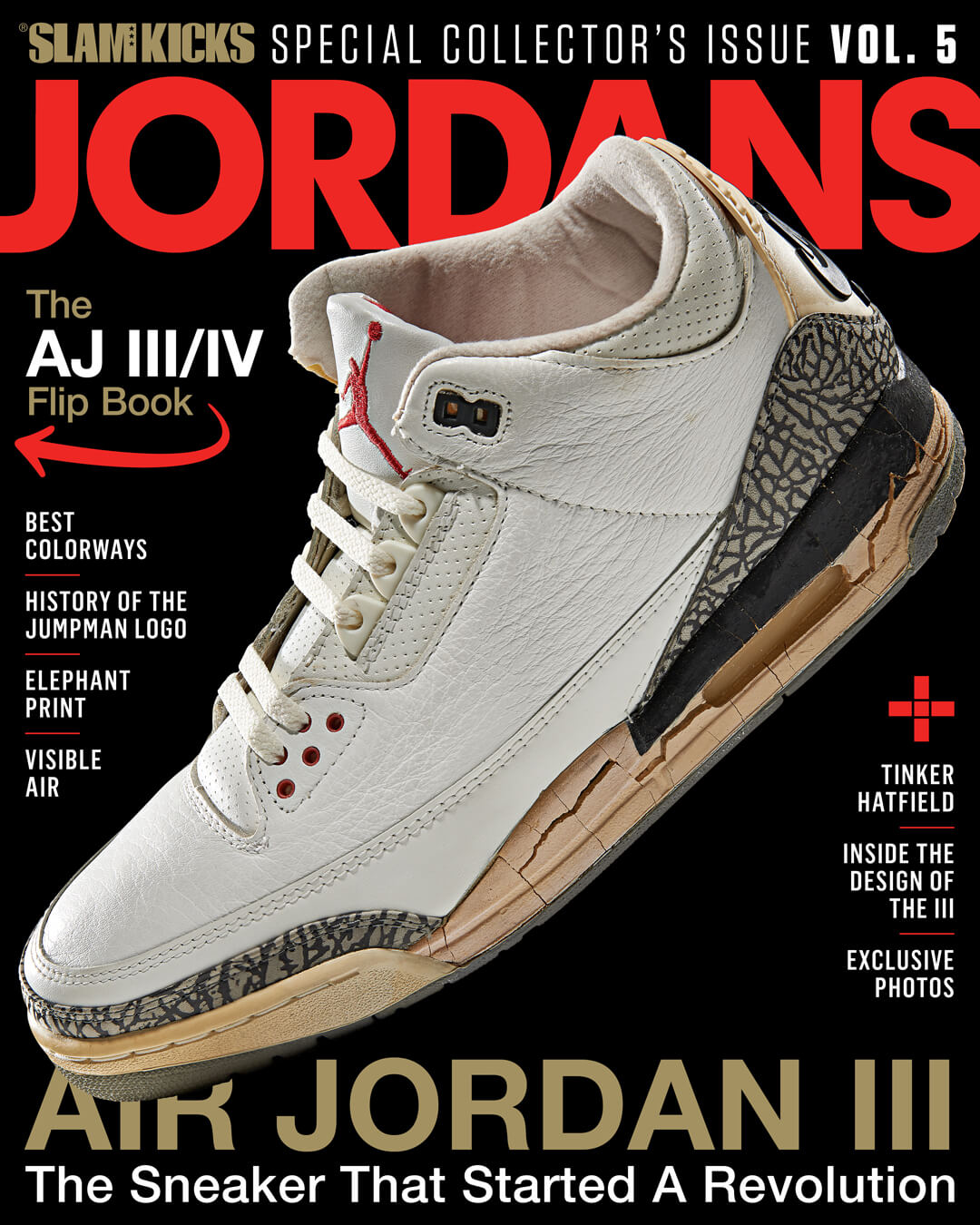 "BILL SWERSKI'S SUPER FANS"
An update on the sketch that helped convince MJ to host, with Jordan joining the beer-swilling, Bears-obsessed, heart-attack-prone Chicagoans at Ditka's Restaurant. Mike starts by ordering a Gatorade and finishes by donning a grass skirt and joining the Super Fans for a hula dance.
SMIGEL: In the sketch, they're imposing their football obsession on the basketball player, but it turned out the Bulls were the ones who made the sketch famous. It became famous in Chicago the season before, and then we did it again for the season finale, and then the Bulls won the championship. The Bulls even put it on their court one season—it actually said "Da Bulls" on the sideline. The Bulls were really the thing that made it national. At the end of the sketch, we did the hula dance with Michael and I got a picture of that. It's the only show business photo I have in my house.
"DAILY AFFIRMATION WITH STUART SMALLEY"
Written by and starring future US Senator Al Franken, the recurring Stuart Smalley sketch peaked with Jordan's appearance. Arguably the show's most enduring image is Jordan—aka "Michael J." to protect his anonymity—looking at his reflection in a mirror, with Smalley hovering over his shoulder, giving himself a pep talk to boost what Smalley assumes is his fragile self-esteem. The fact that Jordan managed to not break character (although it was close for a second) is the sketch comedy equivalent of a 50-point game.
CLEGHORNE: It's read day—Wednesday—and Michael Jordan is sitting at the top of table, and Al Franken is sitting directly across from me. Franken pulls that sketch out, and I'll tell you, I never laughed so hard at anything in my life. They asked me at the 45th reunion to pick a sketch, and most people picked a sketch they were in. I picked the Stuart Smalley sketch with Michael Jordan. Just the magic of those two together…that was the funniest thing I had ever seen.
PITT: How he was able to keep a straight face during that, I don't know.
SMIGEL: That was such a great moment, and him not breaking character upped the sketch over time. It was already great, because the sketch was so absurd—just the idea of him being anonymous. It was fantastic.
THAT'S A WRAP
PITT: I hadn't bothered him all week, but after the show ended—this is like 1:30 Sunday morning— I'm walking with him to the car in the basement garage and I had this beautiful gold Michael Jordan signature basketball. I said, "This one's for me, if you don't mind," and he said, "JP, you treated me well all week, happy to do it." I'm not a basketball junkie, but it was an amazing experience.
SMIGEL: The way he was, his public persona… my kids are big NBA fans now and during the pandemic we've been watching classic games. You see some of his most amazing games and then he steps off court and he's so unaffected. He also does that thing where you meet him and he repeats your name, so he knows it. Years later, I was at his retirement ceremony with my wife and we see him, and it's, "Hey Robert, hey Michelle."
SANDLER: We all were in love with him. He was the greatest. It was like the Jordan you loved when he hits a shot and smiles—that's who we had on the show.
—
Ryan Jones is a Contributing Editor at SLAM. Follow him on Twitter at @thefarmerjones.
Photos via Getty.