Stony Brook HC Ashley Langford is Building a Successful Program and Empowering Players for Life After Ball
SLAM has partnered with the Black Coaches Association on a content series that will spotlight Black coaches from every level. To learn more about the past and present of the BCA, and to register as a member of the BCA, click here.
After hanging up the phone with Stony Brook's Director of Athletics Shawn Heilbron, Ashley Langford couldn't help but let out a stream of joyful tears before calling up her pops to break the news that she had just become the new head coach at one of the best mid-major programs in the country.
"You visualize it, but when it actually happens, you're like, Man, it's amazing. I made it," Langford recently told SLAM of becoming head coach last April.
Langford, who grew up in Harrisburg, PA, was a standout at Tulane University and graduated in '09 as the program's record holder in assists (722), games started (119) and minutes played (4,162). Pouring in 1,047 career points while setting Tulane's single-season assist record twice, the 5-5 former guard could have easily pursued professional opportunities overseas, but the chance to help young women carve out a life after basketball, all while establishing a competitive program, spoke to her.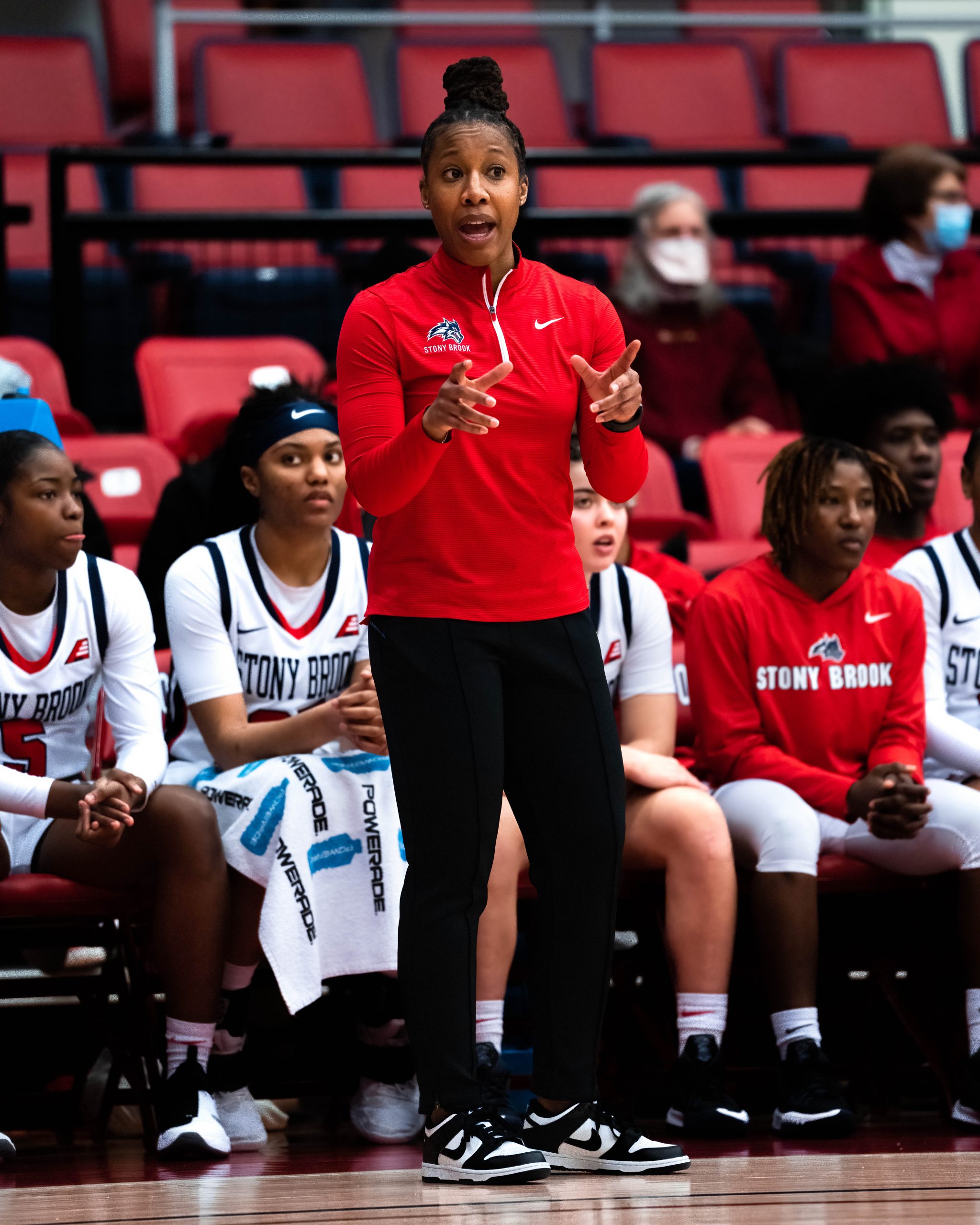 Langford began her coaching career as a graduate assistant with the Auburn women's basketball program, all while completing AU's MBA program in 2011. She then continued to hone her craft as an assistant at Old Dominion, the U.S. Naval Academy, Bucknell and Denver before joining the coaching staff at James Madison in the summer of 2017. In four seasons, Langford helped lead the Duke Dogs to a 91-31 overall record and three Colonial Athletic Association regular season titles. She was promoted to assistant head coach prior to the 2020-21 season.
In Harrisonburg, VA, Langford says that she had found that "fit" within a program that every coach yearns for. "I had a chance to really just, I think, thrive," Langford says of her time at JMU. "I'm really big on fit. And I think when you find your fit, it's a beautiful thing because you can maximize your potential."
And now, as head coach at Stony Brook, that fit has allowed Langford to not only strive for excellence, but to want that out of her players both on and off the court.
"I tell our team all the time, knowledge is power," Langford says. "That's been instilled in me from a young age, it's also been instilled in me to just be the best that you can be, at whatever you're doing."
"So, to me, it's no different than [how] we want to win every game—well, I wanted to compete in the classroom, too. I was trying to be the best. And that's just how I'm wired."
With four seniors and three graduate students on the Seawolves' roster this season, Langford wants her players to have a multitude of options once their collegiate careers wrap. "I gotta be able to succeed and be successful in this life. And so do young women. We're already at disadvantages. So you got to be ahead," Langford says.
"We're playing basketball, yes, that's paying for your school, that's paying for your undergraduate degree. That can also pay for your master's degree. Continuing your education is key to me," Langford continues. "And at the end of the day, I want my players to graduate and then be able to actually be successful in society."
Stony Brook finished the regular season 23-5 overall and ranked No. 2 in the America East. The team boasts a conference-best 68.1 points per game with five players averaging nearly double figures; all while holding teams to the third-least points in the conference on 36 percent shooting from the field. 
Langford is a player's coach through and through. From the moment she was announced as the 10th head coach in Stony Brook's history on April 28, 2021, her staff has poured themselves into strengthening the team's already immense potential on the court, all while making connections off the court; in the coaches offices, they'll chop it up about life, family and a little bit of X's and O's.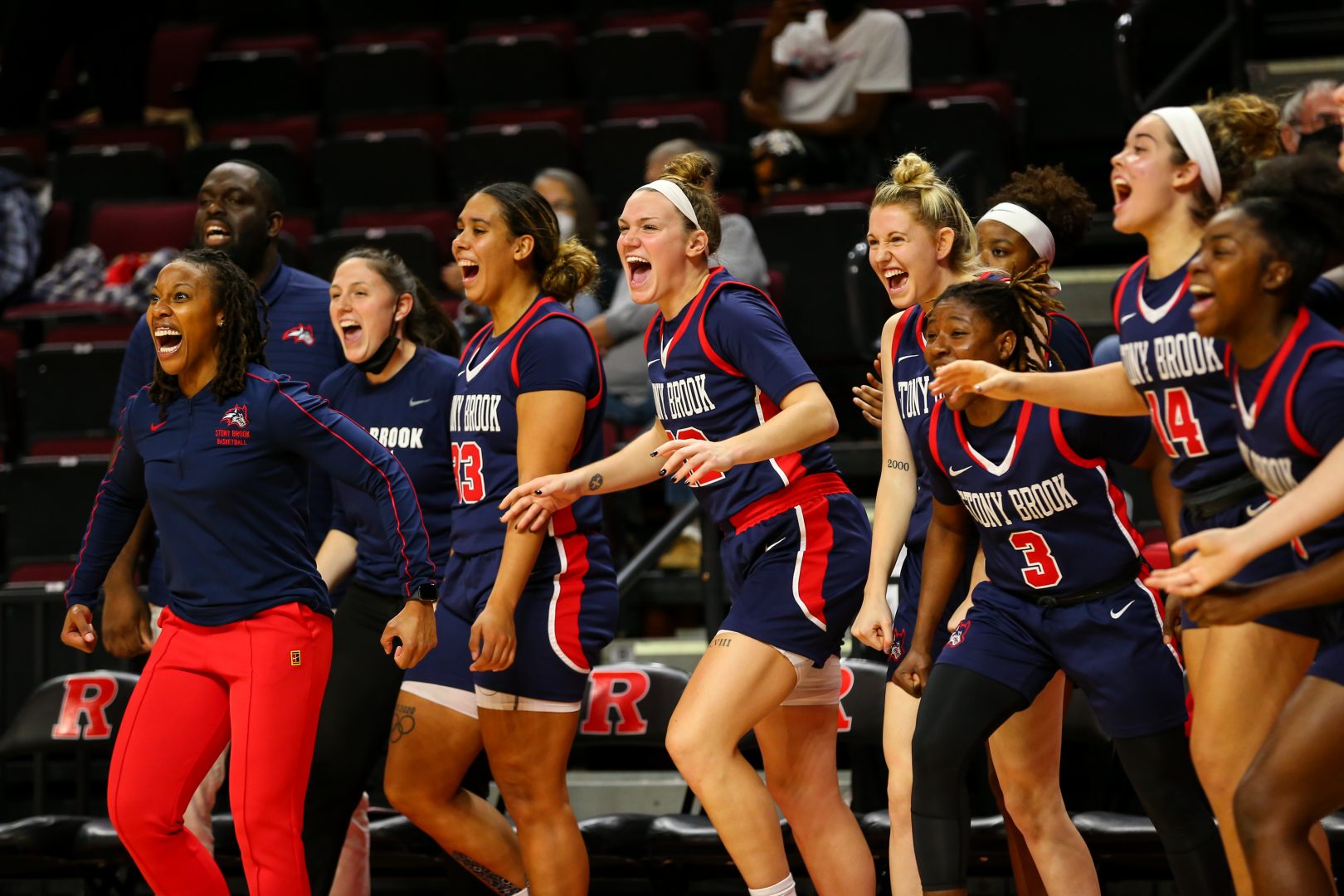 The player development, relationships and investments made since April has paid off exponentially this season—Stony Brook has wins over Rutgers, St. Johns and Washington St. With water flying throughout their locker room and dousing Langford after Stony Brook's 53-44 win over the Scarlet Knights, it's evident that her expectations, and the work the team is putting in behind the scenes, is paying off. 
"I'll be honest, I'm pretty tough in terms of my expectations, because they're capable. And when you're capable, I got to get you there. I got to get you there. That's my job to do that," Langford explains.
That genuineness, her realness, has resulted in not only one of the most lethal rosters in the country, but also in helping empower her players, especially Black women. She even plays Lift Every Voice and Sing before every home game and has had important conversations with the team regarding the inequalities they've faced.
"They need to understand that we should be praised, that we should be valued. They should be proud to be a Black woman," Langford says.
When the America East announced earlier last month that the school was ineligible for the upcoming conference tournament because of its decision to join the Colonial Athletic Association next year, Langford had to break the news to her team that they would have to earn an at-large bid to the NCAA tourney the day of their game against Binghamton.
The news weighed on them for several days until Langford and her staff held a gratitude circle before practice. Langford says that at halfcourt, 11 of the 15 women in the circle were emotional and cried. As she heard her players' stories and watched them open up, it finally hit her that she and her staff have continued to create an environment that supports, loves and plays for one another.
"That moment for me, we're doing the right thing here. We're really creating lifelong bonds and connections with these players, and they are too with each other. And that's what it's about to me. And that is going to result in a win. That is going to result in success once they graduate. And that is going to keep us all connected for a lifetime."
---
Photos courtesy of Stony Brook Athletics.