Cambridge Rindge and Latin is a Massachusetts high school basketball dynasty. The public school in Harvard's hometown is the two-time defending state champion and has produced pros such as Hall of Famer Patrick Ewing and NCAA champ Rumeal Robinson, among others. This year, however, a certain sophomore guard is adding a new chapter to its incredible hoops legacy.
Ben Pimlott, who was born without a fully formed right arm, is a starter on Cambridge's junior varsity squad and a revelation to opponents who underestimate him based on his different ability. As a freshman, he scored 32 points in one game, draining 8 threes and shocking the opposition. "The other coach looked at me like, How's he doing it? And I'm just thinking, How are you leaving him open?" Pimlott's freshman coach George Rodriguez says.
Pimlott—the youngest of three children his mom adopted from Chinese orphanages—started playing at two courts filled with hoops history. The teenager earned his keep at the local YMCA where Bill Russell's Celtics teams of the 1960s practiced, and Hoyt Field, where Ewing was introduced to the game.
"A lot of times, you could catch me and my sister playing basketball at the parks or local youth centers," Pimlott says. "I guess you could say it made me who I am."
In the beginning, Pimlott faced judgment on the court based on his shortened arm. "When I play pick-up, some people from the jump don't play me hard, but I don't think they understand I can play at the same level as them."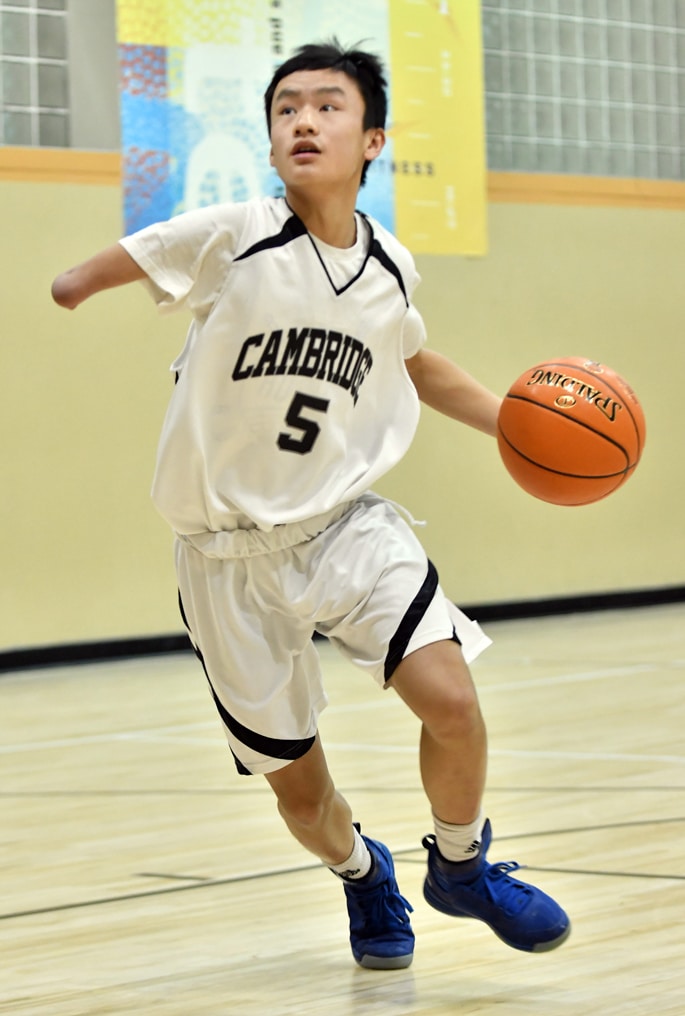 Other times, opponents focused on his difference to their own detriment. "Usually people force me to my weak side, but I practice and play so much it's second nature to go by them."
After being cut from a youth travel basketball team in the sixth grade, Pimlott worked all year and made the team in the seventh and eighth grades. That hard work helped him join one of the strongest basketball programs in Massachusetts.
"I don't see anyone in the city who worked as hard as Ben—you have to kick Ben out the gym," Rodriguez says. "He has developed an amazing in-and-out dribble and his first step is explosive."
After newspapers like The Boston Globe featured his amazing story, Pimlott got some recognition from another Cambridge-bred hooper, Nets point guard Jeremy Lin, who played college ball at Harvard.
"Best news story I've seen in a while!!" Lin tweeted in response to The Globe article. "So many inspirational elements: Chinese, orphan, physical disability, racial prejudice, etc. Rooting for you Ben!! Keep killin on the court!"
With his junior year of high school coming up, Pimlott is prepared to go up against any competition.
"If you doubt that I can play with one hand, I say…play me."
–
George Hassett is a writer living in Boston.
Photos via Josh Reynolds.
Video produced by Allison Dodek, shot by Ernesto Guadalupe and edited by Christian Quezada.