At 21 years old, Jaylen Brown is wise beyond his years. The budding Celtics star meditates, makes music, plays chess and has the courage to speak openly about racism in America.
He also watches superhero movies, makes fun of his cousins on Snapchat and films himself doing social media challenges.
That's the duality of Jaylen Brown. He's an intellectual, aware that there's more to the world than basketball. He's also just a kid who likes to have fun.
That versatility continues when he steps on the hardwood. He covers the floor defensively, locking in on the opposition's best perimeter player. He operates with patience, waiting for his opportunity, reading the offense. Then he strikes. When he gets steals or chases down rebounds and rogue loose balls, he flies to the other end of the court, finishing with soaring tomahawks, windmills and between-the-legs dunks. His jumpshot has grown quickly and so have his handles. He's taking dudes off the dribble, making use of iso moves. The second-year pro is showing big-time improvement in all parts of his game, both mentally and physically.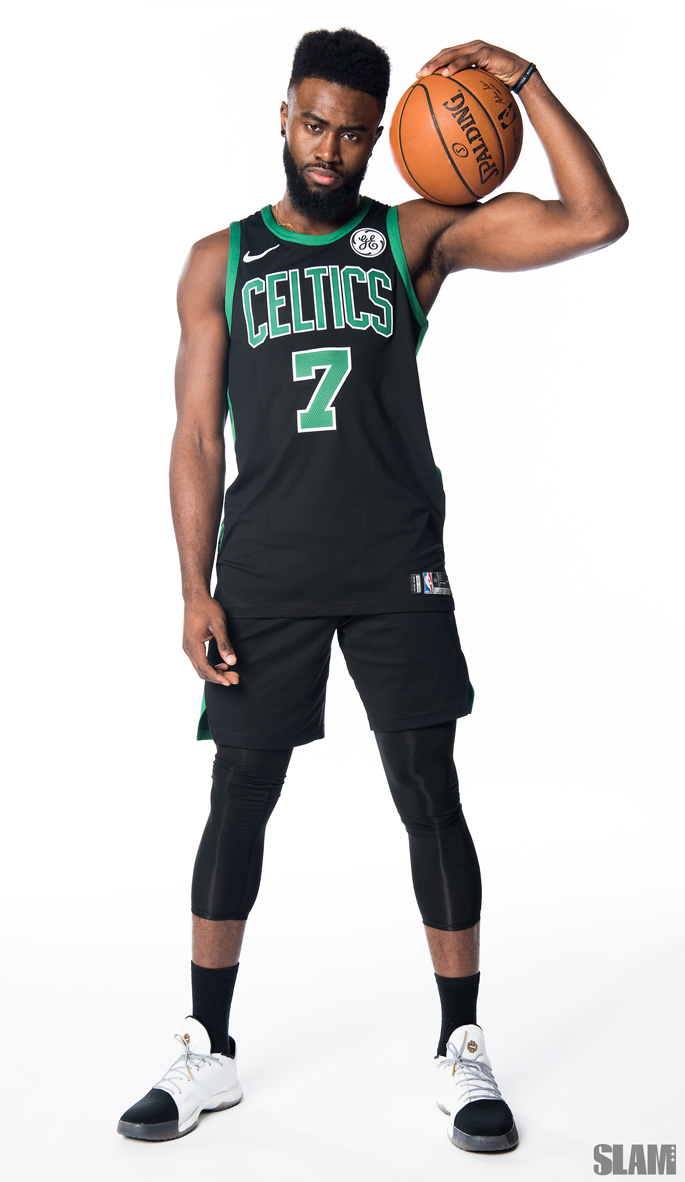 Brown's proving that there aren't too many people who can keep up with him on the court. His athleticism, a mixture of raw strength and agility, are being complemented by a realization that he has to master the mental side of hoops. He's just starting to scratch the surface of his potential.
When we link up with Brown for this story, it's a cold, rainy day in Waltham, MA. He comes through to the court that we've rented followed by his two older cousins who have come from Georgia to live with him. He answers questions on camera and poses for some stationary photos in front of about a dozen people. It's late in the afternoon, and most of our crew has gotten all they need for the day.
Before our time with Jaylen ends, we grab him and his cousins and bring them into a kid's court that's off to the side for a few more portraits. Unbeknownst to us, a local coach has a pair of young hoopers in there working on their games. When the coach tells them that Jaylen Brown has to use the court, they giggle. Then when they see Brown, their faces light up. He gives each of them a high five and thanks them for letting us use their space. They're in awe.
He proceeds to launch into the air, posing for pictures that put his elite jumping ability on full display. He's cheesing just as much as the two young ballplayers.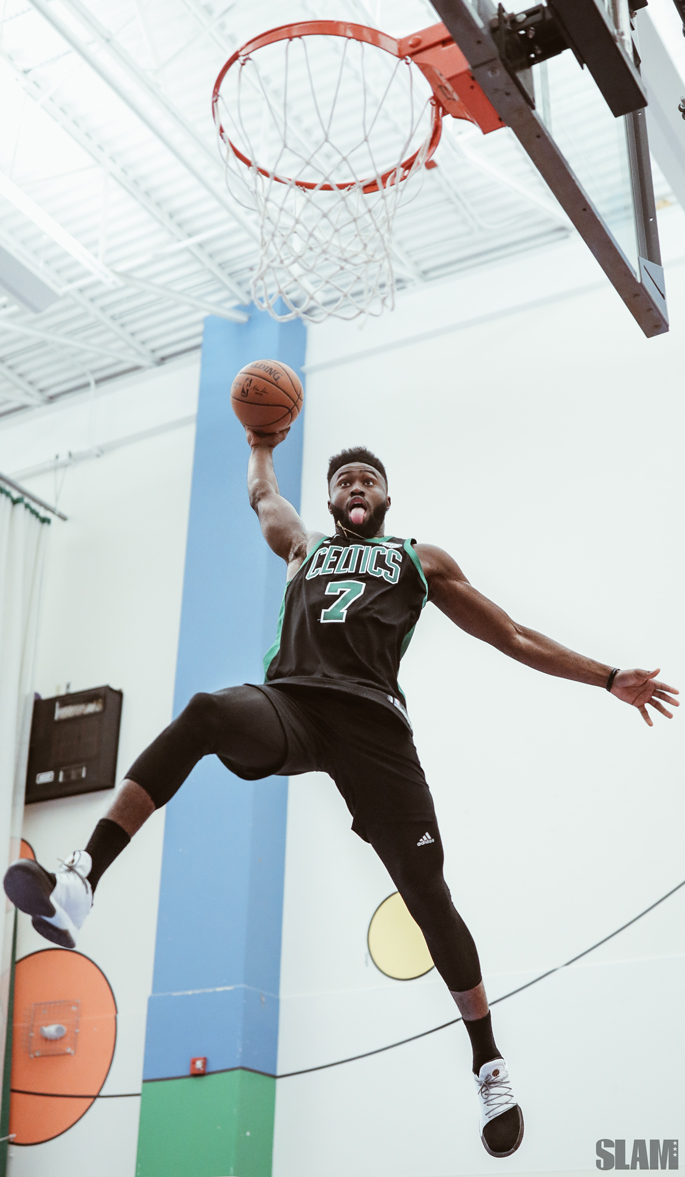 When his cousins pick up the rock and start to drive to the rim, he eagerly waits to swat their shots. There's some trash-talking, some I bet you can't do this type of stuff being thrown around. Before you know it, Snaps have been captured and Brown can't stop laughing. It's the same kind of interactions that go down at every playground in the country these days, when the game brings kids together, when it lets them compete and have fun.
Just a few minutes earlier, Brown was speaking eloquently about the cerebral side of basketball. He can flip it off and on, smoothly transitioning between being a thoughtful speaker and a dude who's antagonizing the people he spends every day with.
Brown knows when it's time to go to work, though. His teammate Terry Rozier says that he has the utmost faith in Brown when the lights are on.
"We trust one another, so that comes hand-in-hand," Rozier says. "The communication, that's something that we were challenged [to do] from the coaches from day one in training camp. So that's a given. The trust helps us get things done out there."
They've helped establish the Celts as a top-five defensive team.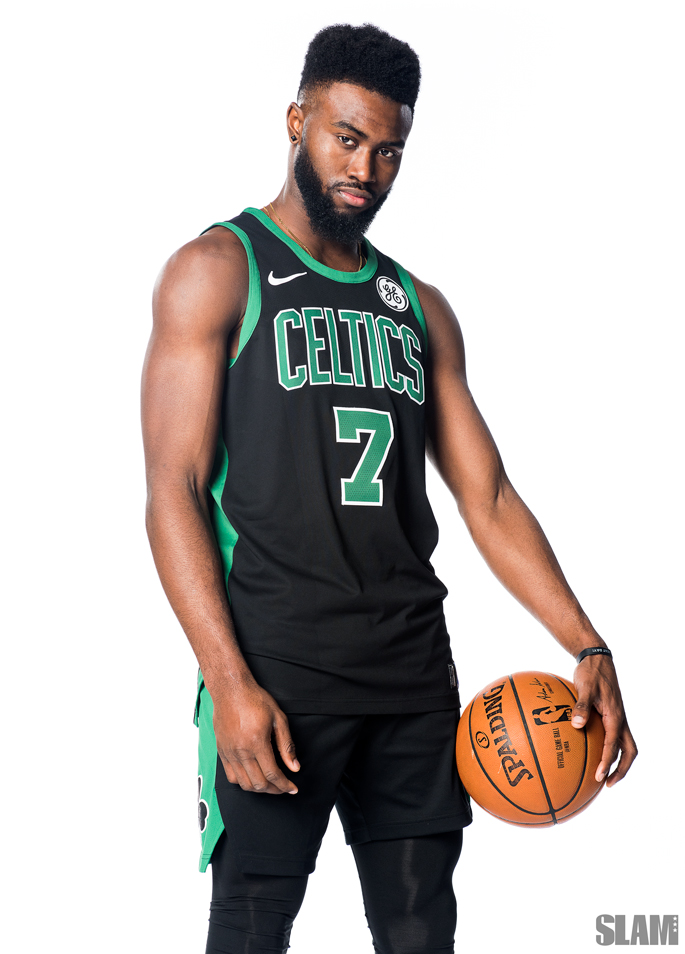 "He's one of the best athletes I've ever seen," Celtics rookie Semi Ojeleye says. "The way he moves and his quickness, being that explosive, helps him beat guys to spots."
Still, Brown says that playing elite defense in the League is tough for him.
"The most difficult part about guarding NBA players, especially really good NBA players, to be honest, is it's damn near impossible to really stop somebody," he says. "It's extremely hard without touching them, to control them or limit them to a certain amount of points. My job is to make you earn every point that you get. It's hard as hell to stop anybody from scoring 30, but I'm gonna make you work for every point you get."
Brown's being modest. He's put the clamps on dudes on the Cavs, Warriors, Thunder, Sixers, Timberwolves and just about everyone else in the League as the Celtics continue to pile up wins against the best of the best. Jimmy Butler only scored 14 points against him in January. Kevin Durant and Klay Thompson put up a combined 37 points when the Cs beat the Dubs in November. DeMar DeRozan needed 22 shots to get 24 points with Brown guarding him.
Brown is making a difference and he's using his mind to do it.
"I would say 90 percent of the game is mental, rather than physical," he says. "Everybody has ability, everybody has talent. Talent is a dime a dozen. You have to have some other things to separate you from the pack. I think what you hold [in your head], that makes a huge difference.
"Just how you train your body physically, I believe you should train your body mentally," he adds. "Stay sharp, keep your acuity high. That could even be playing crossword puzzles or that could be reading books. Exercising your mind in a way to keep it moving forward. There are various ways I do it, try to open up different parts of the mind. I play different instruments. I write. I try to exercise my mind."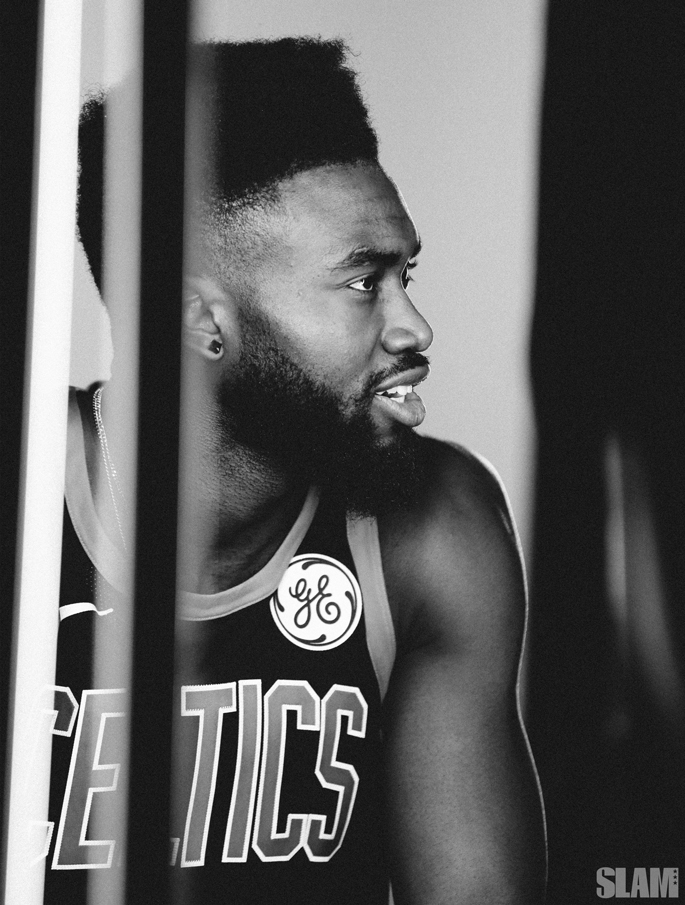 A few months after our interview, Brown and the Celtics come to Madison Square Garden for a late-February game against the Knicks. He scores 24 points, delivering 12 of those in the fourth quarter to put the Knicks to bed. He punctuates the game with a one-handed hammer off a dime from Kyrie Irving.
"Every time I play here at Madison Square Garden, there's just a stoic type of feel here," he said to a group of reporters during his postgame interview. "The history, the atmosphere is fantastic. It's amazing to come out and there's, like, a mystified court. It's almost like you're playing in a throwback game 20 years ago."
Always aware, Brown was ready for the big stage at MSG. He was ready for the glare of All-Star Weekend, too, dropping an electrifying 35 points in the Rising Stars Game—the most of anyone in this year's matchup. He was also ready for his opportunity when Harvard came calling. The university asked him to speak at a lecture at Longfellow Hall where he addressed a group of students, speaking on the country's educational system in underprivileged communities similar to the one where he grew up in Marietta, GA.
Celtics coach Brad Stevens was asked about Brown's appearance at Harvard before a game against the Hornets. "Obviously he's a smart guy," Stevens said in the media scrum. "He's really curious about getting better on the basketball court, but [also] about a lot of other things. I've really enjoyed spending time around him. I think he's really thoughtful. I think that he is a guy that wants to continue to grow in every way."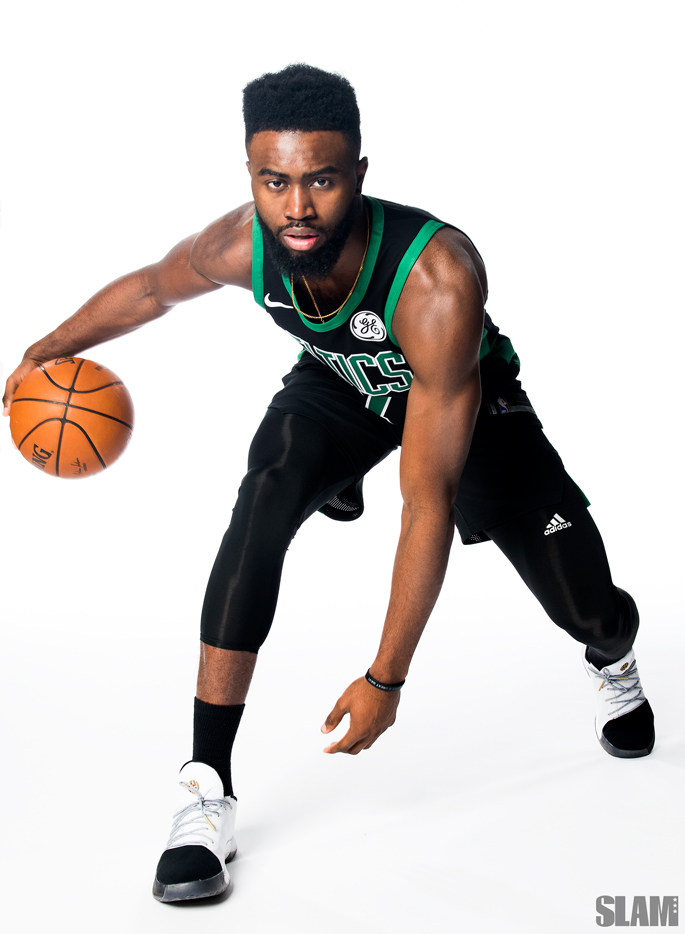 The rain is still falling in Waltham. Brown's still cracking up while his cousins try to flex with some athleticism that doesn't seem to be there. We eventually grab the photos that you see in these pages and the three family members pose for a photo for their own collections. When we leave the side court, those two young hoopers are waiting right by the door, starstruck all over again. Brown thanks them one more time, shaking their coach's hand.
He knows how many other kids would love to be able to speak with him. He knows how far his voice reaches when he talks. He understands his platform. He offers advice that doesn't usually come from a 21-year-old.
"Everybody's going to have trials and tribulations," he says. "There's going to be things that aren't going to work out, there are going to be mistakes made, there's going be setbacks. Everybody has them, including me. To everybody out there who's experiencing those things, the people who are the most perseverant are the most successful. If you want it bad enough, the harder you push, the further you'll get. Don't give up. It's easy to give up."
–
Max Resetar is an Associate Editor at SLAM. Follow him on Twitter and Instagram. 
Photos by Atiba Jefferson and Joseph Sherman.