On a recent cold and windy late February night, DeMar DeRozan sauntered into the Toronto Raptors' practice facility with a small entourage for his first solo SLAM cover shoot.
The 28-year-old, four-time All-Star posed for hundreds of pictures, threw a football around with his friends, calmly answered questions, refused to big up himself, and said the Raptors can win the NBA title this season.
So, how did we get here? How did DeRozan establish himself as a bonafide superstar, lead the Raptors to the very top of the standings in the Eastern Conference and establish his team as an unlikely championship contender?
Through sheer hard work, for one.
Dwane Casey, the Raptors' head coach since June 2011, recalls encountering DeRozan for the first time as a "snotty-nosed second-year guy" with all the tools and talent in the world.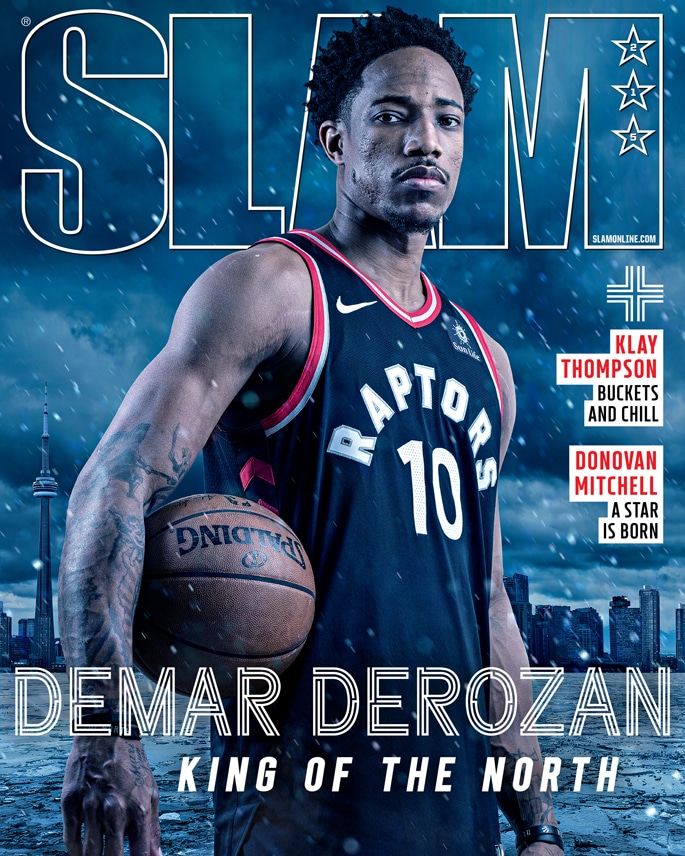 Casey credits DeRozan's evolution mostly to him being a gym rat. DeMar routinely gets a workout in late in the evening, and has added critical elements to his game each offseason.
Now he's a perennial All-Star "who should be in the conversation for MVP," says Casey. "He has made himself into a superstar."
Chris Farr has been DeRozan's trainer since the 2009 NBA Draft. Farr says the Compton, CA, native typically doesn't like working out with others, which DeMar confirmed.
DeRozan prefers the intimacy of an empty gym. He doesn't care for others seeing just how hard he goes. He's also at a point in his career where a mental edge holds more value than anything physical.
Farr, who also trains Damian Lillard, convinced the two All-Stars to shoot together last summer, the plan being that Dame's superior outside marksmanship would force DeMar to concentrate a little bit more and get his competitive juices flowing.
"Everybody don't have that Beyoncé Syndrome," Farr says. "He had to work to get this good. He didn't just wake up looking like Beyoncé—he had to work at it."
For years, critics have pointed out DeRozan's lack of three-point shooting as something that held him back, a theory he fought before eventually coming to the conclusion that it was a necessary part of his game.
"He always worked on three-pointers," Farr says. "He just never chose to take them during the game, because he felt his mid-range [jumper] was so strong that he didn't accept that he wasn't a complete player without taking three-pointers."
DeMar is now shooting and making the most threes in his career—hitting 32.7 percent of his attempts (a career high) and making over 1/game for the first time ever as well—and has the Raptors' braintrust believing he's just scratching the surface of his long-range potential.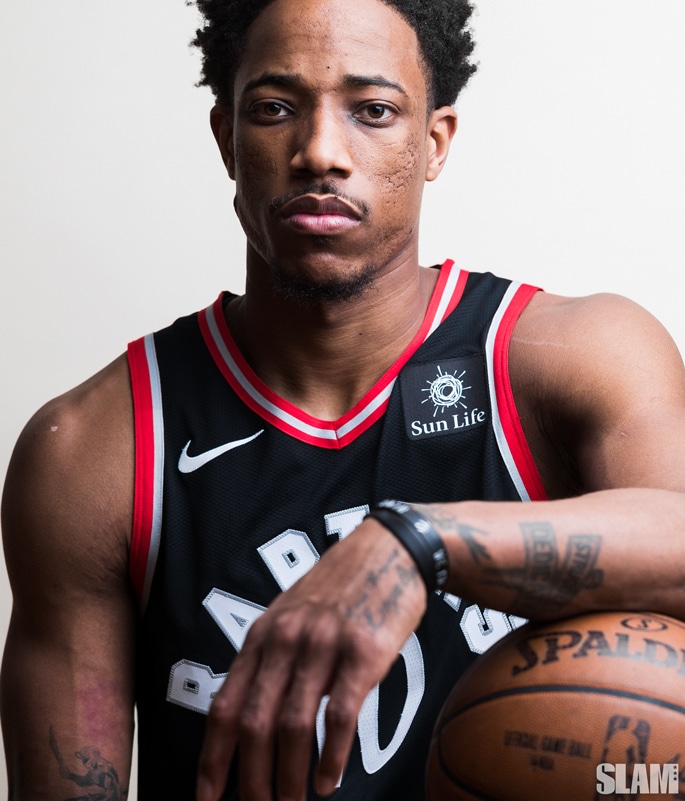 "I think he can become one of the premier three-point shooters in the League," Casey says. "And once he does that, that'll be a huge step up in his skillset."
Bruce Arthur, the Toronto Star's award-winning columnist and one of the most insightful Raptors observers, agrees that DeRozan's growth and maturity as a player have been the result of a painstaking process.
"There are so few guys who've had a career arc like his," Arthur says. "For his first four years, if you look at his per-minute numbers, he didn't get better. He was athletic, and he worked hard, and he just spun his wheels and they never caught."
DeRozan, the thinking goes, was far too predictable early on in his career, prone to repeatedly driving towards the hoop with tunnel vision and little feel for the game.
DeMar kept hitting the gym, improving his shooting and playmaking, and the 6-7, 220-pound shooting guard now has a command of the game that's vaulted him into the rarefied air of the NBA's elite.
DeRozan, who grew up in Los Angeles idolizing Kobe Bryant and cribbing elements of the Black Mamba's game, now has his peers watching his every move. Today, headliners like Kevin Durant and rookies such as Frank Ntilikina study DeMar's footwork and try to incorporate it into their own repertoires.
Nine seasons into his career, DeRozan holds many of Toronto's most meaningful team records, and you'd be hard-pressed to find anyone who would argue that he's not already the greatest Raptor of all-time. Plus he's shown a loyalty to the team and city that's been rare, if not non-existent, among other stars who've donned a Toronto uniform. In the mid-90s, point guard Damon Stoudamire left—followed by Tracy McGrady, Vince Carter and Chris Bosh. Hell, even Antonio Davis didn't want to stick around.
Vince's run in Toronto is an especially interesting contrast. Carter's relatively brief, six-year Raptors tenure was so immensely impactful—his talent, charisma and otherworldly athleticism put the Raptors on the NBA map—that it continues to loom large in the public's imagination.
DeRozan, perhaps more by accumulation than intensity, has elevated himself above anything Carter and any other Raptors star who came before him was able to accomplish. Beyond inking a five-year, $139 million contract extension two summers ago, DeRozan has also wed himself to the city in a remarkable way.
"There's a generation of basketball fans in this town who've grown up with DeMar DeRozan," Arthur says, "watching DeMar build himself year after year—and not just build himself on the court, but become such an admirable guy off the court. Someone who truly loves the city, who truly stands up for the city, who truly wants to be a Raptor for his whole career."
DeMar says he hasn't given any serious thought to his legacy.
But when asked about the new documentary The Carter Effect, a smart examination of Vince's impact on the Raptors and the city of Toronto that made its debut at the Toronto International Film Festival in September, DeRozan said he hopes to leave a similar mark on the only NBA franchise he's ever known.
"Hopefully, 20 years from now, we can talk about something the team I've been a part of has done."
Casey has no doubt about DeRozan's standing in Toronto.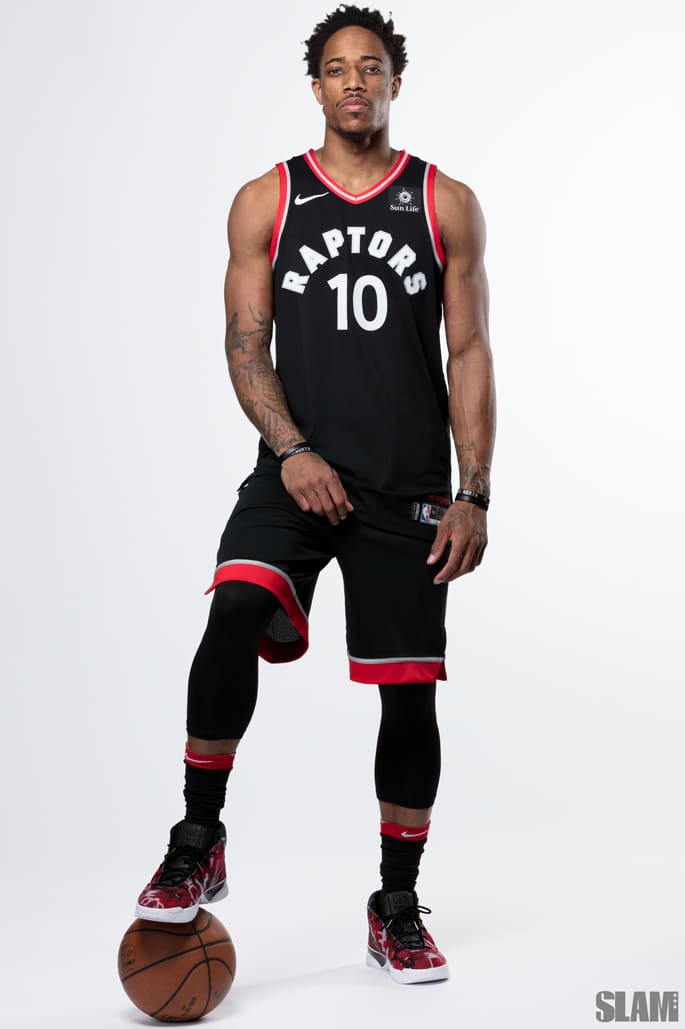 "His legacy is about winning. He's done that; he's the leader of our team. He has more franchise wins than any other [Raptor]. His numbers, as far as points scored and games won, will solidify his legacy in Toronto forever."
Casey has been an assistant and head coach to some of the greatest players in NBA history—Gary Payton and Shawn Kemp in Seattle; Kevin Garnett in Minnesota; Jason Kidd and Dirk Nowitzki in Dallas—and thinks DeRozan will eventually be "in that conversation with those guys" and that he's well on his way to the Hall of Fame.
"Time will be good to him, as he continues to grow. We'll be talking about DeMar DeRozan's name the same way we talk about Kevin Garnett, Dirk Nowitzki and those guys."
In the meantime, DeRozan says that he'll continue to improve as a player, with defense being a particular point of pride. The silky-smooth All-Star was quick to point out that the Raptors are a top-5 defensive team. (The Raps have the fourth-best defensive rating in the League; they were eighth last season.)
The night before our shoot, DeRozan had the unenviable task of checking Giannis Antetokounmpo in the post on a few possessions in one of the wildest games of the season, a 122-119 overtime loss to the visiting Milwaukee Bucks.
Antetokounmpo's eyes lit up when he was asked about DeRozan and the season he's having.
"Oh wow, unbelievable," Antetokounmpo said. "Great player—his game is unbelievable. He's carrying his team, and they're doing a great job as a team."
Casey thinks DeRozan has the athletic ability and toughness to be an elite defender.
"As long as my legs can move, and I'm playing this game, I'll figure out some type of way to get better," DeRozan says.
Kyle Lowry, the Raptors' other All-Star and starting point guard, views DeRozan as the engine that makes the Raptors go. DeRozan is having an "MVP-type season," according to Lowry.
"He's spectacular, he's getting better every year, and all I can do is appreciate what he's been doing."
Prior to re-signing on a three-year, $100-million deal last summer, there were whispers that Lowry wanted out of Toronto. He seems perfectly content now, even if his overall numbers (and DeRozan's) have taken a slight dip this season. Lowry says the Raptors' depth and unselfish play has made everyone's life a little bit easier.
"My points are down; his points are down; everyone's points are down," Lowry says. "Because six or seven guys are averaging, like, 8 points. It's a good team effort—we're all out there doing our job and being on the same page. It's been fun."
Lowry doesn't want to look too far ahead at potential postseason matchups with Boston and Cleveland, insisting that Toronto needs to focus on the current task at hand of compiling the best possible regular season record.
"We gotta get to that point, right now we're just focusing on ourselves. If we get to those situations, then we'll focus on those later."
Asked about his teammate's MVP talk, DeRozan was quick to deflect the praise—"I'm rolling with whatever Kyle says"—and said personal accolades don't motivate him.
"My ultimate goal is to win a championship."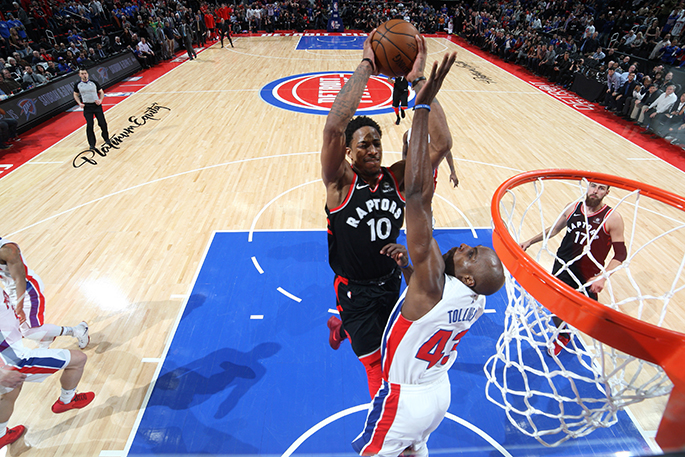 DeMar averaged a career-high 27.3 points last season—now, his points are down to 23.7, but he's also dishing out a career-best 5.1 assists per night. It's a mark of maturity and a growing trust in his teammates' abilities.
"Everybody made a sacrifice," DeRozan says. "Understanding some nights it's going to be Kyle's night, some nights it'll be my night. Understanding that it takes more than just two guys to carry team. Every single guy on our team stepped up, from the No. 1 option to the 15th option. Every guy that steps on the court understands what they gotta do for us to win."
Toronto's bench is perhaps the most under-appreciated reason for their success this season.
Team president Masai Ujiri and the rest of the Raptors' front-office has taken the long view over the years, patiently and cleverly constructing the deepest, most fun and most fearsome roster in franchise history.
Players like CJ Miles, Delon Wright, Fred VanVleet, Pascal Siakam and Jakob Poeltl—several of whom have spent time with Raptors 905, Toronto's G League squad—have turned into valuable contributors, allowing the team's superstar backcourt to carry less of the burden on a nightly basis and save their energy for what should be a long and grueling playoff journey.
They've now been sent packing by the Cleveland Cavaliers two years in a row, including a humiliating four-game sweep in the 2017 East semis. But Toronto's players and coaches insist they're not solely focused on dethroning LeBron James.
"One team at a time. Whoever we line up against, our job is to go out there and beat them," DeRozan says. "I wouldn't say we're going out there looking to go against just one dude."
And yet, that one dude—to say nothing of upstarts like the Boston Celtics, Washington Wizards and Philadelphia Sixers—is what stands between another early exit in the playoffs and reaching the NBA Finals for the very first time.
The Raptors appeared to throw in the towel in their series against Cleveland last year, with DeRozan even jokingly offering $100 to anyone who could slow LeBron down.
This season, there remain causes for concern. They haven't been very good in close games, and while their 21-16 record against teams above .500 is impressive, it certainly doesn't stack up with teams like Houston (33-10 in such games) and Golden State (29-12).
And yet, the simple truth is that this is Toronto's best shot at making history: Cleveland has been embroiled in turmoil all season, the Celtics are still figuring out exactly who they are, and no other serious challenger in the East has emerged.
When I asked if the Raptors have the requisite killer instinct, Casey hedged and said every team in the NBA has it to a degree. The challenge for the Raptors, according to Casey, is being mentally sharp enough each night and getting used to transitioning from "the hunter to the hunted."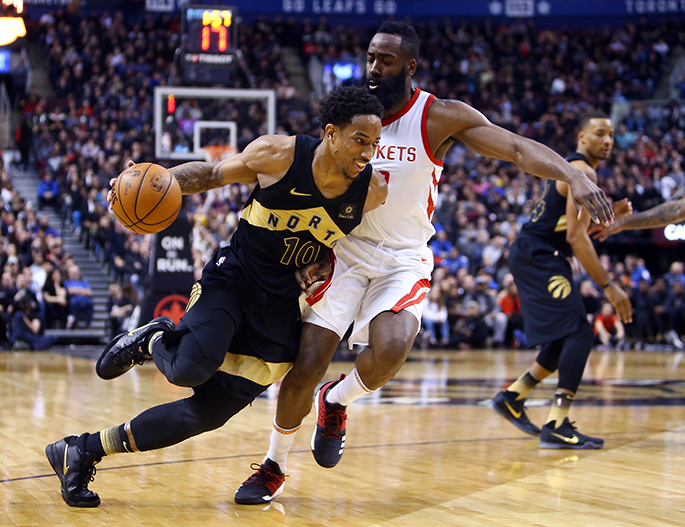 But he added that Toronto is "one of four teams" that can legitimately challenge for the Larry O'Brien trophy. "We're one of the teams that I feel like can win it. Why not?"
If they are to ever shock the hoops world and reach the Finals, now would be the time to do so.
Before the photo shoot wrapped up, I had one final question for DeMar.
Can the Raptors, improbable as it may seem to those outside their locker room, win it all this season?
"Yes," DeRozan responds. "If we didn't think so, there's no reason to be in this line of work. So, we definitely believe so."
—
Marcel Mutoni is a News Editor at SLAM. Follow him on Twitter @marcel_mutoni.
Photos by Charlie Lindsay and Jamal Burger; action photos courtesy of Getty Images
Video by Due Pinlac