Duke Men's Basketball Head Coach Jon Scheyer Talks Advice from Coach K and Dealing with Expectations
This story appears in SLAM Presents DUKE, an entire special issue dedicated to the Blue Devils Men's Basketball Team. Shop now.
The date was June 2, 2021. It was one of those "where were you when…" days for hoop fans across the globe. On that Wednesday, the world not only found out that the winningest coach in the history of college basketball was stepping away from the game for good after the following season, but also who would be taking over as Duke's next men's basketball head coach—the first time in over 40 seasons that the program would have someone not named Mike Krzyzewski at the helm.
For years, speculation around who would replace Coach K ran rampant. There were 2,000-word think pieces that broke down the list of suitors and aimed to predict this historic passing of the torch moment.
But when the day finally came, it was Jon Scheyer who was anointed as the chosen one. The former Duke guard, who was a McDonald's All- American in 2006 before helping lead Duke to a national championship in 2010 (a season in which he led the Blue Devils in scoring with 18.2 points per game), has spent the past eight seasons as an assistant or associate head coach in Durham. He's been a part of two of Duke's five national titles—aside from the one he earned as a player, he also won a chip in 2015 as a coach.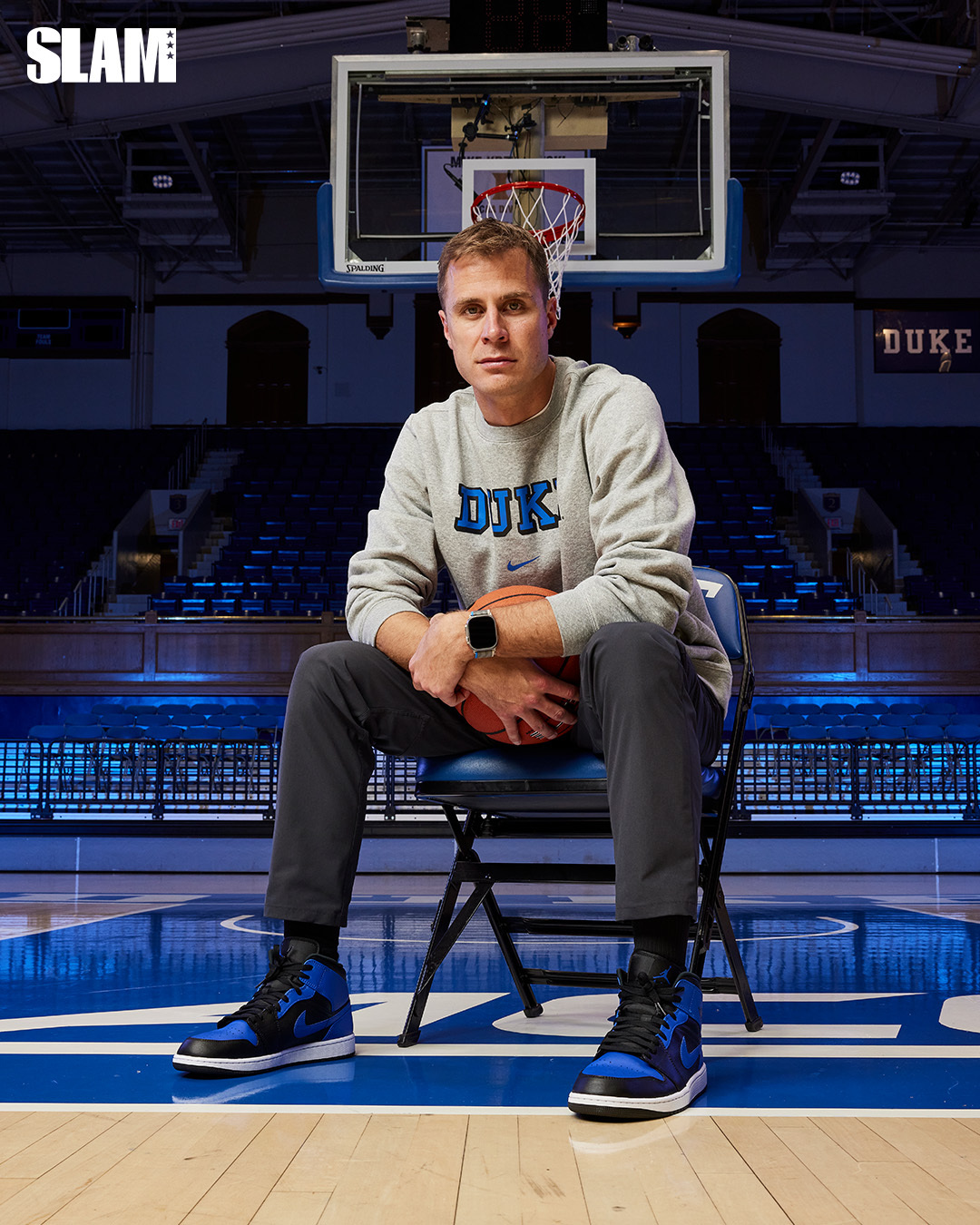 In early October, we caught up with the new face of the program to discuss expectations, getting settled into his new role, hooping with alumni, tennis matches with the staff and so much more.
SLAM: Being head coach at Duke must be a surreal experience. When did it start to feel real for you, and what was that "this is really happening" moment like?
Jon Scheyer: I think back to when I got the phone call from [VP, Director of Athletics] Nina King telling me I was going to be the next Duke head men's basketball coach. It was an incredible feeling, but I think the first time that it really felt real was the press conference that I had. Coach K had a press conference the day before, talking about his retirement and his plans. And then the next day, I had a press conference to announce I was going to be the next head coach. I walked out here and just seeing the crowd, seeing all the people that were there, it was pretty surreal, pretty special feeling, but that's when it really felt real, like, this is happening.
SLAM: What was Day 1 on the job like for you? What was the order of tasks for that first day?
JS: Day 1, you're trying to figure out, first and foremost, who you have coming back on the team, which for us this past year wasn't many guys. So, hitting the ground recruiting-wise, but also figuring out who was coming back, because we had several players who had decisions to make, whether they were going to the NBA draft or whether they were coming back. And the second piece, which is happening simultaneously, is you're figuring out your staff, and we're really fortunate to have some great hires this offseason. There were discussions being had and timing, so both of those things were most important for me [on Day 1]. I always start with "who" before you think about "what," and so getting the right people was really the biggest and most important thing that first day, and really for the first few months on the job.
SLAM: What is the best piece of advice Coach K has given you during this transition period?
JS: The best advice he's given me is the same when he coached me when I was a player, but really on Day 1 when I found out I was getting the job, he just pulled me aside and said, Be yourself—know that I support you no matter what you do, how you handle yourself, what decisions you make, because he's well aware that I'm not him, and if I try to be him, I wouldn't be very successful. There's only one Coach K, just as there is one Jon Scheyer. So, for me, the ability to be myself as a player here, it's really been the same thing as a head coach—just to follow my instincts. I've been prepared for this, being alongside Coach K for a long time. I've worked for this. Really just trust yourself and trust your instincts. That's something I promised myself I would do from Day 1 and I'll always do that as long as I'm the head coach here.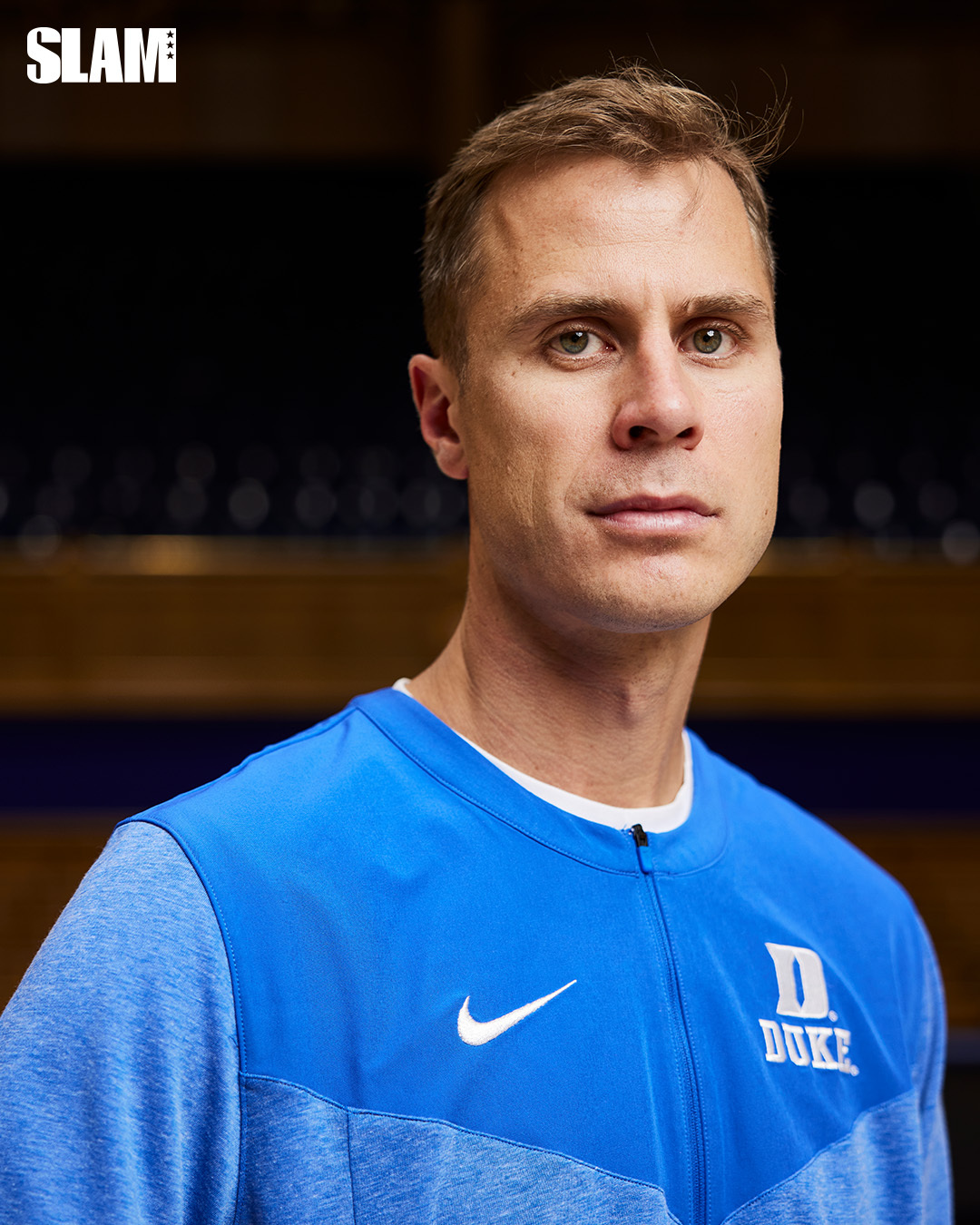 SLAM: Looking back on your playing days, what was your favorite moment or game while wearing a uniform at Duke?
JS: Probably the moment I'm most proud of is when we beat Baylor to go to the Final Four. We played a Baylor team that was really good—LaceDarius Dunn, Tweety Carter, Ekpe Udoh, Quincy Acy—they had a front line of 7-0, 6-10, 6-8. They were really, really good, and we beat them in Houston. It went down the stretch. We felt like once we won that game—you know, it took us three-and-a-half years to get to that point; we lost in the first round, we lost in the second round, we lost in the Sweet 16. So, for us, we were climbing a mountain. Once we beat them, I think all the pressure went away and we could just play. And we beat a really good West Virginia team in the Final Four, and we beat Butler in an incredible championship game. But for me, beating Baylor was a big-time win that I'll never forget.
SLAM: You were known as the "Jewish Jordan" back in high school—are there attributes that earned you that nickname back in the day that you hope you can now use as a head coach?
JS: The thing that I'm most proud of when I played, [and] hopefully now it's not going to change as a head coach, but for me I would say the determination to get back up. I lost many games, but each time I lost, I felt like I was getting back up to win the next one. I never felt defeated, I never felt like we were going into a game we couldn't win. Whether that was in high school and we were playing Mike Conley and Greg Oden's team or we were playing Kevin Durant in AAU, or whatever it was, I felt like we were going to win. That's something I feel now as a head coach. We're going to play in some tough games, but I believe we're supposed to win regardless of the outcome of the last game or regardless of who we're going to play the next game…I think the success I had in high school will show you that and also the path I took when I was a player here—proud of the ability to get up and fight and pursue championships, really.
SLAM: Have your players seen some of your high school or college highlights? Are they aware of how nice you were?
JS: I think they know. I'm not so sure if they know some of the stats. I do try to hit them with, I scored over 3,000 points in high school, just so you know. I think I got most of our players in that stat. [The] 52 points in a game. They end up YouTubeing me and they see the 21 points in 75 seconds, and they'll usually talk to me about that, although it's funny to me that that game is brought up more than any other game I've played, because we lost. I was heartbroken after that game. So, when it's brought up to me, I kind of chuckle and laugh because I literally was a wreck after that game. But that's usually the one they bring up and I'll take it. At least I have YouTube. I could be like some of the other guys on the staff, and none of their highlights are on YouTube—I'm not gonna name names, but that is true [laughs].
SLAM: Whereas Coach K was much older, you're still in your mid-30s. Do you get on the court with the guys and try to school them?
JS: Well, I don't want to name names, but some of our NBA guys came back this summer. And I got out there and played some ones. I did win. It is on camera. I'm not going to name names, but I beat three of our guys. If they ever say anything bad about me, I'm going to put it out in the universe. But until then, I have to keep it a secret. I showed the film to our team. I think they were pretty impressed overall. But I may retire after those wins versus [the] NBA guys.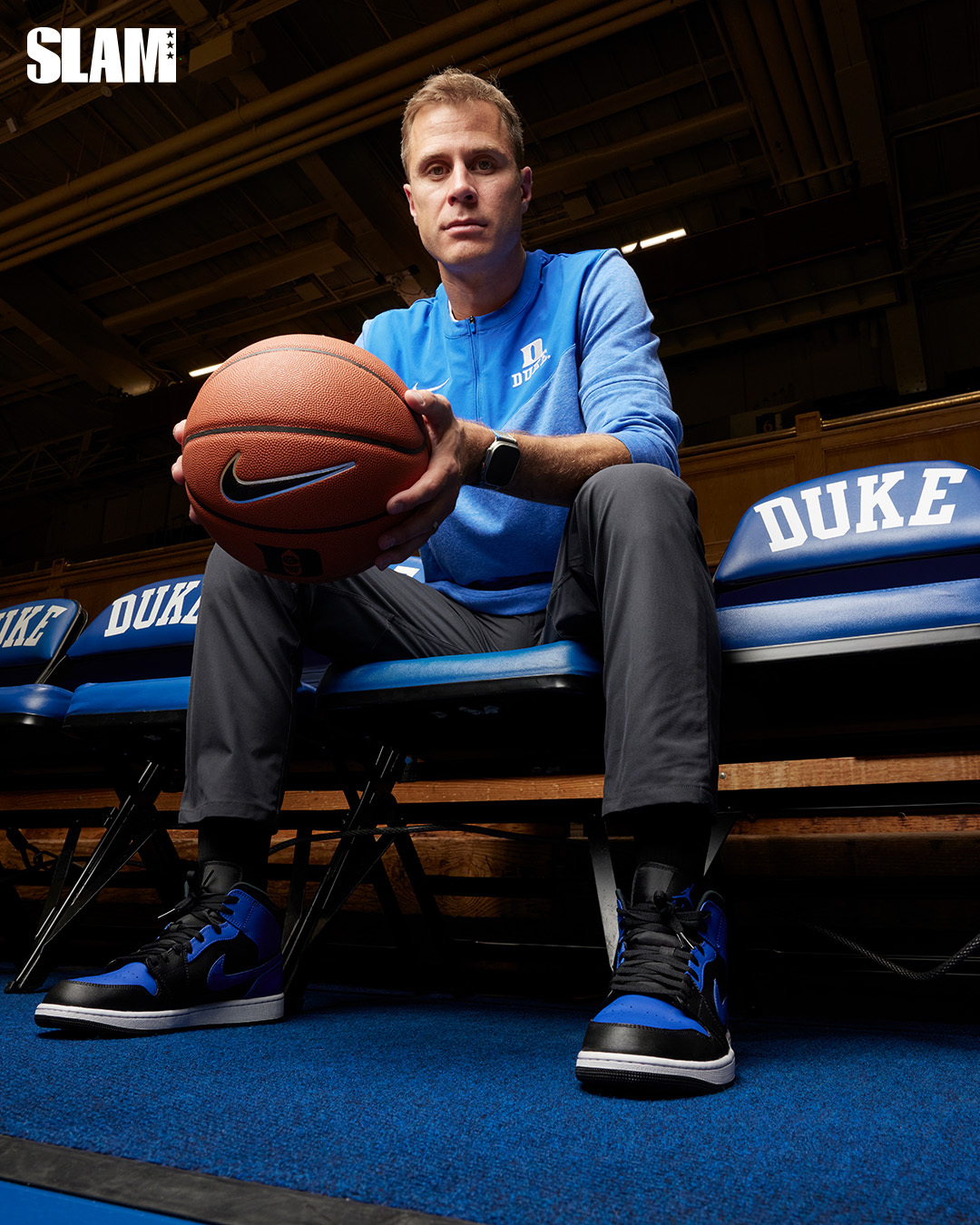 SLAM: So, these were one-on-one games with NBA players?
JS: One-on-one. Game to five. From the elbow. I'm just going to say, a couple of them are…you would know them. Let's put it that way. You would know these guys.
SLAM: Interesting. How similar or different can we expect th—
JS: Jayson Tatum [cough cough]. Sorry, what? Go ahead [laughs].
DUKE REP BEHIND THE CAMERA: Ask him one more time and he'll definitely show you the footage!
SLAM: We definitely will after this interview.
JS: [laughs]
SLAM: How similar or different can we expect the style of play to be this upcoming season in comparison to how it was under Coach K?
JS: It's hard to say exactly what's going to be different with the style of play. I think we have a different team, so we have to play differently. We don't necessarily have a team where we're throwing the ball in the post. We have some guards that can really play in pick-and-roll. We have an athletic team where we can get out in transition, but we definitely do want to play fast. Being a leader on the defensive end and pressuring the ball is important, but also protecting our basket. I can't tell you exactly what the similarities are, and differences will be because there are some values I will always hold true to me that I learned here when I was a player. But, also, we have to continue to evolve and play to the strengths of our team. I think we have a very different group this year where we will play differently.
SLAM: We saw you were playing tennis when we arrived on campus. You were telling us you picked it up for the first time this summer.
JS: I've played tennis this offseason. I picked it up and the tennis coaches are nice enough to let me get out there. Now that the season is starting, that's going to happen less and less. I'm not sure if I'll even play during the season. For me, I'm big on getting outside, and fortunately we live in North Carolina and not in Chicago, where you can actually get outside in November and January and February. For me, playing tennis, going for walks, once in a while I'll play a pick-up game—basketball—but those days are numbered for me. It's mostly about getting outside, getting some fresh air, just getting my mind off of things. That's been important for me to do. I'll get outside here and there to make it happen.
SLAM: Do you play doubles or singles?
JS: I play doubles. We have some staff games that we play. Jai Lucas is pretty good. Amile Jefferson is alright. I'm probably the second best on the staff next to Jai. We have some great competitions. Me and Jai are neck and neck, but he's just barely above me—we have some battles.
SLAM: Who's usually your teammate?
JS: My teammate was Amile, but we go back and forth. I've never played with Jai because me and him are right there. But it's Amile, Zach Marcus on our staff, Mike Schrage—those are some of the guys that have played with us.
SLAM: Who would you say is your tennis player comparison?
JS: For me, I model my game after Rafael Nadal. That's how I model my game [laughs]. I can't even say that seriously. I do, though, I do. Yeah, Rafa for me. How he never gives up on a play. The games don't go on long enough for me to rally back and forth, but I always try to get the point. I respect Rafa. He's maybe the GOAT. Him and Roger [Federer] are my two favorites.
SLAM: Some say Coach K is the GOAT. How are you dealing with all the expectations? Following him is no easy task.
JS: I've learned in the short time I've been head coach that it's important to take care of yourself, to have things that make you personally happy, where you get workouts, your mind is fresh, because how you are in a daily basis with your team, the person you [are], they can take on.
As far as expectations go, nobody has higher expectations for this program than I do. I'm hard on myself. I always evaluate every single day what I could have done better, what I need to do to get better for the next day. And that will never change for me. I think when you are that way to yourself, it allows you to coach others honestly and with transparency, [with] toughness and with love. And that's something we plan on doing. We know it's not going to be smooth sailing. We know there's going to be setbacks, but just staying laser focused at getting better, attacking each day and being present. I really think the expectations or the success we want to have will take care of itself.
---
Photos by Matthew Coughlin.