Led by Guest Editor Carmelo Anthony, SLAM's new magazine focuses on social justice and activism as seen through the lens of basketball. 100 percent of proceeds will be donated to charities supporting issues impacting the Black community. Grab your copy here.
—
First and Foremost. Giving All Praise And Honor to the MOST HIGH.
"Please don't let me die."—Kimani Gray, 16
I CAN'T BREATHE! I STILL CAN'T BREATHE! MY ARMS ARE UP SIR! What did I do? Can you please tell me what I've done?
Will you ever take your knee off our necks? Is it because I'm Black? Does that scare you? Am I intimidating? What is it? WHAT IS IT?
You know what: ENOUGH is ENOUGH.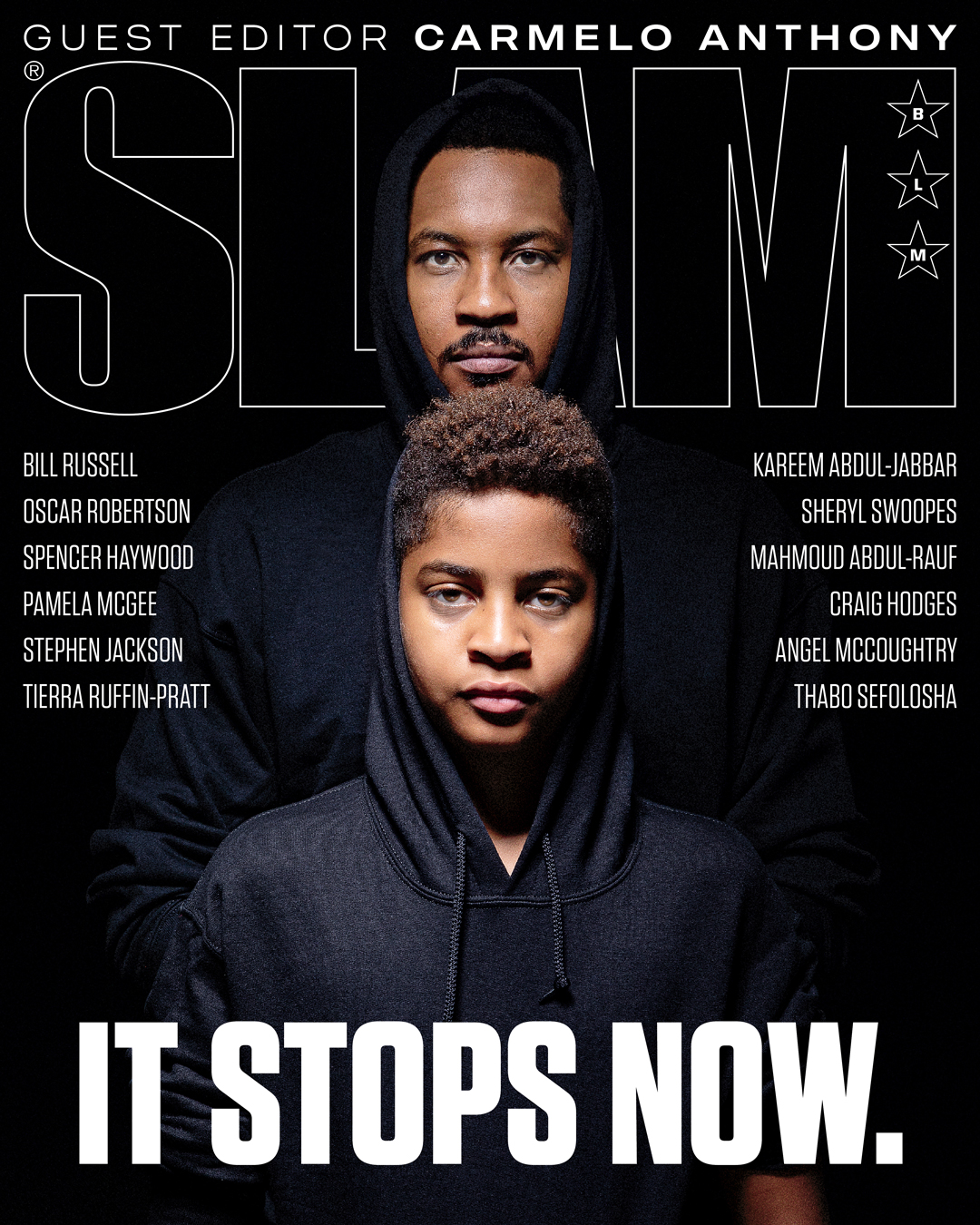 "The dark brown shades of my skin only add color to my tears."—Syl Johnson
I thought by now these walls would have fallen! You've probably thought the same thing to yourself as we wait for things to change. It's called the making of a man which is what the MOST HIGH is doing with our lives. The process is oh so sweet and bitter at the same time! It's all part of spiritual birth. Now back to the walls!
We are in charge of the shaking that seems to go on both around us and in our lives. What we once trusted in seems to crumble. As the Bible says, everything that can be shaken shall be shaken, "so that what cannot be shaken may remain."
Pause and think about that.
The shaking in our lives causes us to see the HATRED fall by the wayside, and what matters most is still standing!
"I believe that there will ultimately be a clash between the oppressed and those that do the oppressing. I believe that there will be a clash between those who want freedom, justice and equality for everyone and those who want to continue the systems of exploitation."—Malcolm X
The mind can be the greatest manipulator if we don't harness the power within to redirect our energy toward progress.
You are judged on how you sustain from pain and redirect that negative energy into power, and that is between you and the Most High!
I want you to know that I don't just speak for myself. I speak for all of us.
We have to keep on pushing. We will continue to make progress. We are trying so damn hard. We can't stop now.
Don't lose focus. Don't lose sight of why we are in this fight.
Peace,
Carmelo Anthony, Guest Editor-in-Chief
—
100 percent of proceeds from SLAM's new issue will be donated to charities supporting issues impacting the Black community. Grab your copy here.
Photo by Atiba Jefferson.
Video: Vision by @coodierock, @chikeozah. Visuals by @oddsensestudios.