You can't miss the signs. Hung from lampposts, painted on the sidewalk in front of the building, the signs let you know this isn't some ordinary elementary school. The signs offer a unifying mantra—We Are Family—and a statement of commitment, reinforcing the words that are written right into the name of the school: I Promise.
The signs are convincing, but then you enter the building—straight in through two sets of double doors and a right into the main office—and there's something else you can't miss. It's the staff members greeting students with hugs, asking the kids who stop in if they've eaten breakfast this morning, sending them back to class with a firm word of encouragement: "I want you to be great today." This is when you know the place is really different.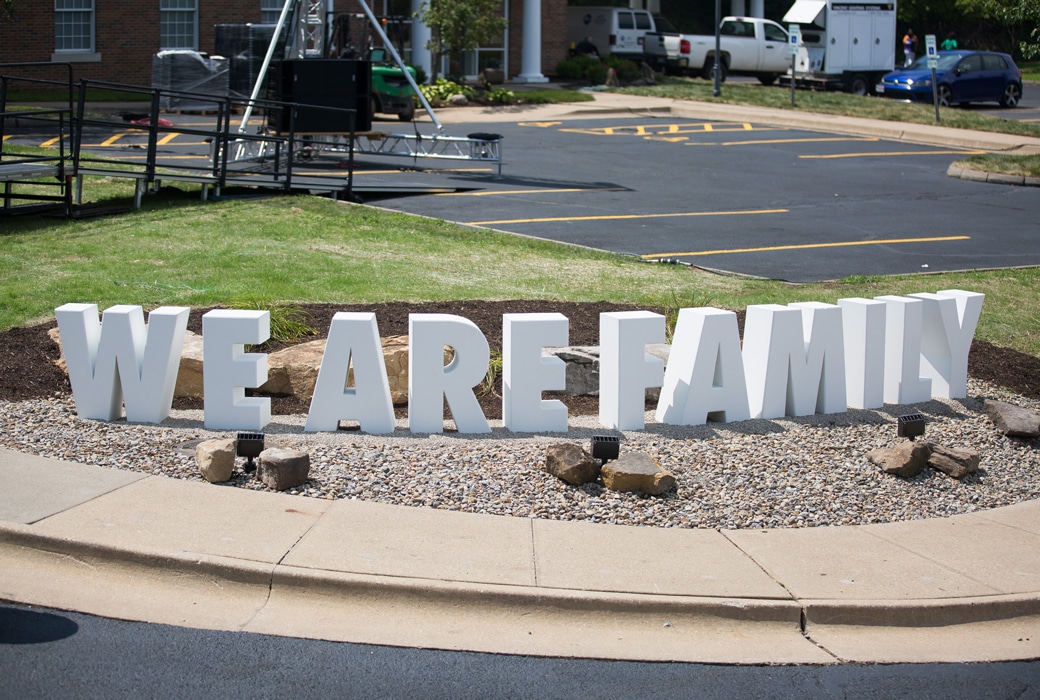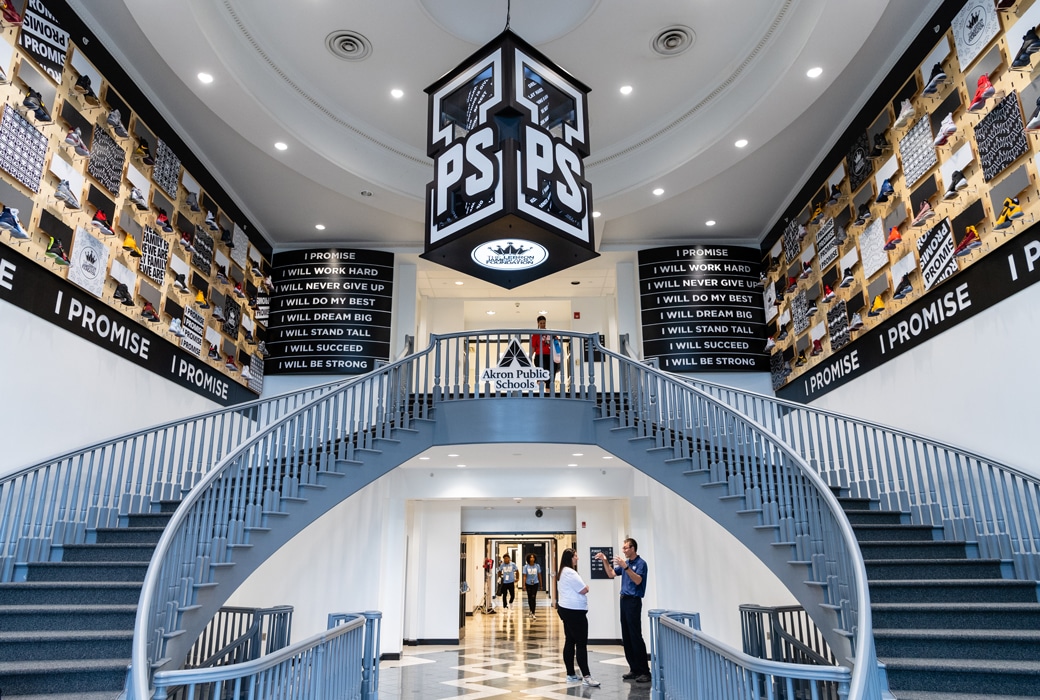 Unique, unprecedented, impactful, game-changing: So much about the I Promise School reflects the example of the 33-year-old Akron native who inspired it. Though it just opened in July, I Promise is already fulfilling the vision LeBron James had for the sort of place that could have been life-altering for him during his own tumultuous upbringing. Born to a single mother in a difficult urban environment, LeBron faced instability and financial uncertainty through much of his youth, and famously missed more than 80 days of school during fourth grade. Statistically, he was one of those kids who never should have made it, who seemed destined for a negative outcome.
Now he's helping create the sort of opportunities for a new generation of kids that only he could have dreamed of.
Michele Campbell, executive director of the LeBron James Family Foundation, says the inspiration for the I Promise School grew from LeBron's desire to "identify kids like him. He created this because, through the uphill battles he and his mom had growing up, there were people in this community who helped them." Now, Campbell says, "his ultimate goal is that this creates generational change in Akron."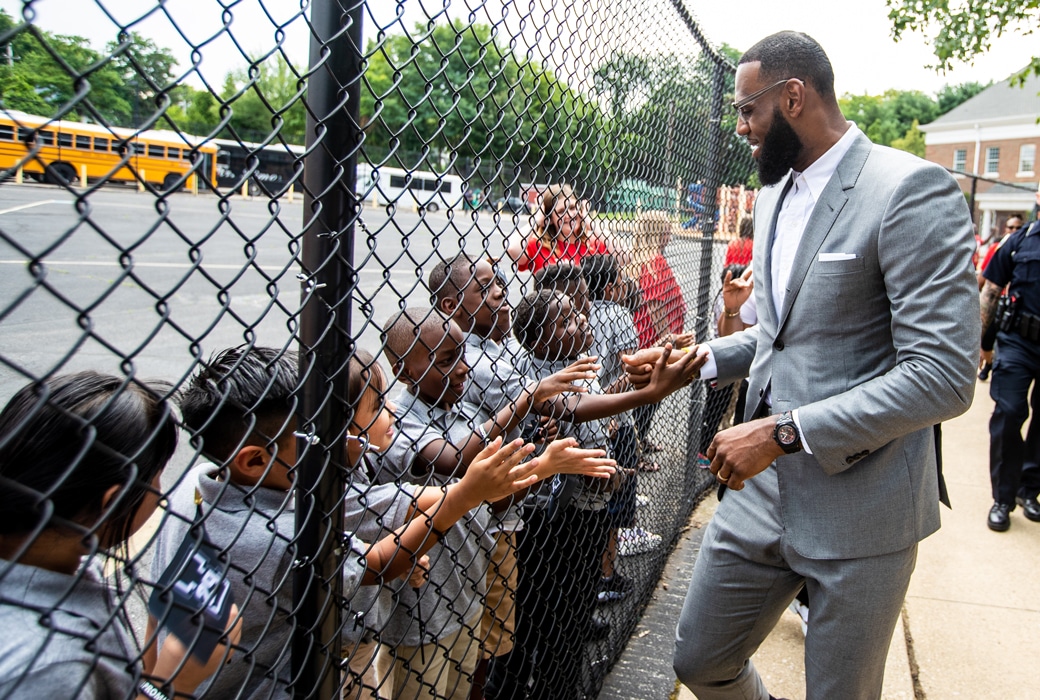 There was a deserving crush of national media attention when I Promise opened in late July—from every angle, the story was too compelling to pass up. But we waited until October to make the trip so we could witness first-hand the progress of this groundbreaking school. A collaboration with Akron Public Schools—and it's important to note that it is a public school, not a charter—I Promise opened with about 250 third and fourth graders, with plans to expand to full first- through eighth-grade capacity by 2022. The school pulls from the most academically at-risk populations across the city, with a focus on those reading below grade level. And that's just the first sign of how I Promise represents an entirely new approach to public education.
"We know that a lot of kids' behavior and performance isn't based on the school or the kid," Nicole Hassan says. "It's based on what's going on at home, with the family." Hassan, the liaison between Akron Public Schools and the LeBron James Family Foundation, explains it was essential that the school considered "barriers to learning"—anything in the students' home or family life that might get in the way of being able to attend and excel in the classroom. The solution: The school's Family Resource Center and comprehensive "wraparound" support.
For the students, this approach takes a number of forms: from breakfast and lunch provided free in school to daily "social emotional learning" sessions that help students develop skills that go beyond spelling and math. From the words of the teachers and staff to the literal writing on the wall—the halls are covered with encouraging slogans and mantras—students are constantly reminded of the school's Habits of Promise: Perseverance, Perpetual Learner, Problem Solver, Partner and Perspective.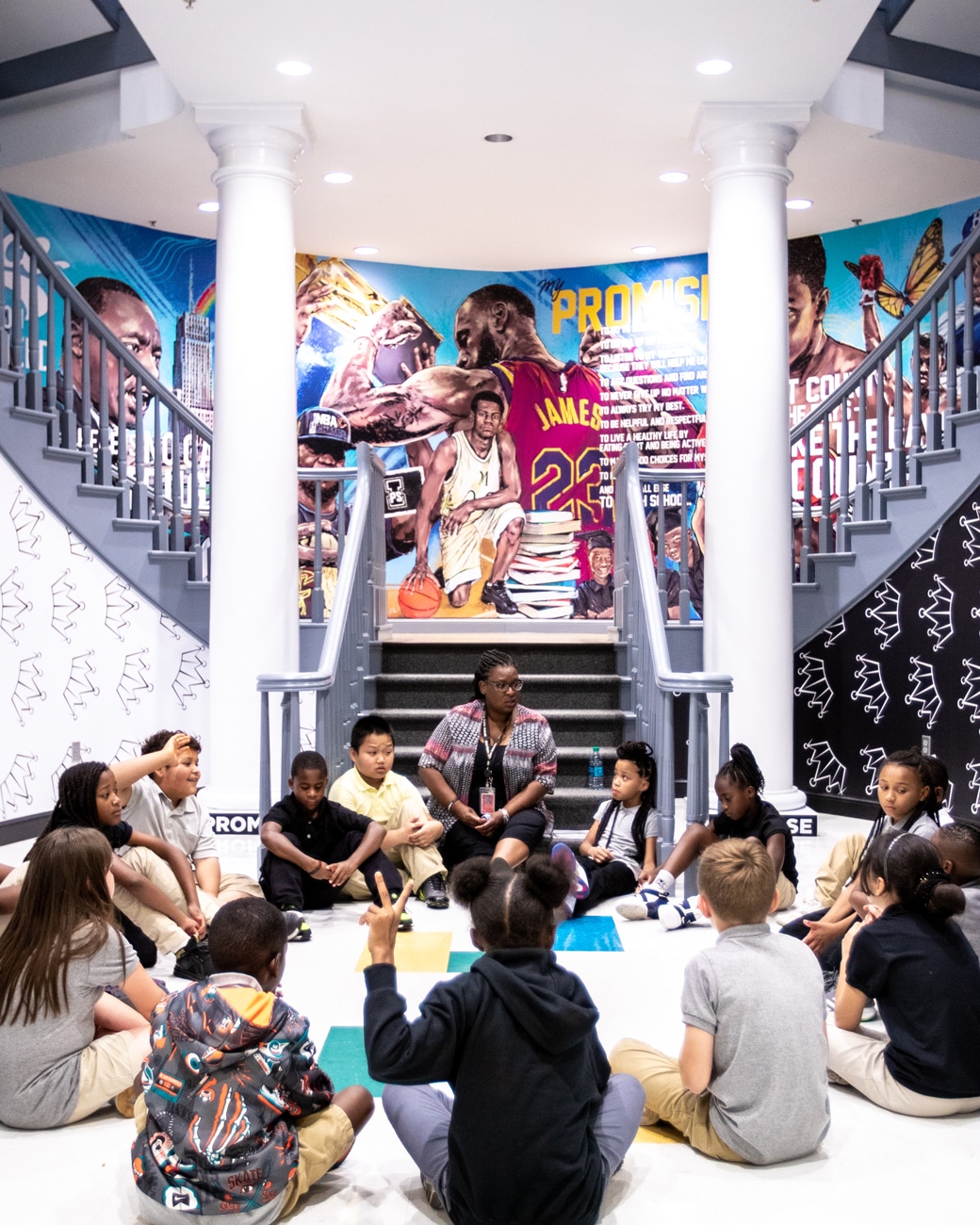 But again, that's only half the battle. The other half comes in the school's approach to everything outside the classroom: The I Promise Too program offers on-site GED classes for parents whose students are enrolled, so that kids and their mothers or fathers are often in the building at the same time, learning on different floors. Parents can also take ESL classes, vital as Akron's population becomes ever more diverse. There's a food pantry, a partnership with the local foodbank, for parents to pick up groceries they might not otherwise be able to afford. And then there's Victoria McGee, who directs the school's Family Resource Center, and who ties in all the facets of the I Promise approach as well as anyone.
In her role, McGee oversees not only the food pantry and GED program, but also assists families with resources like legal services and career placement. And as with so many of the teachers and staff at I Promise, the impact goes beyond job description: When the family member of a student dealing with domestic abuse needed a safe place earlier this fall, she sought out Miss Vikki. But even with that focus on families, McGee, like the rest of the staff, is a beacon of warmth for the students. During our visit in October, a trio of girls happily walked into her office during a break, came over to her for hugs and then made themselves at home.
A vital resource for both students and families, McGee is also something else: a close connection to LeBron. Her brother in law is Willie McGee, LeBron's close friend and former AAU and high school teammate, and now the athletic director at their alma mater, St. Vincent-St. Mary HS, just a half mile down the road from I Promise. Vikki and her husband helped raise Willie, and they've known LeBron since he was about the age of the kids she's helping now. More than most, she understands why all of this matters to him so much—and she appreciates how much "We Are Family" goes beyond an easy slogan.
"I think LeBron recognizes that it takes a village to raise a child. Looking at all of this holistically just really validates who he is," McGee says. "The students walking these halls, he was that student. So that whole 'We Are Family,' that unity, that togetherness, that whole mindset is what you see here. You don't necessarily have to be blood to be family."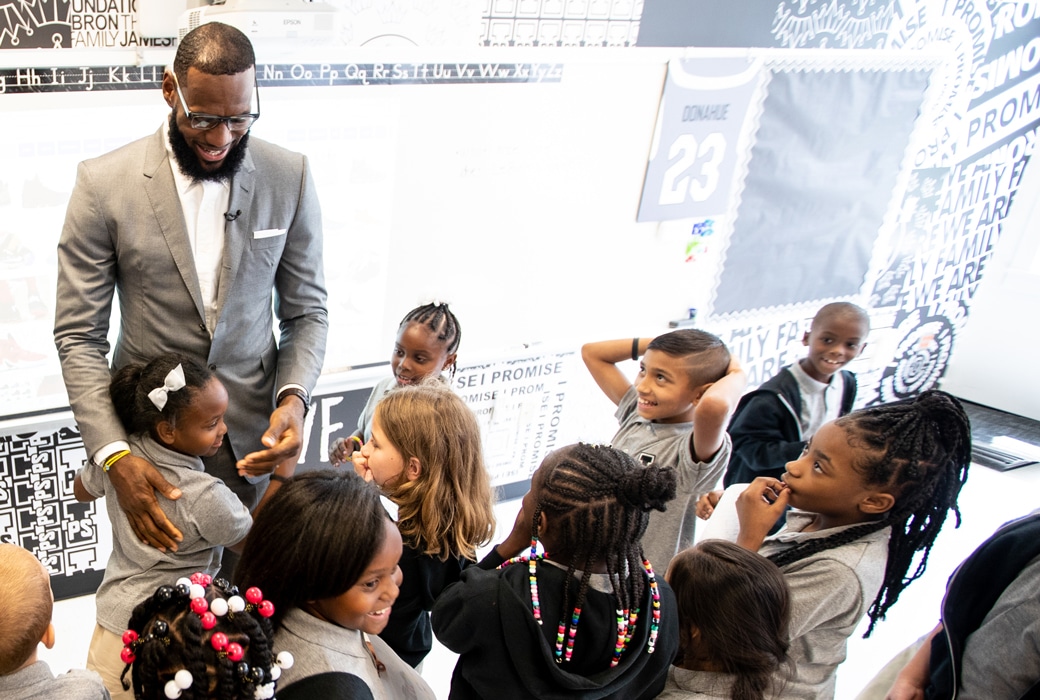 Jarvis Landry is learning this first hand. Our October visit to I Promise coincides with a surprise appearance by the Cleveland Browns' fifth-year receiver, the latest in a line of special guests—Justin Timberlake came through a few weeks earlier—who have visited the school since it opened. The appeal for the students is obvious—as if having LeBron as their primary benefactor isn't cool enough—but with Landry, it's clear this isn't only about putting smiles on kids' faces. You can see it on his face as he walks the hallways and pokes his head into classrooms, checks out the food pantry, meets parents doing GED prep work, or checks out the "Happy Happy" room, where the school keeps a healthy stash of extra clothes, particularly cold weather gear, so no kid will ever have to do without. Taking it all in, Landry is clearly, powerfully moved.
When I ask him how this visit came together, Landry echoes the perspective of so many other young athletes on LeBron. "He's an idol of mine," the soft-spoken WR says. "I follow him on Instagram, and I'd seen that he opened a school. Then at the opening, he had a picture in the main foyer, and it just blew my mind—that an athlete took this step, to change so many lives. I just wanted to be a part of it in any way I could."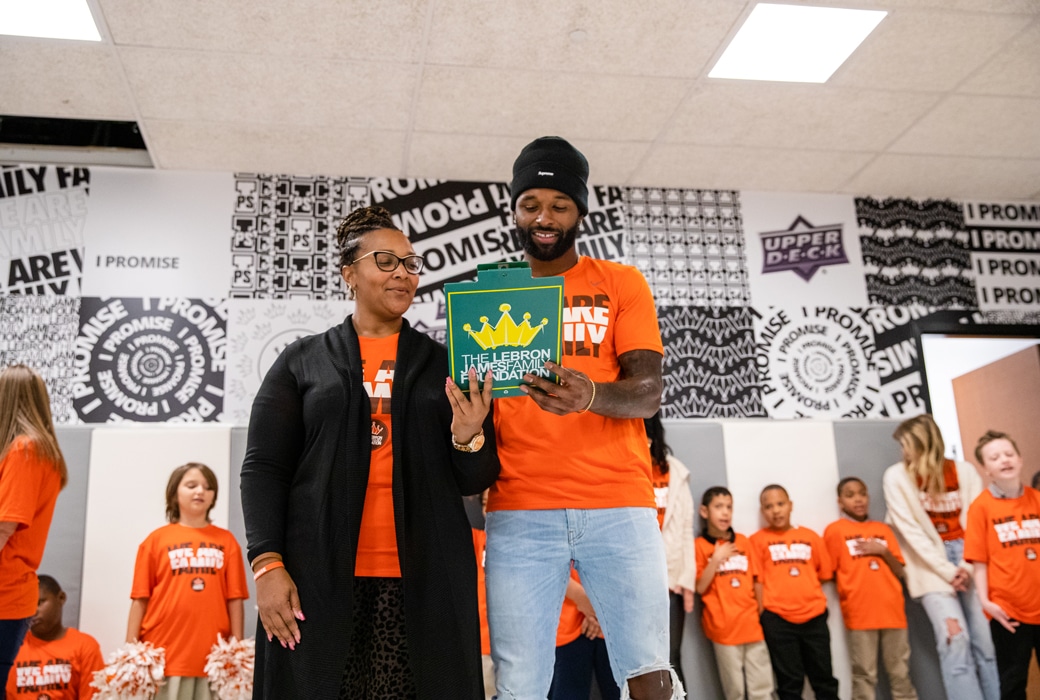 Landry grew up a world away in small-town Louisiana, but he had no trouble relating to LeBron's motivation through memories of his own childhood. "Going through the building, I was just thinking how much this could've helped me when I was a kid," Landry says. "And then thinking, what if something like this was in my community? As an athlete, we usually just think of giving our time. But this is something… I'm telling you, this is beyond what he had to do."
It's a reminder that, at this point in LeBron's career and public life, his impact is increasingly difficult to measure. On the court, you can check the numbers and the titles, and argue the GOAT debate however you see fit. But off the court, from the example he's setting for the next generation of ballplayers to the chances he's providing the kids following his path, the legacy is hard to fathom. I Promise doesn't happen without a public school system eager to find new ways to help its neediest students, or without dozens of dedicated educators committed to those kids inside the classroom and out. But it's never even a dream without that kid from Akron—and that's true no matter how far he is from home.
"His love for Akron, no matter where he works, is seen through these children, and through this lifetime commitment to making change here," Campbell says. "When LeBron had his first game this season, we were all in purple and gold. We're here to support him. You'll find nothing but love and support for him here. He'll always be committed to his hometown."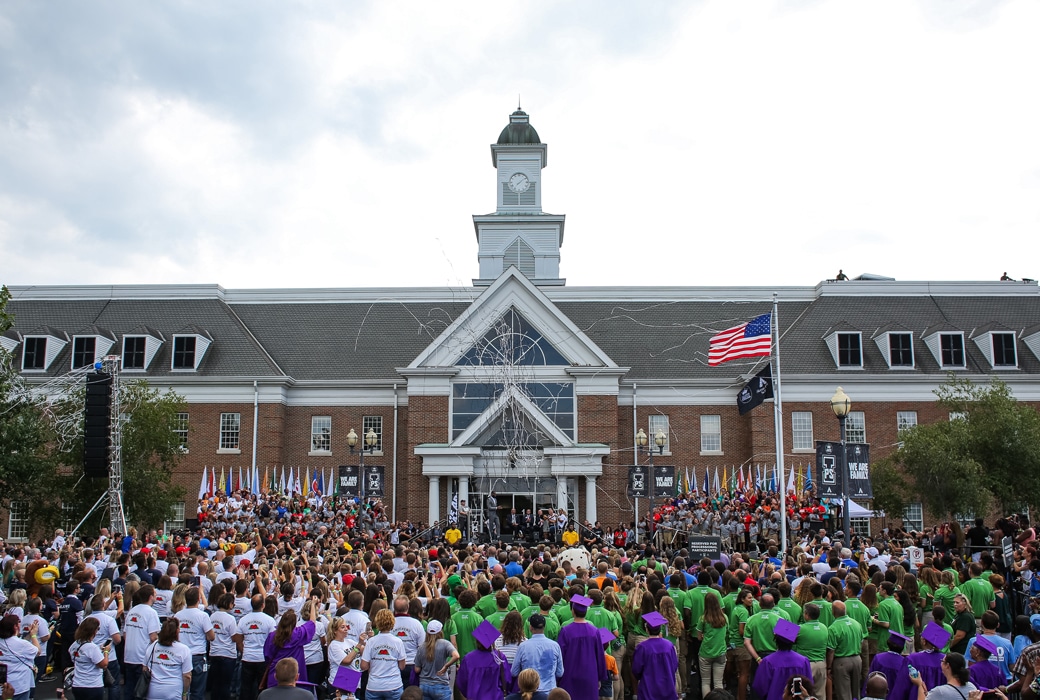 —
Ryan Jones is a Contributing Editor at SLAM. Follow him on Twitter at @thefarmerjones.
Photos via Getty and The LeBron James Family Foundation. 
2,165