Ask the father, or ask the son, and they will tell you the same thing: If you're from there—if you claim it—New York City flows through your veins. It's simple truth, a fact that remains no matter where you might reside.
Jalen Lecque is the son in this equation, and the question of roots, and of who and what you represent, holds particular relevance for him at this moment in time.
He's spent much of his life in the New Jersey suburbs, and he spent the past year in the relative isolation of small-town North Carolina. He'll be moving to New Hampshire to play for Brewster Academy this upcoming basketball season. In fact, Lecque has only actually lived in NYC for a few of his 18 years, but to hear him tell it, that hardly matters. On this, the Bronx native is blunt:
"I will always think of myself as a New Yorker."
His father, Derrick, confirms: "We're just New York in our blood."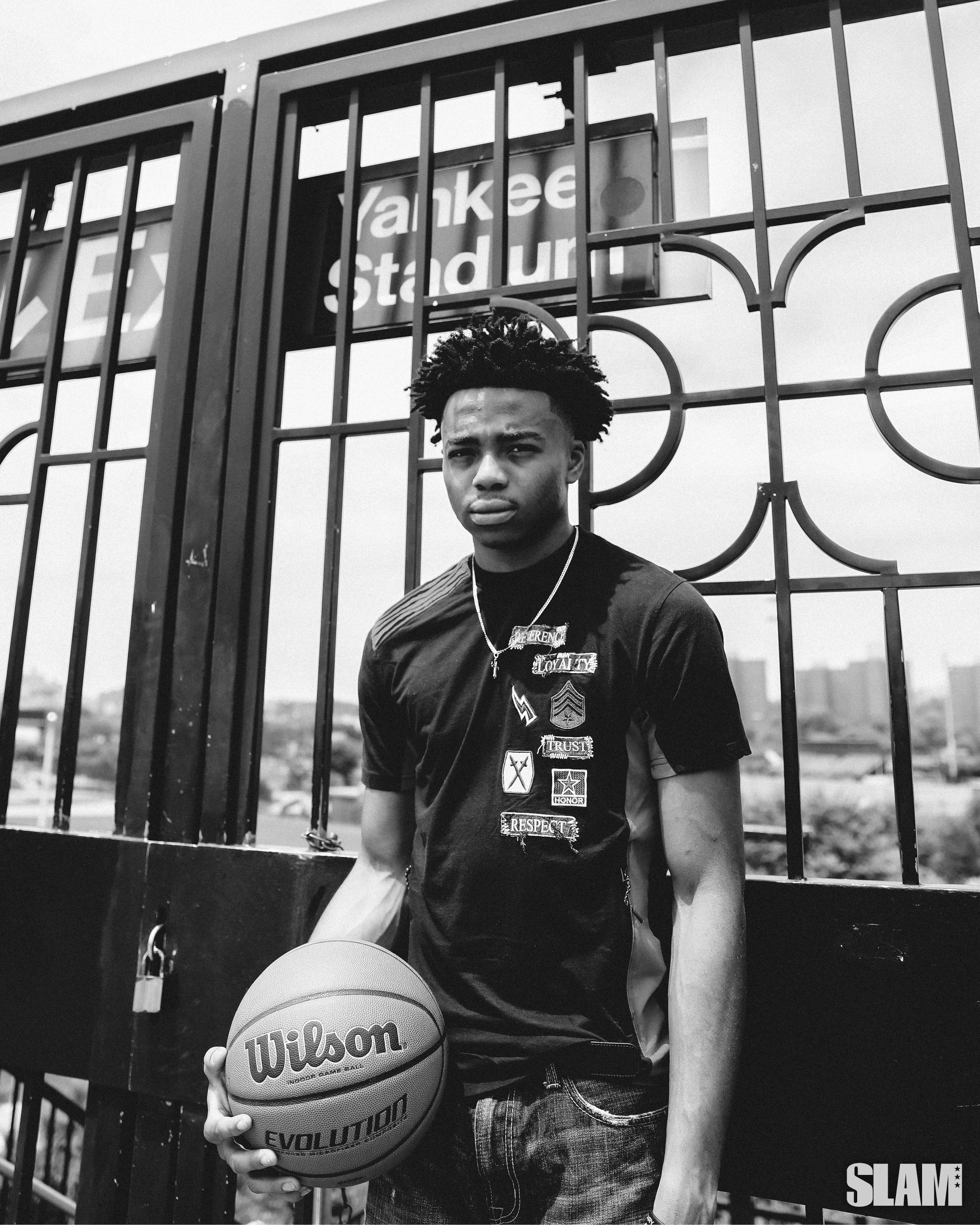 And here's the context: A 6-4, 180-pound combo guard already earning Russell Westbrook comparisons, Jalen Lecque entered the summer as a consensus top-15 prospect in the Class of 2019. Depending on which ranking you rely on, he's also the No. 1 prospect in the state of North Carolina, where he spent his junior season averaging a near-triple-double for the Christ School, a prep school nestled in the Blue Ridge Mountains just outside Asheville. Needless to say, it looks nothing like the Bronx.
It was a temporary relocation (with NH up next), a step Jalen and his family deemed necessary on his path to bigger and better things: big-time college basketball and the NBA, they hope, but also a more well-rounded life.
Born in a Manhattan hospital, Jalen and his family spent his first three years of life in the Boogie Down. His dad ran a barbershop on 124th Street in Harlem, adjacent to famed prep hoops factory Rice High School, while his mom worked at nearby Harlem Hospital.
Jalen was still a toddler when the family relocated to Teaneck, NJ, just across the George Washington Bridge from his hometown. By many measures, it was a better place to raise a kid, and Jalen spent his elementary and middle school years growing up and playing ball in the relative quiet of North Jersey.
Then came high school, and a decision to head back over to the other side of the Hudson River. As Jalen's game developed, the family decided that he'd benefit from the chance to play on his home turf—that it was time to test himself against the mental and physical toughness that defines the New York City game. And so, he bounced back Uptown, suiting up for three seasons with Monsignor Scanlan HS in the Bronx and running AAU with the borough's legendary New York Gauchos.

His first two seasons of prep ball went well enough, drawing modest attention from a few college programs. But his game blossomed at the right moment, just in time for the 2017 spring scene. Entering last year's Nike EYBL circuit with just a handful of mid-major offers to his name, Jalen blew all the way up, posting big numbers and a slew of ridiculous dunks—he's just about trademarked the windmill at this point—and drawing the attention of every coaching staff in the country. He continued that run all throughout last summer, and by the spring of 2018, his offer list was loaded with blue-chip suitors like Kansas, Kentucky, Oregon, Syracuse, Georgetown and Villanova. "My college list is definitely still wide open, but I've been cutting it down slowly," Jalen says. "I just want to go to the best situation possible."
Duke and North Carolina have been showing interest as well, a noteworthy reminder that he spent last season showing out in the backyard of those elite ACC rivals. With his place among the nation's top prospects firmly established by the end of last summer, his Bronx return was looking like an unqualified success. But the family decided another move was in order, and this time not for basketball reasons.
"It was more about getting him away from all the distractions," Derrick Lecque says. "It was more about finding a place where Jalen could grow a little bit more broadly in life."
His destination: Christ School, just south of Asheville, 700 miles and a world away from his hometown. Jalen says he enjoyed his time there, that he learned to appreciate the relative tranquility, and that the simple fact of adjusting to something new and different has been good for him. "It's just a nice area—it's kind of a city, but still kind of isolated. And the people love seeing you play," he says. "Honestly, being down there has changed me personally, physically, mentally, everything."
Those who know him best can see the changes. "Going to Christ School wasn't really about basketball—it's helped him with everything else, just being a well-rounded kid," his father says. "He's doing other things beside basketball, understanding there's other things than just the city. His grades went up. He's matured."
All of which is great for the young man, but also raises a question that's been asked a few million times over the past decade or so: Why do New York City's best hoop prospects all seem to leave New York City? That's an over-generalization, of course, but it's not without some truth. New York remains one of the richest spots for basketball talent on the planet, and the city's history of producing All-Star and Hall of Fame-caliber ballplayers is arguably unparalleled. But increasingly, the emphasis in that sentence rests on the word history. Much has been written about the current state of the city game, and how NYC simply doesn't produce talent like it used to.
In reality, of course, New York never stopped producing tough, talented, battle-tested ballers. But the rest of the country (and world) has done a lot of catching up, and for a variety of reasons, more and more of the best NYC products have decided their most likely path to success lies beyond the borders of the five boroughs. In that, Jalen Lecque is following a well-established path.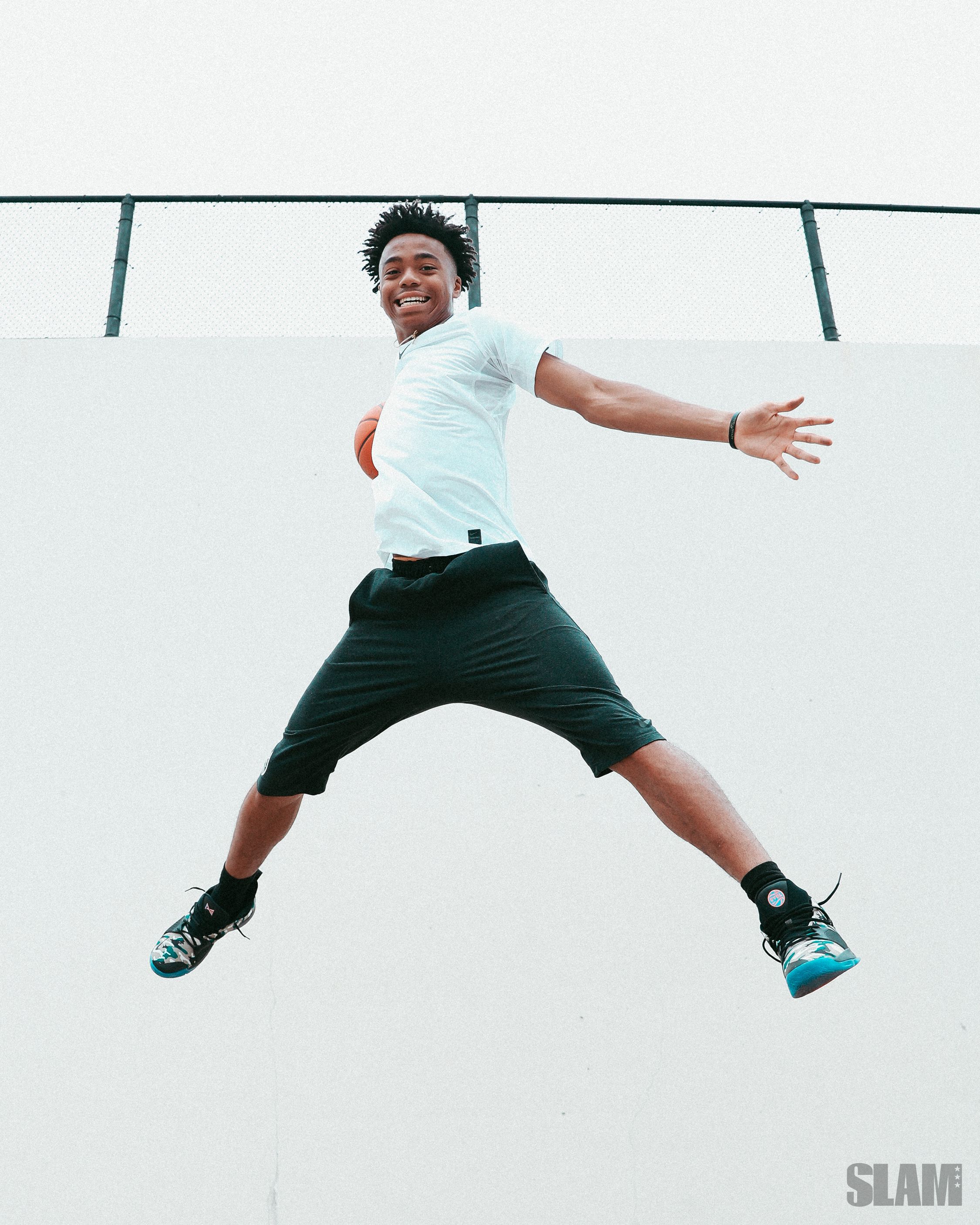 Asked about recent New York City prospects with NBA potential, Jalen immediately names two guys selected in the 2018 draft: Queens native Hamidou Diallo and Harlem product Mohamed Bamba.
Both exemplify the recent trends: Diallo began his high school career in Queens but finished it at a Connecticut prep school before signing with Kentucky, while Bamba played high school ball at prep schools in New Hampshire and Pennsylvania before signing with Texas. The latest in the pipeline understands the trend.
"There's just a lot of distractions, so a lot of people come from New York but leave there to go play somewhere else," Jalen says. "It's tough, because it's a long history, but nobody has really made it out of New York like that in a long time."
He knows there are exceptions, of course, guys like current Minnesota point guard and Jelly Fam originator Isaiah Washington, or Georgia Tech's Brooklyn-bred Jose Alvarado, who both stayed home for high school and are now doing their thing at high-major DI programs. Jalen battled those guys on the local AAU scene, and he knows them well. But in keeping with many other recent predecessors, his path required some detours. So far, so good.
And what's next? Jalen is now off to national powerhouse Brewster Academy. He'll have one more year to continue improving his game. He says he's most confident in his playmaking and scoring ability—for a dude nicknamed "Baby Westbrook," the athleticism speaks for itself—and is focused on improving his ballhandling, jump shot and leadership skills. He had a chance to measure his progress at the U18 national team tryouts, where he made the cut from the initial 33 invitees to 18 finalists, but just missed a spot on the final 12-man roster. A dude who was slept on by major programs a little more than a year ago, he doesn't really need additional motivation, but he's got some more anyway.
However far he goes in this game and whatever path he takes to get there, Jalen knows that part of his motivation will always come from the city that brought him into this world. He insists on being one of the ones who makes it—and bringing New York with him.
"Being a New Yorker is just different, and I always want to represent that," he says. "I'm trying to be that guy who puts it on my back."
—
Ryan Jones is a Contributing Editor at SLAM. Follow him on Twitter at @thefarmerjones.
Portraits by Joseph Sherman.