Let's take a trip and fly high above Yaoundé, the capital city of Cameroon. We'll see over two million people living down there. We'll hear French and various dialects being spoken, and we'll see a palace, art museums, bustling marketplaces and the Reunification Monument. Then we'll keep flying. We'll head west of the city, for about 160 miles.
A peak will rise up off the horizon.
Mongo Ma Ndemi, which translates from Bakweri to the Mountain of Greatness, lines the shore overlooking the Gulf of Guinea. It's an active volcano, towering over 4,000 meters tall. The climb up to the top passes through a tropical rainforest with showers of mist covering its canopy of evergreen trees and its bushes on the forest floor. Elephants, monkeys, hogs, chimpanzees and duikers make appearances throughout the ascent, while the Mount Cameroon speirops, a small bird species, skips from tree to tree.
But the density of the forest gives way to the scarcity of Mongo Ma Ndemi's summit. On sunny days, the greenery transforms into an arid landscape, with only sunburned shrubs lining the walkway. The change in scenery, from canopy to bushes, is finally completed by the view.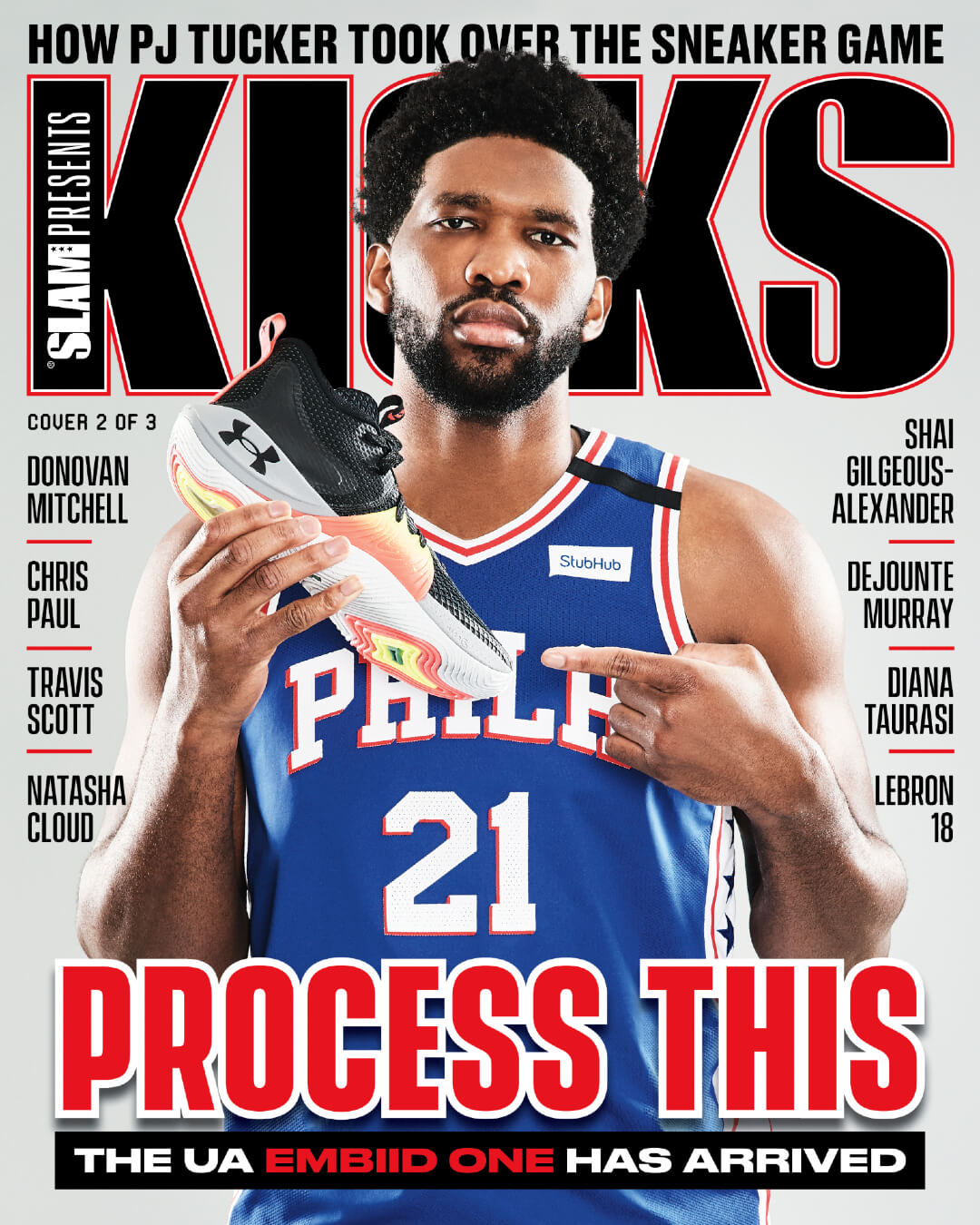 All of Cameroon is now lost to the sky. Nature's purest blue meets the nearly translucent light of the atmosphere. Clouds hover and glide below the peak and the wind sings while it rides across the mountain. There's nothing up here. It's just the world. It's just possibility.
The volcano hasn't erupted for about 20 years. The last time it did, Joel Embiid was a kid in Yaoundé. His story was just beginning. He had no intention of becoming an NBA player.
"My goal was actually to become the president," the 26-year-old says. "I just wanted to change the world."
He was dreaming, leaning on a source of inspiration that captivated him immediately.
"I'm a big Dragon Ball Z and all the franchises, GT and all that stuff, I'm a big fan," Embiid says. He can't remember when he got hooked, but he knows it was when he was young. "It gave me a different sense of the world. Growing up in Cameroon, in Africa, wasn't always the easiest. So you just see different sides. I know it was a cartoon, but at the same time it just also felt real. You just get a different sense of everything. It kind of, in some ways, teaches you how to be a better person."
He wanted to become president because of Goku.
"You see he's saving the planet, he's fighting against Freeza," Embiid says, speaking about the hit anime series beloved by tons of NBA players. "Even going all the way back, the Red Army, even to the first Dragon Ball, the original one, he's always fighting to save people and to make the world better. At the time, obviously, I didn't think it had any correlation. But looking back now, what my goal was, it probably had something to do with it."
Those early years of Embiid's life are what shaped everything about him. And now they've also shaped his debut signature sneaker, the Under Armour Embiid One. Reggie Wilson, Senior Footwear Designer at UA and the lead on the Embiid One, has tapped into that past for the launch of the silhouette.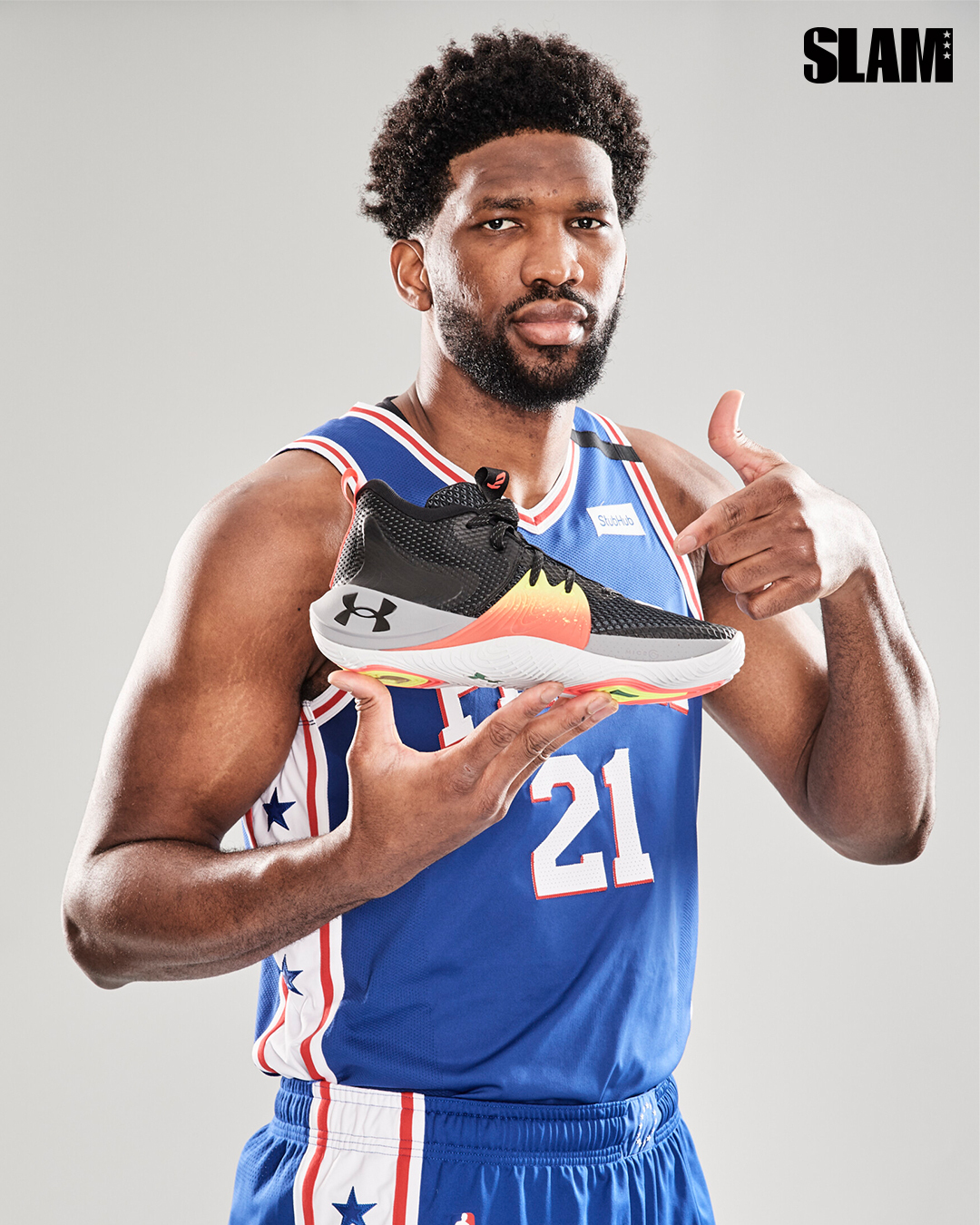 They're starting things off with the "Origin" colorway. As a nod to Embiid's favorite cartoon growing up, to Wilson's love of Star Wars and to the format of episodic storytelling, the entire narrative of the Embiid One centers around sharing the Sixers star's journey like a movie.
"I always say my life is a movie," Embiid tells KICKS.
One of the characters in the movie is Mongo Ma Ndemi. Wilson and his team studied the mountain and transformed its influence into a part of the sneaker.
"I was researching people that go up this mountain," Wilson says. "It could be dangerous but it's this journey. When I was in the initial phase of doing research, I was looking at that mountain. I happened to go to Google Earth and I was looking at the topography and it just so happened that at the top of that mountain, the topography of it is the shape of Africa. So I was like, Wow, that's kind of cool. And if you see the outsole, that's partially why I put Africa in the heel, because the top of that mountain looked like Africa. And that's where those radiating lines come from."
Embiid hasn't climbed the mountain, but that doesn't mean he hasn't taken his own adventure. Though he'll be leaving his footprints in the Embiid One moving forward, the steps he's taken since 2011 have formed their own outline.
"That was one of the main things when I started working with Under Armour," Embiid says. "My story is, I don't mean to brag, but my story is fascinating. I still feel like people don't really know my story. It's been told a lot of times but people don't know it, or they don't pay attention. They just look at the Joel Embiid now. Like, Oh, he's doing this, he's doing that. He's scoring this many points and this and that. But they don't know how I started."
So let him tell you about his origin story.
"I played soccer and then I played volleyball," he begins. "As I got into it, I had a different sense in the way that I thought I was heading for the pros when it came to volleyball. And then in 2011, I had the opportunity to be part of Luc Mbah a Moute's camp. I had just started playing ball. I thought I did OK and I never believed that I had any chance.
"And just like that, he offered me an opportunity to come to America, and then that's when everything opened up. But still, even then, I still wasn't confident. I just started playing basketball and it was hard. And I went to a school, Montverde Academy, which is known as, you know, they got the best, talented high school players. I think it helped me a lot, just develop, just figuring out what I want with my life. Especially because I was not supposed to be there. That year or a year later, I was supposed to go to France to play volleyball and probably start my professional career. Instead of that, I was in the US, trying to learn how to play basketball and the language, and just trying to get better.
"The first time I really thought I had a chance to get to the NBA, it didn't start until when I was in college, a few games in. It was against Iowa State. I had a pretty good game and then after that game, coach Fred Hoiberg called me the best player in the nation. And right before that, I had a few other games, like, against New Mexico State, where I had a Dream Shake. It was starting to come together and people were starting to say it. Two thousand and eleven, and then in just three years, I get drafted, 2014. Everything happened so fast."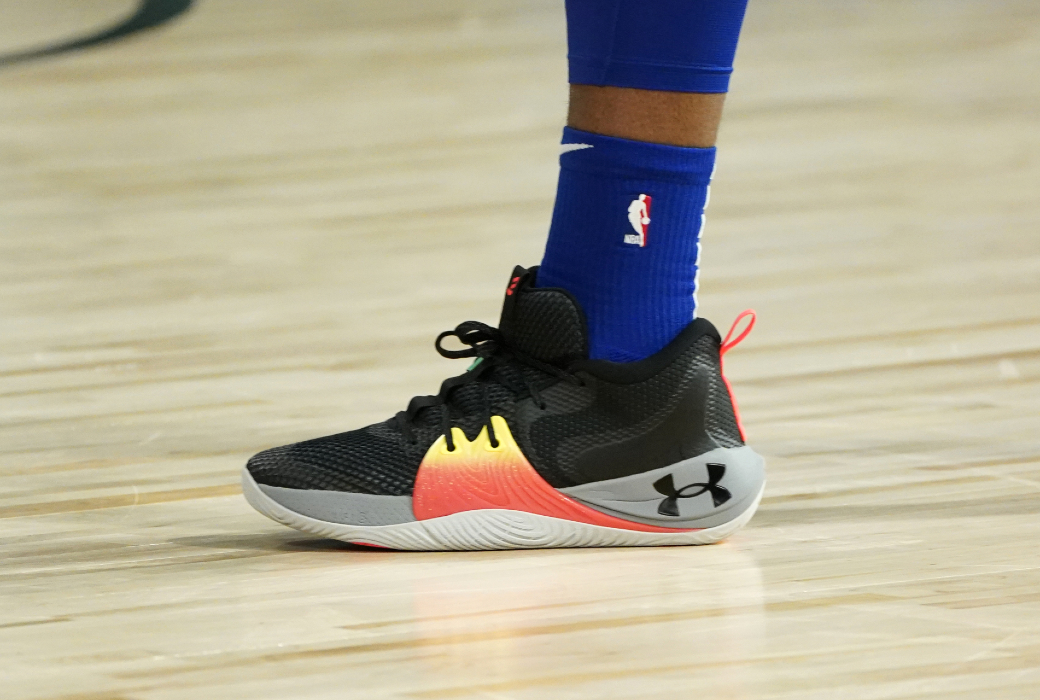 The years in between 2014 and 2020 have seen him get named to three All-Star Games, make two All-NBA teams and two All-Defensive teams. He's got career averages of 24 points and 11 rebounds a game, and he's the driving force behind the Sixers' championship hopes.
The accomplishments and the stats are definitely impressive. But the eye test is the only way to truly understand the full scope of his impact in the NBA. Embiid is 7-0, clocking in at 280 pounds. He doesn't play anything like an old-school center, though. He's got the honey-dipping stroke from downtown, the skill to take unlucky opposing bigs off the bounce, the strength to dominate from the post, the vision to be a playmaker, the tenacity to protect the rim and the ruthlessness to beat entire teams by himself. He's a one-of-one, a whole new type of ballplayer who's capable of doing nearly everything on the court.
The UA Embiid One was constructed with all of that in mind.
Before Wilson cooked up the narrative structure of the Embiid One, he and his team engineered a silhouette specifically designed for positionless basketball.
Its mid-cut height serves as the bridge between guards and bigs. Mesh covers the upper, addressing one of Embiid's specific requests for breathability. A TPU support wing pops up on the lateral forefoot section. Its foundation is a combination of two UA technological staples: a HOVR unit sits in the heel on top of a Micro G midsole.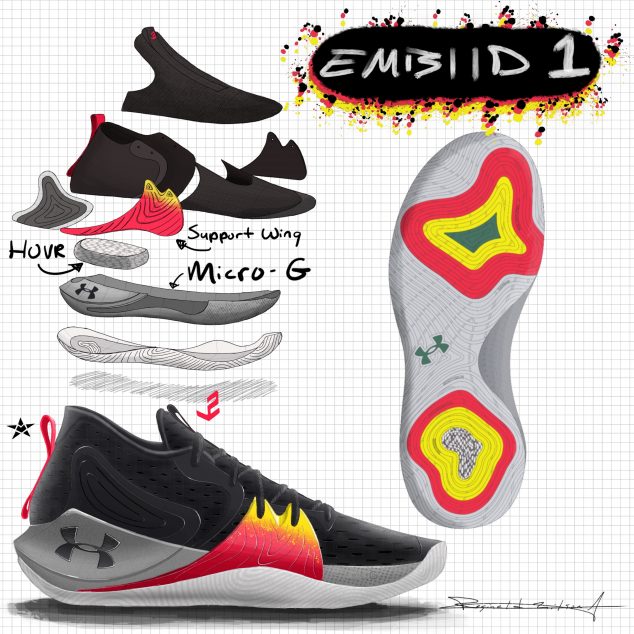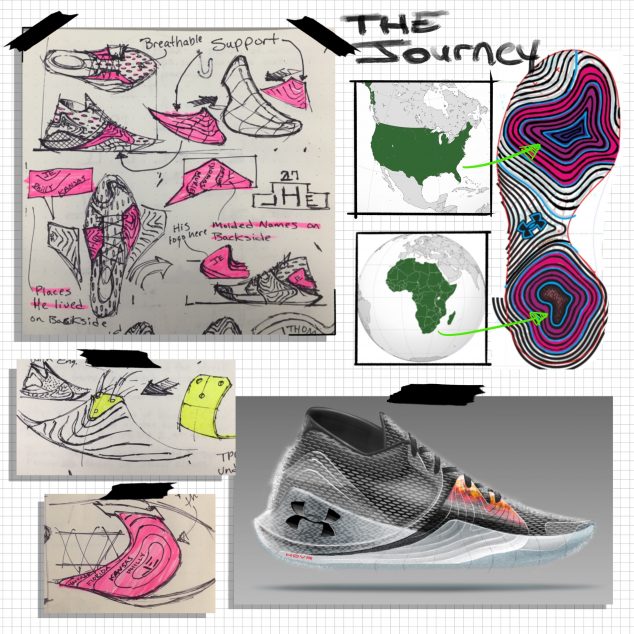 "We wanted to keep a relatively simple build," Wilson says. "The first time I met Joel and went into his closet, one of the things I noticed was all the shoes in his closet were really simple. But they always had one iconic element. I used that as inspiration, and that's why the TPU piece is the clear visual focal point and everything else is simple."
Then there's traction pattern that Wilson referenced. The heel's directly shaped by the continent of Africa while the forefoot's directly shaped by the continent of North America. And the right outsole is a mirror reflection of the left outsole.
"As I mentioned, the overarching story of the shoe is about reflecting on his journey," Wilson says. "The outsole of the left shoe highlights this idea by being an exact reflection of the right shoe. The left is literally a reflection of his journey. If you hold the shoes up to a mirror or look at the shoe prints that are left behind on the ground, one of the shoes is always reflecting on his journey."
It's all part of the international odyssey between Cameroon, France and America.
The series' that both Embiid and Wilson reference, Dragon Ball Z and Star Wars, are modern day epics. They both develop long-term narratives, with multidimensional characters and world-building. As Wilson notes, that's what people can expect of the Embiid One.
"The storytelling that we introduced with the shoe is definitely a continuous thing," he says. "That saga concept is something that we will continue."
Because though this is Embiid's sneaker, this is Wilson's origin story, too. This is the first time he's been the lead designer on a UA basketball sneaker. The stars aligned for him in October 2018. That's when the Director of Team Sports at UA approached him with the chance to make this project happen. He says he remembers walking in the UA parking lot on a chilly night with his best friend, thinking, Man, this could be really, really big.
Nine months later, on Sunday, July 14, 2019, Wilson got to celebrate his birthday by being the first person at UA to weartest the Embiid One.
"We have a guy who runs the weartest for basketball," Wilson says. "His name is Mike. He gets shipments in. I think we got size 9s in first. So I was like, When are the weartest pairs coming? Texting him, emailing him. When are the 10.5s coming? When are the 10.5s coming? At some point, I forget when they came…I think they came [during] off-work hours. I may have left work early. So I remember leaving my house at, like, 8 at night; I drive to the office, go into the office, try them on, like, do cuts in the office. Looking crazy. They probably have security footage of me just running around the office. But I just wanted to put them on so I could have them ready to play the game the next day. I was like a little kid."
Wilson says that the biggest benefit of the sneaker is that anybody can hoop in it, from himself to Embiid to the average consumer.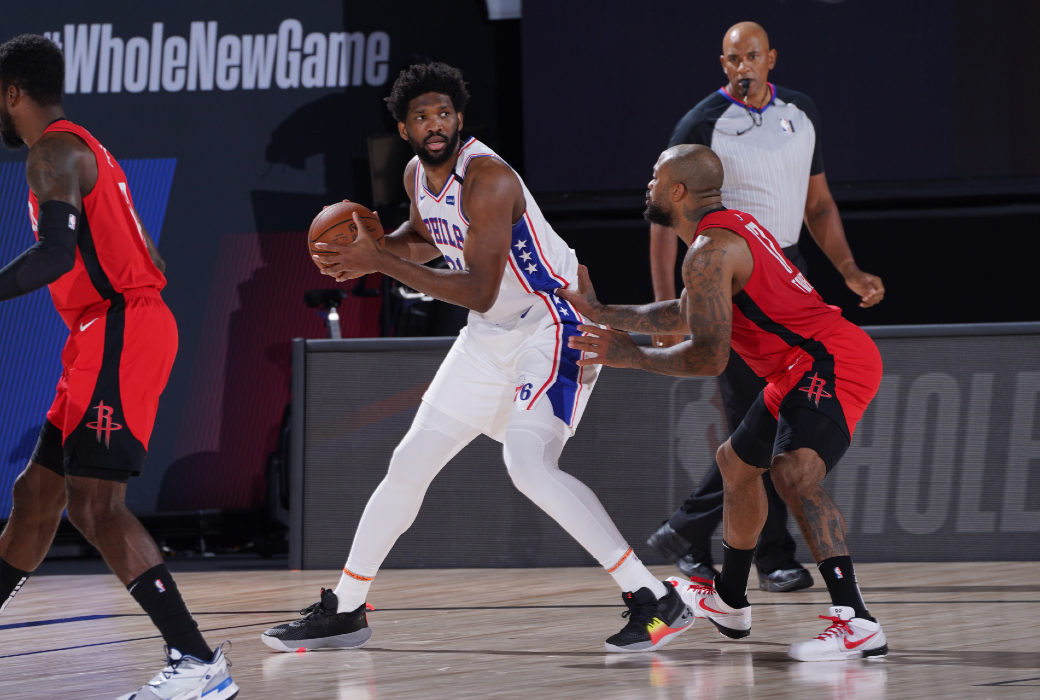 Though he didn't get to become president, Embiid is still trying to make the world a better place, regardless of what kind of kid plays in his sneaker. He's worked hard in both Yaoundé and Philadelphia to establish safe places for kids to learn and grow. He helped to refurbish the Boys and Girls Club of Philadelphia at the end of 2019 and says he still has more to do.
"Another thing which is good with the relationship with [Under Armour], it's not just about basketball and the shoe," Embiid says. "We also want to make a difference in the community. I've preached that I want to help as many people as I can where I'm from, people in need."
Even if he can't be there, the Embiid One "Origin" colorway features an icon on the heel. There's a heart inside of the star; the heart representing the love of his home and the star representing Cameroon. Home is where the heart is.
"That's where it all started," he says. "I was born there, I'm Cameroonian. My whole family is from there. And it didn't start when I started playing basketball; it started when I was born, with the way I was raised, with everything I was around, with everything I went through. That's why Cameroon was the main point. There's a lot of indications on the shoe, in the back of the shoe. It was designed to make sure there was an emphasis on that."
An emphasis on a dream to change the world, from Yaoundé to Philadelphia.
—
Max Resetar is an Associate Editor at SLAM. Follow him on Twitter and Instagram.
Cover and portrait by Jennifer Pottheiser/Under Armour.
Additional photos via Getty.