Off-White Nike Hyperdunk 2017. "What The" Nike LeBron 11. Nike Hyperdunk '08 "Fade to Black." Nike Kobe x Kyrie 3 "Mamba Mentality." Nike 2K4 Huarache. Nike Zoom Kobe 1 "Protro."
Jordan Clarkson has laced up each of those sneakers at least once this season–much to the League's chagrin.
"To be honest, I'm just trying to find a shoe that the League's gonna let me wear without saying nothing about them," he laughs.
The NBA has a dress code that allows players to wear sneakers that are either black or white, or that match the squad's primary color. So when Clarkson rocked the "What The" LeBron 11 at Madison Square Garden in December, he got in a little bit of trouble.
"Our eqpuipment managaer had said something to me after," Clarkson says. "He wasn't on the road that trip. I kinda snuck 'em real quick."
Clarkson's brand new teammate, LeBron James, noticed that he hooped in the "What The" 11 and he made sure to give a shout out on Twitter:
🔥🔥🔥🔥🔥🔥🔥👑👑👑👑 https://t.co/TT1isqvADV

— LeBron James (@KingJames) December 13, 2017
"That's pretty dope," Clarkson says, nearly two months before he ended up in The Land. "LeBron, he seen it and he took notice of it. That's a good feeling."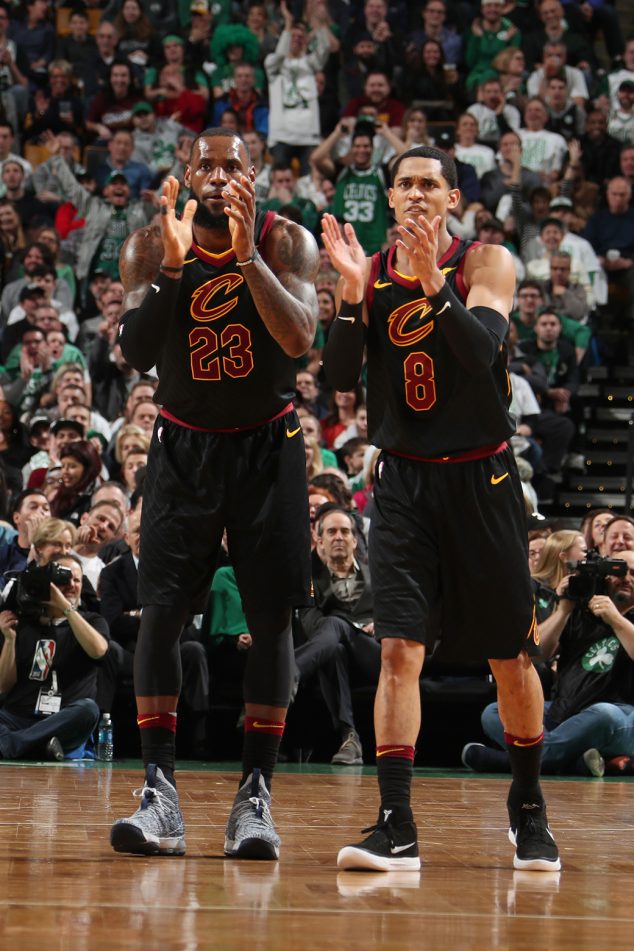 In addition to the limited-edition silhouettes he's been wearing, Clarkson has also been rotating through two other Nike kicks. He's been wearing the Kobe AD Mid a lot this season and he decided to go with that for his Cleveland debut. He hit for 17 points off the bench in a black pair of Mids yesterday, helping the Cavs grab a 121-99 win in Boston. And Clarkson's also been playing in the Kyrie 3, which he counts as his favorite current sneaker, a stark contrast to the pair that first caught his eye as a kid.
"It was them AND1s, the slip-ons," he says. "I used to try to get the baby blue ones."
Scroll through the gallery below to see what Clarkson has been rocking this season.
Photos courtesy of Getty Images
15,774