October 2019. The New York Knicks are getting ready to embark on the first road trip of the new season. As the team boards their chartered plane for the first time, guys are naturally looking to feel out where exactly to sit (and with who)—a seemingly minuscule decision on the surface but one that could technically have season-long implications. Shoot, for a young guy in the League, it could even be career-altering. We'll explain.
It is in this moment that 19-year-old rookie RJ Barrett, in a scenario very similar to a high school freshman entering the cafeteria for lunch for the very first time, finds himself looking around the plane for a place to sit. He eventually turns to Julius Randle, who is entering his sixth year in the NBA and therefore is already sitting in his preferred spot, and asks if he could join him.
"He didn't really know where to sit. He came and was like, Is it cool if I sit right here? And I was like, Hell no! Nah, I'm joking. I was like, Yeah, of course, man. I've always sat on the same place on the plane my whole career. He sat next to me and it's just kind of been our thing…First day, and ever since then, hasn't changed," says Randle. "They have the table where the guys play cards. I've always sat to the left of the table—directly there. I sit there and [RJ] sits by the window."
Julius, who knew exactly what it was like to be a top draft pick headed to a big city with tons of expectations and very little patience after being selected with the seventh pick in the 2014 NBA Draft by the Los Angeles Lakers, became the perfect mentor for Barrett. Whether fate or just pure coincidence, it's impossible to trace back the grand return of the New York Knicks to relevance this season without looking at how Randle and Barrett sprouted in The Garden by developing a strong chemistry that extends beyond the hardwood. One that seems to have started on (or at the very least facilitated by) an October flight in 2019.
"We've been sitting beside each other since day one. Just cracking jokes…We can play cards, we listen to music, we do all that at the front of the plane. It kind of just happened and we just stuck with it," says Barrett. "We've always just had an understanding with each other. Sitting together at the beginning kind of helped me because I was the rookie coming in. So, it was like [a] big brother just helping me out. We even watch film together on the plane, showing me little things."
That plane seating decision may have not seemed like a big deal at the time, but it helped pave the way for the creation of the most important Knicks duo in recent memory. The Knicks are back. The most valued franchise in the NBA is making noise again. A real foundation is now in place, with Randle and Barrett at the center of it.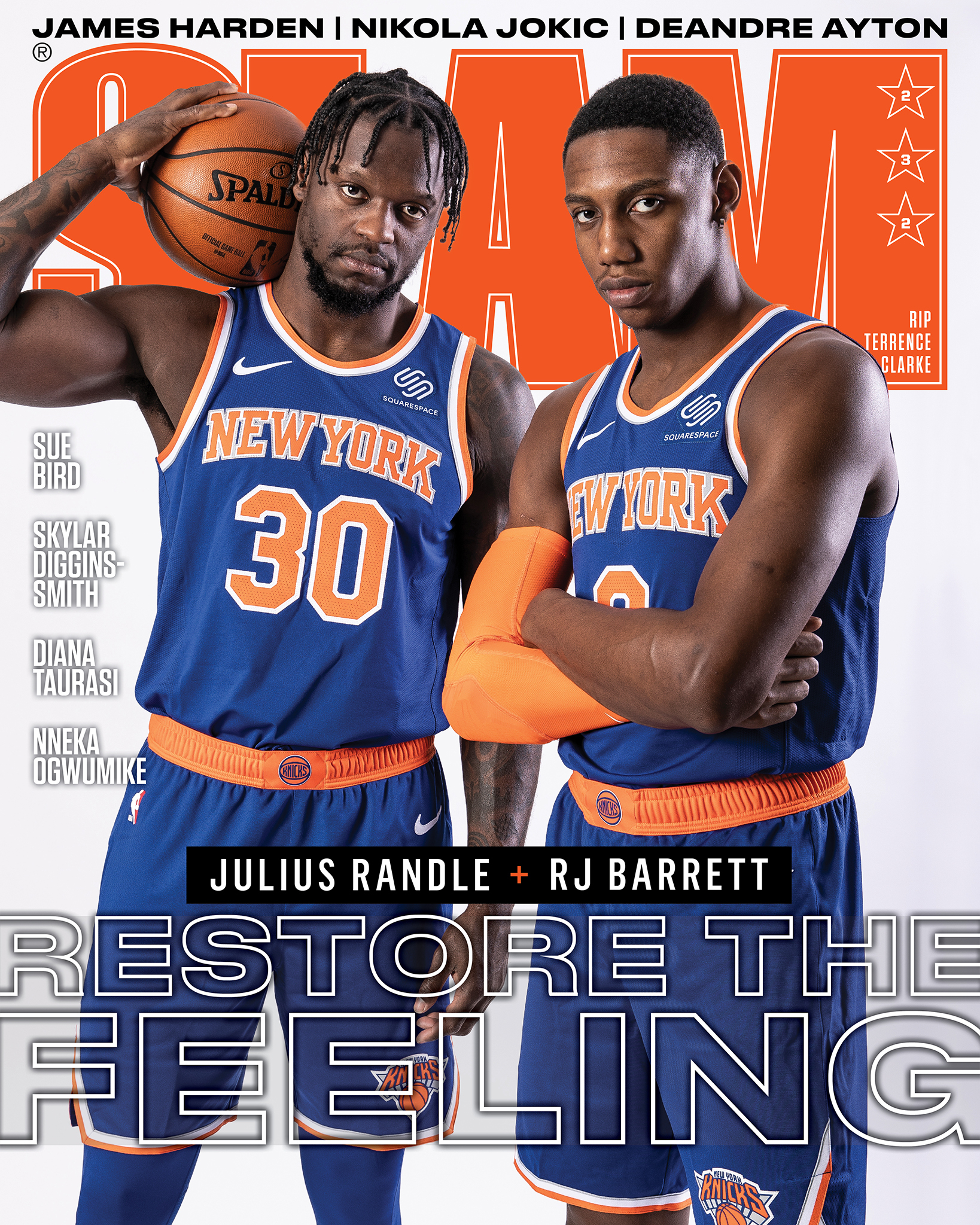 Order your copy of SLAM 232 featuring Julius Randle and RJ Barrett now.
It's a Thursday afternoon in late April and RJ Barrett is sitting in his home office in White Plains, NY. The team is enjoying a day off, 16 hours after winning at home in overtime against the Atlanta Hawks in the second game of a back-to-back. Randle dropped 40. The Knicks extended their winning streak to eight—their longest streak in seven years. The team has moved up to sole possession of the fourth seed in the Eastern Conference on this day. With less than a month to go in the regular season, the thought of the Knicks being in the playoffs for the first time since 2013 seems like a real possibility. It's been eight years. The city is buzzing.
There's a lot to be excited about, and RJ is cheesing hard when he joins us via Zoom from his home.
"I feel like we were the only ones that kind of believed in ourselves. No one thought we were going to be here," says Barrett. "No one thought we were going to be in this position except for us. Even making the playoffs, we're very excited for that. It's not just about making the playoffs. We want to go far. We want to try to win championships. That's what we're about."
"From the media's standpoint, I could certainly understand how we would be ahead of schedule," says Randle. "For me—unless you're, like, the Lakers or Brooklyn [where] it's championship or bust in their minds, probably—I came to this season with an open mind. We had a new front office. Guys I was really familiar with were Wes [William Wesley] and Leon [Rose]. New coaching staff, different players. So, it's hard to really put a cap on what you can be. I just tried to come into the season with an open mind. I wanted to improve as a player and really put my best foot forward as far as how I could help the team. Quickly, as the season started in training camp and as the season went on, I could tell things were a lot different [and that] we had a chance to be good if we just trust in each other, believe in each other and follow Thibs' lead."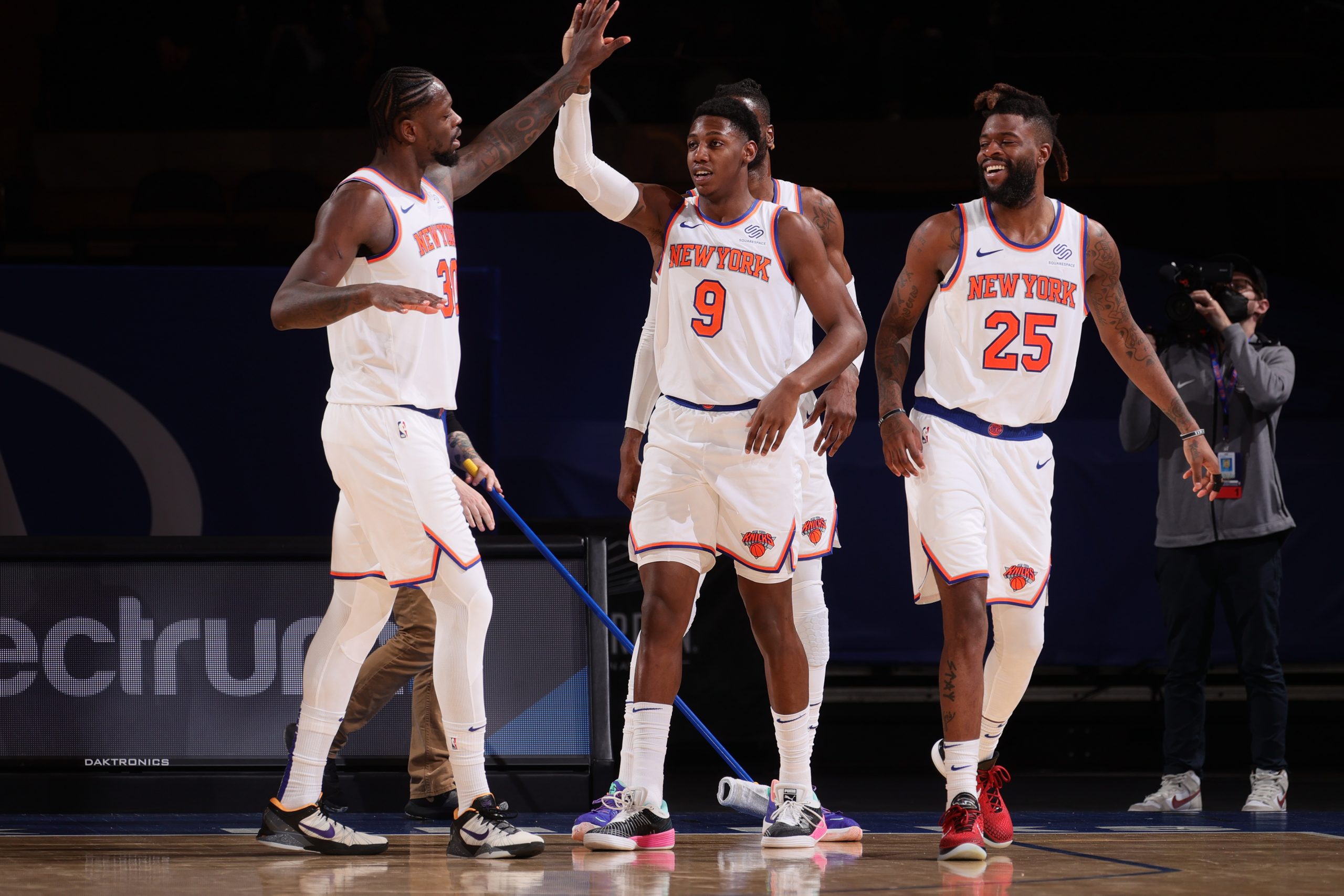 It was in July of 2017 when Barrett first caught the attention of Randle. At the time, Randle had just completed his third year in the League and was enjoying his offseason in L.A. when one day he decided to tune in to the U19 FIBA World Cup in Egypt. The real draw for the former Kentucky star was that his former head coach John Calipari was coaching the American team. As a true Big Blue Nation supporter and overall student of the game, Randle tuned it to root for his guy. It was the tourney's semifinals and Team USA was facing off against Canada. Barrett, only 17 years old at the time, ended up dropping 38 points, 13 rebounds and 5 rebounds while leading Canada to a shocking 99-87 upset victory over the United States.
It marked the first time that an American team of any age group had lost a game in international competition in six years, while also being the first time ever that a Canadian men's basketball team had claimed gold at any level. Randle vividly remembers his thoughts after watching that contest.
"I watched that game. He went crazy. I remember he got a 30-ball," recalls Randle. "I was like, That kid is going to be special! I could tell right away. You don't just see that happening."
Beyond the career-high production from Randle and the second-year leap from Barrett, there's a visible overall culture shift with this team, one that everyone has bought in on. Head coach Tom Thibodeau's teams have always been known for their hard-nosed defense and grittiness. As of late April, the team ranks No. 1 in the NBA in fewest points allowed (104.7 per game) as well as No. 1 in fewest made field goals by opponents (38.0 per game). For reference, the franchise ranked 17th in points allowed last season (112.3 ppg). In their largest margin blowout win in 25 years—by 44 points against the Detroit Pistons on the road—in early April, the orange and blue didn't allow a single field goal to the Pistons starters in the first quarter; that hasn't happened in 22 years.
"We're a team that we go back to the gym at night. Almost every night. We're always working before practice, after practice. Come back again at night. We land somewhere, we all go to the gym now. We're always in the gym. That's been showing out there on the court…This is a very special team. And I feel like we're the start of something good in New York Knicks basketball again," says Barrett. "I think our team describes New York. I think we're tough, gritty, resilient. And we go in with our hard hat and work hard every day."
Adds Randle, "After the first game of preseason, honestly, I saw it was different. And then I think the third game of the preseason, when we played Cleveland back-to-back, I was like, Oh, nah, we got a chance to do something or surprise people! We went to Indiana, played them tough—should've won the game. And from that point on, I'm like, Yo, just keep building! I really wasn't focused on the wins and losses. We were just trying to focus on building our identity of who we were as a team. Confidence for a team is everything. That's really what happened with us. Game by game, our confidence just grew to where every game we come in [and] we expect to win the game."
For Randle, the journey has taken him from four rebuilding years with the Lakers (tough years where the team finished 30 or more games under .500 in three of those) to then one season in New Orleans, where he enjoyed some of the best numbers of his career but nonetheless missed the playoffs. He opted out of the second year of a two-year deal with the Pelicans in the summer of 2019 and ultimately took a leap of faith in signing with the rebuilding Knicks. After a tough first season as a team in New York, Randle is now averaging career highs in points (24.2) and rebounds (10.3) as of press time. He's been filling up the stat sheet, becoming the first Knick in over three decades to record multiple triple-doubles in a season. He got his first All-Star nod in March and is now gearing up for some playoff action—the first of his career.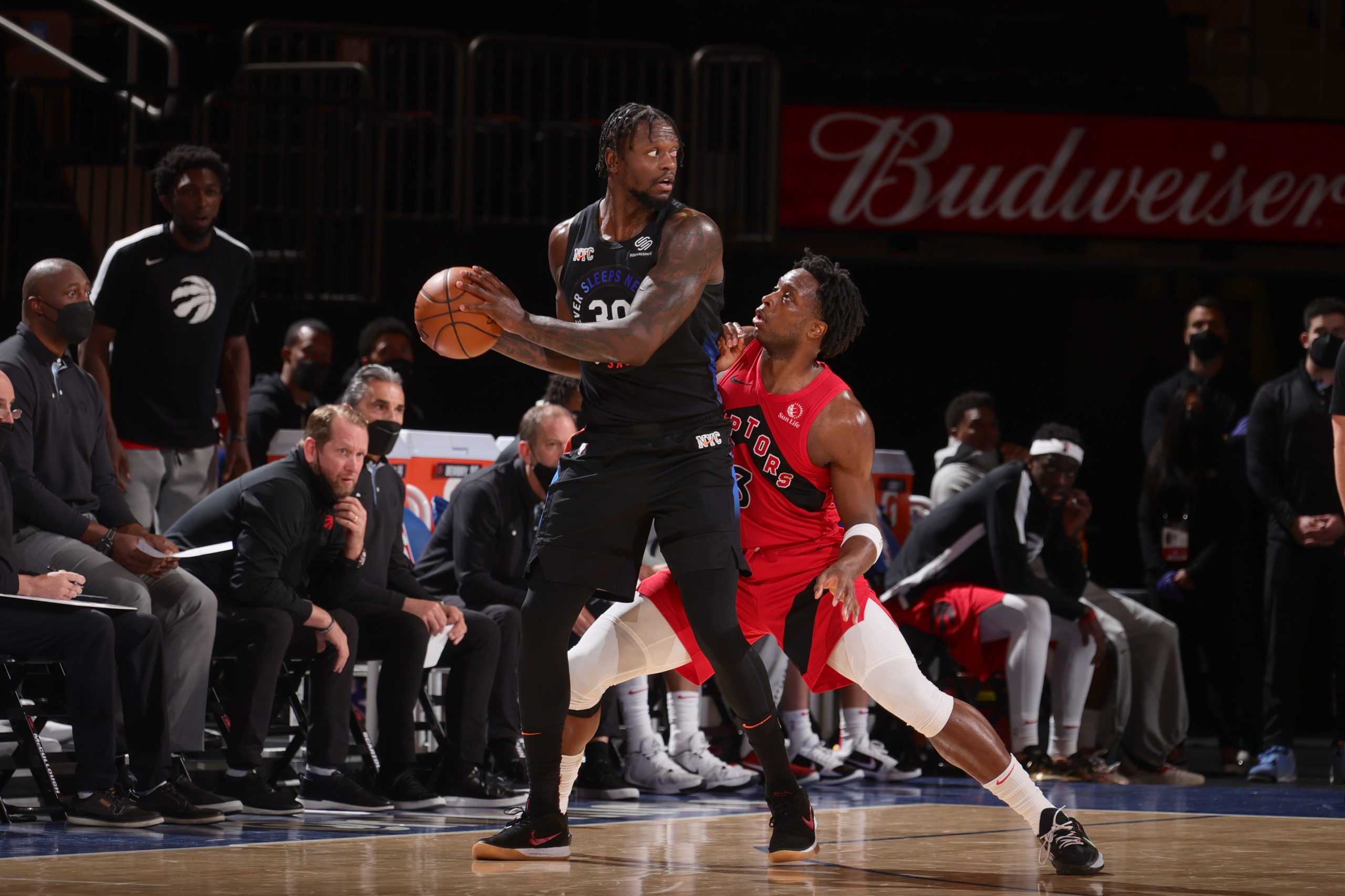 "I had never seen [Julius] in person before, so when I [first] saw him I actually was like, This dude is 6-9, 250!" says Barrett while bursting out laughing. "My favorite stories are just him working hard. Us landing somewhere and [he's] always going to the gym. He just became an All-Star, and he was in New York working after the All-Star Game before anybody even got back….As soon as he gets to the arena, he has his headphones on. He's kind of just in a zone. He doesn't really speak until we get on the court."
For RJ, who's still only 20 years old, his first 18+ months in the League have been a rollercoaster. As the third pick in the 2019 NBA Draft, which became the Knicks' highest draft pick since Hall of Famer Patrick Ewing went number one in 1985, he saw his share of ups and downs as a rookie. The team was losing. A lot. The head coach was fired. The team president was fired. Although many jumped at the opportunity to critique his shooting numbers, he still showed glimpses of what could be. There were a couple of 27-point performances. He became the first Knicks rookie in 40 years to post a 15-15-5 stat line. He was third (behind only Zion Williamson and Ja Morant) in scoring among all rookies—and yet somehow was absurdly snubbed from the NBA All-Rookie Team.
Not only are his averages and shooting percentages up across the board this season (posting 17.6 points and 5.8 boards as of press time), there's an aura and swagger to him. He's become a fan favorite in the Big Apple.
"This year he's just a complete—I wouldn't say 180 [degrees], but as far as his mentality, he doesn't let things affect him," says Randle of Barrett. "He's very steady, confident and knows who he is as a player, and he's just been proving it."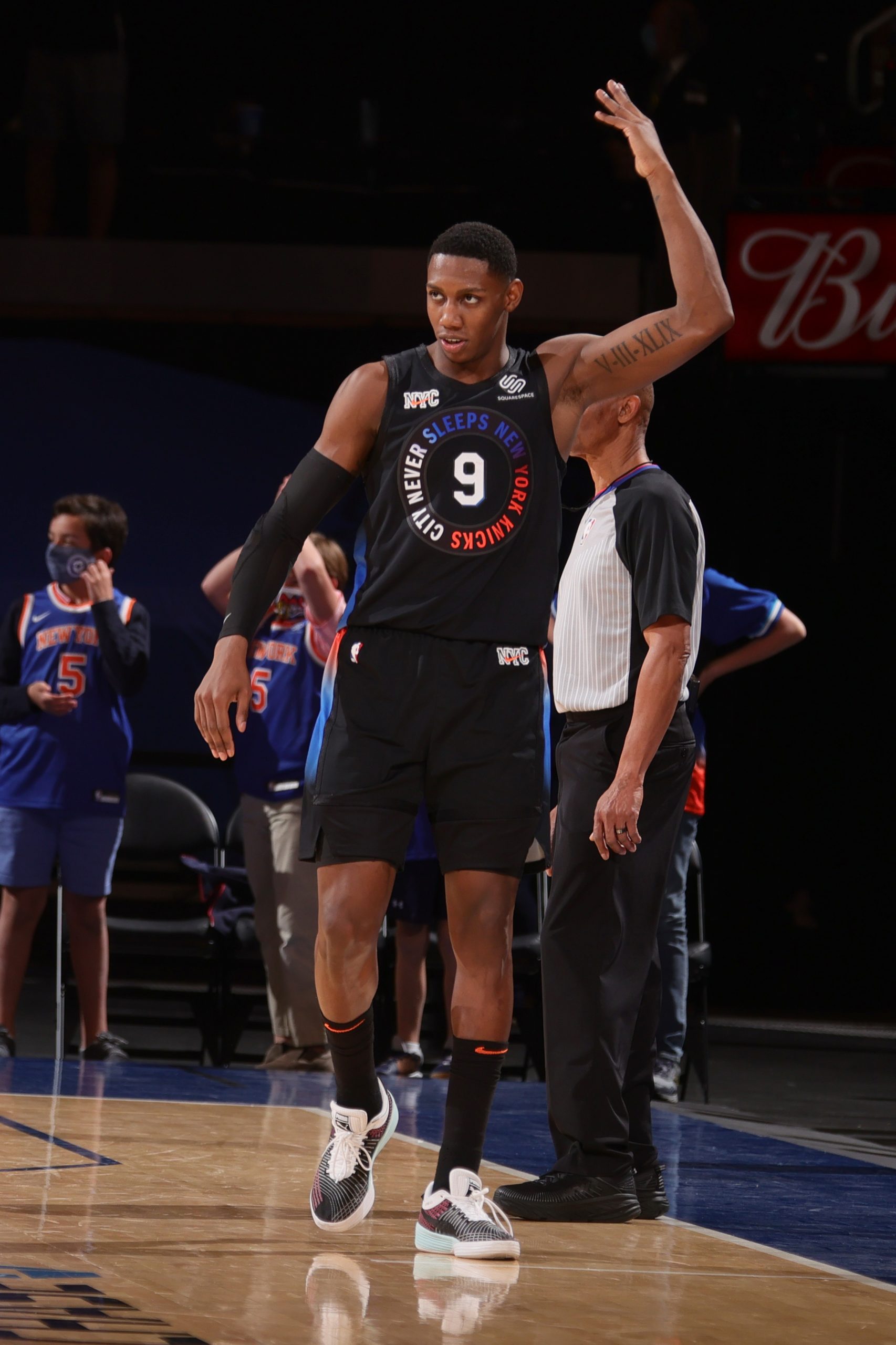 A few days after our Zoom calls with both guys, the Knicks winning streak came to an end following a loss to Phoenix at home. The streak topped off at nine—the team's second best stretch in 25 years. The vibe in the city remained unchanged, though. This time it just feels different.
Yes, the Carmelo Anthony-led 2012-13 team did indeed make it to the second round of the playoffs, but that squad never had a sustainable young core to build a future around. Therefore, that era came and went so fast, still leaving the franchise with the worst record in the League over a 20-year span when Randle joined in 2019. This team, though, hasn't even scratched the surface. From Immanuel Quickley having one of the best rookie seasons in the Association, to Mitchell Robinson and Nerlens Noel becoming major defensive forces in the paint, it's been a well-balanced mix to complement vets like Derrick Rose, Reggie Bullock, Alec Burks, Elfrid Payton and Taj Gibson.
Players on other teams, from LeBron James to Marcus Morris, have taken to Twitter to acknowledge the resurgence of the team. "And the league is simply better off when the Knicks are winning," LeBron tweeted on April 22. Yet, being patient and realistic is very important here—one thing that Randle and Barrett constantly preached during our call.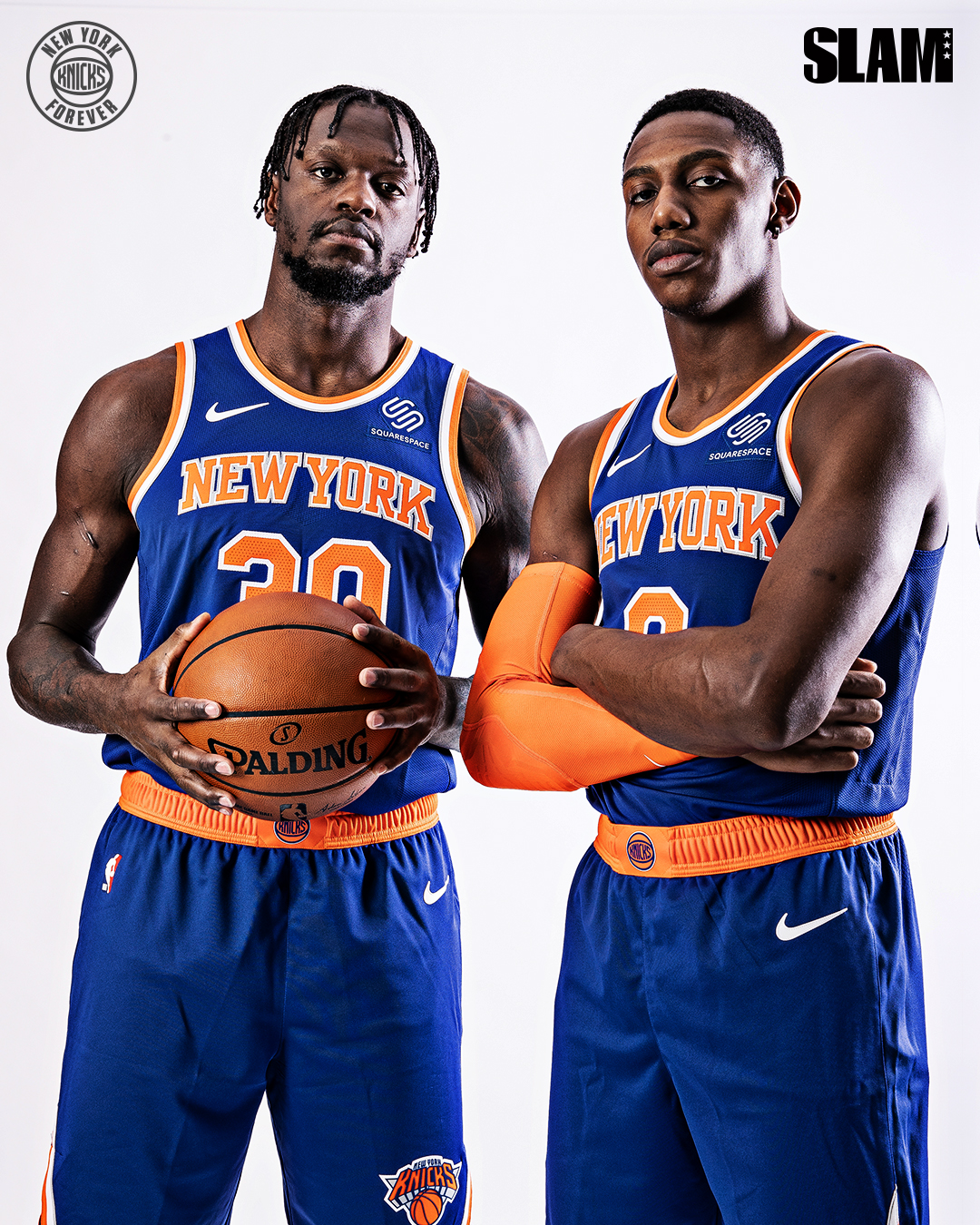 "We're aware of [the excitement]. We hear it. You can't really escape it. We hear it but that's not where our focus is. We have a game-to-game focus. Thibs does an amazing job of preparing us from game to game," says Randle. "Our game to game attention to detail and focus, it's different than any team I've ever been on."
"[Thibs] came in and he was just very honest from the beginning. He told us, We have a long way to go but we're going to try to turn this around. And that's exactly what we've done," says Barrett. "Honestly, I'm not really surprised. We worked too hard. We work so hard and we have no egos. I feel like we deserve everything that is happening right now but we know that we have a long way to go."
—
Action photos credits via Getty.
Portraits by Niko Rodriguez and Kevin Clark at the New York Knicks. Follow Niko on Instagram @technicalbasis, and Kevin on Insta @kevin_clarkk.