On Marvin Bagley III's first day of first grade, his father, Marvin Bagley Jr, was dropping his eldest son off at school when he came to a realization: His boy was taller than all the other kids. A lot taller.
"Head and shoulders above everyone else," Bagley Jr says. "It was like, Wow, he might be really tall."
That's when Bagley Jr decided that Bagley III should probably get involved with sports—Junior had played college football at North Carolina A&T and then in the Arena Football League—and basketball made sense, for obvious reasons. "It takes height, sometimes," Bagley Jr says. "It's a good first step."
The second step tends to be talent, and Bagley III had plenty of that, too. He kept growing—he never stopped being the tallest kid in his class—and he quickly accumulated skills to match the height. Those skills eventually earned him a scholarship to Duke University, where he'll be the star of the most stacked NCAA roster in the nation this fall. The team also features top recruits Trevon Duval, Wendell Carter Jr and Gary Trent Jr, along with senior Grayson Allen. Bagley III is set to be either the best or second best player in the country, depending on your opinion of Missouri's Michael Porter Jr, and is a lock to be a top 5 NBA draft pick in June of 2018.
"There's a lot of eyes on me now," Bagley III says minutes after wrapping up his first SLAM cover shoot at Duke's Cameron Indoor Stadium the morning of his freshman move-in day. "It's exciting. It's something I've always dreamed of—going to college and playing college basketball, being able to do what I love to do."
Growing up, Bagley III never struggled to control the post, grab rebounds and generally just toss around smaller opponents. But Bagley Jr wanted his son to learn the entirety of the game, be it dribbling the ball up the floor or making the right pass. This became a bit of a source of contention for those who dealt with the family over the years, with countless coaches wanting to ride Bagley III to tournament wins by throwing him under the basket and dominating the competition, while Bagley Jr preferred his son develop a well-rounded style of play. "Some teams held me back, and that's when my parents came in and we moved to a lot of different teams," Bagley III says. "I can't count how many teams I've been on."
"In the beginning, we played for a lot of programs that played for trophies," Bagley Jr says. "At a young age, you have to be aware about developing the kid. We left a lot of teams because that development wasn't there."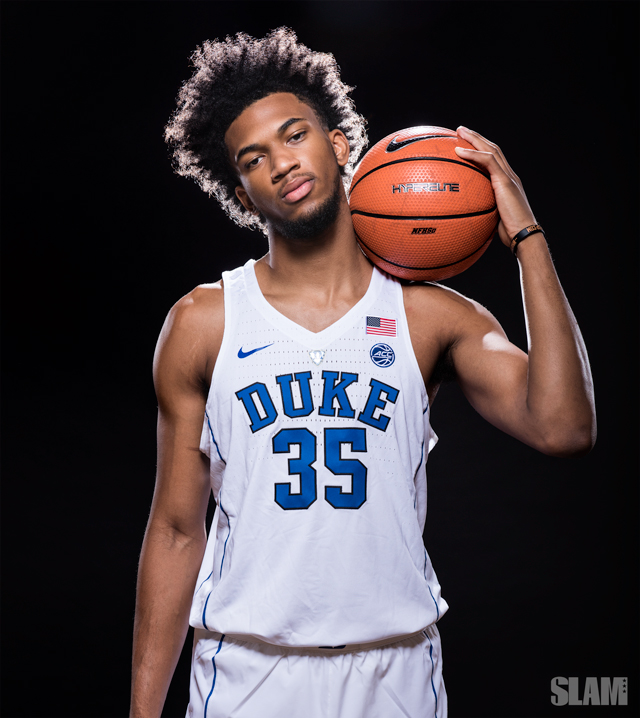 (Bagley Jr has always been his son's guiding force. Even over the past year, at most of his son's AAU and Drew League games, he was often spotted somewhere on the baseline holding a camcorder, documenting the action alongside members of the media who were credentialed to capture footage.)
When MBIII was in fifth grade, his pops founded Phoenix Phamily, and on his own AAU team he let his son learn the ins and outs of handling the rock. "I could have 50 turnovers, but my dad still trusted me to go out and play and push," Bagley III says. "I'm thankful for that—that's why I'm where I am today."
It helped that Bagley Jr had some foresight on the evolution of the sport. With the traditional back-to-the-basket center fading away and "unicorns" like Karl-Anthony Towns, Joel Embiid and Kristaps Porzingis—athletic 7-footers who can play inside and out—taking over the center position over the past couple of years, Bagley III is next in line to carry that big man torch. But Bagley III's inevitable ascension was put in motion before the aforementioned superstars exploded onto the scene. The soft-spoken Arizona native has been ranked top three (and usually No. 1) in his class since he was a freshman at Corona del Sol HS in Tempe, AZ.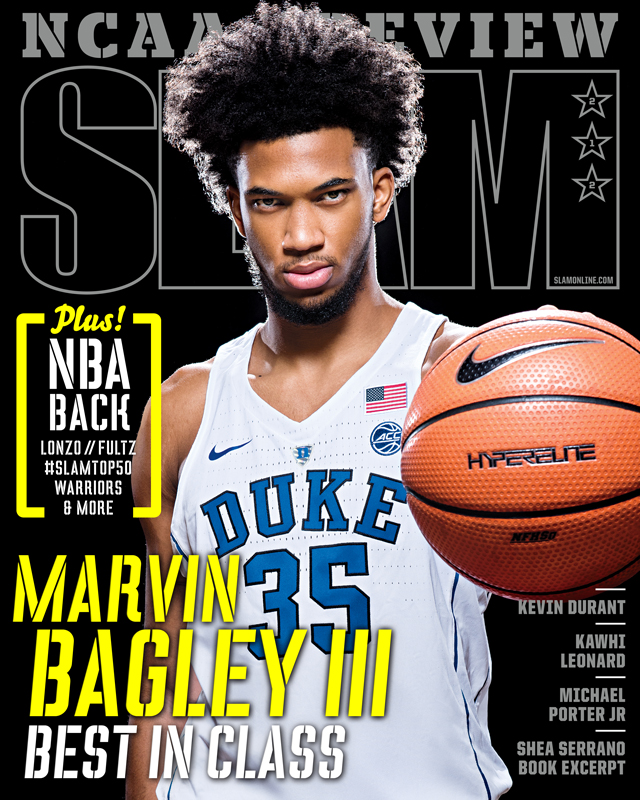 That year at Corona del Sol, he averaged 19.6 points and 10.3 rebounds per game, leading the school to its fourth consecutive state championship. The following season, Bagley III left Corona del Sol for Hillcrest Prep, a basketball program where students take classes at Starshine Academy in Phoenix and spend hours upon hours honing their on-court craft. But mere months after the transfer, amidst a mild controversy in which Hillcrest's academic status was in question and one of the team's important games was pulled off ESPN, the family left Arizona for California, where they settled in Chatsworth, CA, so Bagley III and his younger brother Marcus could attend Sierra Canyon HS.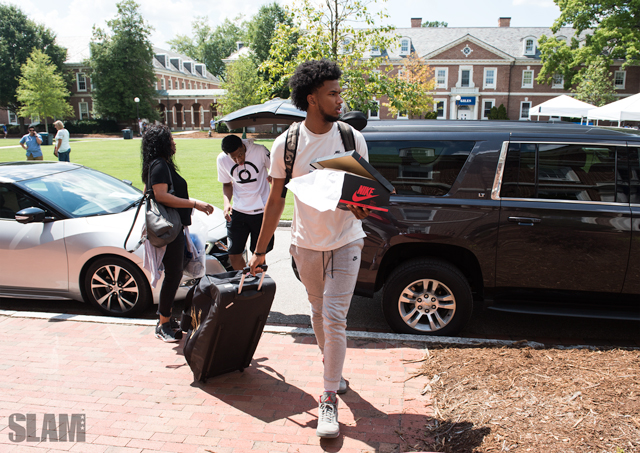 Sure, there's a little bit of a theme of inconsistency here—with the many AAU programs Bagley III played in as a young child, and the multiple high schools he attended as a teen—but what remained consistent was, if we're being honest, the only thing that truly mattered: a real commitment to the game of basketball. Over the years Bagley III kept getting better, and at no point did he come close to falling out of the HS prospect rankings. In fact, his grip on the top got tighter.
In 2016-17 at Sierra Canyon, a fully grown, 6-11 Bagley III averaged 24.9 points, 10.1 boards and 2.0 blocks per game, leading the school to the CIF Southern Section Open Division semifinals before the team was defeated by eventual state champions Bishop Montgomery. (Bagley III had 28 and 12 in the loss.) Chris Paul, Paul Pierce and Lamar Odom all attended Sierra Canyon games at some point during his tenure there, and he was named Gatorade State Player of the Year at the end of the '16-17 season.
"He's a freak," says Andre Chevalier, who was an assistant coach at Sierra Canyon while Bagley III played there and will be the team's head coach this coming season. "I don't know what to say other than that. The combination of who he is doesn't come along very often. He's able to rebound it and dribble it, and he shoots it pretty good. There's obviously things he needs to improve upon, but on the high school level, he was unstoppable."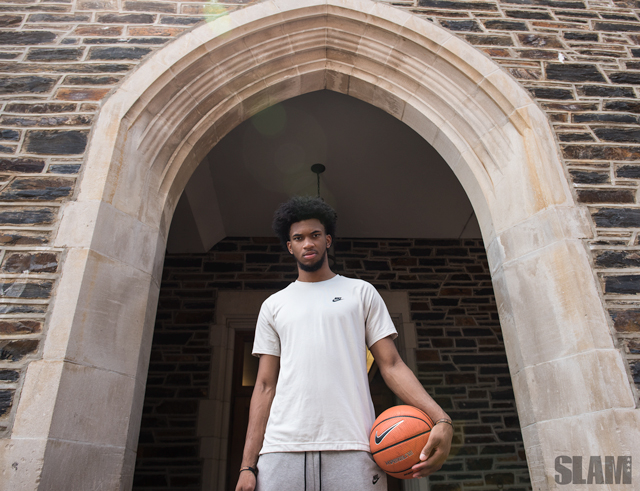 Chevalier also coached Bagley III on the AAU circuit a little bit, which is where he experienced the moment he realized this kid was playing on a different level than anyone else in his age group. In one tournament, Marvin caught a pass while running the baseline, rose up, spun for a complete 360, then soared toward the front of the rim and dunked it. "I was like, Did I just see what I just saw?" Chevalier says. "The freakishness of it—he couldn't have thought about it. His instincts were just like, How do I get myself to the front of the rim? And he just caught it, did a 360 and dunked it.
"I was like, Good Lord Almighty."
***
On that Tuesday in late August, minutes after he arrives on campus for move-in day, Marvin Bagley III and his family walk through Cameron en route to our cover shoot. Seemingly every person who bumps into Bagley III says the same thing, something like, "So you're the guy we keep hearing about!" Kids ask for selfies and parents offer handshakes. Duke's next superstar is officially present.
Just months ago, most in the college basketball scene couldn't have guessed things were going to play out like this. Until August 14, Bagley III had technically only completed his junior year, with a full year of eligibility remaining before he could take off to college. But that night on SportsCenter, with a national audience watching, Bagley III announced that he was reclassifying and committing to Duke University.
It was yet another recruiting win for Coach Mike Krzyzewski, who has pivoted his strategy to accept—and, well, pursue—the one-and-dones that Duke previously stayed away from. It helped that Bagley Jr grew up in the Durham area (though the fact that the family had been living in sunny California should've also given an edge to local USC and UCLA), and it doubly helped that Coach K told Bagley III he could wear his preferred No. 35, despite it being retired as Duke legend Danny Ferry's former number.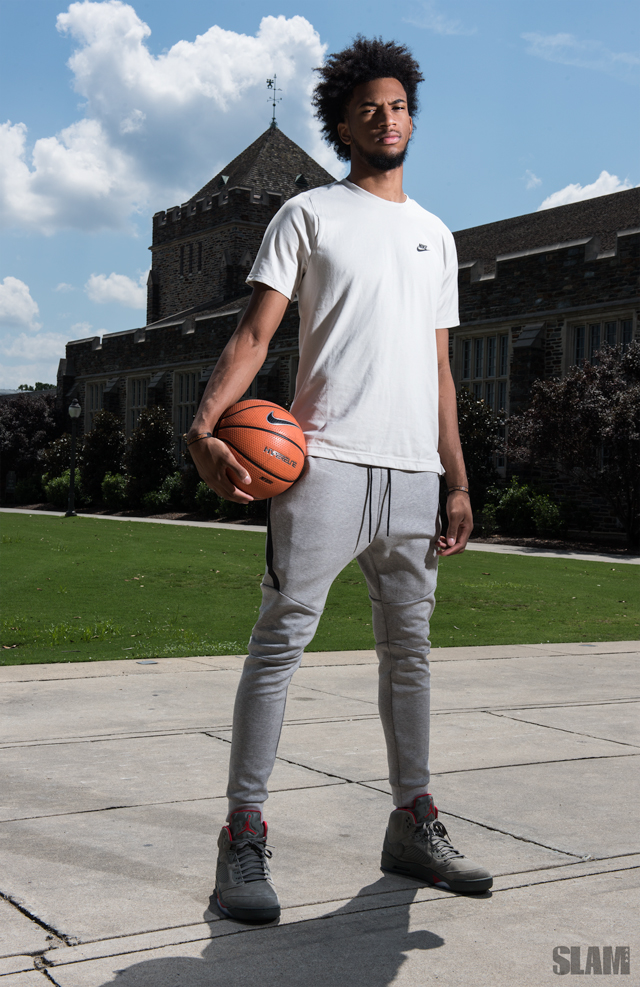 "Hearing the coaches talk to me about how I play and how I could get on the court and fit in with the team, I feel like it was a great fit for me," Bagley III says. He visited the school for the first time as a ninth grader, and had been back a couple times since then. "I just love the environment here—it's a calm place, and I feel like I'm going to be around people who want to accomplish high goals like me, so there probably won't be any distractions. Just a perfect fit for me.
"I want to win the National Championship," he adds. "That's the only reason I play—to win. That's my main goal."
It'll be plenty interesting to see how Duke squeezes Bagley III into what was already an exciting roster—he'll likely play a lot of minutes alongside Carter Jr, another talented big man with a very similar skillset. But there isn't much reason to worry. Over the summer, Bagley III hooped in the Drew League, facing up against grown men such as current and former NBAers DeMar DeRozan, JaVale McGee, Julius Randle and Baron Davis. He dropped 32 points and grabbed 11 rebounds in a contest against DeRozan, and put up an 18 and 20 performance in the league's all-star game.
Of course one or two impressive performances during a summer league doesn't exactly guarantee a long, fruitful career, but it's hard to doubt Bagley III is on the right path, a path that began sometime around first grade and doesn't appear to be coming to a halt anytime soon. NBA teams are eagerly waiting for his name to be available in 2018, and whichever team selects him next June will have a legion of fans eagerly waiting for him to hit the court. In the meantime, he's got a season at Duke to show and prove to the few who might not be sold just yet.
"Every time I'm on the court, that's on my mind: Be the best player you can be," he says. "I put so much into this game that it's hard for me to not want to do that. I work hard every day, and I just feel that I want to be the best at it. If you don't want to be the best, then there's no need to play."
—
Adam Figman is the Editor-in-Chief of SLAM. Follow him on Twitter @afigman.
Portraits by Atiba Jefferson
Video by @VASHR
—
Related
Family Over Everything: Michael Porter Jr and His Family Are Taking Over Missouri Hoops