Nobody is prepared to see a picture of their face blown up two stories tall, not even four-time WNBA champion Maya Moore. "I had heard they were going to do something big," she says. But she didn't know that for the Minnesota Lynx's home opener against their hated rivals, the L.A. Sparks, Jordan Brand was going to glue a mural on the side of a building that stretched an entire city block in Minneapolis. "I was driving to the game with my mom," she says, "turned the corner, and I was like, OK…there it is. And my mom was like, 'Oh my goodness.'"
Months before, Moore posed for the shot: arms outstretched, right hand palming a basketball, left hand pointing toward 6th Street—an exact replica of Michael Jordan's iconic "Wings" poster from 1985. Below the mural, in italics, it reads:
No bird soars too high, if she flies with her own wings.
https://www.instagram.com/p/BjdMbRfnf7t/?utm_source=ig_embed
So what did Maya, who's been the only woman representing the Jordan Brand since she entered the league in 2011 and who also identifies as a deeply devout Christian, think when she saw herself on a mural that covered an entire city block? "I felt kind of like I was two people at once," she says. "One side of me felt like the women's basketball fan, the basketball fan that's just been waiting for this sort of celebration of our game, of where we're going." And the other side?
"Oh my!" she says. "That's me."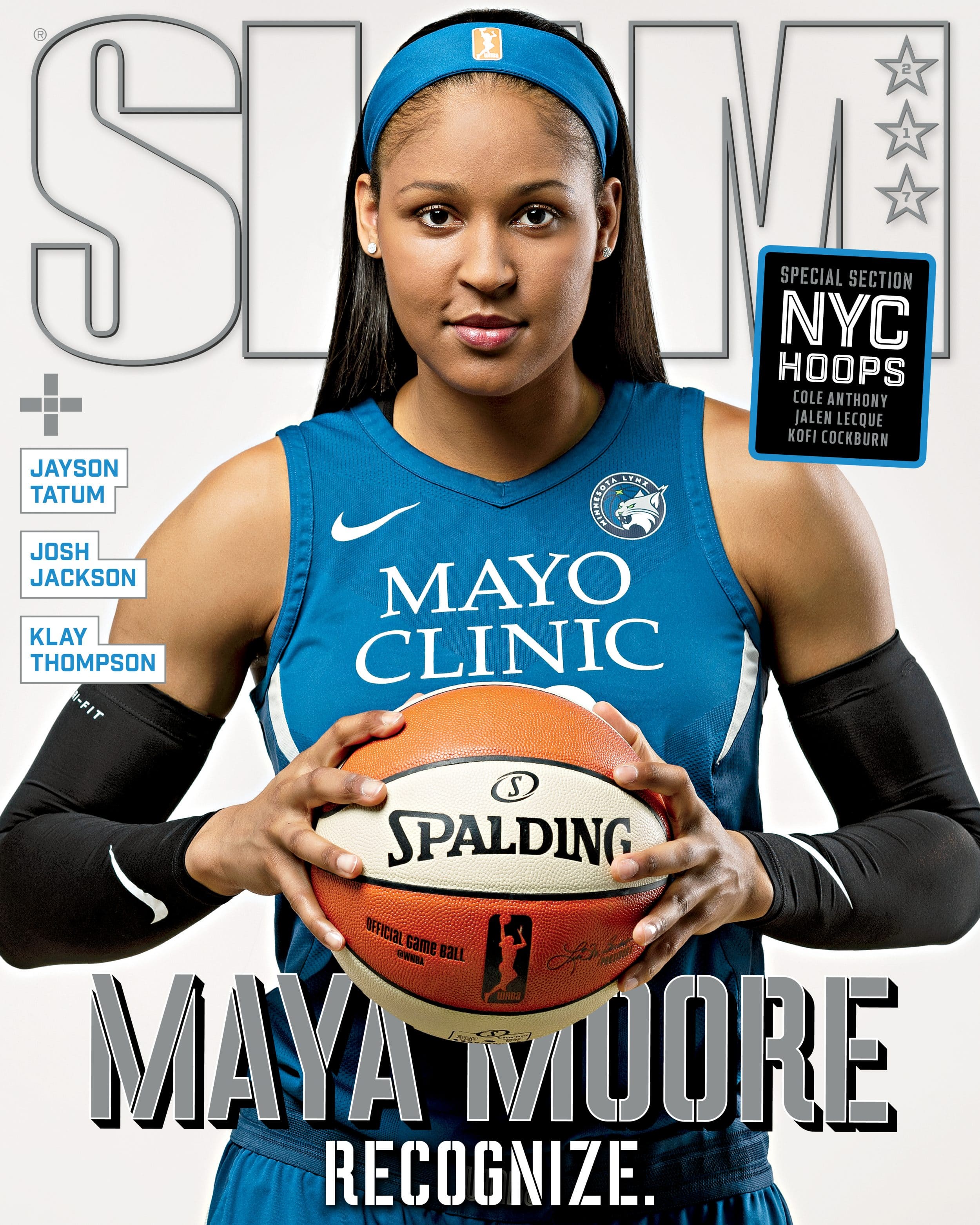 Last October, when the Lynx beat the Sparks in their second thrilling Game 5 in as many years, they didn't just avenge 2016's last second Game 5 loss to the Sparks, the Lynx's certain-hall of fame core—Maya, along with Seimone Augustus, Rebekkah Brunson and Lindsay Whalen (Sylvia Fowles, who since joining the Lynx, has become a League MVP, two-time WNBA champion and two-time WNBA Finals MVP, joined the squad halfway through the 2015 season)—won their fourth championship overall. Which means Maya, in only her seventh year in the league, matched the total number of championships that her childhood role model, Cynthia Cooper, won with the seminal Houston Comets. "When I was just starting in AAU, I rocked [Cooper's] 14 and I loved it," she says. But unlike the Comets' smooth big guard, Maya grew up in the post, so her jersey numbers only got bigger: first 30, then 32, which stuck with her throughout both her dominant runs as a high school player at Collins High outside of Atlanta (three Georgia state titles and the 2007 National Championship) and on the AAU Georgia Metros (four National Championships). But when she arrived at the University of Connecticut in the fall of 2007, a sophomore wore 32. She didn't know if she should fight her new teammate for the number or change her own. "And 23 was LeBron's number at the time," she says, "And MJ's obviously, so I was like, Heyyy! You know, that's good company."
But basketball role models aside, it was Maya's mom Kathryn Moore who drove her to basketball greatness, literally if not figuratively. When Maya was 11, the two of them moved from Jefferson City, MO, to Atlanta. "Went to four different middle schools," she remembers. "So along with my faith and my mom, basketball was my constant." But when I bring up my theory about a crazy dedicated parent being behind almost every crazy dedicated athlete—at that middle school age, I opined, most kids just don't realize what it takes to be great—and ask her if it was her mom who pushed her, Maya sort of demurs and points at herself. "I was a kid who loved to play," she says, "which is the beautiful part of my story." Back then she had a portable goal that she lugged from apartment to apartment ("We lived in apartments from 11 until…" she pauses, and then laughs at the realization, "…now?"), and she would set it up on the patio and play that way. "I have a high achieving personality," she says. "I would just play until I got tired and went inside—and generally it was my mom yelling at me to come inside."
—
Maya does own an actual house in Atlanta now, but she isn't kidding when she says she spends most of her life in apartments. During the WNBA season, which starts in May, Maya and Kathryn live in an apartment in Minneapolis. And from January until April, they lived in an apartment in Ekaterinburg in Central Russia, where Maya makes the bulk of her income for the entire year, playing two thirds of the season for UMMC Ekaterinburg, winning both the Russian league and the prestigious EuroLeague Final Four title (it's her fourth major European championship). When Maya emerges from hair and makeup before her SLAM cover shoot at Target Center, she tells me that she has a hairdresser in each city she lives in, except Ekaterinburg. "I'm 100 percent sure there's no one in Ekat who could fully do my hair," she says. "It might appear to be simple, but it's not." She reconsiders. "Maybe a basic wash," she says. "Maybe."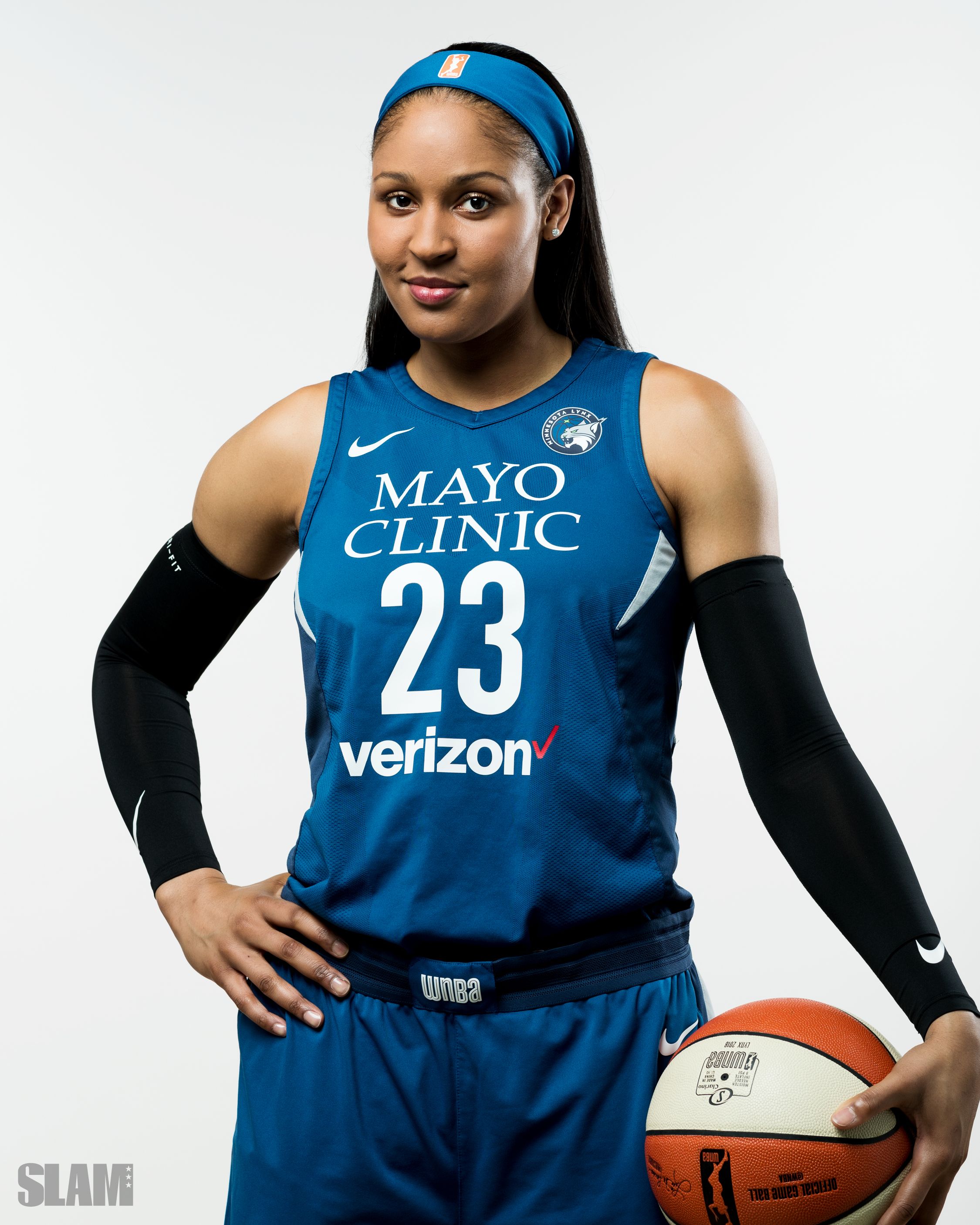 For the cover, Maya is wearing a pair of diamond earrings—"I want to be feminine," she says, "and I want to be respected as a strong female"—but I'm thinking about all the other jewelry that has come with all those titles: four in the WNBA, two big ones in Europe, one league title in Russia, three in China, one in Spain, the two National Championships at UCONN, and two gold medals with Team USA. She's won at every level. Even her sneakers for the shoot, a pair of Jordan XXXII PEs with little inserts on the backs of both heels, four filled up with Lynx title years, with two left open (6—that ubiquitous Jordan Brand numerology), speak to who and what she's chasing.
So…at 29, with her ridiculous resume…is Maya the best women's basketball player of all time? Other than the original WNBA big three—Cooper and her Comets teammates Sheryl Swoopes and Tina Thompson—the only other player in the conversation is fellow Connecticut alum Diana Taurasi (a third Connecticut player, Breanna Stewart, may get there someday). Although Maya and Taurasi share a birthday (June 11), Taurasi is seven years older and she's played 13 full WNBA seasons to Maya's seven. They've both won one WNBA MVP each. Taurasi does have five league scoring titles to Maya's one, and her career scoring average is slightly higher: 19.8 to 18.5. They can both shoot from outside, although Taurasi shoots more three pointers and Maya shoots them at a higher percentage. They're both 6 feet tall, but their games are slightly different: Maya is stronger and a better rebounder, while Taurasi is better with the ball in her hands and averages more assists.
The main argument I hear on behalf of Taurasi aficionados is that she's a fiery competitor, and when Taurasi is on the best team, she is unequivocally the best player. But I've watched enough Lynx games to know that in the biggest moments, when they need something to happen, the team inevitably turns to Maya, and she almost always delivers. In the 2015 Finals against Tamika Catchings and the Indiana Fever, the series was even at a game apiece going into Game 3 in Indianapolis. Tied at 77 with 1.7 seconds left, Whalen found Maya for a stone cold three-point dagger to win, and the Lynx went on to claim their third championship in five games. Last year against the Sparks, in Game 5 at home in Minneapolis, the Lynx had turned a 12-point cushion with 90 seconds left into a three-point crisis with 30 seconds left under relentless Los Angeles pressure. Maya took the ball out of bounds, threw a squirrely bounce pass to Augustus who was forced to tip-toe along the center line, before she whipped it to Fowles, who handed it back to Maya, who Eurostepped her way into the lane for a 12-foot runner that she splashed for another iconic dagger.
Her coach, Cheryl Reeve, believes it's those unscripted moments that make Maya great. "That shot [in Game 5] was the epitome of that," she says after practice one afternoon at the Lynx facility. "Maya Moore doing Maya Moore things." Reeve says the Lynx have a running joke where the punchline always goes, "Yup! Just how we drew it up!" She attributes Maya's clutch gene to her tremendous self-belief. "She's unfazed by the gravity of the moment," she says. "She's unfazed by mistakes that she might make in a game—she doesn't let anything affect her."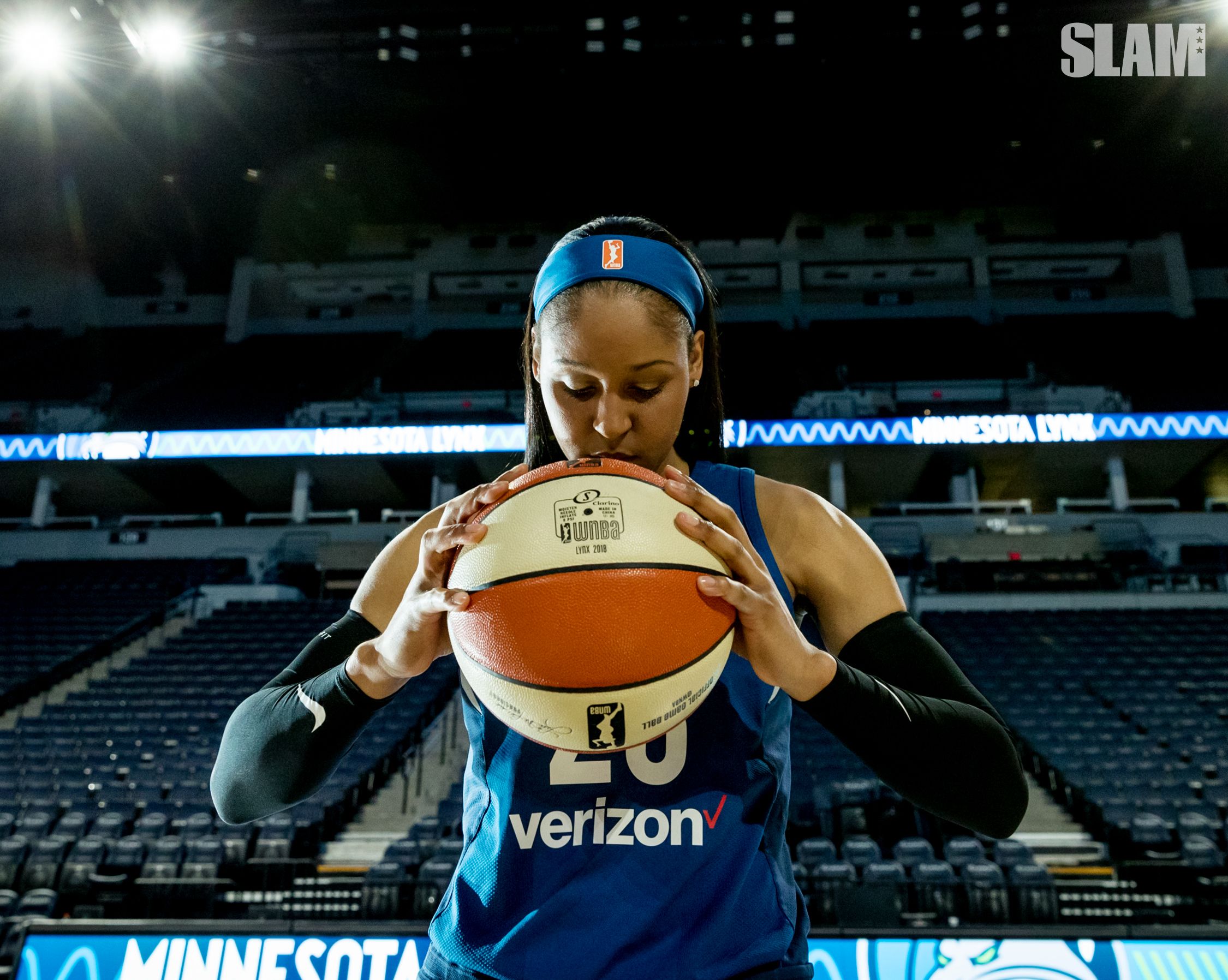 Back at the shoot, I think about the one thing that could kind of bother Maya Moore. I look at all those Lynx Championship flags in the Target Center rafters, and then I look at the other side of the arena, to the only evidence of the last Minneapolis Dynasty, a blue and gold banner filled with the retired numbers from the Minneapolis Lakers: George Mikan and Vern Mikkelsen and Jim Pollard and Slater Martin. And my mind wonders, would Maya Moore have been able to dominate in the 1950s NBA? And is this kind of science fiction even a fair inquiry?
"I try to be really careful about getting caught up in competing with men," she says. "I think there's a depth to what guys do and a depth to what women do." I ask if there are quintessential qualities to being a great women's basketball player. "I think one of the more obvious ones is that we have the ability to compete with each other," she says. "You hear me? Not against. With each other." She says it's that way with the Lynx. "You can see the competing hard," she says, "wanting to win, while celebrating each other.
"Obviously, there's similarities," she continues. "We're athletic, we're strong, women are physical specimens. We have strength and athleticism—it's not the same level as a guy, and that's OK, but what I can be respected for is my way to connect with people, or my strength in overcoming adversity. But if you don't talk about that as being valuable, people overlook those little things that really are strength."
After every Lynx win—and with Moore and her teammates, most games end with a Lynx win—Moore does a choreographed dance to Sugar Hill Gang's "Apache (Jump on It)" in the middle of the floor with young fans brave enough to get out there.
"The nurturing way you see us engaging with the kids, those are reasons why our fans love us," she says. "And so I want to continue to have a narrative around celebrating those things that we as women do. Not to say that guys don't do that, too, but just in the special ways that make us different."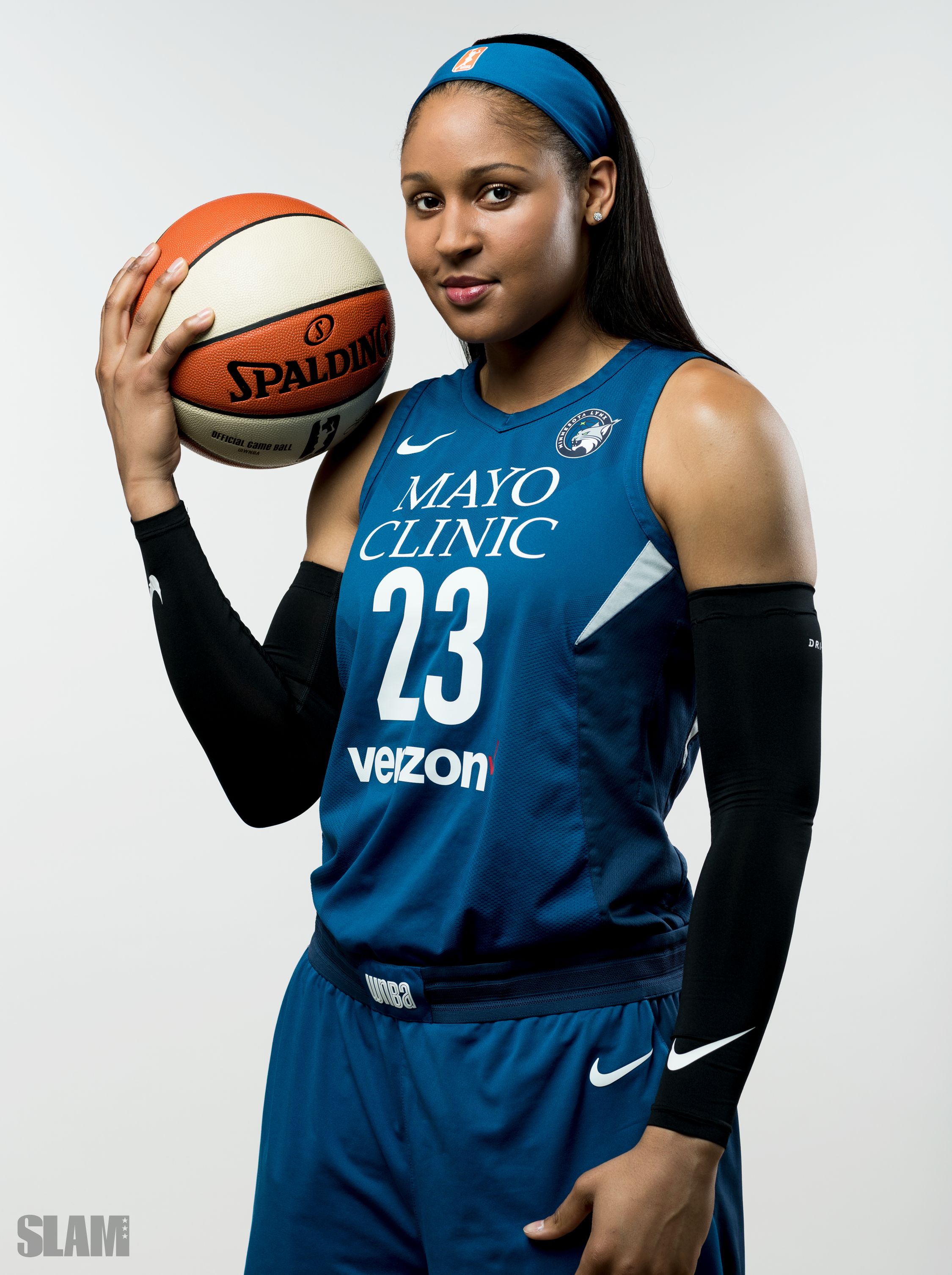 Maybe the reason Maya Moore is such a great player, such a great teammate, is because she's a great person. That seems cliché to even think about in the world we live in right now. I watched a video she did on The Players' Tribune with Jerry Stackhouse on her new awareness initiative, Win With Justice, which is about educating people on the inequities of the justice system and looking to contribute to fixing that unfair system. It's impressive seeing her admit that until recently she had it all wrong.
"My perception has changed from thinking if someone's in jail," she says, "they're supposed to be, to, there's a lot of factors and it's not that simple."
I wonder how Maya Moore can keep such a humble perspective when her head has been blown up to two stories tall across the street, when Jordan Brand is out there ensuring that every little girl basketball player around the world will be hanging that poster on their wall.
She says her own biggest role model never wore mesh shorts. She's very serious about her belief in Jesus, and she identifies as a Christian before all else.
"My identity is not limited to being the best basketball player," she says. "Or even just being black. I mean, I'm a black woman, and I own that. I try just to do as much as I can to live an authentic life and point people to truth. And being authentic means admitting when I don't know. And admitting that I could've been better. And admitting I want to be better if I can."
—
Portraits by Sara Rubinstein.
Steve Marsh is a writer based in Minneapolis.