Will McDaniels always had a simple message for his two sons: Just work and it'll click. In an era when discussing "the process" is oversaturated and considered a cliché, Will knew those words would resonate with his boys, Jalen and Jaden, and translate to the hardwood.
"Kids these days," says Will, via phone from Federal Way, WA, "always want to see the results immediately."
And for the McDaniels brothers, results on the court weren't immediate, not like those for the typical highly touted prep talent who sit atop recruiting rankings and are in the public eye long before they enter high school.
Jalen McDaniels was ranked No. 98 in the Class of 2016 before committing to San Diego State University. The idea of redshirting became a reality for the four-star recruit, who arrived to campus with a 6-10, 190-pound frame and sat out the majority of what would've been his proper freshman season while getting both stronger and better.
"Just soak up the game," Will, who knew it'd be beneficial, told Jalen. "Then when your time comes, you'll be prepared."
In Jalen's first 10 games following his redshirt year, his minutes on the floor were sporadic, only scoring in double figures twice. He posted 15 points and 10 rebounds en route to a win over Gonzaga, earning him a starting role in the lineup in late December.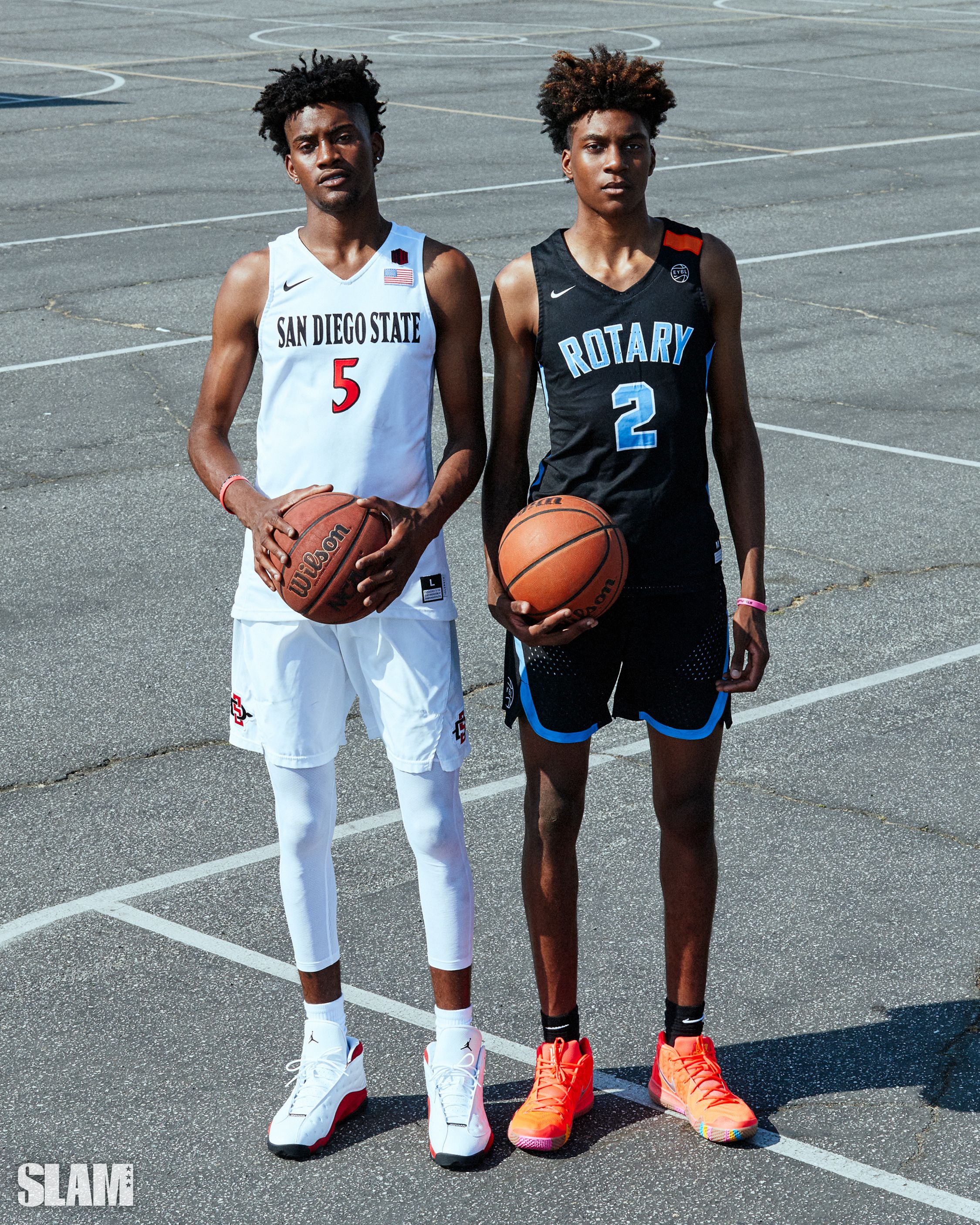 As the season progressed, Jalen led the Aztecs in points (226), rebounds (8.5 per game) and field-goal percentage (62.8) in Mountain West Conference play. He was one of four freshmen to post double-digit rebound performances in his first nine games, the most by a freshman since Kawhi Leonard in 2010, as the Aztecs captured their fifth MWC championship since 2011 and punched a ticket to the Big Dance.   
"At first I didn't want to do that," he says, referencing the year he spent redshirting, "but it made me a better player and person."
In March, Jalen tested the NBA waters, declaring for the draft without signing with an agent to retain his eligibility. With a glimpse into what the pro process was like, he returned to school with a better understanding of what teams were expecting from draftees.
"It was all about competing 24/7 when you go to each team, and they're looking at everything," he says. "You have to be a perfectionist, and I feel like when you do that, that's when you grow."
Meanwhile, Will noticed a difference in his youngest son, Jaden, now a senior at Federal Way (WA) HS, during the EYBL's opening session in Dallas this past April.
"He was doing some shit that I'd never seen him do before," Will says.
The shit Will was referring to was Jaden's versatility to thrive from anywhere on the court—low-post, high-post, short corner, on the perimeter and in the open court—making him a nightmare for opposing teams as he blossomed into contention for top player in the Class of 2019.
"It was fun just competing against all the top guys that were ahead of me," Jaden says. "I was just showing that I could play, too."
Jaden averaged 18 ppg and 9 rpg, shooting 48 percent from behind the arc for the Seattle Rotary. He led the squad to its first Peach Jam berth in six years and his ascension into the national spotlight was the talk of the summer, jumping to No. 5 in ESPN's Top 100 and then earning an invite to this past August's SLAM Summer Classic.
"My whole thing has been, you always have to keep working," says Will, who's quick to reiterate that prep stars can be here today and gone tomorrow. "I thought [the ranking] was cool, but we never paid too much attention to it."
Jaden possesses the same stature as Jalen, but at 6-9, is the prototypical point-forward in today's game. Aside from a wiry frame that he's still filling into, good luck trying to find a major flaw in his game. Pull up highlight tapes and his full repertoire is on display—let's just say there's a lot of Kevin Durant in his style of play.
"It means a lot," Jaden says of the comparison. "I look up to KD and I model my game after him."
Both Jalen and Jaden were in attendance for Nike's The Academy and got a close-up of one of the L's deadliest scorer's mannerisms during pickup games.
"We played 5-on-5 and I was on Kevin Durant's team," Jalen says. "Just watching and seeing the things that he does is something to pick up."
"It was a great experience," Jaden adds. "Watching KD and everything he does is the same—the way he shoots [and] everything is on point."
The duo speaks to us on a Saturday afternoon during Labor Day Weekend in a gym in Montebello, CA, a suburb about about 20 minutes east of downtown Los Angeles. Jalen arrives in town by train, a two-hour trek from San Diego, while Jaden, flew in that morning from Seattle. It's the brothers first SLAM photoshoot together.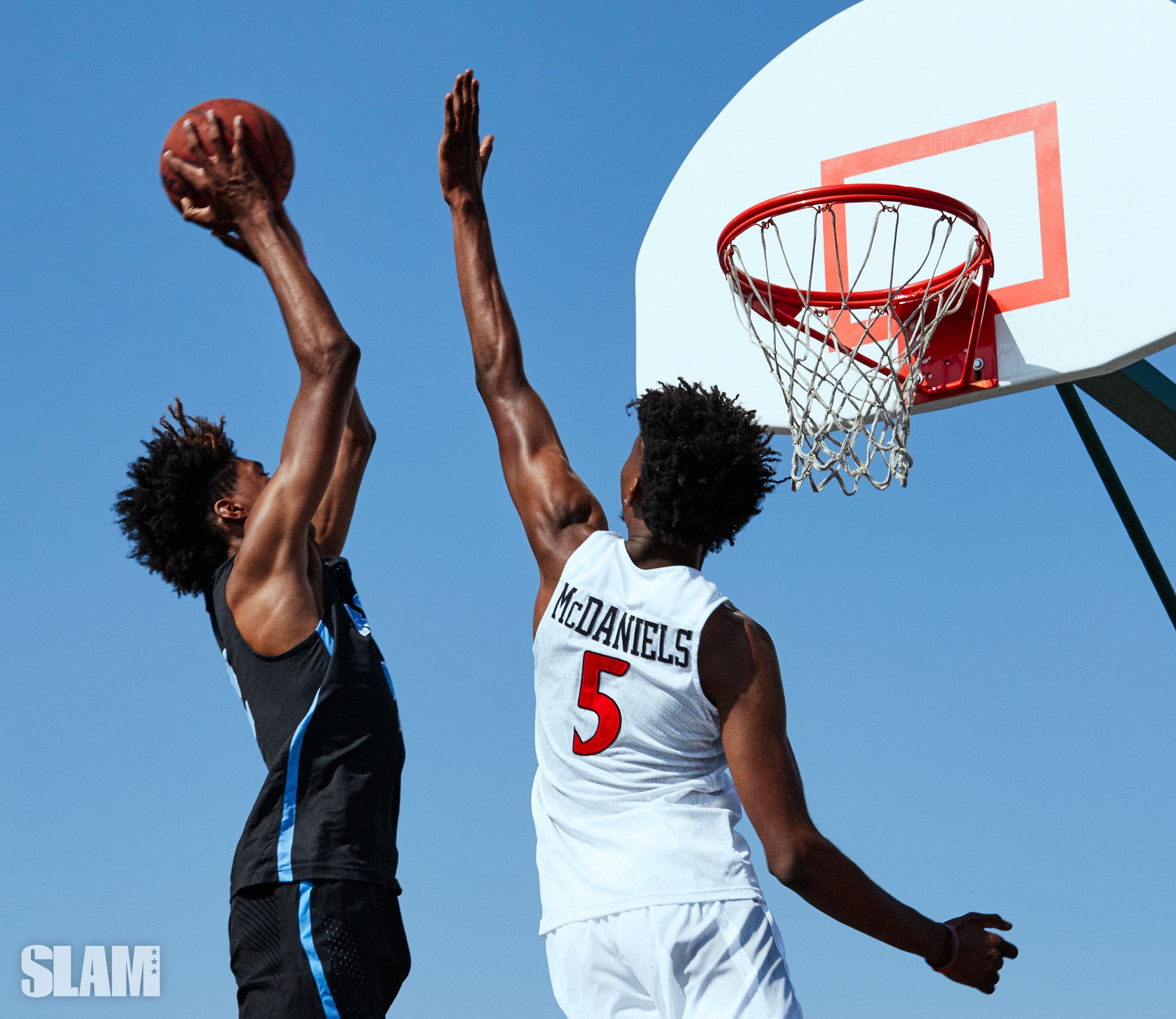 The two are in their natural element getting flicked up by our photographer. Jaden is posted in a black Seattle Rotary jersey, rocking the vibrant "Lucky Charms" Kyrie 4s, while Jalen keeps it clean and simple—SDSU home whites with white-red AJXIIIs.
As they pose for a plethora of shots around the gym, they each take turns attempting to dunk on each other for the perfect stills. Jalen pleads his case as to why he didn't get bodied after little bro outstretches his lanky arms for the left-handed slam.
As our interview portion moves inside the gym, Jalen proves to be a seasoned vet when it comes to being in front of the mic, whereas Jaden, a bit camera shy, answers in a sotto voce tone until competition-related questions are asked.
"No," Jaden says when asked if Jalen can beat him in a shooting competition. "I have a certified strap."
"We can do it right now," Jalen instantly claps back.
Before the competition juices get flowing again, they discuss everything from working on weaknesses to the individual goals they've set for the coming season.
"I want to be Conference Player of the Year," Jalen says. Of course, this will likely be his final season at SDSU before he declares for the 2019 NBA Draft.
And Jaden?
"Win another state championship," he says. His Eagles squad took the Class 4A state title in 2016. "That's mandatory and all I can think about."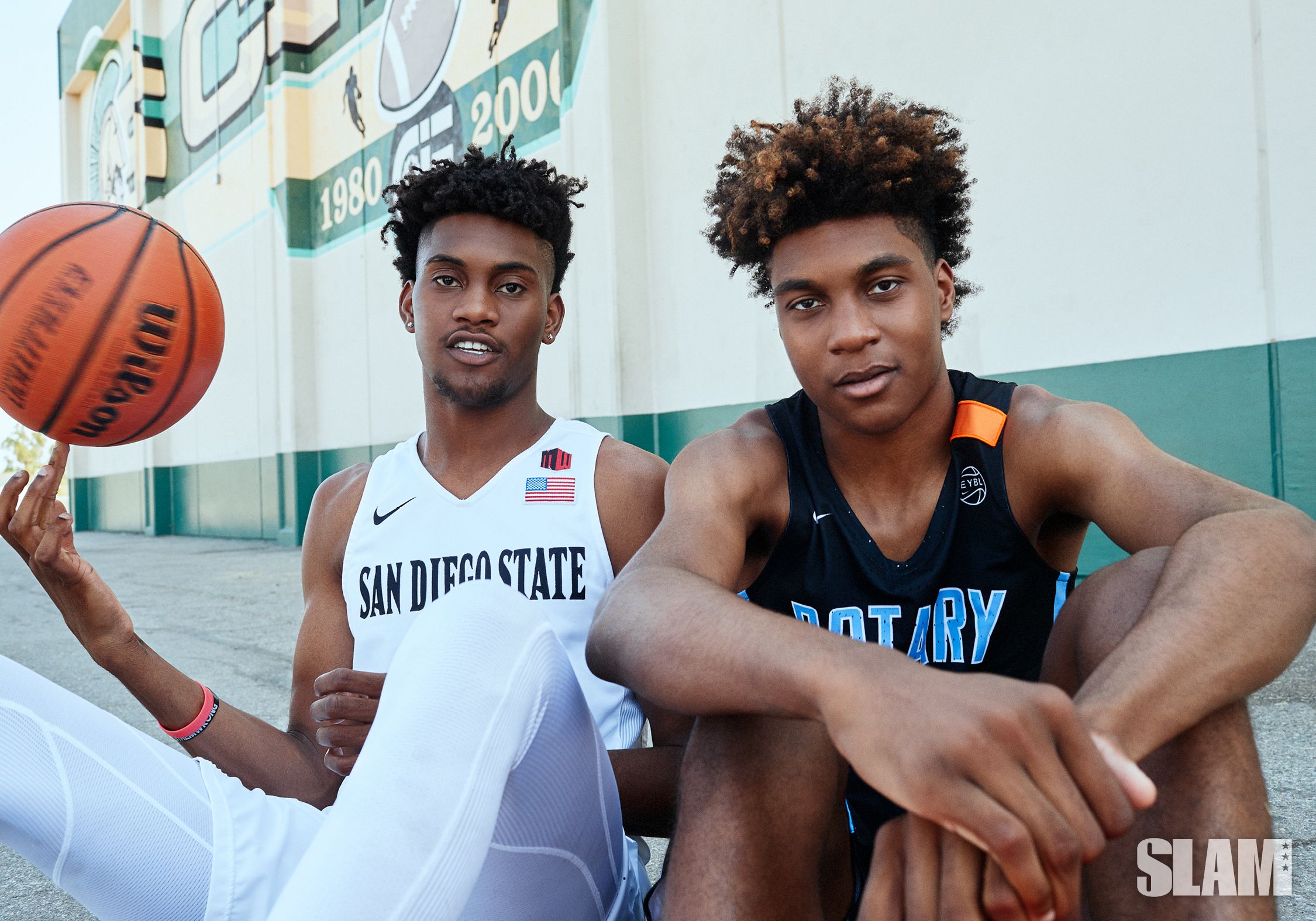 When the college questions pour in (Jaden says he doesn't have his options narrowed down yet; days later, he'd post his final five, consisting of SDSU, UCLA, Kentucky, Oregon and Washington), Jalen claims he won't be steering his younger brother to SDSU, one of the myriad of schools recruiting Jaden. He does say that he'll be there for advice, if his baby bro needs any.
"I already went through this process, so I'm not going to get into the way he thinks," Jalen says. "Of course I go to San Diego State, but it's his choice."
As everything wraps up for the day and the interview and photo shoot come to a close, the three-point competition can finally get going. For now, bragging rights are on the line, similar to childhood games in Federal Way, and the McDaniels brothers take turns showing off their fluid shooting strokes until it's time to call it a day. If it were up to them, they'd spend the entire day honing their craft.
"They really love to work on their game," says Clint Parks, a SoCal-based trainer who works with Jalen and Jaden. "If they're not in the gym, it doesn't feel right."
—
Drew Ruiz is an Editorial Assistant for SLAM. Follow him on Twitter at @DrewRuiz90. 
Photos by Nate Hoffman.
10,687