From a distance, Duke's Mike Krzyzewski is a larger than life figure. He's the head coach of the reigning National Champions, Olympic Champions and World Champions. That alone is worth a re-read. He's also the winningest coach in the history of college basketball (1,018 and counting; no one else has hit 1K). Come college season, which is right around the corner, Coach K will be all over your computer screen, newsstand and TV, whether pitching products (he has endorsement deals that help make him the highest-paid coach in the country), prepping for a run at a repeat title, or being lauded for already landing what most consider the top recruiting class in 2016 (hello, SLAM diarist Jayson Tatum).
Up close, as we were lucky to find out when he gave us time inside the Legacy Room at Cameron Indoor Stadium, Coach K is a perfect gentleman, not to mention a fascinating and personable interview. How exactly did a man make it from the Polish immigrant neighborhoods in Chicago to the top of the coaching profession? To a place where he can influence young—and grown—men who absolutely swear by him? Whether you have 30 minutes or 30 days with him, even he is not going to be able to explain exactly how it happened. But there are clues to be found in listening to him share his journey.
Krzyzewski was born in the Chi on February 13, 1947, the son of Polish-American parents who were extremely proud to be making their way in the States. "My dad was in World War II, and I grew up in a good, inner-city Polish neighborhood that was very patriotic," recalls Krzyzewski, who, as a youngster, coupled a burgeoning passion for his country with a love for the game of basketball.
"My last two years in high school I was the leading scorer in the Catholic League in Chicago, so I was an All-State player. I was recruited by a number of schools, but it wasn't as sophisticated at that time. After my senior year was over I started being recruited by West Point, and my parents could not believe I would have the opportunity to go there," he says.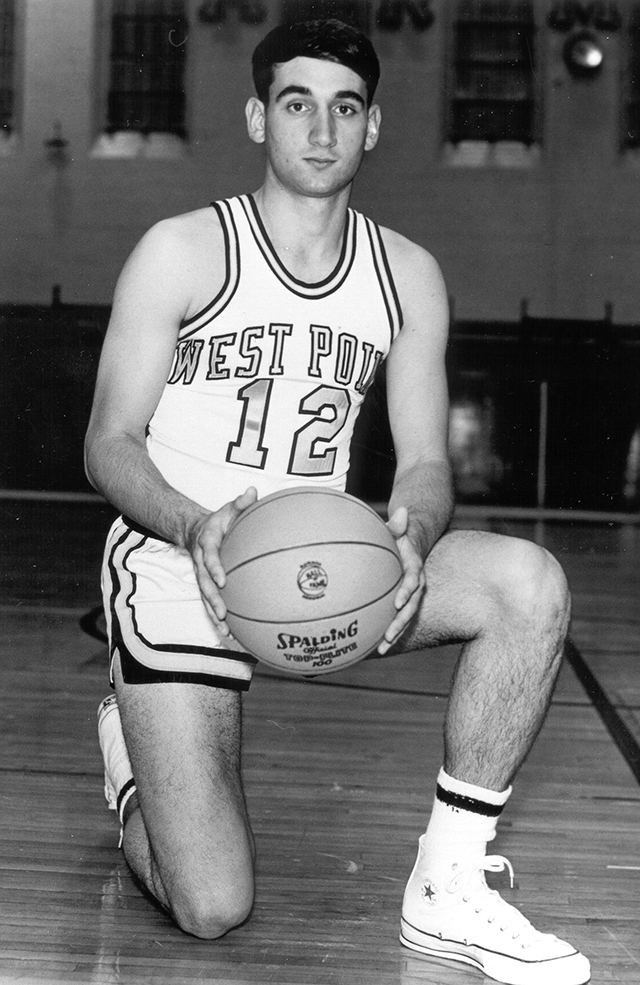 In basketball terms, we think of Army these days as a mid-major, scrapping for wins in the academic-centric Patriot League. But in the late'60s, Army was a national program with a coach you've heard of.
"First of all, I get to go to the best leadership school in the world, the US Military Academy," says Coach K. "Then I get a chance to play point guard and be a captain for Coach [Bob] Knight, one of the great coaches of all time. How lucky can you be? It's a culture for success and I was dipped completely into it. I'm so thankful.
"We were a top-20 team in two of my three years; freshmen were not eligible so you could only play three years then. In my junior year, we were the first team picked for the NIT and the NIT at that time was huge. We played top teams from around the country and my senior year in the NIT we beat South Carolina, who had won the ACC. We played a high-level schedule, so thank goodness we had a high-level coach."
Then, as now, a commitment to a service academy means you have to serve five years after graduation. As much as Krzyzewski loved the discipline and "excellence" of the Army life and was honored to serve, his true love and calling was in the game. "I loved being an officer in the United States Army. I also was given the opportunity to still continue to play while I was in the Army," he explains. "I was on, and coached, the team at Fort Carson. I played on All-Army and All-Armed Forces teams that played in different parts of the world. I was really lucky to have that opportunity while doing my commitment to our country. My love for the game has always been off the charts. Even when I was in the military I knew that I wasn't going to make the military a career because I had to follow my heart and coach—I had to."
By the time, Krzyzewski's military commitment was up, Knight had moved from West Point to Indiana and was coaching the high-high-major Hoosiers. "Coach Knight afforded me an opportunity to come to Indiana," he says. "I went to graduate school and assisted. Indiana's always been good, but at that time it was, you know, the best in the country."
After spending a 31-1 season in Bloomington, Krzyzewski's alma mater reached out with a remarkable offer. "At the age of 28, I was able to get the head-coaching job at the United States Military Academy—are you kidding me? What a lucky guy," Coach K says with a high-pitch that makes his gratitude unmistakable even 40 years later.
Krzyzewski's enthusiasm notwithstanding, the Army job was far from a plum gig. The college basketball landscape was changing, and getting elite players to West Point was tough. "The program was 7-44 in the preceding two years. In my five years, we were 73-59 against really good competition," he says. [Side note: Coach K is exactly the same age as my parents, and let me just say I was blown away by his memory of both anecdotes and numbers.—Ed.] "Part of it was the fact that I knew what it was to be recruited and be a cadet, what it was to be an officer. I was able to develop a bit of a culture as a result of being from there."
The college-basketball community noticed, particularly a program with a great academic reputation and a legacy of success, albeit not championships. "It was challenging coming down here," Coach K concedes. "There's a learning curve from coaching at West Point to the ACC. You know, you're coaching against North Carolina and Maryland and Virginia. You're coaching against Ralph Sampson and Michael Jordan and James Worthy and, wow, you need to build a program. Thank goodness Duke gave me an opportunity to do that. We were 38-47 my first three years, so there was a level of commitment by Duke and since then obviously we've been off the charts."
A big part of the success came from procuring players. Touting a great school and the chance to compete with the best, Krzyzewski and his staff cast a wide net, recruiting top players across the country. One of their early coups was Jay Bilas, a top-10 forward out of SoCal. "When Duke started recruiting me, I had honestly never heard of Coach K," says Bilas, a SLAM favorite who makes his mark today at ESPN, serving as the bluntest (and best, IMO) college basketball analyst there is. "I was a West Coast kid and he was an East Coast guy. But I came to trust him really fast. He has a sense of timing in conversation that simplifies the most complicated stuff. I mean, I went to Duke because of him. I knew nothing about the school."
Bilas' class, which also included Mark Alarie, Johnny Dawkins and David Henderson, scored more points than any other single class of players in college-basketball history. They also reached the '86 National Championship game, losing to Louisville in Coach K's first appearance on that stage. Technically, Bilas' time under Coach K's watch ended with that game, but to hear the Young Jeezy fanatic tell it today, Krzyzewski's influence on his life was just beginning. "The cool thing is that he's been my coach for more than 30 years," Bilas says. "I can call and ask him a question any time. I'm also still around the program. His effort and intensity as a coach are the same as they were when I played for him. His personality and values are the same. But he's actually a much better coach now."
Indeed, Bilas and Co.'s run portended a stretch of success that's basically continued without interruption. Krzyzewski and Duke won their first two titles in '91 and '92, then copped a third in '01. The '01 team was led by an electrifying sophomore out of New Jersey, Jason Williams. Like Bilas, Williams (who goes by Jay now), was wowed by Coach K in the recruiting process, at school, and his post-Duke years, which have included highs, lows and a current stint as a great broadcaster for ESPN.
"The thing that stood out to me when he was recruiting me is the way he interacted with me," Williams says. "A lot of coaches try to build with the parents, but his priority was building with me. It was kind of the first time I was spoken to like a man."
Williams entered Duke with heavy expectations he carried with him throughout his three-year career in Durham. "Coach K is a fierce competitor with a relentless approach to success and winning that rubs off on you when you play there," Williams says. "When you see how hard he works, how well he prepares, even at his age and after all he's accomplished, how can you not work hard too? He cultivates an atmosphere with no excuses."
If there's a Jay Williams in high school now, one could make the case that it's Tatum, the bright, all-everything senior from St. Louis who could, like Williams in his day, play for literally any college in the country. Having watched Coach K win two more titles (for a total of five) in the last five years, and go 75-1 with five straight titles as the boss of Team USA (honestly, Coach K's work with the likes of Carmelo Anthony, Kobe Bryant, LeBron James and Chris Paul calls for an entirely different feature), Tatum happily committed to Duke this past summer, before his senior year had even begun.
"It all started with the relationship Coach K and his staff built with myself and my parents," Tatum told our high school editor Franklyn Calle recently. "He builds great relationships with his players. All the players I talked to had nothing but great things to say about him—about how much he loves and cares about his players."
Bilas cites Duke's '14-15 Championship campaign as proof of Coach K's improvement and timelessness as a great coach. "Last year's team was not playing well defensively early on at all. He shifted back and forth from zone to man-to-man and taught-slash-forced his players to communicate via defense. By the last quarter of the season, they might have had the best defense in the country.
"And then, after they win the Championship, Coach K goes to the press conference and says it's his 'favorite year' and 'favorite team.' I thought that was the coolest thing I'd ever heard. So often, guys in their 50s and 60s lament what used to be. He doesn't do that. The idea that you can have your favorite year toward the end of your career is really special."
This season? With one-and-done talents like Tyus Jones, Jahlil Okafor and Justise Winslow off to the NBA and Tatum a year away from arriving in Durham, it's gonna be tough for Duke to repeat, but whatever happens in the Spring of 2016 or as long as Coach K wants to stay as head coach, he has already won. Many times over.
"On the road to success or victory, you're gonna get waylaid a little bit and whenever you get knocked back, don't stay there—get up and get going," Krzyzewski says passionately. "Thank goodness I had that team around me my first three years—the administration here at Duke and also the attitude that we were gonna win. You don't graduate from the United States Military Academy believing you're going to lose. You figure out ways to win."
—
Ben Osborne served as Editor-In-Chief of SLAM from 2007-16, as well as Bleacher Report from 2016-20. You can follow him on Twitter @bosborne17
Top image by Jon Gardiner/Duke Photography; second image courtesy of Army West Point Athletics.
486