Shortly after Michael Jordan was named the 1992 MVP, a controversial billboard went up in the city of Chicago.
It was solid white with two words printed in bold: "TRADE JORDAN."
With the Bulls chasing a second straight championship, who would dare propose such a sacrilegious idea? In a pre-social media age, the billboard went viral. More than 150 countries picked up the news. It was on the front page of several big newspapers. A universe that centered around Jordan was thrown into complete chaos. Some speculated that it was Nike's doing. Some jokingly suggested it was Bill Laimbeer, center for the "Bad Boys" Pistons, who funded its construction.
For a week, it remained a mystery. Passionate MJ fans grew increasingly enraged as the days passed. Finally, a second billboard went up in the original's place.
"TRADE JORDAN," it still read, but below there was another line: "We've been doing it for years…."
Adjacent to the text was a picture of Jordan's trading card: Red uniform, ball flexed behind his head, flying through the air toward the rim.
That's how the world discovered that the billboards were actually part of a marketing campaign from Upper Deck—one that Jordan, a new partner, was entirely in on. For the brand, it was a major success, attracting huge attention and establishing their ties to the Bulls superstar. The company was mainly thankful that no fervent Chicagoan had burned that first ad to the ground.
Founded in 1988, Upper Deck's mission was to create products and collectibles that "capture the excitement of sports." By 1991, they were supplying cards for all four major leagues (NFL, NBA, MLB, NHL). Jordan became a spokesman during the early stages of his pro career.
"He is core to everything we do as a company," Jason Masherah, current president of Upper Deck, says. "We are heavily identified with each other."
The exclusive, ongoing partnership makes Upper Deck the sole producer of authenticated collectibles related to MJ, from cards to figurines to coins to other memorabilia (autographed jerseys, sneakers, basketballs, art and more, ranging in price from roughly $3,000 to $50,000). Over the past three decades, Upper Deck has created novel pieces such as "The Wings Breaking Through," an iconic photo of MJ that includes a full-size Spalding ball emerging out of its Plexiglas casing, and "The Show," the largest autographed MJ item ever.
"With all the innovative products that we've created throughout the years, Michael's been at the forefront," says Gabe Garcia, the Head of Upper Deck Authentics.
According to Tim Doull, the Head of Talent Acquisitions at Upper Deck, Mike has always approached his off-court business with the same relentlessness that he brought to basketball. Throughout the long relationship, Jordan has been reliable and diligent at countless private signings. In the 1990s, he even knocked one out right before the Bulls held a title celebration in Chicago's Grant Park.
"His work ethic with his signings is the same that he had on the court," Doull says.
Masherah adds that MJ, like other high-profile athletes Upper Deck has collaborated with, expresses genuine care for the product.
"We have exclusive deals with the biggest athletes in the world, and what's really interesting is the common thread when you look at Wayne Gretzky's autograph, Michael Jordan's autograph, Tiger Woods' autograph, these guys take a lot of pride in them," he explains. "They are beautiful works of art in and of themselves. You look at Michael's autograph—it's very distinctive, it's very nice, it's something that you would want to own. You can say the same about Tiger, you can say the same about Gretzky. Just like they take a lot of pride in playing their respective sports and playing at a high level, they also take a lot of pride in their autographs, which not everybody does. It's cool to see this connecting thread with the greatest athletes of all time."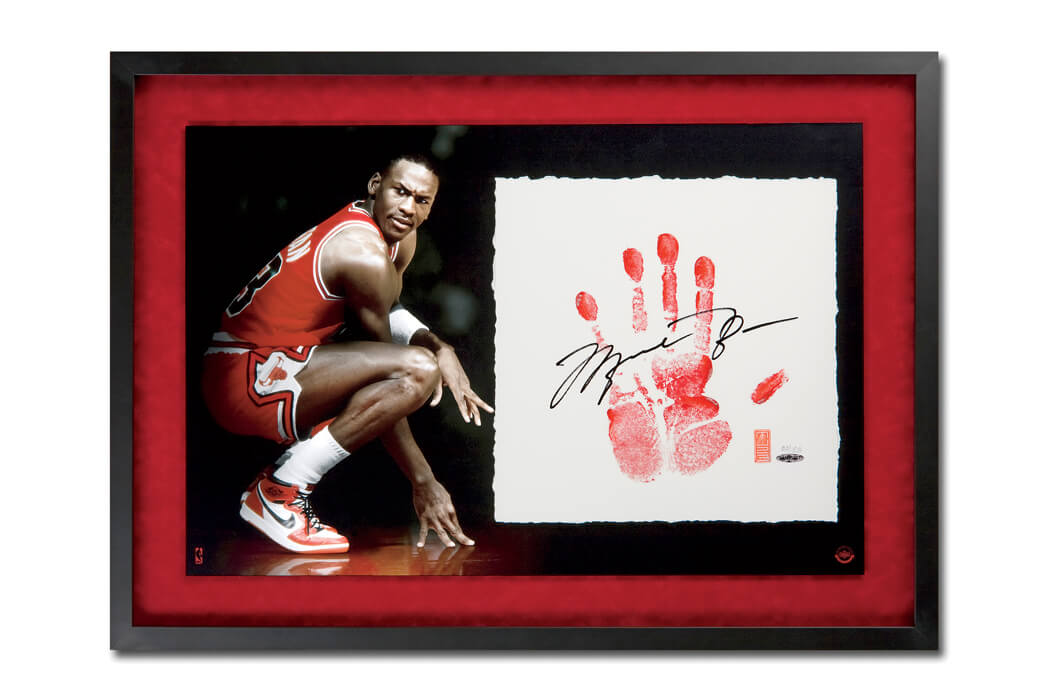 Despite the fact that Mike retired in 2003, he remains the most popular Upper Deck athlete. "Michael hasn't played in the League in over 15 years and he is still the No. 1 source for memorabilia and collectibles," says Garcia.
"It's interesting, because typically with athletes, you see ebbs and flows," Masherah says. "They have a great moment in their career, you sell a lot more product. When they retire, you sell more product. When they go to the Hall of Fame, you sell more product. I think what's different about MJ is, he's just steady. He continues to be our top-selling athlete. There's just a difference in general with MJ because he's this global brand. It's just a different animal."
That fame naturally encourages forgeries. With the exception of a few autographs here and there, Jordan doesn't really sign outside of his Upper Deck deal, which means that most of the products you encounter on the internet are fake. Because the value of a signed Michael Jordan piece is so high, professional forgers have worked tirelessly to master their craft. Upper Deck spends considerable time scouring the market for fakes and ensuring they get taken down.
"For me, it's the tendencies, knowing he signs a certain way," Doull says. "You see stuff that just jumps out in the forgery. Maybe he doesn't cross this or just little details like that. But you would only know that if you studied the Upper Deck pieces or if you had it firsthand, which thankfully Upper Deck does."
"You have these third party authenticators out there and at the end of the day, they're just opinions," says Masherah. "They don't know for sure whether those things were actually signed by Michael or not; and I would say 95 percent of the time, they weren't.
"The one message that I try to get across to everybody I talk to is that you really need to be careful if you're buying something that has Michael's autograph on it. I see people getting ripped off all the time on this stuff and it kills me to see people spending hard earned-money on fake autographs. People really need to do their due diligence on it."
Internally, the company has developed a five-step authentication process that remains the gold standard for the industry. It includes necessary requirements such as an eyewitness of the autograph session and the attachment of a hologram to the piece. These measures are particularly important when it comes to Jordan—because in the world of collectibles, just as in the worlds of basketball and sneakers, No. 23 still rules. Even those who never got to see him play crave a token of his journey. It defies much explanation, really; but hey, that's Michael Jordan.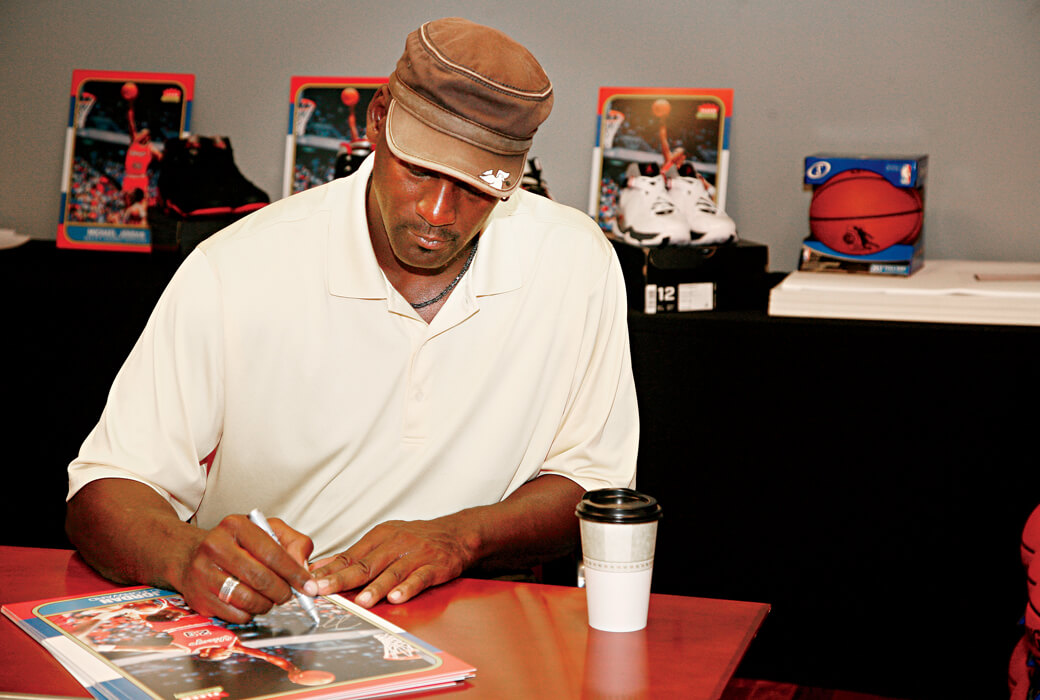 "Michael is unlike anything else from an athlete standpoint and a brand standpoint," says Masherah. "Michael is an enigma."
Upper Deck has seen nearly 30 years of MJ hysteria unfold before them. The same fascination that once had fans across the globe fuming over two words printed on a simple billboard hasn't subsided.
Not one bit.
—
Click here to shop the Upper Deck x MJ collection.
Alex Squadron is an Associate Editor at SLAM. Follow him on Twitter @asquad510.
Photos via Upper Deck.