How NBA Player Development Coach Derrick De La Grana is Preparing Guys like D'Angelo Russell For the Upcoming Season
As players around the League get ready for the upcoming season, NBA Development coaches like Derrick De La Grana know how crucial the offseason is towards their success. Derrick, who has been busy training players like Duncan Robinson, D'Angelo Russell, Max Strus, Dennis Smith Jr and Wayne Ellington this summer, says that his workouts are designed to help refine their game, all while improving what needs to be worked on.
"If they're in the NBA, or playing overseas in the G League, whatever they do obviously got them somewhere. So, you want to continue to groom that stuff," he explains over Zoom. "Let's say you watch 30 games of a guy and he's a really good three point shooter [and] he shoots the ball really well from both wings and the top of the key, we'll go through that stuff. And then when you see that he struggles from the corner, [or] he struggles off the pick and roll or off the dribble, then the workout would consist of trying to improve that."
Training typically starts in June following the NBA playoffs. As a coach, Derrick says he's "super big on the details of the game," and, through extensively studying a player's film, he's able to simulate in-game play to help player's maximize their potential.
"I'm not inventing some new style of training that doesn't exist. What I try to do is watch film on these players so that when they come in, I know where they're at out on the floor, I know what type of system that their team is currently running. So, when I'm putting together the drills, it basically mimics what they would do in the game."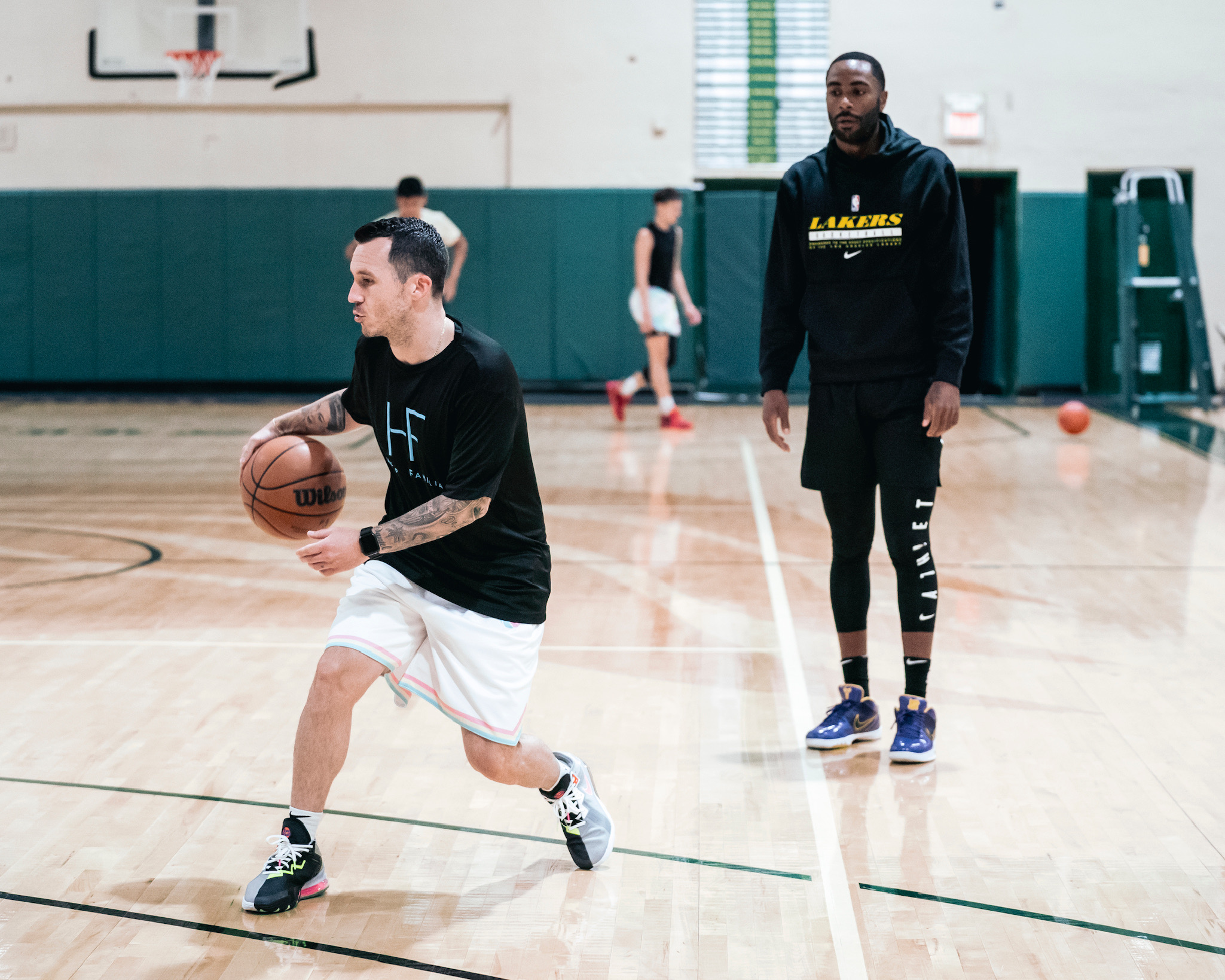 He continues: "[Using] SWOT analysis, one thing I do is track their percentages, even in the workouts. It holds them accountable. If we start in the middle of June and we're shooting—let's say we shoot 100 three's at the end of every workout, and they're making 60-70. And then by the time you get to July, you know, they're consistently hitting 80-85, sometimes 90. Once they see that, they know what we're doing is working. And then obviously a lot of this stuff is mental, so that when they get in the game, they just have the confidence that they put in those hours and those reps. Hopefully it leads to some kind of success in their season."
Derrick knows the game well, having grown up around it his entire life: his father, Octavio De La Grana is currently the Assistant Coach/Player Development for the Miami Heat, but prior to coaching in the NBA, he led the high school program at Florida Christian in Miami. During those early years, a young Derrick would often accompany his father to camps and clinics, where he'd be fully immersed in skills training and coaching.
In high school, Derrick suited up for Florida Christian, where as a point guard he amassed over 2,000 career points and earned First Team All-County and All-State honors. He then took his talents to the NAIA's Reinhardt University in Georgia.
While attending college, Derrick's father joined the Miami Heat's staff in 2007, the season after Shaquille O'Neal and D-Wade won the title. It was then that Derrick got an exclusive inside-peek at what it took to run a successful championship organization. After graduating in 2010, Derrick took his talents overseas to play for the Universidad Católica de Chile in Santiago, Chile. While there, he was also commissioned to run skills clinics in Chile, as well as China, Costa Rica, Germany, and Puerto Rico.
Following his pro career, Derrick took on a head coaching job at Calusa Preparatory School in 2012. He says it was then that a lot of young hoppers in the area also started hitting him up to run through drills and workouts, prompting him to pick up a "side hustle" in training one or two players at a time.
"I really started studying, watching film and designing my own workouts to cater to a specific player. So, if a kid was 6-foot-8 and he was a bigger type of guy, [I would try] to do stuff for that kind of kid," he says. "Just kind of doing more detail oriented stuff."
Since then, Derrick has worked with hoopers at every level of the game: from Tyler Herro's lil' bros Austin and Myles Herro to Columbia-commit Emily Montes and basketball influencer Tristian Jass, who has 2 million followers on Instagram.
He started consistently training pro players, such as James Johnson and Ellington, five years ago. With Miami being a vacation spot for many players, as well as his dad's ties with the Heat, Derrick and a friend decided to put together an open gym.
It was then, Derrick says, that he started to learn the ropes, and through working with Johnson and Ellington, he built up his confidence as a trainer.
"I've always been confident in what I did, and what I brought to the table with that stuff. But when those guys are telling you, you're onto something, we like what you're doing, that really gave me the confidence to just step into any gym or training facility and be able to do what I do without questioning stuff. That was probably what got me going."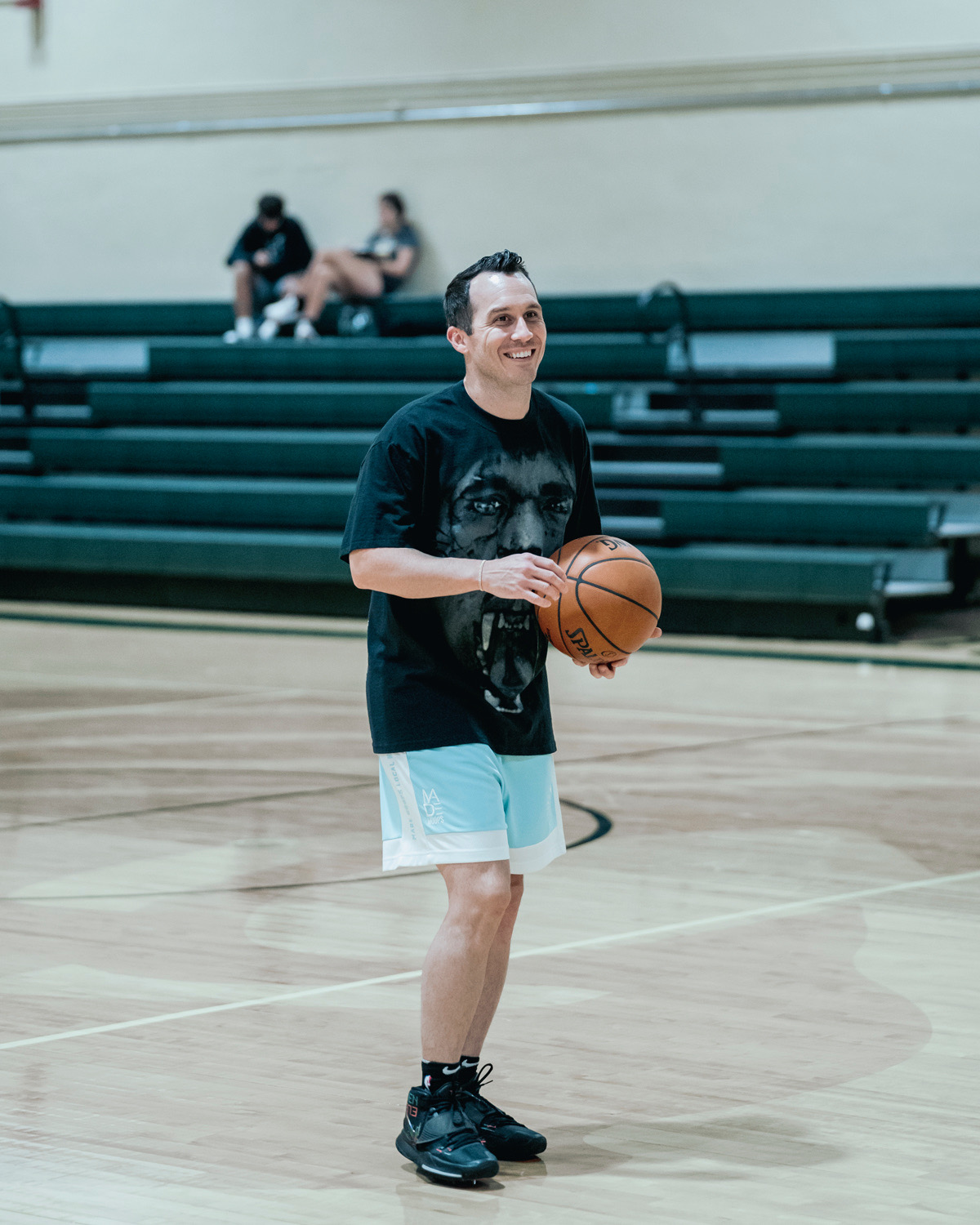 His clientele has grown by fostering relationships with players and coaches around the League. He linked up with D-Lo through Johnson—the two played together on the Timberwolves, and Russell had even bought a house near him.
"JJ was like, Hey, this is a guy that I work with sometimes, you know, if you ever need a gym, you ever want to workout, hit him up. And we spent last summer together when everything was shut down [during the pandemic], going from random gym to random gym trying to get working. It was cool."
Derrick uses the opportunity of working with NBA players to pick their brains and learn from them, as well as other coaches around the League.
"Sometimes with different players on different teams, some of their coaching staff will sneak in, so that I get to coordinate with those guys and learn from them, too. It's been pretty dope to [work with players] when [they] go to different teams and branch out a little bit."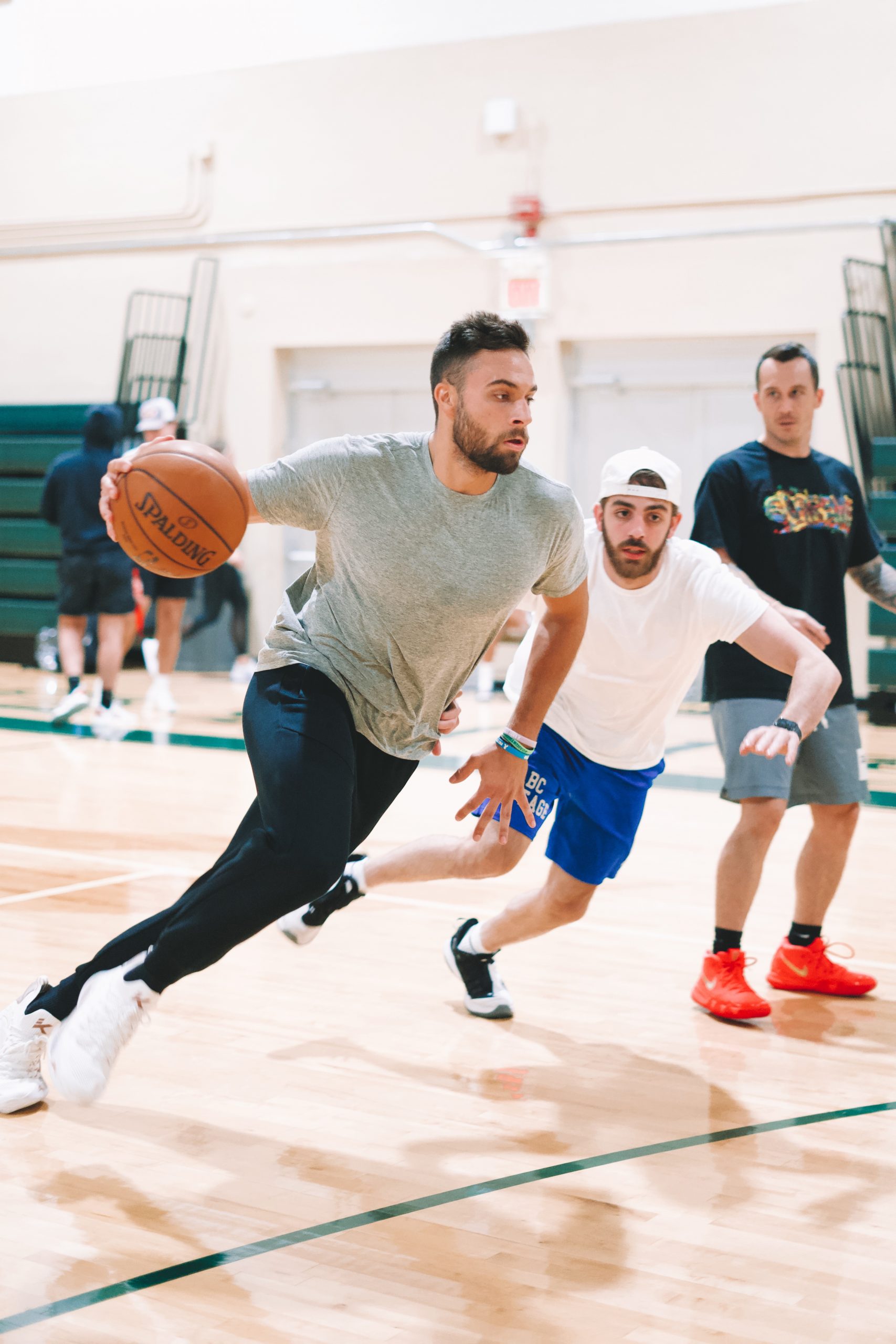 While he didn't necessarily see being an NBA Player Development coach as his exact career path—growing up with a coach as a father, he "always knew" he'd follow that route, and even aspired to become a basketball coach like Pat Riley "with all the swag and all that"—his journey has led him to skills training. With a "laid back" approach to his craft and music blasting in the gym, he tries to make sure that his players are comfortable and tapped in while they dedicate their offseasons to the grind.
"I try to keep a chill vibe, because at the end of the day, this is offseason," he says. "These guys come in and they're here to get better. They're here to work."
---
Photos via Kimberly Toledo and Ethan Zabari. Follow them both on Instagram, @holytoledophoto and @ethanzabarifilms.