Quentin Grimes has always been playing up. He started playing against older competition when he was in the third grade; later, his father, Marshall Grimes, encouraged a faster, more physical style of play for his son by way of local 24 Hour Fitness runs with collegiate and professional players.
Most days after work, Marshall would arrive home and wait for Quentin to hop in the car en route to the gym. During one of these runs, Marshall strolled over to Quentin, who was only in 8th grade, at game point.
"I explained to him I said, 'Quentin, now, we gotta be really careful because if we lose the game, these guys are gonna be mad at me," Grimes' father says on the phone.
The next thing Marshall saw was Quentin pulling from 25 feet and sinking the game-winner. The gym went berserk.
"And so I went and I asked him a question. I said, 'Quentin, what made you take that shot?' And he said, 'Because I was hot!' And that told me right then that he had no fear. He didn't have any concept of if we lose this game, everybody's gonna be pissed off at me because everyone's sitting on the sideline waiting to play. From that point on, I knew he was probably going to be ok," Marshall said.
Three years ago, the five-star McDonald's All-American was the No. 8 overall player in the ESPN Top 100. Considered by many as a bonafide one-and-done, Grimes committed to Kansas for his freshman year and then transferred to Houston where he led the Cougars to their first Final Four c since Guy Lewis' '84 national championship team.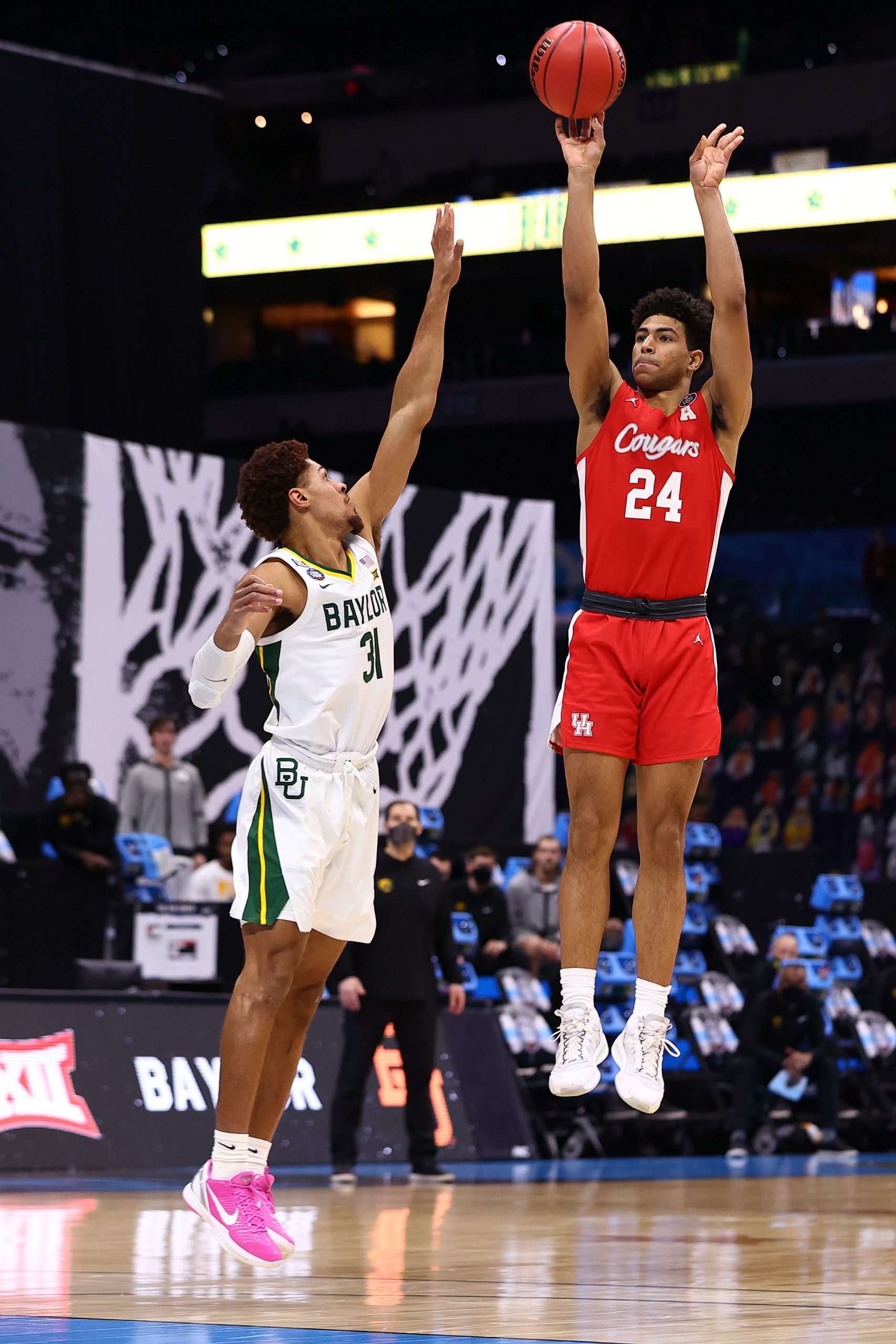 After two successful years of building up the program's stature, Grimes is ready to take his silky smooth jumper and thirst for knowledge to the League.
Grimes first declared for the draft after one season at Kansas that saw him average 8.4 points, 2.5 rebounds and 2 assists per game. The beginning of his college career wasn't as explosive as most projected, filled with overwhelming expectations. Yet Grimes knew his dedication to the game better than anyone else offering their opinion or take.
"Once it didn't go that way, people kind of started writing you off, saying you're not that good. But with me, I just stayed in a gym. I knew my craft. I knew how dedicated I was to the game," Grimes says.
During the pre-draft process, Grimes gained invaluable access to one of the League's best offensive minds and stars, James Harden.
Harden—who spent nine seasons with the Rockets—would often work out at Houston's facilities during the same weeks Grimes was preparing for the combine. When Grimes was deliberating what school to take his talents to after receiving eligibility from the NCAA in 2019, Harden was a heavy influence given his relationship with then Rockets assistant coach Kelvin Sampson, who took over at the University in 2014.
Quentin eyed Harden closely that summer, searching for nuggets of knowledge to take with him to Houston.
"Just watching him in our gym to see what he works on, to see how that translates to the NBA game. Just trying to take his work ethic really and just try to be one of the best players in the League, hopefully, I can be that one day," Grimes says over Zoom.
Grimes found himself in a reassuring yet demanding environment in Houston. In his first few practices, the 21-year-old was under constant scrutiny from head coach Kelvin Sampson. Any mistake, no matter how minuscule, saw Sampson direct his team to the baseline and instruct for a minute to be put on the clock for sprints.
In the back of his mind, Grimes didn't know why he was running, why he was being pushed so hard until he made the connection. The constant adjustments and hoarse voice of Sampson were fueled by how good he saw Grimes becoming.
"Coach Sampson, he's one of the toughest coaches I think, in the country for sure," Grimes says over Zoom. "He gon' push on that line, he gon' run you to death, but he's also gonna give you that freedom to go out there and if you gotta open shot, shoot it. So just having that freedom with that also accountability aspect. It kind of worked out a lot and he always helped me every day."
Grimes says the offseason before his sophomore year taught him the most, as he watched his high school peers reach the League. It was coach Sampson and the hometown feel of Houston's campus that was the shake-up Grimes needed after garnering straight to the lottery expectations.
"I think that's the big thing with Coach Sampson and my teammates," Grimes shares. "Like the connection we had this year, if I miss two or three, they'd be like 'I don't care if you miss 10 in a row, shoot the next one like you just made 10 in a row.' I feel like when your teammates give you that confidence and your coaches, it's easy. It feels like you're playing with house money out there on the court."
The house has been backing Grimes ever since.
The 6'5 205 lb guard statistically improved in every category during his two seasons with the Cougars, averaging 17.8 points, 5.7 rebounds and just over a steal per game while shooting 40 percent from beyond the arc in his junior year. He is one of three players to hit 100 threes during last season.
Grimes carried Houston to a 28-4 overall record while winning the AAC tournament for the first time since 2010—winning American Athletic Conference's co-Player of the Year.
College basketball is written in Quentin's DNA. Marshall Grimes and Tonja Stelly, Quentin's parents, both played ball in college—Marshall played point at Santa Clara and later at Louisiana Lafayette, while Tonja suited up at Fort Hays State.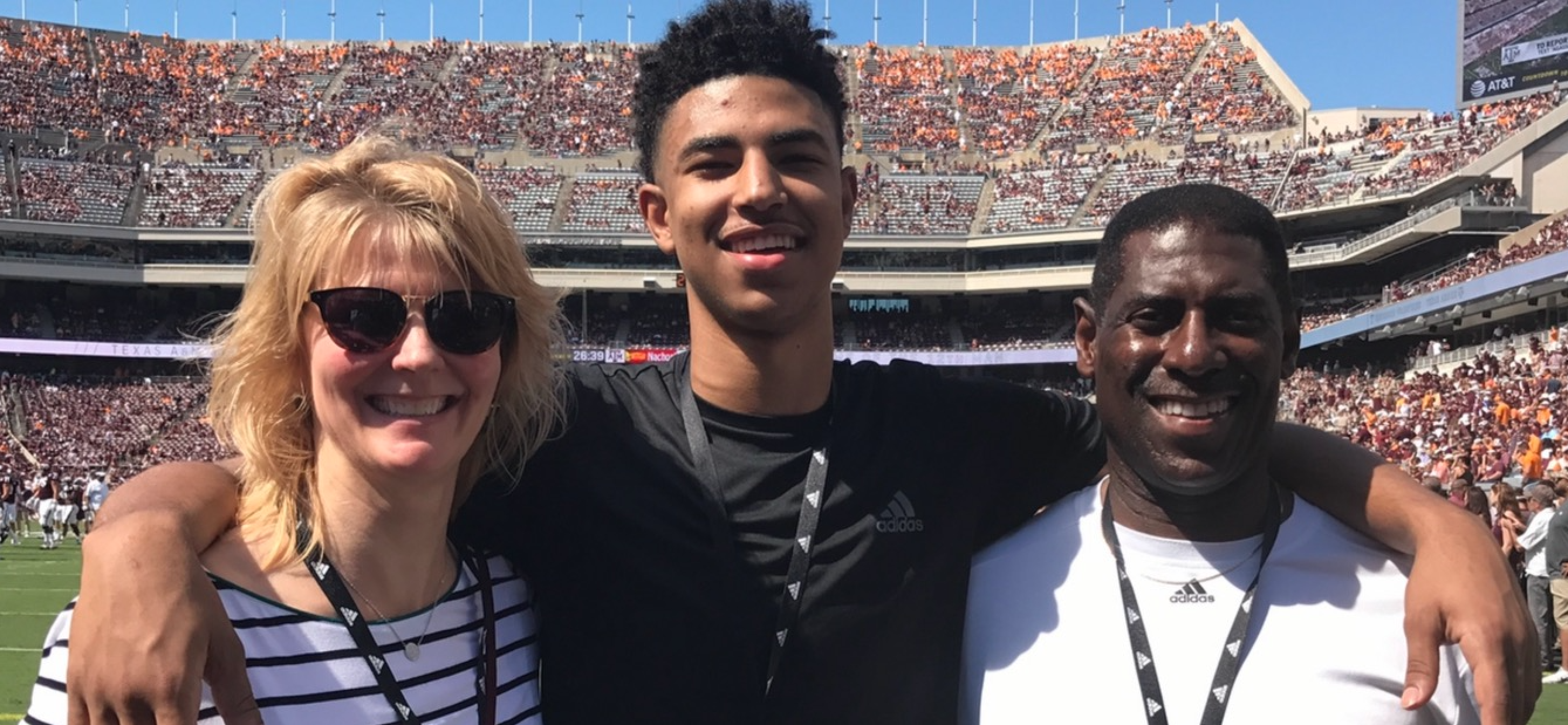 They both influenced Quentin to partake in multiple sports as a child, but his heart was already set on the sound of the weathered leather ball flying through the fraying net.
His mother recalls Quentin showing up to maybe three football practices during one season. Before he even turned one, Quentin was showcasing picture-perfect form on a Little Tikes hoop.
"No matter how much negotiating I did, I couldn't get him to play anything else. It's been his passion, like Marshall said, since he was one year old. I don't really know what it is but it is what we always did together," Tonja says over the phone.
Tonja and Marshall raised their son on the idea that if you're constantly putting in the work, eventually you will be successful. His path has been far from straightforward. It meandered, stalled and excelled at different points, yet his mindset has been prepared for the shortcomings.
"We both just talked to him for years that this is obviously a unique job, but a lot of what translates in everybody's daily life and their work ethic is what's going to separate them at some point. He's always had that drive to be better. He's always been in the gym. It's where he goes. I think it's where he finds a lot of comfort and solace. It's his safe space. It's where he's confident. It's what he does," Tonja said.
With a plethora of knowledge at his fingertips, Grimes has quickly adopted a professional lifestyle and regimen centered around a strict three-part diet; sleep, food and hoops.
The Houston native wakes up at 8:30 a.m., knocks out breakfast and then heads to the gym for workout number one of the day from 9:30 – 10:45 with Memphis head coach and longtime mentor Penny Hardaway.
Since joining the AAC in 2019, Grimes connected with Hardaway on several occasions throughout his seasons with the Cougars. Once he declared for the draft, Grimes' relationship with Penny grew tenfold as they were now both represented by the same management company.
"He's really been teaching me the game from the point guard perspective," Grimes says. "That's what I played in high school and then coming into Kansas and then Houston I was kind of more like, I needed to score the ball, really be the two guard. But he really tryna get me back my PG, my kind of main role. He's really teaching me the game. Slowing down the game, how to read the reads off the pick and roll, where the defender is and stuff like that."
A quick snack follows the skill session alongside a much-needed 20-minute power nap. Then he has strength and conditioning runs from noon to 1 p.m., takes a second nap and eats his third meal of the day. Workout number three is at 4:30 p.m. with NBA skills trainer Jevonte' Holmes.
Quentin's work ethic spawns from a multitude of avenues, from his parents' words of wisdom to the time he's spent meticulously running through film of the late Kobe Bryant.
Grimes possesses one of the sweetest and smoothest strokes in this year's draft. He'd often arrive an hour early to the practice facility to get shots up, but even if practices ran three to four hours long, Grimes would grab the shooting coach and the shooting gun and work for an extra half hour.
Nicknamed 'Big Shot Q' by coach Sampson, Grimes doesn't shy away from the opportunity to rise to the occasion, both on and off the court. When Hurricane Harvey left his home state devastated in 2017, Quentin saw a need in his community.
His parents, Marshall and Tonja, began planting seeds in Quentin's mind on how he could aid the recovery process as they saw the piles of gear from years on the AAU circuit—half of it still wrapped in the plastic from the factory—stocked in his room. Marshall assumed he'd give maybe 30 percent of it away.
But when they went to pack up their SUV with donations, Quentin kept going into the house to grab more and more hoodies, shirts and shorts.
"He gave probably 95 percent of his stuff," Marshall says. "But he was like, 'There's people out there hurting right now, I don't need all of this stuff.' I knew then, we had raised a good kid at that point. That's when I was really proud of him."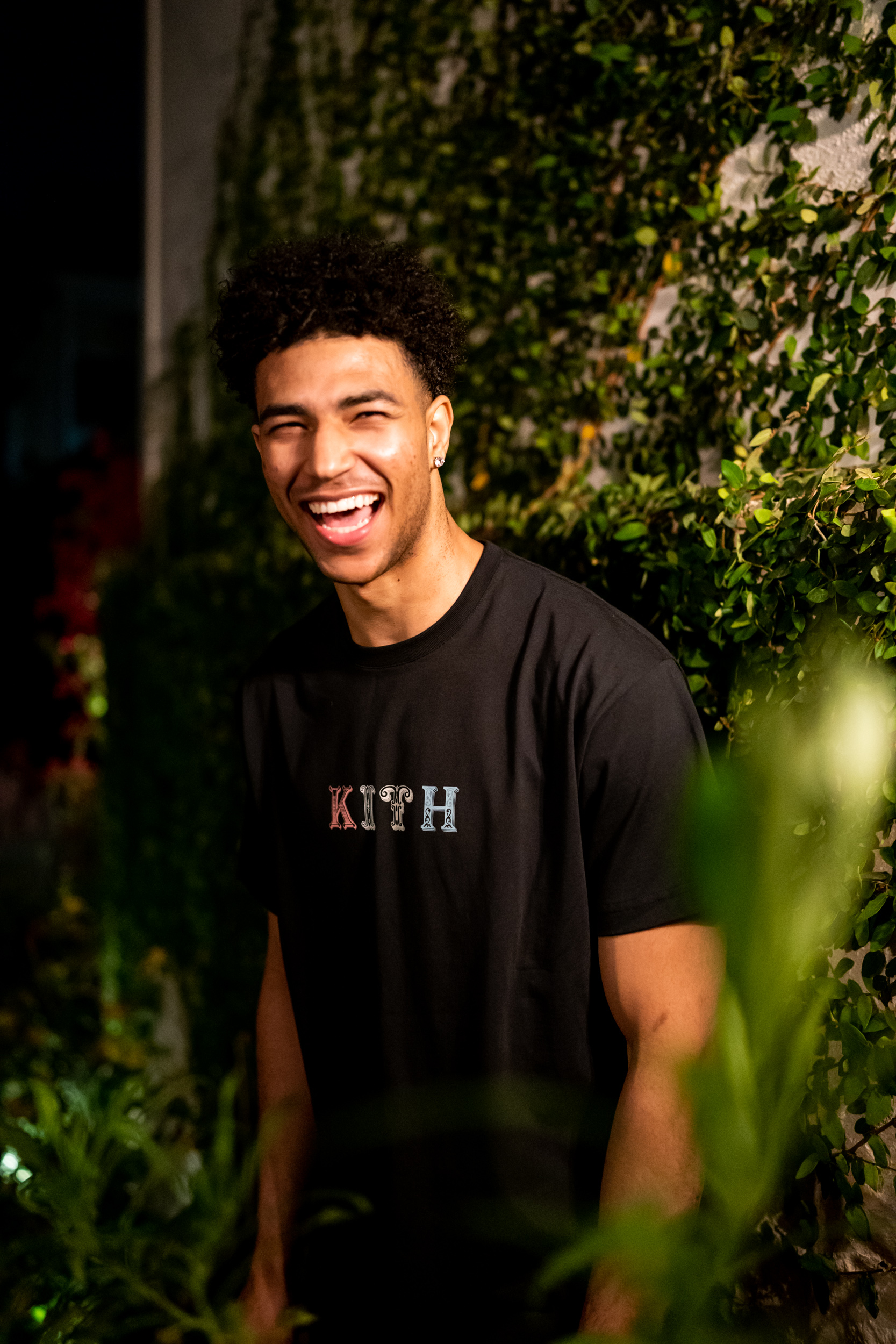 As he prepares for the draft in his hometown, Grimes has been enjoying the benefits of his mother's home-cooked meals (especially her salmon) and eating at restaurants like Turkey Leg Hut, home of the "World Famous" stuffed turkey legs. The local hotspot is also home to giant portions and good vibes. It's often visited by the likes of Harden, Travis Scott and even retired NBA veteran Stephen Jackson.
Grimes, who has been described as having a thirst for knowledge by his mother, is also passionate about European fashion. The newfound fan of Paris Fashion Week explains he's long since had an ear to the fashion and sneaker trends of the world, as he pulls out a pair of "Michigan" Dunk Lows on the Zoom call. The likes of Dior, Prada, Virgil Abloh's Off-White and Louis Vuitton inspire Grimes in the same way as watching Harden workout in Houston's facilities.
"Sometimes it's like just taking pieces and putting them together. As a basketball player that's what I kind of do with my game. If I see other people doing moves I've never seen before, taking that game and incorporating it into mine," Grimes explains. "The way people get their shots off, get to their spots, I feel like it's kind of the same thing with fashion. You see different pieces that you maybe think you can put together that maybe it ain't work on the runway, but a piece, you take it, put together with an outfit you like. And I feel like that's just kind of my overall kind of life, taking bits and pieces from different people's game and putting it into mine."
Originally projected as a second round pick, Grimes has shot himself into projected first-round consideration after posting 27 points and seven threes in day two of the NBA Combine.
After leading the combine in scoring, Grimes can only truly do one thing with less than three weeks before the draft: bet on himself.
"Really just bet on yourself. That's what me and Matt [his manager] have been talking about this whole season [while at Houston]," he says.
---
Jared Ebanks is an editorial intern at SLAM and a rising senior at the University of Illinois at Urbana-Champaign. Follow him on Twitter @JaredEbanks.

Lifestyle portraits by Cassy Athena/Cassy Athena Photo. Follow Cassy on IG @cassyathneaphoto.
Training photos by Jineen Williams/D.A.H. Visual Media. Follow Jineen on IG @_therealjaywill.

Action photos via Getty Images.