The Story of How Paige Bueckers and Azzi Fudd's Unbreakable Bond Led Them to UConn
There's a lot of wonder in the elements of nature. Earth, fire, water and air come together to create a sense of balance in the world. Each force of nature consists of one-of-a-kind characteristics that alone are already mind-shattering, but when put together? They create the most powerful unit in existence. The same can be said for the fire within Paige Bueckers and the water-like calm Azzi Fudd exudes when they step on the court together.
Both were the No. 1 players in the country in their respective recruiting classes (2020 and 2021), and now they're about to embark on what is sure to be their most memorable journey yet.
"I would say our friendship is pretty insane," Bueckers, a sophomore, says on the set of our cover shoot on UConn's campus in early October. "It's pretty crazy. Just seeing the way we interact…We have so many similarities, but we also have so many differences. I don't know, it's like yin and yang."
Azzi then interjects to add, "But I feel like where we're disconnected, we complement each other."
With Bueckers regularly running the point and Azzi coming in at shooting guard, it's easy to see what Fudd means. They are arguably the best in the country at what they do, and some of the greatest of all time know it.
"She can be going full speed and stop on a dime and have, like, a feathery release," Stephen Curry said of Azzi to espnW. "I think she has more of a textbook jumper than anyone I've seen."
"She makes really hard passes look really easy, and she makes really easy passes look easy," UConn legend Diana Taurasi said of Bueckers in a sit-down with TOGETHXR. "That alone sets her apart from every other player in college. Paige Bueckers is the best player in basketball already."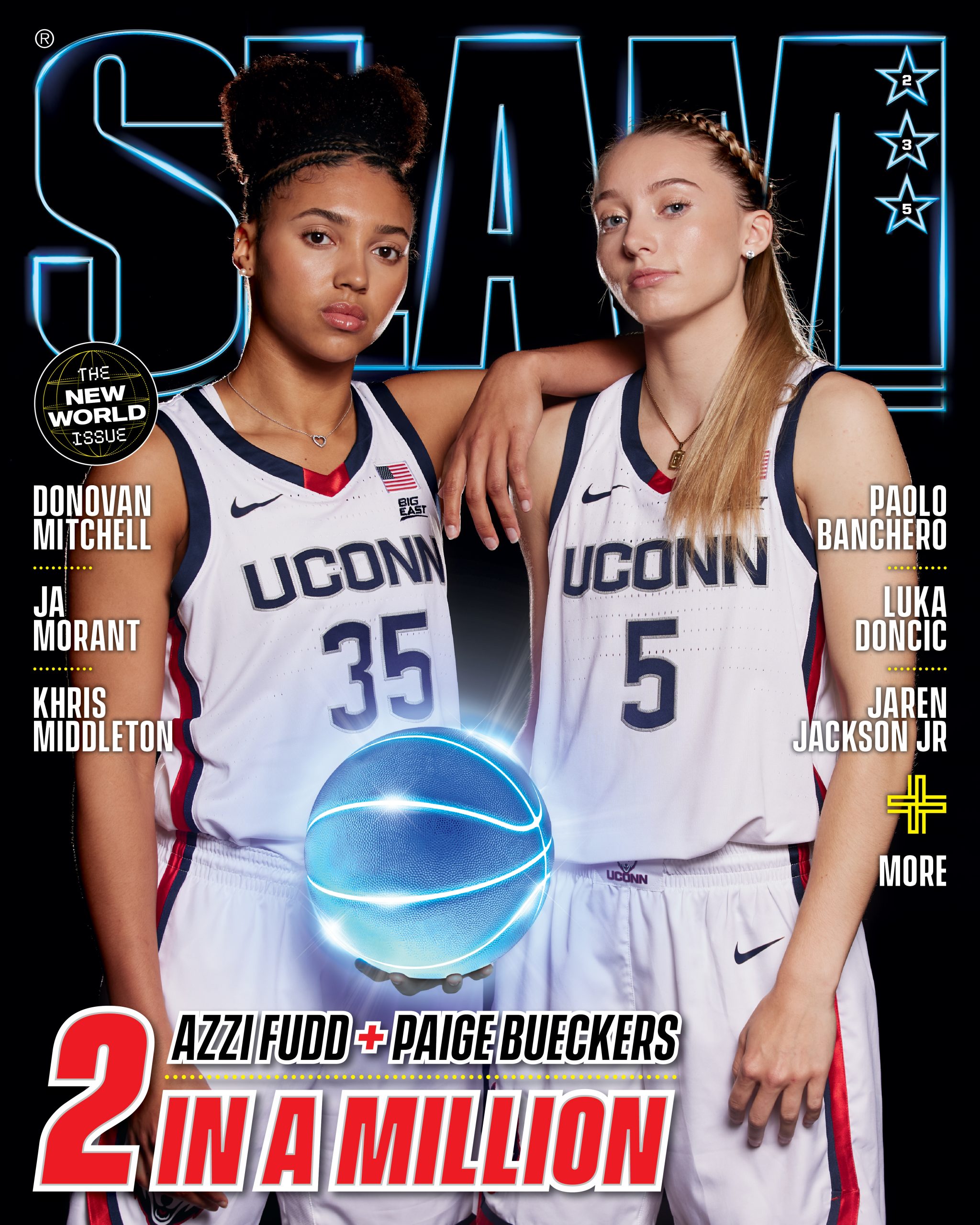 There have been many top-tier championship caliber backcourt duos to come out of Storrs. Sue Bird and DT, Bria Hartley and Moriah Jefferson, Renee Montgomery and Tiffany Hayes, just to name a few. Most of them, though, we got to see come to life at Gampel Pavilion. But Paige and Azzi's story is a little different.
It was early in the summer of 2017 when the USA Women's U16 National Team tryouts took place. The team would go on to play at the FIBA Americas Championship in Argentina later that summer. The USA team tryouts are well-known to be one of the most competitive environments, and both Paige and Azzi were some of the youngest trying to make the roster.
"My first impression of Paige was, I think it was right before they made the final cuts and we were on the same team and we were both trying out for point guard," Azzi recalls. "And I looked at her and was like, This white girl got nothing on me, I don't need to worry about her. I quickly realized that I was wrong," she shares laughing.
The two superstars ultimately made the final roster and were on their way to Argentina, where they got their first test as teammates and ended up having an immediate connection.
"We saw them play together in Argentina and they both came off the bench," Azzi's mother, Katie, recalls. "All of the parents were hanging out at night and going on tours, so we actually got pretty close with Paige's parents. Watching them play together on the court, we just assumed, Oh, they must be really tight off the court."
It was an early showing of what is surely to become one of the top backcourts in the country. Paige handling the ball, bringing the court vision, seeing the passes that need to be made and catching the open cutters. The ultimate floor general. Azzi playing off the ball, making the necessary cuts, playing physical defense, and most importantly, getting open to knock down shots. The ultimate three-point assassin.
While they helped bring home USA U16's fifth gold medal, it really wasn't until after the tournament that The Paige and Azzi Show really started.
On their way back to the States, they ended up sitting next to each other. Paige was heading back to where she grew up in Minnetonka, MN, and Azzi was going to meet her grandparents who also live in the Gopher State. That plane ride would not only change each of their lives but would also eventually impact all of women's basketball.
"Yeah, I mean, when you sit alone on a plane next to Azzi, it's just a whole lot of chattin', so I kinda sorta entertained it and I think our friendship sort of bonded from there," Paige says.
"I guess—that's not how I remember," Azzi responds while laughing. "I remember I was really shy, so when we were on the plane, I was kind of forced to talk to her. But then when we got back with my grandparents, she was just with us a lot. We would go to the gym. I had, like, a new workout partner, and I loved working out with her. Then from there, she just tagged along with my family. She was a part of us."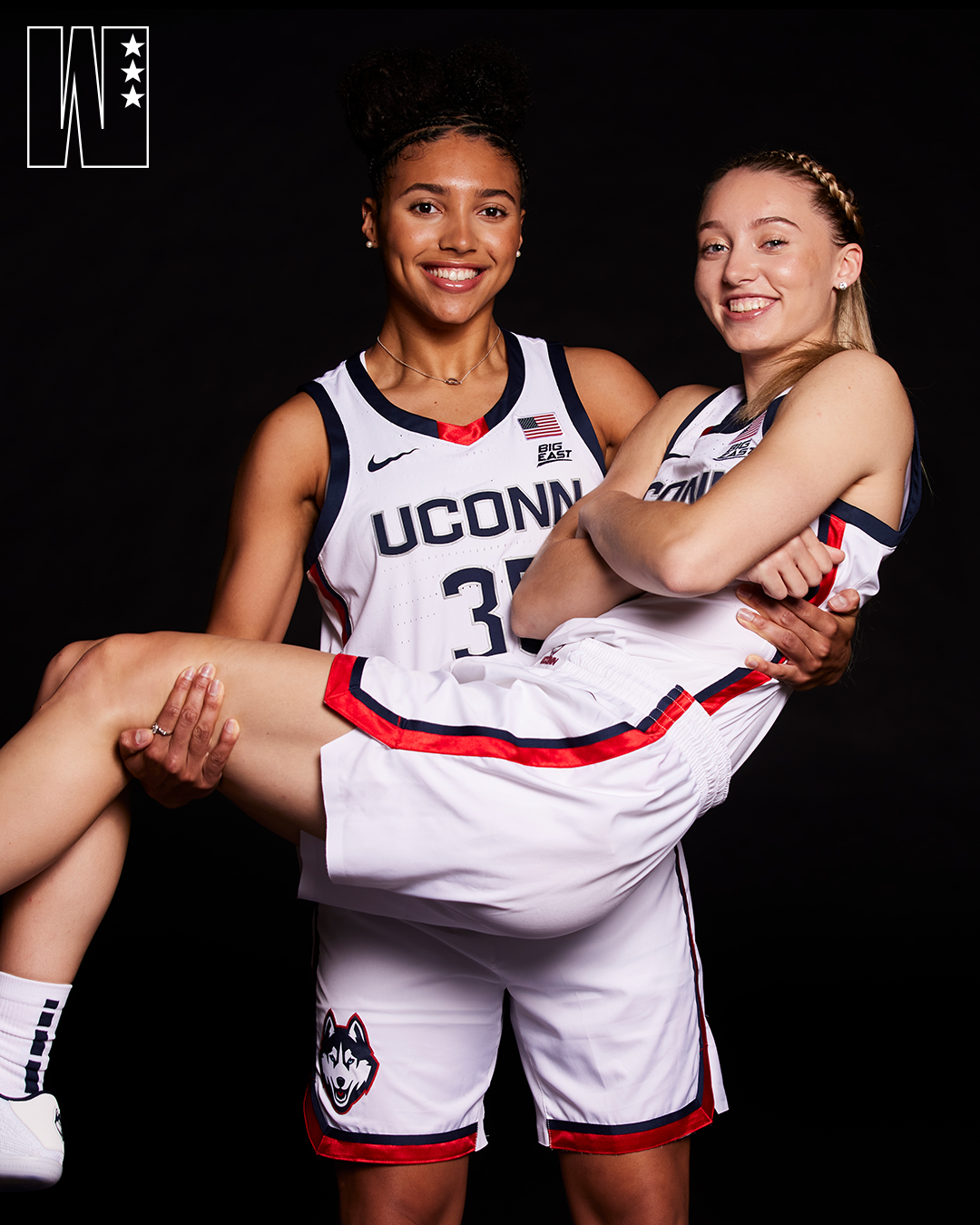 Trips to AAU and high school tournaments to watch each other play, the annual Fudd family cabin trips, endless pranks and training sessions—they were always together. The basketball gods connected them and from there on, it was about pushing each other to be great on the daily. Above all, though, it was about supporting each other during the ups and downs of life—the same way family does.
It was just two years later that Azzi would face one of her biggest challenges to date.
Paige and Azzi were both in Colorado Springs participating in USA Basketball's U18 3×3 tryouts when Paige watched her best friend fall to the floor in pain. They both immediately knew it was bad.
"There's a picture of when I made it to the trainer's table," Azzi recalls. "She came over and put her hand on me and prayed over it. It almost looked like she got hurt, too."
It would later be confirmed that the then 16-year-old star guard had torn her ACL.
"I was heartbroken for Azzi. Seeing her on the floor had me in tears," Paige recalls as the usual casualness of her voice disappears.
"What is funny?!" Azzi jumps in jokingly, only to realize that Paige is quietly trying to work through the tears that are now falling. "Aw, stop. Really, stop. It's OK, you don't need to cry over me," Azzi jokes.
Collecting her thoughts, Paige continues: "She's my ride or die. I'd do anything for her, she'd do anything for me. It's just, like, you go through a lot of hard times that the cameras don't see, that the people outside don't see, and I've always confided in her."
"Through that whole thing, she came and visited me before my surgery. After surgery, she was the first one to call. She was always texting me, checking up on me and making sure that my spirits were high throughout the whole thing," Azzi says.
Paige was also tested a year later, when on the lead up to her final high school game, the state championship was cancelled due to the coronavirus pandemic.
"I think this is where [we] complement each other. When I'm upset, I talk a lot and she's a good listener. When she's upset, she kinda closes down and doesn't talk, so I make her talk. Make her get all her emotions out," says Azzi. "She was very frustrated and sad and upset, so we were just kinda there for her."
Knowing they were the top recruits in back-to-back classes, the potential opportunity to play together in college was always in the back of their minds. Once Paige announced that she would spend part of her journey with the Huskies, she took the recruiting of her best friend into her own hands.
"We talk about it a lot, but she needs to come to the Huskies," Bueckers, then a HS senior, shared via FaceTime with SLAM in 2020. "We'll compete every day in practice, and if she goes to another team, we'll only be competing against each other one game a year." She finished with, "Azzi, c'mon, you know what to do."
When it came time for her college decision in the fall of 2020, Azzi knew she couldn't make it easy on her best friend.
"I had called the coaches and told them, and then we went out to dinner," Azzi recalls, chuckling at her best friend's expense. "It was my parents, me, Paige and Colleen, who's the team manager here. I told her that I committed and then she started to get really emotional and kept saying, I don't believe it, really? Are you serious?"
That's when she had to pull the ultimate prank and said, "Tricked ya!" as Paige sat there shocked.
"She got so mad that she got up from the table and left," Azzi continues, bursting into laughter. "And then when she finally came back, one of my parents had recorded the conversation with the coaches, so I showed it to her and that's when she knew that I had committed for real. I think she did cry tears of joy."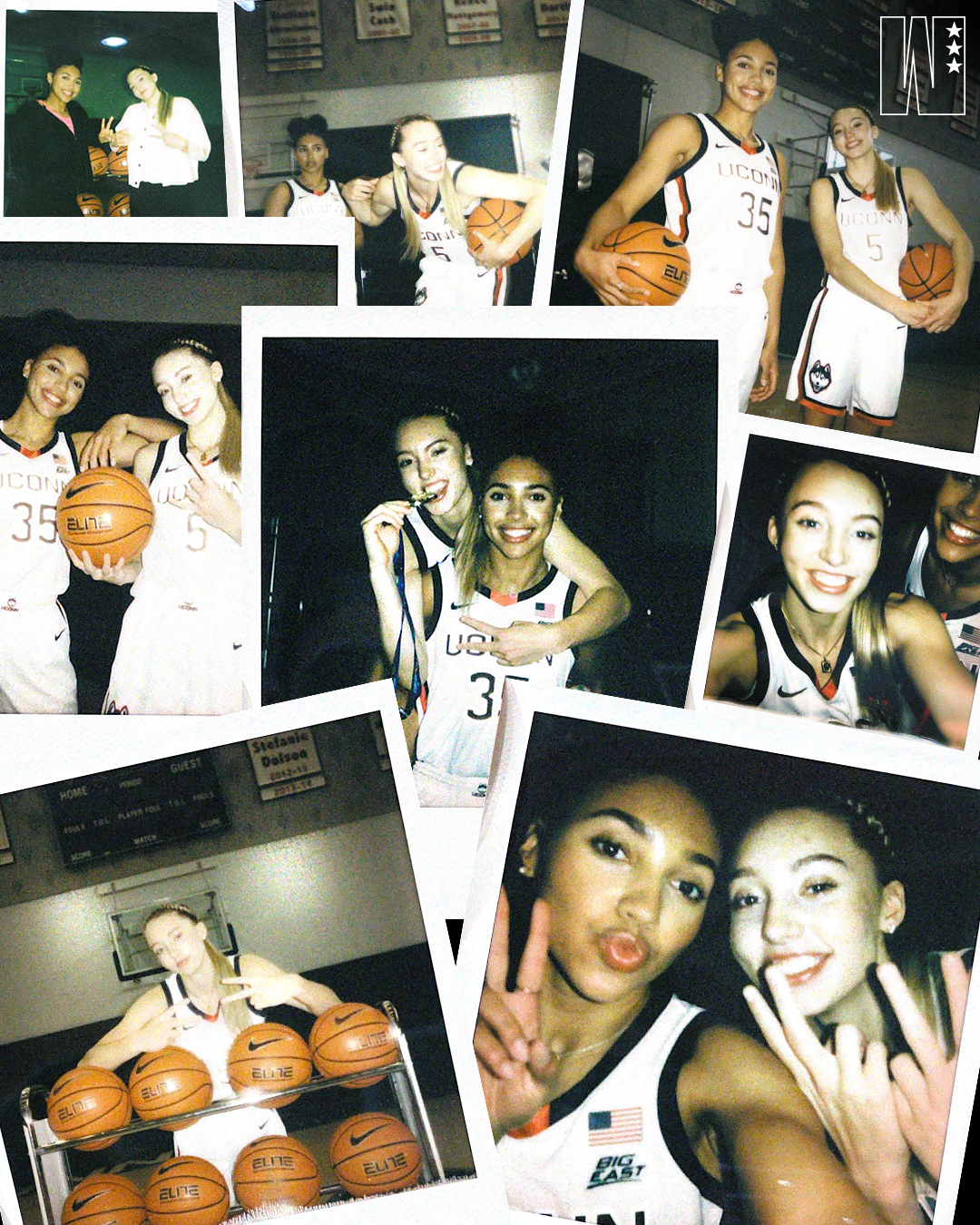 It was the moment they were both waiting for. The moment they knew they'd finally team up to compete for multiple national championships.
"Azzi's an automatic bucket. She scores at all three levels at an insanely efficient rate," Paige says. "She defends, she talks, she's very strong. As a guard, she's a big guard. She brings energy, effort and an insane work ethic. She can do a lot of positive things for this team."
Beyond her production on the floor, what stands out the most about the first-year Husky is her work ethic. Her tireless drive pushes not only herself but everyone around her to be better.
"I want to learn. Everything we're doing I want to not necessarily be the best, but I want to go the hardest and try to learn from everything we do," says Azzi.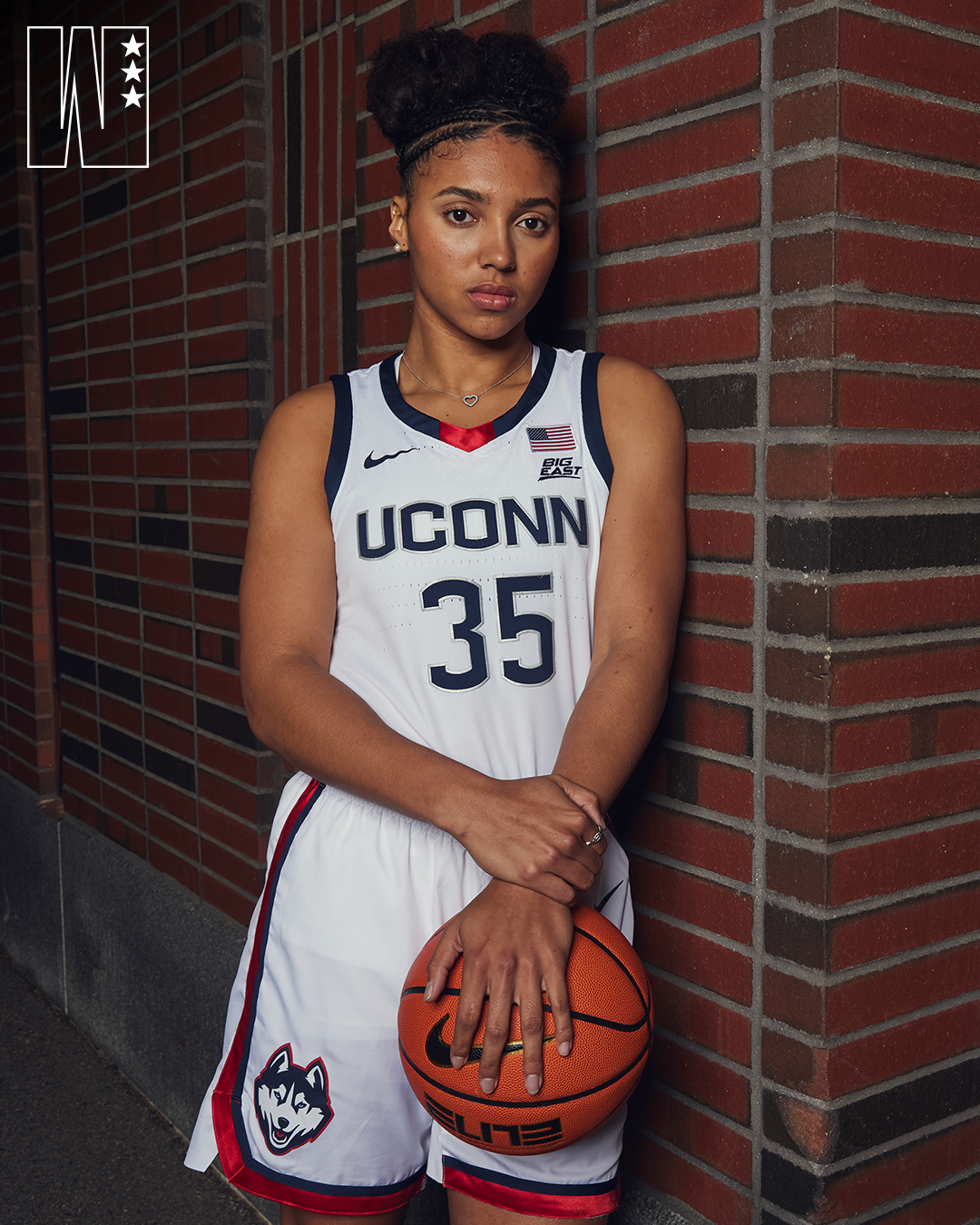 Paige's first year in Storrs was one of the most historic freshman seasons in all of college hoops. She averaged 20 points, 5.8 assists, 4.9 rebounds and 2.3 steals per game, and even shot over 52.4 percent from the field. Not only that, but she also recorded 168 assists, the most by a freshman in program history, and won every national award she was eligible for. Although it was a season for the record books, it didn't end how the star guard wanted.
After UConn's Final Four trip was cut short in their 69-59 loss to Arizona, Paige took time to reflect and understand where she can improve so that they can bring home UConn's first championship since 2016.
"The big thing I learned is being super enhanced into the little details," Paige recalls, with the memory of the loss replaying in her mind. "Whether it be waiting for a screen, setting up a screen, talking, using my voice, Coach [Geno Auriemma] is really big on the little things because they make the bigger things easy. Just learning from what I didn't do last season and what I could do better."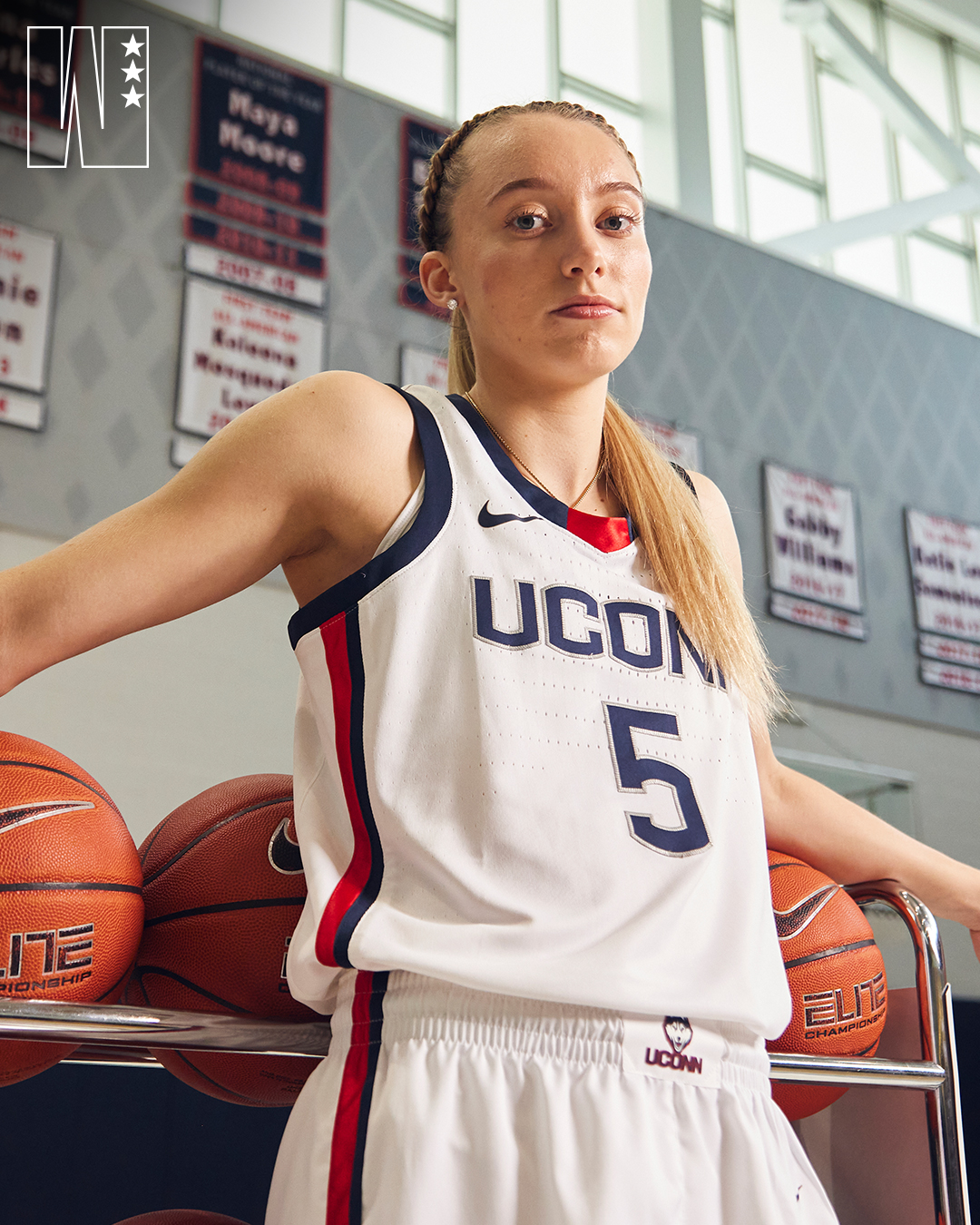 The process at UConn is simple: learn from one of the greatest coaches of all time how to fine-tune and contribute your gift to the team. We've seen a lot of the greats do it, and now it's Paige's and Azzi's turns.
Walking down the halls at Werth or Gampel does not help ease the pressure, though. National championship banners hang everywhere you turn. The retired jersey of Rebecca Lobo. A shrine for the Huskies of Honor, which include Sue Bird, Tina Charles, Maya Moore and Breanna Stewart. You're reminded every day of the standard at UConn and what you're expected to achieve.
"You can look at it two ways," Fudd explains. "It can be really overwhelming, and you can see it as pressure, which sometimes I feel like I do. But I also see it as, all these players came in here already great, but they trusted Coach, they trusted the program and trusted the process, and look at what they accomplished while they were here by doing that and once they left. I know that I want to be like that."
"It was a dream to play here, not even knowing what the future would hold—who I would play with, who I would play against," says Paige. "Just me wanting to come here for school and to be able to do it with my best friend, it makes it so much better."
Some dynasties start on the basketball court, others start in the air, in coach on a 14-hour flight from Buenos Aires to Minnesota, where fire and water come together to create a force of nature the earth will never forget.
---
Portraits by Johnnie Izquierdo.