Standing on the rooftop of the Thompson Hotel in downtown Toronto, R.J. Barrett is staring at the ever-evolving skyline. He's in his native country for a three-game, two-city tour with his Duke Blue Devils squad. The 6-7 wing and his teammates are the talk of the city. A family friend pulls out his phone to show that courtside seats for the game against Ryerson University are on StubHub for as much as $5,000. Five thousand American dollars, that is.
"I find it kind of crazy that I get to play in front of everyone I love at home with my brothers," Barrett says. "I definitely didn't expect this. I was really excited because it's right in my city—my hometown—[and] I wanted to show the guys Canada. Not a lot of people have been to Toronto."
While Duke features one of the most star-studded, top-heavy recruiting classes in recent history—Barrett, along with fellow freshmen Zion Williamson and Cam Reddish, were ranked as the top three recruits in the Class of 2018 coming out of high school—R.J., as the hometown hero, is the main draw this week in The North.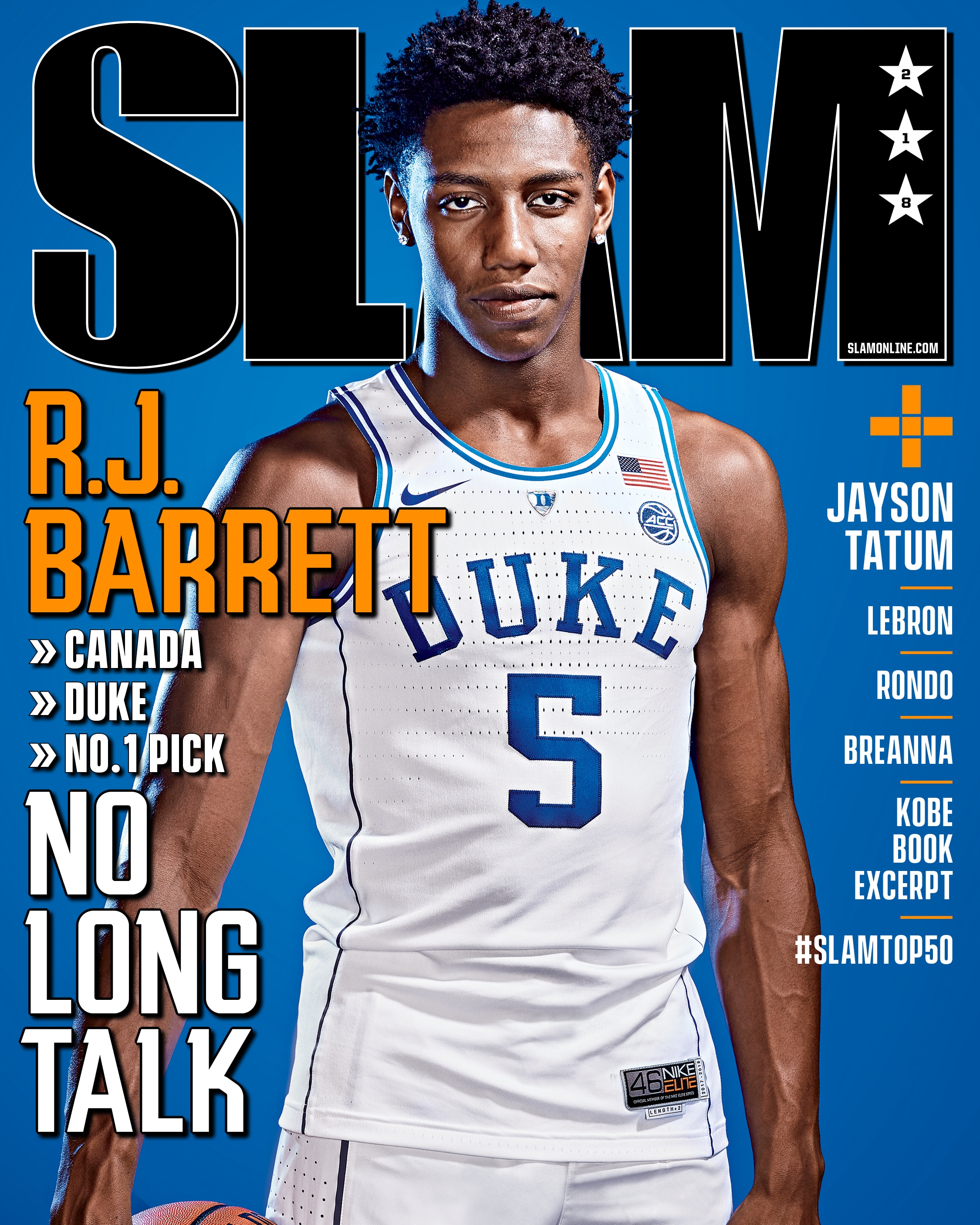 Although the view from the outdoor deck provides a tranquil ambiance, it doesn't mean R.J. doesn't draw a crowd, even on a relatively quiet Tuesday afternoon. There are ESPN cameras trailing R.J. and the rest of the squad during the off-season as part of a docu-series expected to air before the start of the season. Nonetheless, R.J. and family seem to embrace it all, understanding the impact that his status at Duke will bring not only to college basketball, but to his native country as well.
The son of two former athletes—R.J.'s dad Rowan Sr hooped at St. John's University, represented Canada in the 2000 Summer Olympics and is now the Assistant General Manager/Executive VP for the Canadian National Teams; his mother Kesha was a sprinter on SJU's track and field team; his aunt (his mom's sister) represented Jamaica as an Olympic sprinter in the '92 Barcelona Games—R.J. hit the genetic jackpot long before he set foot on a court.
It also doesn't hurt to have a two-time NBA MVP as your godfather, as in Steve Nash, who has been friends with R.J.'s father ever since the two played together on Canada's U19 squad in the early '90s.
But his rich background doesn't just stop with his genes. R.J.'s upbringing also has versatility of its own. He lived in France, where his dad played professionally until 2008, and is fluent in French. So you have a hooper of Jamaican decent, who lived from 2003-2008 in France before relocating to Canada while making multiple trips to visit family (and hoop) in Brooklyn in between.
"When we started having children we wanted to settle in one country, get a language and some normality, and we decided on France," recalls Rowan Sr, who also hooped professionally in Spain, Greece, Israel, Argentina and Venezuela. "We were in a town called Dijon, another called Chalon and another, Lyon, in southern France. It was a soccer country, so R.J. played both soccer and basketball and ran a little track, but his passion was always basketball.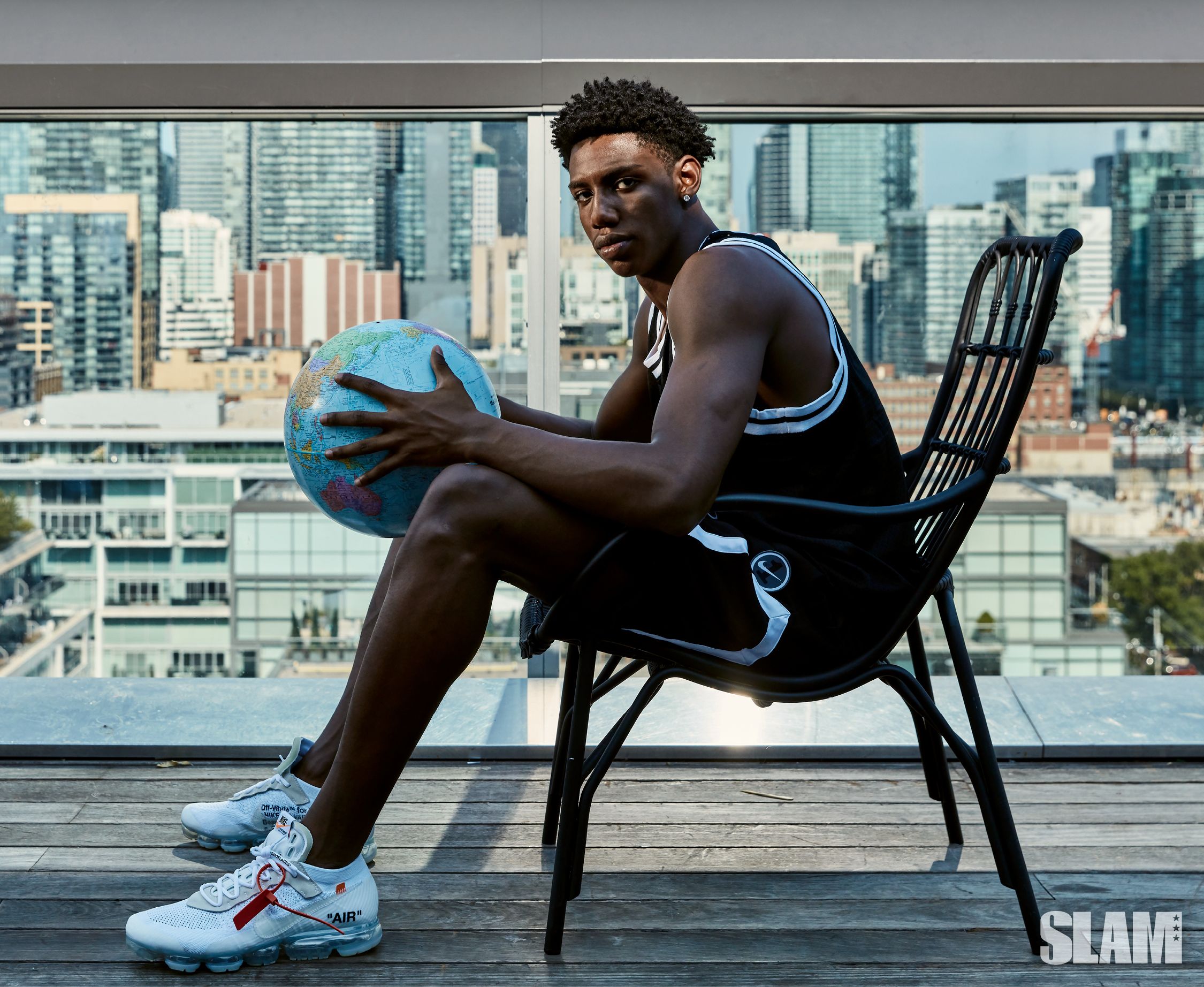 "We had a huge playroom in one of our places and we had everything in there—soccer goals, etc.," Rowan Sr adds. "We'd always hide the basketball goal because we were cognizant that we didn't want him to gravitate toward it because he felt we wanted him to. But he'd go in there looking for it until he found it. He always had a love for it. When my team was practicing and we'd go shower [afterward], he'd go on the court and start shooting until we turned off the lights."
Aside from his exposure to the international game, Rowan also made sure that R.J. received the proper mental training. Both Rowan and Kesha have family in Brooklyn, NY, and the family often made trips to the Big Apple to partake in the gritty hoops culture there.
"We'd go to see family and take him out to the blacktop. I went to school in New York so I'd just travel to Harlem and Coney Island. I had an understanding of what that was and how important it was for him," Rowan Sr says. "The city game isn't a lot of jump shots—it's a lot of going to the rim, figuring out how to get to the rim. No one calls foul. All the trash talk, the chatter. Can you play while someone is talking to you? Don't look over to the side. Daddy can't help you. So we'd take him there in the summer and it was great for his development in terms of toughness. He learned the European way, and then he played in Brooklyn."
Plus, after attending St. Marcellinus Secondary School in Mississauga for one year, R.J. did what almost every other promising Canadian hooper has done: he moved south of the border to match up against top-ranked players in the States.
In 2015, he landed at powerhouse Montverde Academy in Orlando, and it didn't take him long to claim his spot among the best in the U.S. Head coach Kevin Boyle had heard some rumblings about the Canadian's potential but had made no promises regarding playing time upon his arrival.
Just a handful of weeks into his first season at Montverde, when he was technically still considered a freshman, R.J. dropped 31 points, 9 rebounds and 6 assists against a Lonzo Ball-led Chino Hills squad, a team that went on to finish undefeated and as the top team in the nation.
By his senior year, R.J. solidified his place as the No. 1 recruit in the Class of 2018. At Montverde, which counts D'Angelo Russell, Joel Embiid and Ben Simmons as alumni, R.J. was able to take the Eagles to a perfect 35-0 as a senior, claiming the Geico Nationals championship and the No. 1 spot in the high school national rankings.
Following the season, the shifty lefty who frequently draws comparisons to James Harden went on to claim all major National POY awards: Gatorade, Naismith, Morgan Wootten, All-USA Today, MaxPreps and Mr. Basketball USA. The last high school hooper to sweep these national accolades was LeBron James in 2003, which makes R.J. the single most decorated HS prospect since the King himself.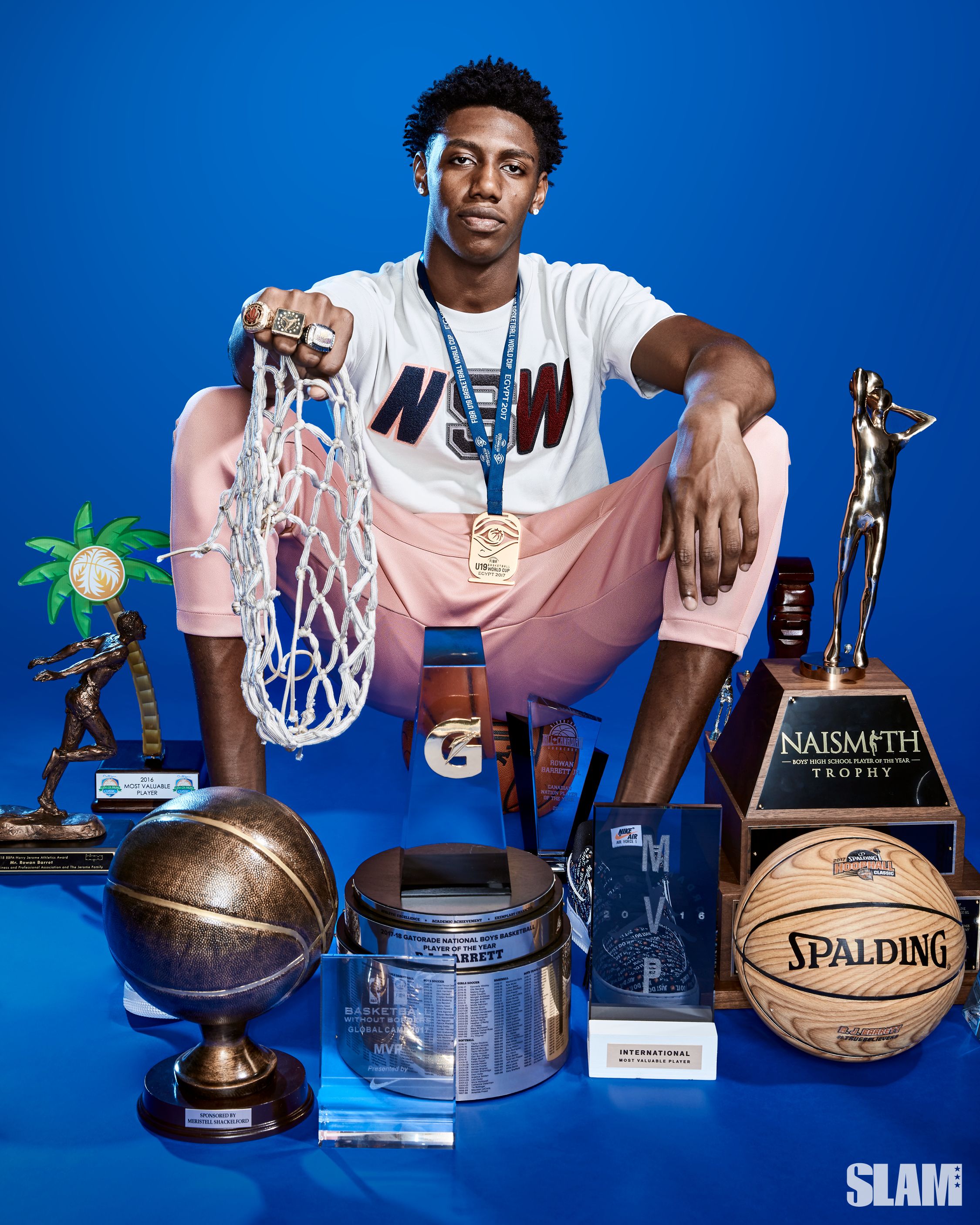 "I [knew I] wanted to take basketball serious at 11, 12 years old," R.J. says. "That's when I started writing all my goals and dreams out on a board in my room. And they're all coming true one by one. Some things I wrote were become a McDonald's All-American, go to a DI college, get drafted in the first round, No. 1 pick, All-Star, Hall of Fame—you know, anything a kid wants."
But these milestones (at least the ones he's accomplished thus far) aren't even his biggest achievements to date. In the summer of 2017, R.J. represented Canada in the FIBA U19 World Cup in Egypt. After going 2-1 in pool play and defeating France by six points in the quarterfinals, Canada was matched up against the John Calipari-led U.S. squad in the semifinals.
Barrett, then 17, was competing against a U19 American squad that featured big-time collegiate hoopers. He dropped 38 points, 13 rebounds and 5 assists in a shocking 99-87 upset victory. It was the first time the Americans lost a game in any age group in six years. The next day he dropped 18 and 12 against Italy in the championship game to capture the gold. It marked the first time ever that a Canadian men's basketball team won gold in international play in any age group. The historic feat sent R.J. into legend status back home. Last year's run also brought optimism to a country that hasn't qualified for the Olympics in men's basketball since 2000.
"It meant a lot for the country," R.J. says. "Canadians are starting to believe. The kids now say they want to get a gold medal and do the things we did. That makes me happy, that we were able to put on for our country.
"Five years from now, we'll have a strong group of guys for the Canadian National Team," he adds. "I think we could form a pretty good team. I feel like NBA players are going to have to get cut because there is going to be so many of us. We'll just see what the future holds."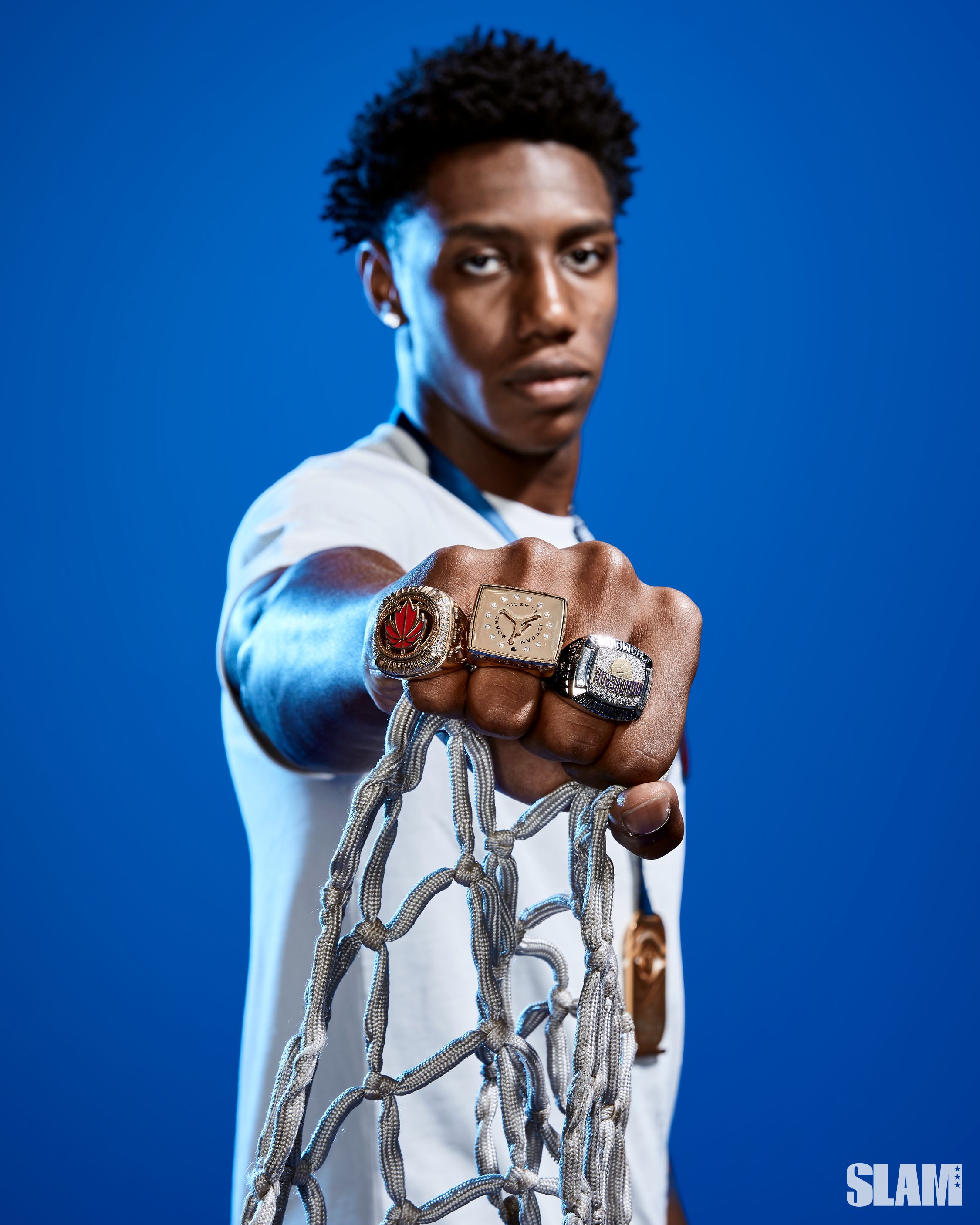 Beyond R.J., Canada is experiencing a basketball renaissance of its own. The country is expected to have a handful of players in the 2019 NBA Draft, with Barrett unanimously projected at No. 1. Aside from the volume of local players becoming high-profile recruits in the U.S., it's this new level of competitiveness, assertiveness and intensity that is separating this next crop of Canadians from the generations before it. Just ask Duke associate head coach Jon Scheyer, who witnessed it first hand this summer when R.J. arrived on campus.
"I remember one of the first workouts, [Director of Basketball Operations] Nolan Smith and I were working with him, and we said you have to score a certain amount of points without us getting a stop," Scheyer says. "And it was like a light switch turned on. He became a different person. Ever since then, when we do shooting drills or anything else, everything is either winning or losing. And if he loses, he's as pissed as could be. He's angry because he's that competitive. It's refreshing to have that."
Adds R.J., "In my family we're very competitive. Everyone is always trying to beat each other. Everyone is an athlete, so that's where I get all my competitive drive."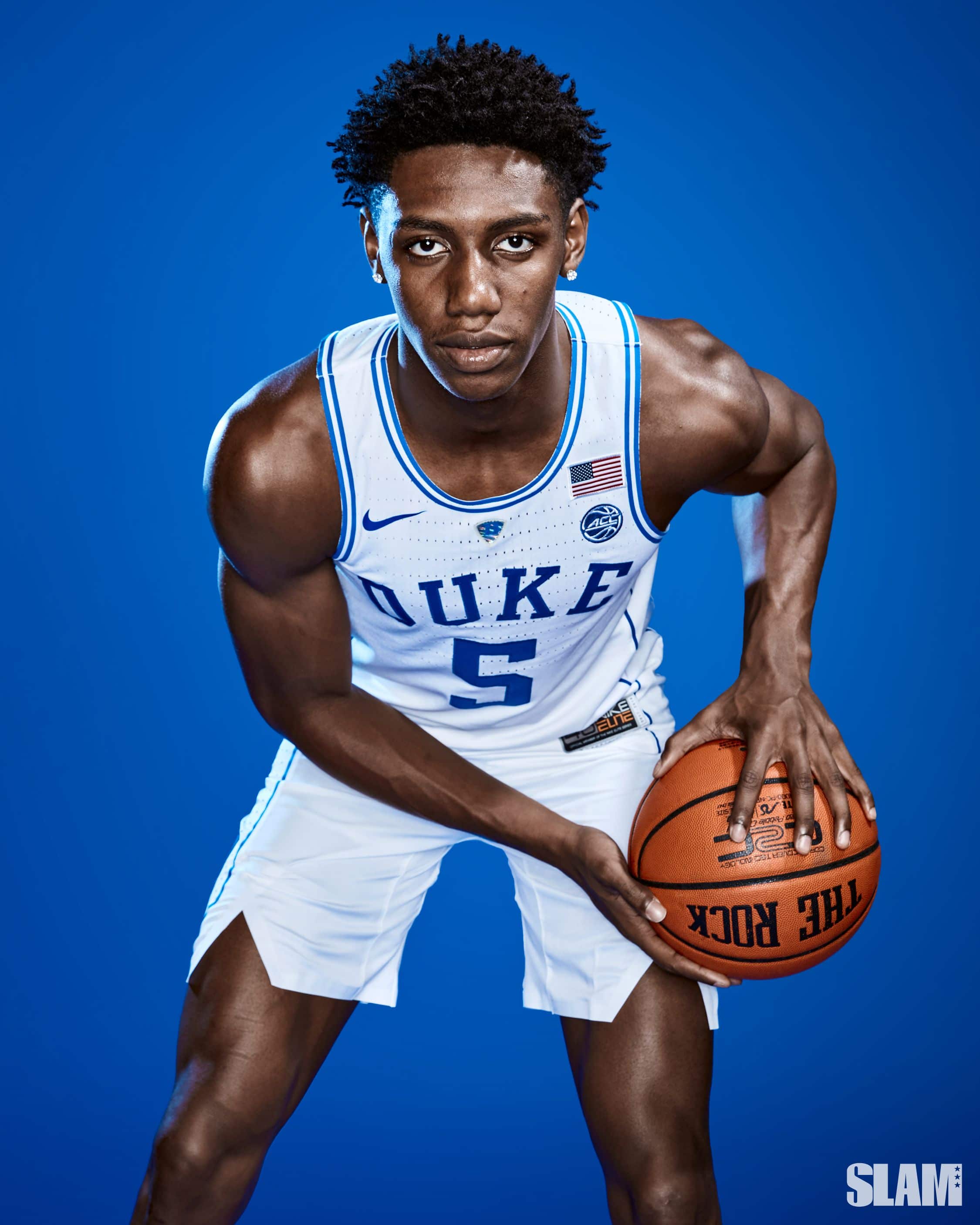 Duke's Canadian Tour went as expected. Sold-out crowds. Blow-out victories. R.J. led the team in scoring with 30.7 ppg and 5 apg. Zion Williamson wasn't far behind, averaging 29.7 points and 11.3 rebounds. The duo dominated that week's SportsCenter and gave a glimpse of what's expected this winter. R.J. already has all kinds of personal accomplishments on his résumé, and with high expectations bestowed upon him for the upcoming season, one would think he has a whole list ready to tackle. But that list is a little shorter than you might think.
"Winning that National Championship," R.J. says, naming the first and last goal for the coming six months. "That's the highest honor of being a collegiate athlete, so that's all I want."
—
Franklyn Calle is an Associate Editor at SLAM. Follow him on Twitter @FrankieC7. 
Portraits by John Kealey.