Sonia Citron was named the New York Gatorade Player of the Year this season, but she doesn't like to think about it like that. She was the MVP in the Section 1 Class AA tournament, but that's not her focus. Her Ursuline Koalas won the golden ball for the first time in 17 years, and that matters more.
With the ball in her hand and "IT'S OUR TIME" written on her forearm, Citron slides with a spring in her step. Her jumper, coupled with her long arms, dumbfounds opposing defenses on the perimeter. When she drives into the lane, spins and leaps to the side of the backboard with one hand, it usually ends with the ball hitting nothing but net.
She's intense but kind on the court. She's always the first person to pick up a teammate from the ground.
On a 70-degree day in early May surrounded by her garage and golden retriever, Citron discusses her whirlwind week. Just six days earlier, Citron announced her commitment to Notre Dame, joining first-year head coach Niele Ivey and USA Basketball teammate Olivia Miles. She didn't expect to commit when she did, but the unforeseen retirement of legendary coach Muffet McGraw only expedited the process.
Hours before McGraw's announcement, Citron received a text from the Fighting Irish's coach of 33 years. She wrote to Citron that although she'd be retiring, "The Irish still have a place for you." Still absorbed in shock, Citron received a text from McGraw's successor Ivey that same day. They spoke the following day, and the #IveyEffect (coined by Notre Dame alumna and current Indiana Fever forward Natalie Achonwa) had taken hold.
From one discussion, Citron could sense that Ivey would root for her, support her and make her a better player. "I wanted her to be my coach," she says. "It's just her passion, the way she talks to you. I felt like I could trust her as soon as I started talking to her. And obviously you want someone as your coach who you can put your full trust in and someone you know that's going to give you 100 percent."
Before making her decision, Citron was between the Fighting Irish and Tara VanDerveer's Stanford Cardinal. Both schools fulfilled similar criteria in that they are elite on the court and in the classroom. But with a three-hour time difference and a Pac-12 schedule that would limit her family's opportunity to take in as many of her games as possible, Citron chose the Irish. 
While Citron's father, William, hooped at Bradley and introduced her to the game she would grow to love, Sonia was initially a soccer player.
The Scarsdale, NY, native grew up playing soccer and basketball in her backyard and in her driveway with her older brother Will and her cousins. She was the youngest and the only girl, but for Citron, that was no problem.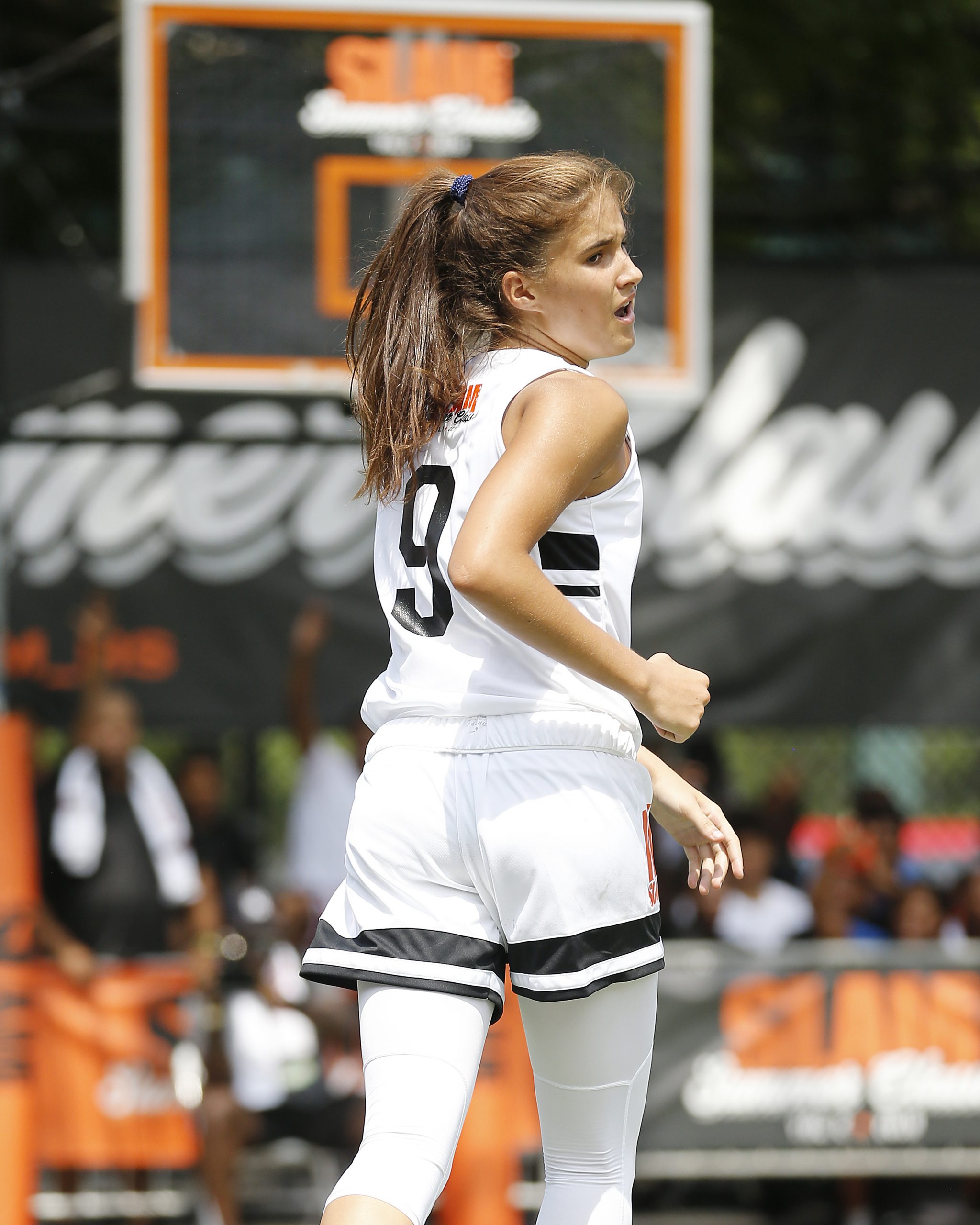 "We are both super competitive," says Will, who currently plays soccer at Cornell. "I never want to lose. I would never take it easy on her. So it's just crazy the fact that she's able to have extremely good games and beat me now."
When Citron hit eighth grade and began growing into her long 6-1 frame, she made the switch from soccer to basketball. But she has no regrets starting basketball a bit later than most. Her agile footwork has become her modus operandi. Her lateral movements on both offense and defense only add to her loaded arsenal. Her ability to protect the paint and intercept passing lanes allowed her to thrive in Chile, where she helped Team USA defeat Canada, 87-37, at the FIBA Americas U16 Championship last summer.
Citron values defense just as much, if not more, than her offense. With her size and ability to shoot along the perimeter, drive and absorb contact, post-up and run the floor in transition, she's a wing who contributes everywhere on the floor. Her brand of basketball proved to be invaluable in the 2020 WNBA Draft, where five of the first-round picks were 6-foot-and-over wings who can defend multiple positions.
Citron says she models her game off of 2020's No. 1 pick Sabrina Ionescu, but there's another No. 1 pick within the Notre Dame family who she's looked up to for years. While watching Notre Dame's NCAA Tournament romps in 2018 and 2019, Citron's eyes would always be on Jackie Young, her favorite player on those squads.
"She kind of just did everything. She transitioned well, ran the court which is something I love to do," Citron says of Young. "And then she attacked the rim. She was a great driver but also pulled off and could shoot it. I'd like to model my game after hers."
Citron appreciates Young's quiet confidence and how she's a bit more under the radar in discussions regarding Notre Dame greats. "She was underrated. They didn't talk about her a lot, but she just always did work so hard and gave her 100 percent and, just did all she could for Notre Dame," Citron says.
Also, it didn't matter to Citron that Stanford's program is currently in a greater position to be contending. Notre Dame's program endured a steep decline following their loss of five starters in 2019, including Young. But the 16-year-old Citron also wanted a challenge. She prefers working for everything and doesn't "want anything to be easier or given" to her. "It just makes things all the more fun," she says.
Citron's relationship with basketball has been symbiotic. She's given it the world, but what has it given her? "That's one big thing with basketball that's helped her, she's gotten extremely confident," her brother says. "When it comes down to the last shot, all she wants to be is that one in those really good game clutch situations."
What should Notre Dame fans expect from Citron in fall of 2021? For starters, they can anticipate that she'll give her team, Ivey and the fans 100 percent of her energy. As to where she gets it from, Citron tells SLAM that she plays Kanye West's "All of the Lights" before every game. It readies her. It's a collaborative track with 15 different voices. It shouldn't be a shock then that it's her song.
—
Jackie Powell is a contributor to SLAM. Follow her on Twitter @ClassicJpow.
Photos via Getty Images