It's been said by many people: Art should be dangerous.
Dangerous in a manner that it should invoke and inspire you to re-imagine an established world.
To challenge conventional thought.
To re-envision what generations have developed in order to create something new.
The same should be said for coaching.
For years, there has been a set of standardized systems in basketball. A form of coaching that damn near secured wins. A blueprint for winning a national championship at the collegiate level. But there comes a time when evolution is not only needed but craved. A time when a world moving on autopilot requires a shock to its system, like a lightning bolt shooting down from the heavens. A necessity for a movement toward the future.
Dawn Staley is that movement.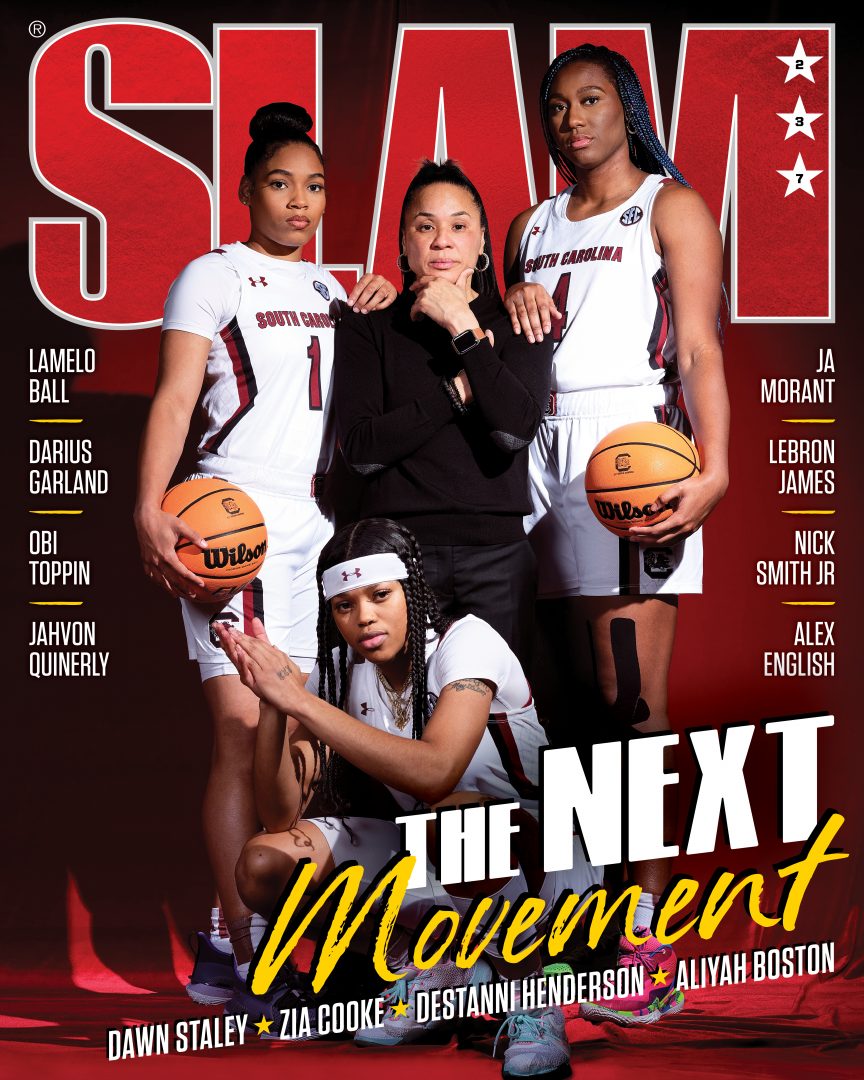 SLAM 237 featuring Dawn Staley, Aliyah Boston, Zia Cooke, Destanni Henderson Cover SLAM 237 is available now!
The first coach to challenge the norms set forth by the UConns, Notre Dames and Tennessees of the world. The first to play in the WNBA and coach in the NCAA at the same time. The first Black female head coach to raise the national championship trophy over her head in nearly 20 years.
But it wasn't always back-to-back No. 1 recruiting classes in Columbia. The roster wasn't always stacked with WNBA talent like Aliyah Boston, Zia Cooke and Destanni Henderson. It wasn't always easy.
With change comes fear. Fear of the unknown. Trepidation of the uncomfortable feeling that accompanies growth. But for Staley, the concept of a challenge is what has fueled the South Carolina women's basketball head coach from the very beginning.
"I grew up in North Philly, in the housing projects, the Raymond Rosen housing projects. I'm the youngest of five. So, every day was a challenge," Dawn shares with SLAM.
Even when speaking of her early years and the struggles she faced, she speaks with such pride and ease. Those moments made her the player, coach and overall person she is today.
A three-time Olympic gold medalist, a six-time WNBA All-Star, and most recently, an NCAA national champion as a coach. This was the path meant for her, even if she didn't always see it herself.
"Obviously, someone had to plant the seed, because I never wanted to be a coach. And it's funny how this game finds you in the likeliest or unlikeliest ways," Staley says.
It was in 2000 when Dawn was gearing up for her second Olympics with Team USA. It ultimately became the year when her life would change.
With a job playing in the WNBA, she had no interest in thinking about any other opportunities, until Temple's then-athletic director Dave O'Brien came calling.
"The AD posed two questions. One was, Can you lead? Can I lead? I'm the captain on every team that I played on, I'm a point guard. The position demands that you lead. And then I answered the question. I know my facial expression showed that that was not a good question. All questions are good, but that wasn't a good question. And then he asked me the next question, which was, Can you turn Temple's women's basketball program around? And that was the aha moment, where he challenged me. I never looked at coaching as a challenge, and if I did, I probably would've been coaching a lot sooner than what I had done."
She went on to do exactly what she promised and led Temple to four A-10 conference championships and a 172–80 record—the program's best overall record—all while finishing out her final playing years in the WNBA.
"Coaching is like…No day is the same. I like that, but I also like being a dream merchant for young people," she says. "My cup runneth over when it comes to being successful and what the game has given to me. I want people to feel it."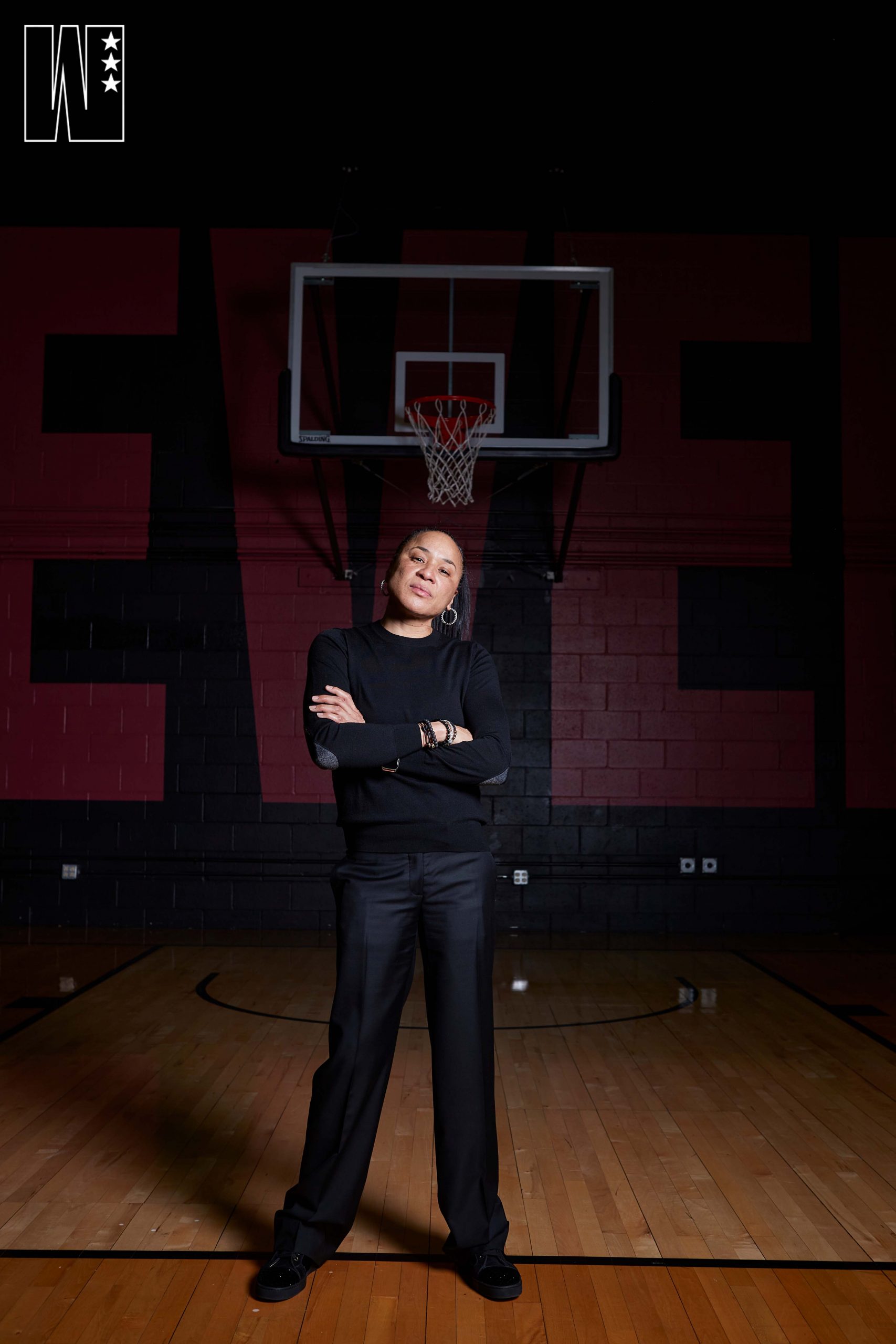 As I listen to Dawn speak, I don't feel like I'm on set in a gym with one of the greatest figures this game has ever seen, but rather like I'm in her living room just chopping it up, talking about life, laughing at the good old days and just soaking up every nugget of advice from lessons learned. It's easy to see why she resonates so deeply with players. Sometimes it feels like she's less of a coach and more of your auntie, there to guide you through the ebbs and flows of life. That connection to her players at Temple and the proof that she can turn a program around is what landed her at South Carolina.
It was 2008, and practically no one in women's basketball even thought of the Gamecocks program as a contender. Wasn't even an afterthought.
Dawn knew what she was up against, but with that Philly toughness stored deep within the core of her soul, it wasn't an obstacle she was going to shy away from.
"When I first took the job here at South Carolina, I wanted to change the culture. I wanted to make sure that we're all cut from the same cloth. I work hard, everybody around me works hard. So, we wanted that reciprocated, with everybody that has a hand in our program and the players are a big part of it."
She was meticulous and hungry to make it happen, but most of all, she treated herself and those around her with compassion, understanding that she had to coach each team and each player differently over the years. Most importantly, she had to have patience as she took the time needed to begin building (and recruiting) the team she wanted in order to become one of the best in the country.
But she did it her way.
It was just six years later that she went on to lead South Carolina to the program's first Final Four appearance and its first No. 1 overall ranking.
Then the movement came to fruition.
Dawn had one of the best college basketball teams assembled, with what would eventually be four WNBA lottery picks. The roster was unbelievably stacked with star A'ja Wilson, Kaela Davis, Allisha Gray and Alaina Coates, not to mention future WNBA draft picks in freshmen Kiki Herbert-Harrigan and Ty Harris.
It was the culmination of what Dawn had worked years toward. A vision finally realized.
"[The year] 2017 was pretty special for a lot of reasons," Dawn recalls.
She would go on to lead the Gamecocks to their first-ever national title in their first-ever national championship game appearance.
"Selfishly, it was one of the goals I set for myself in the projects in North Philly because I only saw women play on TV in two events. One was a national championship game, and then the other one was the Olympic Games. Those were the two things that kept me just going. I got the gold medal, several gold medals, but I never got the national championship. When I got that, I selfishly loved it and then I switched, and I just put it outward."
That moment wasn't just for her.
It was for the women who played for her all those early years at Temple. It was for the residents of the Raymond Rosen housing projects. It was for everyone in her life who helped her get to that historic moment.
In The Last Dance, Michael Jordan said that all it took was "one little match to start the whole fire" when speaking on the greatness he achieved with the Bulls. Dawn Staley was that match in women's college basketball. Winning that title changed everything.
Now she has one of the toughest rosters in the country. For starters, there's National Player of the Year favorite Aliyah Boston, who recently set the record for most consecutive double-doubles in the SEC. Then there's Ohio-made superstar Zia Cooke, whom the world remembers for dropping a defender and pointing after it happened. And Destanni Henderson, a senior who made her name known in last year's NCAA tournament and now is a top WNBA prospect.
"I got to keep it honest. I just fell in love with Coach, as far as how real she was with me. I'll never forget the first time I met her. I was super nervous," Cooke says.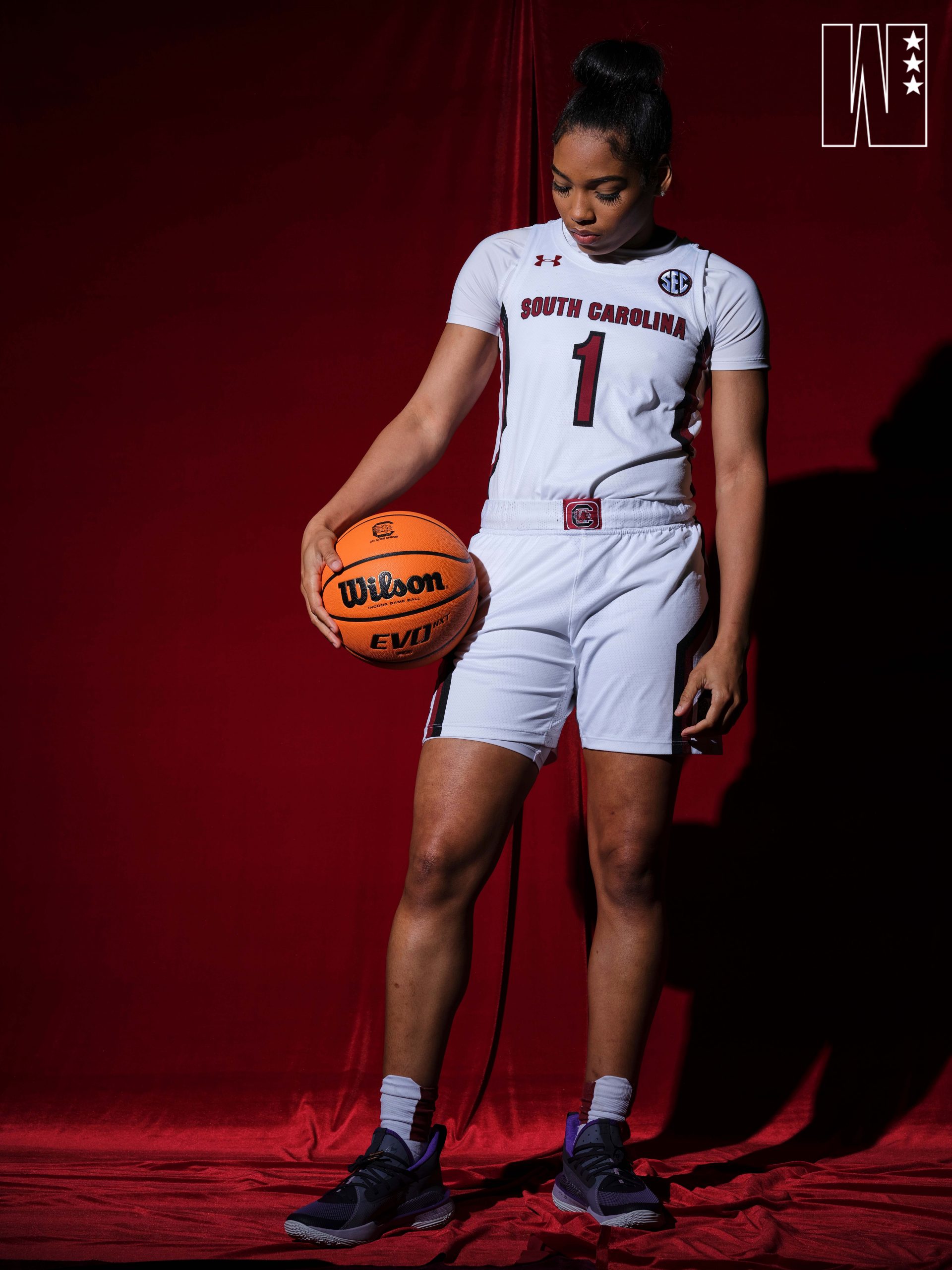 Staley has now had the top recruiting class two years in a row and a roster already in position to win another (and possibly multiple) national championships. She doesn't take any of it lightly, though.
"[Forward] Laeticia Amihere, her mom [is a] God-fearing faithful woman. She's got strength, and you could tell she's a people-feeler. I had, probably, several conversations with her on the phone, and you really can't get it until she's sitting across from you and she's talking to you. And then at the end of our visit with both of them, she came up to me and she was like, I give you my daughter. I'm from Philly—I'm hard, I'm tough—[but] that almost brought me to tears because I've never heard a mother say that," Dawn recalls with a softness in her voice.
That's how she approaches not only building a championship-contending team, but a family.
"Coach Staley has been through it all. She's experienced it," Boston shares. "She's someone that we look up to. She helps us with everything, on and off the court."
A coach who's been through it all is especially what this group has needed over the last few years. Aliyah, Zia and Destanni, like everyone else, had their world put on pause due to the COVID-19 pandemic. It was South Carolina's year to take back the throne, but they never got the chance.
"I feel like we're on track as a team. It was the first time I felt like our team actually had a bond, and then COVID happened," Henderson says. "We had to take a step back and reflect on life outside of basketball."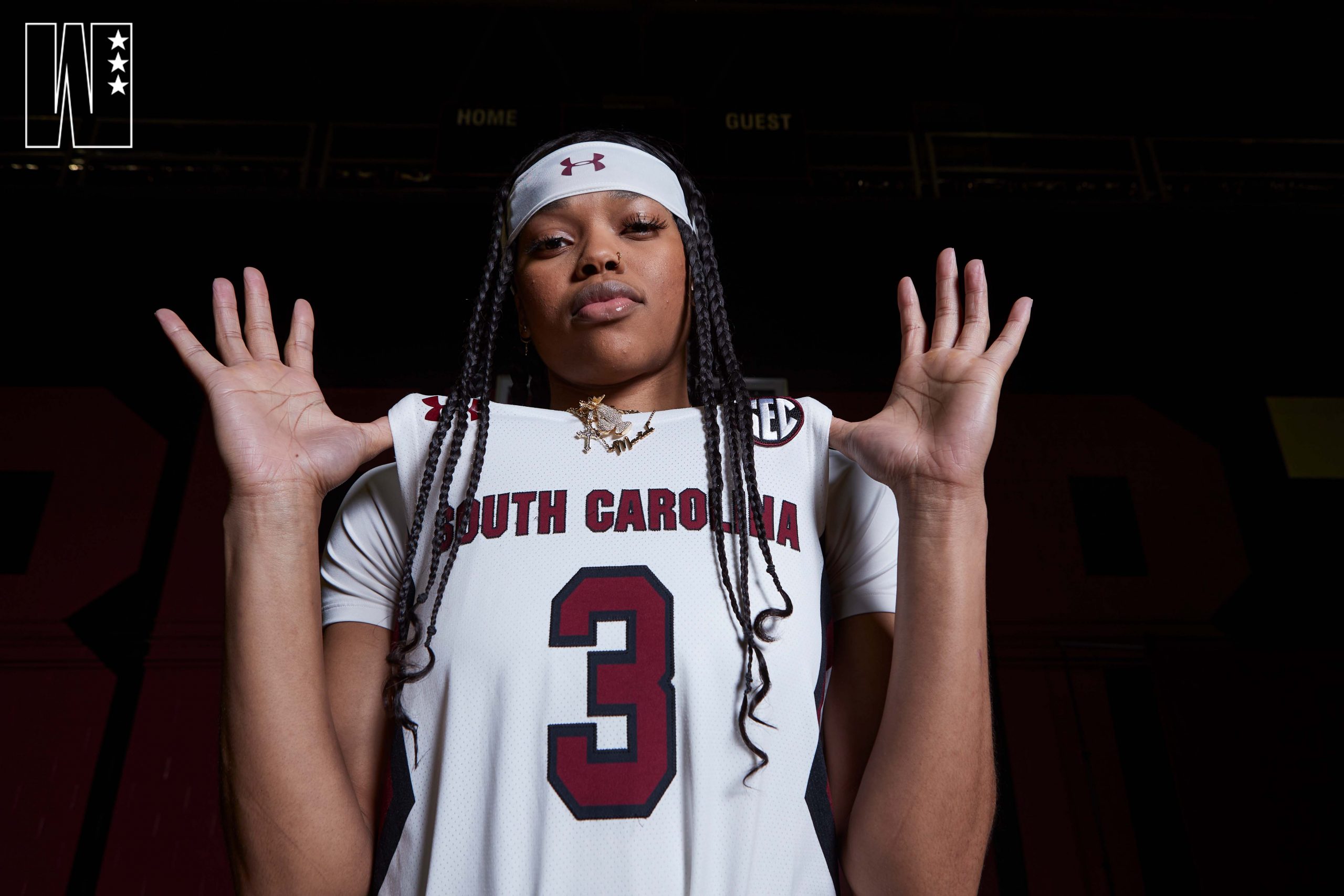 They picked up right where they left off last season, only for it to end in heartbreak. Down 1 to Stanford in the Final Four, Aliyah's final put-back effort fell just short. It was a moment of anguish for the then-sophomore, whose tears streamed down her face after leaving it all out on the floor. It's an image that mainstream media lazily uses over and over.
"After the game, we were sad, obviously. But when the coaches came in, Coach Staley told us that she was proud of us and that we worked hard and basically that we're going to use this to continue to fuel us. We didn't get what we wanted this year, but we still have another shot," Boston says.
Another shot is right. This year's South Carolina crew has steadily remained the No. 1 team in the country. As we walk into the practice facility to set up for our cover shoot, while practice begins to wind down, evidence of why the program has been at the top of the standings all season becomes quite obvious.
The gym is roaring as the Gamecocks scrimmage. You can hear every player (both on the sidelines and on the court) involved. They're fully coaching themselves. No one is needed to get on the players who are making mistakes or talking through plays; the players are doing that together, for each other.
"I think we're a lot more mature. I feel like our games have all matured in a way," Zia says.
It is truly the Dawn Staley effect. Her mantra is simple, and she holds herself to the same standard.
"You got to be vulnerable, you got to stand in your truth even when it doesn't make you look good. That's your truth," Coach says passionately. "Everybody doesn't live in their truth because everybody wants to paint a picture of being perfect. Hell, nobody's perfect. Nobody."
It's that openness that's allowed three of the best college basketball players right now to become the stars that they are. This resilient group has been through the ups and downs of everything and has now reached a point where they honestly play for each other more than themselves.
What does their living legend of a coach want to see at the end of this year, when it's all said and done?
"I want to turn Aliyah's frown upside down," Dawn says definitively.
Zia interjects after a long pause. "HELLO!!!"
Dawn continues: "Because that is something that media outlets use a lot. She's more than the frown.
"I want them to use the picture of her crying happy tears."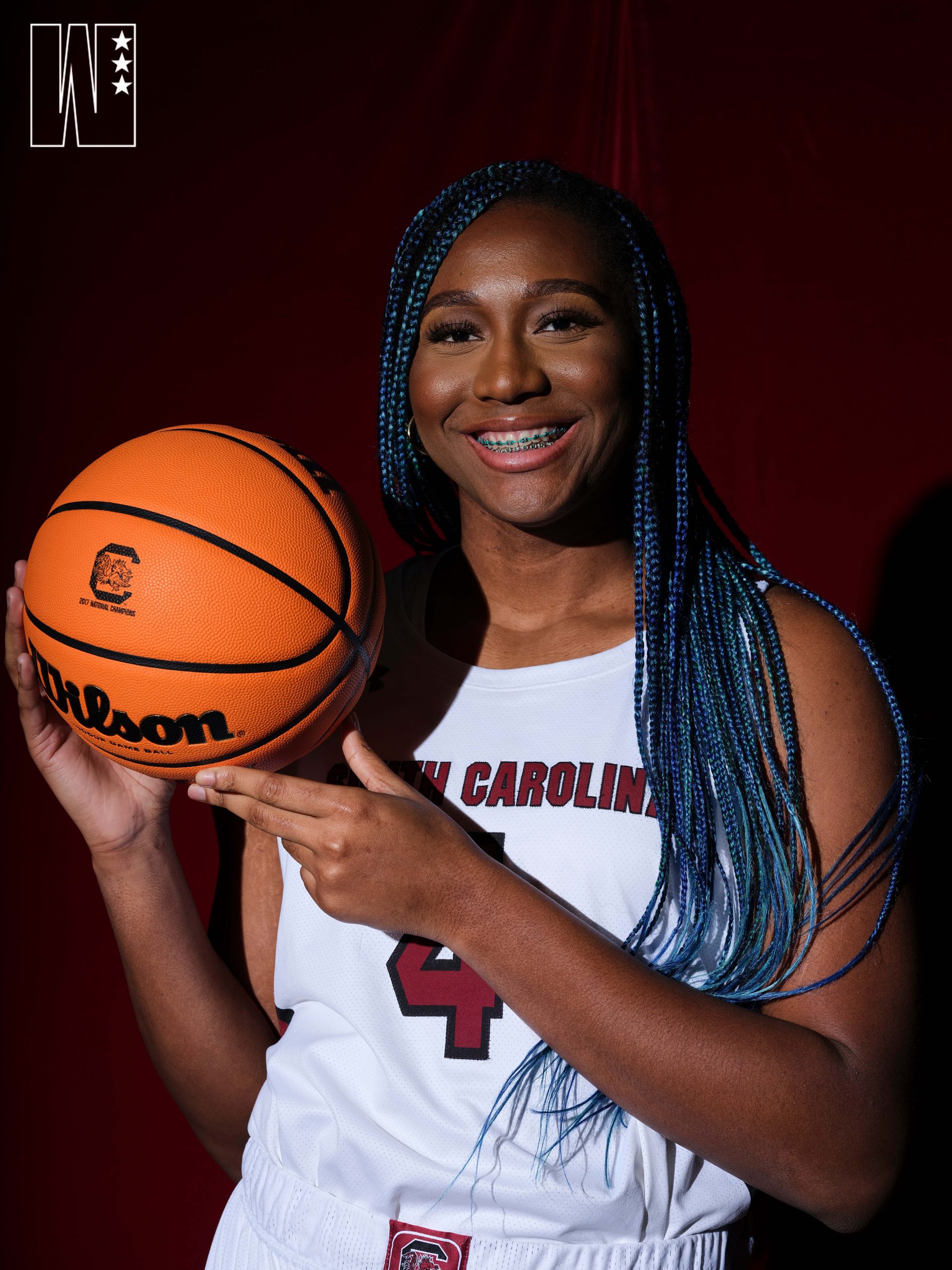 ---