How Liberty's Stefanie Dolson Found Joy as an LGBTQ+ Athlete—and is Channeling that into Her Game
This story appears in SLAM 239. Get your copy here.
It's 2:30 p.m. Pacific time and Stefanie Dolson just left practice in preparation for the Liberty's next game against the L.A. Sparks. There are an endless number of things she could do with her free time, going to the beach or shopping on Rodeo Drive, for starters. But the game against the Sparks, a third in the Western Conference as we went to press, is her top priority and requires all of her attention.
"I could easily go out, be in the sun for five, six hours, but I have a game tomorrow and I just feel like that comes with maturity and making mature decisions," says Dolson.
That's Dolson right there in a nutshell—a mature leader who is still trying to be herself at the same time. When it's grind time, Dolson is as sharp as ever, but she also understands the concept of fun.
"I just try to bring some type of personality, some type of fun, because at the end of the day, we're playing basketball, which is still a game, and I think a lot of people forget that. And, so, for me, I just try to bring that fun no matter where it is."
When she left the Chicago Sky after their 2021 WNBA title campaign, she had narrowed her choices down to the New York Liberty and Seattle Storm. A native of Slate Hill (NY), Dolson ultimately chose to come home to New York to a team trending upward.
"When I looked at the roster, it was just a really good young roster. And with Sabrina [Ionescu], Michaela [Onyenwere], DiDi [Richards], and then with Tash [Natasha Howard] being one of the vets, I just felt like it was a really great place for me to come and bring my veteran leadership," Dolson adds. "And I guess my experience from winning the championship would help as well."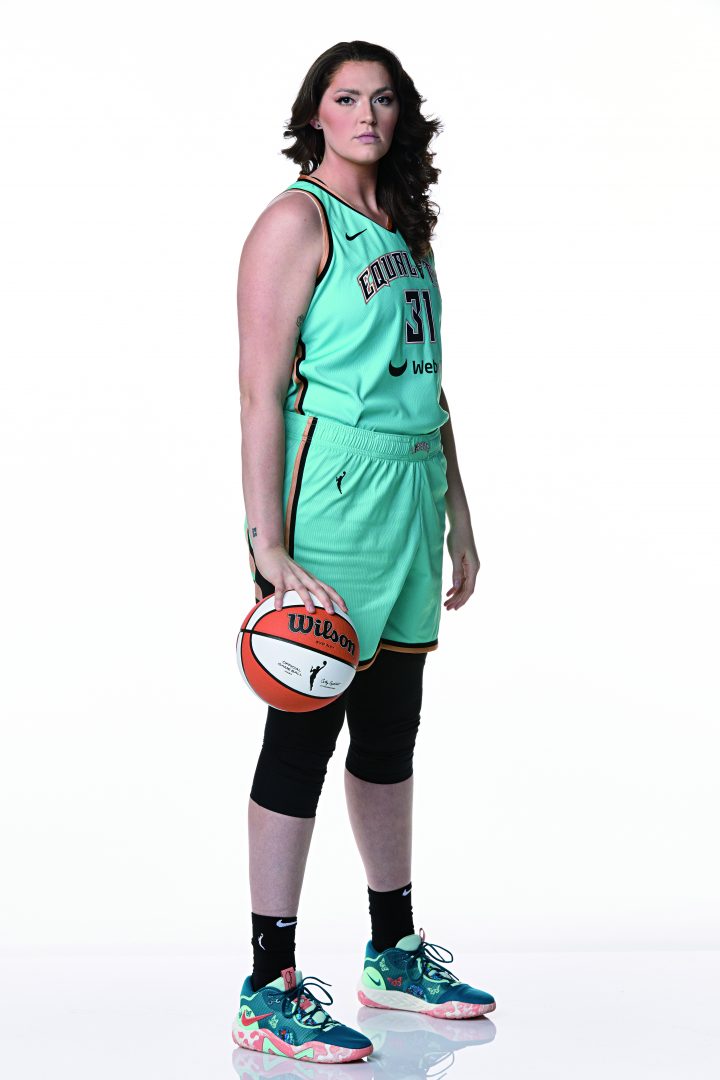 As Dolson embraces the challenge while now in her ninth season in the W, saying that her presence alone helps would be an understatement. Despite her slow start in May, Dolson and the Liberty went 7-3 in the month of June, with wins over Washington and Connecticut. She's currently averaging 7.9 points, 4.7 boards and 1 block per game, while shooting 51 percent from the field as a regular starter.
But her impact goes far beyond the actual on-court production. Dolson came out to the public in 2016 as a member of the LGBTQ+ community, telling ESPN she felt "called to lead an open life."
At one point, she had purple hair and would always mess around with her makeup. As she put it: "If they're going to stare, they might as well stare at something fun." That has brought Dolson tons of joy, in being who she is, which has made basketball an anomaly in some ways. She's made All-Star Games, won a title, proved everything she can on the floor, but her next challenge now comes in being a positive example to her peers and to those who admire her.
"I've taken a lot of joy from being a part of the LGBTQ+ community…I really feel like when I was at the Pride Parade, there was so much joy," Dolson says. "And that's just something I try to bring from my life and from that community onto the court with the game."
You can stare, comment, complain all you want, but Stefanie doesn't care. She's here to do a job but also have fun in her own way.
"I hope that any team that I leave, people when asked, they say that I was a really great teammate. That's something that I really hold special to my heart."
---
Photos Courtesy of Getty Images