WELCOME TO STORYTIME.
In this SLAM series, veteran/retired players share some of the best, funniest and most unforgettable stories from their careers.
—
Throughout an incredible basketball journey, guard Monta Ellis has broken records, put on legendary performances for historic teams, been a consistently unstoppable scorer, shared the court and gone head-to-head with future Hall of Famers and much, much more.
Ellis starred for the "We Believe" Warriors and reached the playoffs with every NBA franchise he suited up for (Golden State, Milwaukee, Dallas, Indiana). Over his 12 seasons in the League, he averaged 17.8 points, 4.6 assists, 3.5 rebounds and 1.7 steals. Monta dropped 40+ on nine different occasions, including a 48-point game against the Thunder in 2007—the same year he won the Most Improved Player award.
Here, Ellis tells the memorable stories from his career:
—
SLAM: Describe your greatest or proudest moment on a basketball court.
Monta Ellis: That's tough because I have a couple. I know, for one, my biggest thing was breaking the record when I was in high school to become the No. 1 scorer in JPS (Jackson Public Schools) and then I became No. 2 all time [in the state of Mississippi]. But I would have to say, man, my first game-winner in the NBA against the New Jersey Nets. The game was tight. I forgot who shot that ball in the corner, I think it was Vince Carter, and we ended up getting the rebound. Baron got the rebound and we thought Don Nelson was going to call a timeout, but he didn't. So Baron pushed the ball and I ran the wing and it was, like, a three-on-two. But he was more to the left side and J-Kidd had to [make the stop], so he had to play between me and Baron. He decided to stop Baron and Baron kicked me the ball, and I ended up shooting it and hitting the game-winner. That was the year that I won Most Improved. I would have to say that one right there.
SLAM: Is that a surreal experience? Growing up, I'm sure you acted out scenarios like that in the driveway. When it finally happens, does it live up to that hype?
ME: Yeah, man. I had done it numerous times even in high school. But it's different when you do it in front of 18-20,000 people. I was in the Bay Area. When I say those were the best fans I've ever been a part of, those were the best fans I've ever been a part of. For me to hit that shot in that building in front of those fans, it was crazy. That time went crazy. From then on, they embraced me. That was my moment right there.
SLAM: What's your best "We Believe" Warriors story?
ME: The one that people really don't talk about is, that year [2007], [head coach] Don Nelson even came out in the paper and wrote us off. He said we weren't going to make the playoffs, and we might as well start getting ready for next year and seeing what we could get in the Draft and whatnot. We had a lot of veteran guys on the team, and me being a young guy and hungry, we took that to heart. We all came together as a team then. I think we ended up winning 18 of the last 22 or something like that to end up getting into the playoffs as the 8-seed. With that run that we made, it was crazy.
We didn't like that [Don said that]. So we all came together as a team and we just went out there and played. Off the court, you weren't going to see one without seeing the other 12 or 13 guys. We go to dinner. Whatever we did, we were always together. It carried over to the basketball court. When we were on the basketball court, no matter if the times got tough or anything, we were always able to stay together. We had heated moments. We had heated situations. But nobody ever got personal with it. Nobody ever took it to heart. Everybody was like, Alright, we're just trying to get better. We saw that. We saw everybody getting better. We saw the team getting better. So we just stuck with it.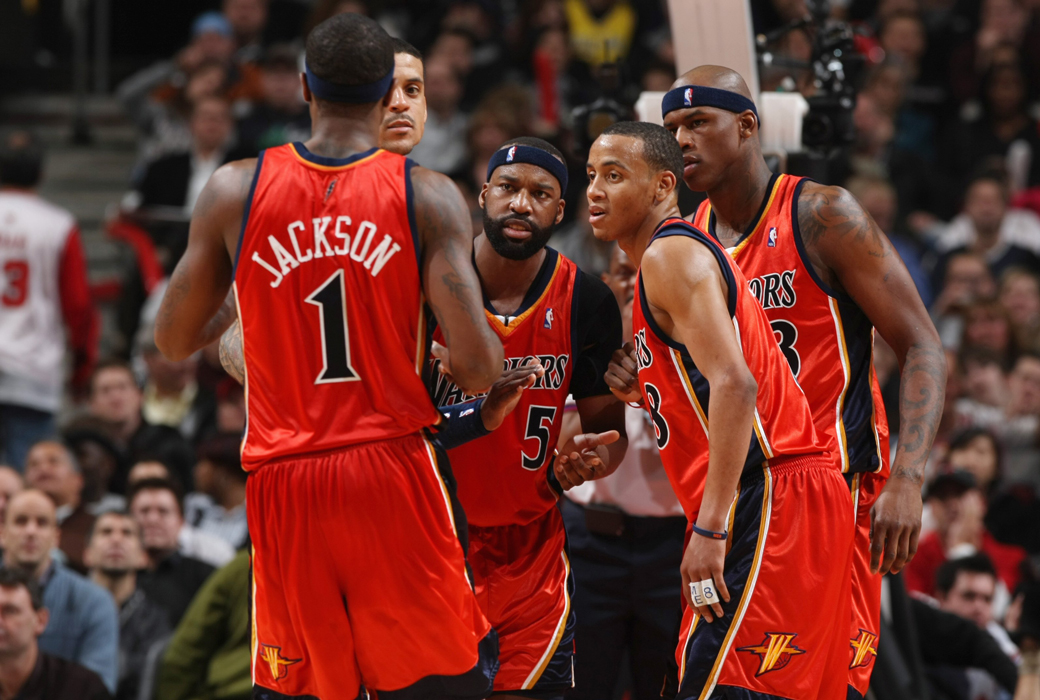 SLAM: Can you talk about that ensuing first-round series against Dallas, when you guys pulled off the upset?
ME: The thing was with that series, Don Nelson and Mark Cuban had a personal thing going on at the time. Don Nelson coached his ass off that game. He told us exactly what was going to happen. He told us every move that Dirk was going to make. He told us everything that Jason Terry was going to do. Everything. When we knew we had them was when we first came to Game 1 and they switched their lineup to try to match up with us. We knew we had them then. From there on, we just ran the table.
SLAM: Who was the funniest teammate you ever had?
ME: Baron Davis, by far. I'll tell you this, when it comes to BD, don't ever bet him to do anything. Don't ever dare him to do anything. Don't ever crank up an idea where you even think that it might cross his mind because he'll do it [laughs].
SLAM: Is there one thing you remember specifically that someone dared him to do?
ME: One day, we had a [nationally televised] game. We were on a run and everybody was talking about us or whatever. He knew the camera was going to be on. They had him put this outfit on—a cowboy outfit—with the cowboy hat, the boots, the belt, everything. They bet him to do it. Like, I bet you won't do this. They fixed the outfit up. It was crazy. I don't know when in the world anybody would've worn it. BD wore it.
SLAM: Who told him to wear it?
ME: Al [Harrington], Jack [Stephen Jackson], Matt [Barnes] and J-Rich.
SLAM: How did people react to it?
ME: We didn't do nothing but laugh. We were like, Man, he's crazy. It was one of those outfits. Like, man, ain't nobody supposed to come out of the house like that. He did that for a televised game.
SLAM: What's the best prank in the NBA you ever saw?
ME: When I came in, they just did the norm, like put popcorn in your car. One day, they got Ike Diogu. We got drafted the same time. I think J-Rich asked him to do something and he didn't do it, so he came out of practice and they had taken his rims off his truck, and they put his car on top of his rims. He came outside and he just had his car on top of his rims [laughs]. Those are the only pranks I ever saw. I ain't never seen anything beyond that. I've seen more of the popcorn than anything.
SLAM: What's the most unique pregame ritual you ever saw in the League?
ME: Now young guys do a lot of crazy stuff. When I came around, the only person that we said that had a crazy ritual was Ray Allen. He used to run miles and then he'd come out 3-4 hours before [the game]. And then Kobe, too. But other than that, on my team, I ain't never had a teammate do any crazy ritual.
SLAM: Did you have a specific ritual? 
ME: Nah, I mean, because sometimes I'd go out and warm up, sometimes I wouldn't. And then we had an extra gym, a practice facility, when I was in Dallas—I never went on the court then. I worked out in the back and then just went out and played.
SLAM: Stephen Curry has talked about an encouraging call he got from you when he was struggling during his second year in the League. What do you remember about that?
ME: I know what you're talking about. I had just got traded to Milwaukee. The fans were upset. Then they had this Chris Mullin night, where they retired the jersey or whatever, and they booed the owner. I think that kind of got to him because everybody was talking about me more than anything. A lot of people were saying they would've taken me over him. Being young, sometimes that'll get to you. And I understood it. So I just called him and told him, Don't worry about all of that, man. Just keep working hard. You're in a great situation, it's your team. There are going to be critics. You're going to have people that are going to say what they're going to want to say. Once you turn it around, I guarantee they are all going to be on your bandwagon. I just told him to keep working hard, man, and play basketball how he knows and stop overthinking it. Just play. As players, you get in that mode sometimes. I get that.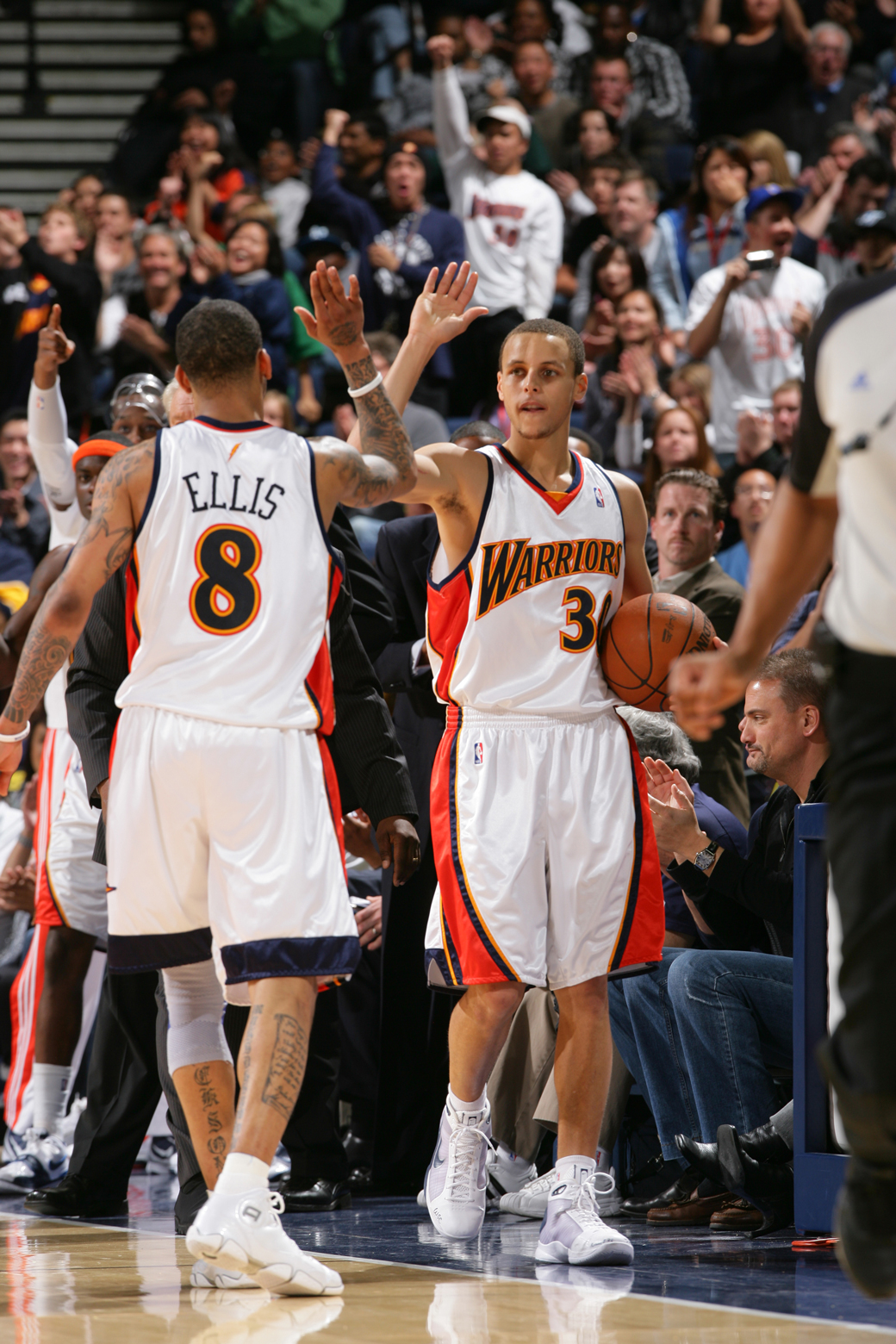 SLAM: Who would you say is the toughest player you ever faced one-on-one, either in a game or in practice?
ME: I used to have some good one-on-ones in practice with BD and all of those guys. In a game, it was Kobe. Oh my goodness. He hit crazy tough shots. He was always on the attack. He was in kill mode. If he ever laid back, don't ever get comfortable with it. It's like, he's just waiting his turn. If you say something crazy, if he feels any kind of excitement, he turns up. It was unbelievable to guard him.
SLAM: Was that kind of the rule—don't talk to Kobe on the court because that'll get him going?
ME: I mean, if you want to. You better be able to back it up.
SLAM: Do you remember any specific times you played against him?
ME: Oh, man. 2011. Me and him were going back and forth. He had like 30 something. I had like 40 something or close to that. They ended up winning because he hit a clutch shot at the end. And he hit it on me. There were two or three, maybe four possessions where he came down and scored, I came down and scored, he came back down and scored, I came back down and scored. We were going back and forth like that, for like 4-5 minutes straight.
—
Alex Squadron is an Associate Editor at SLAM. Follow him on Twitter @asquad510.
Photos via Getty.