This March, WSLAM will be highlighting different women around the game who are breaking barriers, elevating the game and continuing to empower others. This story is done in partnership with the Black Coaches Association.
Back in February, Texas A&M women's basketball player development and assistant recruiting coordinator Sydney Carter woke up to a flood of Twitter notifications and text message alerts from her family's group chat. The team had just faced off against Kentucky on February 6, and Carter, as she usually does, had posted a photo of her game day fit: a white turtleneck, shiny, vinyl pink pants and a pair of heels. Suddenly, everyone was talking about it. The photos had gone viral across social media platforms, from Twitter to Facebook. Her phone was full of alerts: some were of praise, from "yes queen! Link those pants" to "Black GROWN WOMAN Magic HUNI." But then there were the insecure haters, criticizing her outfit and sparking internet debates about what type of attire is deemed "appropriate" for a female coach. There were misogynistic comments like, why would you dress in pants that tight to coach?
When we caught up with Carter in March, she kept it real: she wasn't listening then, and still isn't listening to what the critics have to say.
"I just think that everybody has to understand somebody is always going to have something to say whether it's negative or positive," the former Atlanta Dream guard tells SLAM. "I think they picked the right one when they picked me because I know my worth and I'm very confident. People need to continue to remember that as women, we are strong individuals, and men and or anybody else are always going to feel like their opinion should matter. The people that are on the outside looking in, and people that haven't taken the time to actually look at the things that I have done in my basketball career and what I'm doing now in my coaching career but decided to criticize my outfits—at the end of the day, that's never going to matter to me because I don't do it for them."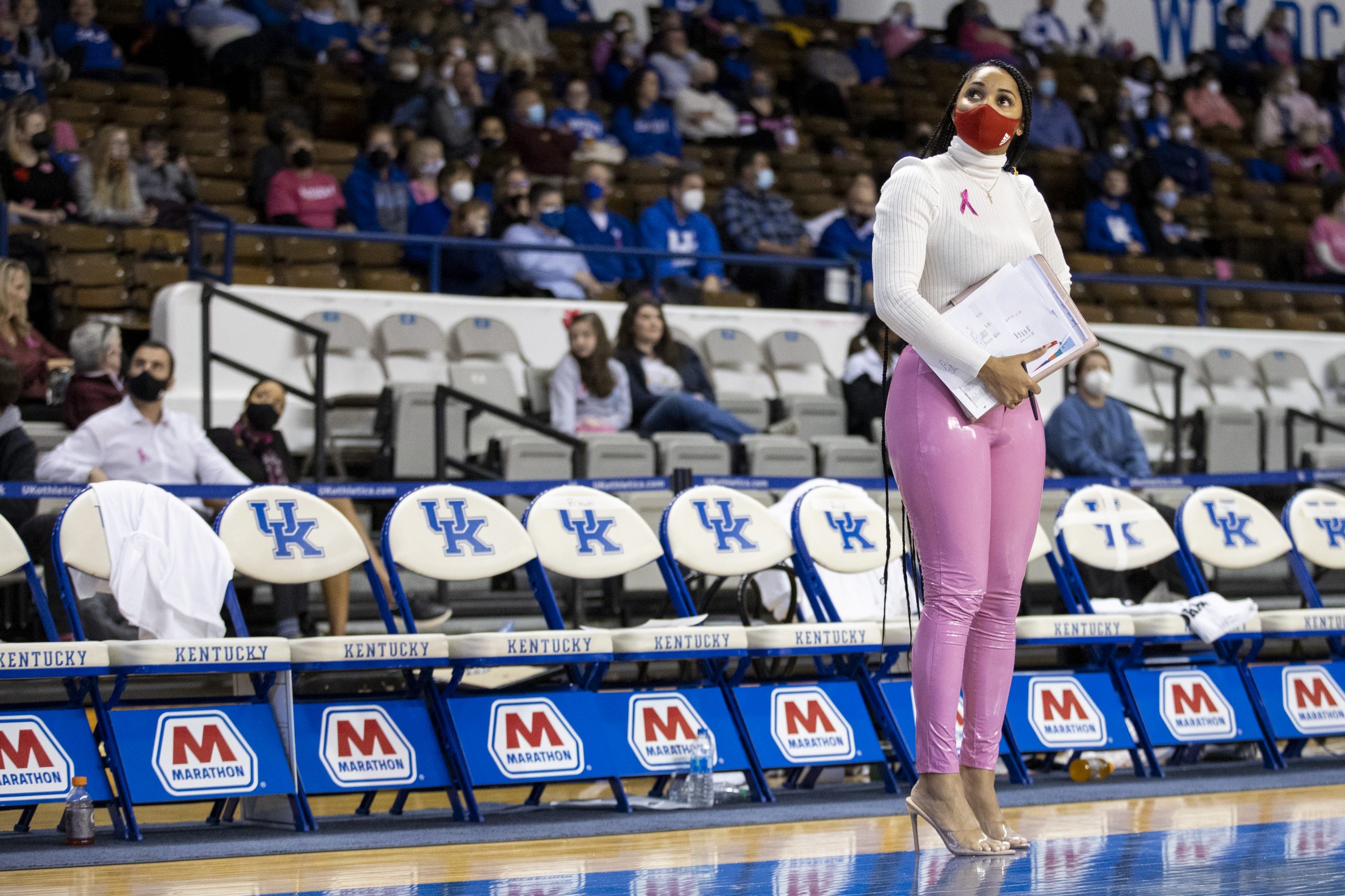 Carter's love for fashion stems back to her elementary school days. Her mom initially wanted her to go into modeling, and Carter, then in third grade, got her first pair of knee high boots to wear to the gig. She wore those boots every single day, so much so that her teachers ended up nicknaming her "boots."
"I didn't realize it then but that's where my mind goes back to when I [first] think about when I started to kind of get the sass and the confidence that I have," Carter says.
As she developed a love for the game, her passion for fashion never wavered: in fifth grade, Carter used to rock a pair of sky blue wedge heels to school—even on the blacktop, where she'd shoot hoops with the boys before classes started.
"Obviously, I don't recommend [that] these days, but I just think that I've always had a passion for them both. It just so happens [that] fashion and passion go hand in hand at the end of the day. This whole thing that has happened has never been about me trying to impress somebody or me trying to be put on the map. I never had people come to me giving their opinion about what I had on.
When she first got the job at Texas A&M, Carter started posting her gameday fits because she simply likes to look nice at work. One scroll through her feed will tell you that when it comes to style, Carter has always understood the assignment. It's never been about impressing, though, but about dressing for success.
"I just happen to have a different fashion sense [than] other people, and maybe I'm a little bit curvier than other people," she says. "I'm going to always put my best foot forward when I go to work—that's when I'm drawing up X's and O's to call up a play or whatever. Those two things are always gonna go hand-in-hand."
And while the world has had something to say about her choice of attire, Carter's resume speaks for itself. Since joining her former team as a video coordinator in 2020, and then promoted to a recruiting coordinator last year. The former Aggies guard helped lead her team to a Big 12 Tournament Championship in 2010, and then, as a junior, all the way to an NCAA Championship in 2011. Following her four-year college career, Carter was then drafted with the 27th overall pick in the 2012 WNBA Draft by the Chicago Sky. She suited up in the W for four years, including stints with the Connecticut Sun, Indiana Fever and the Atlanta Dream, and also had a seven-year career playing overseas in Latvia and Israel, where she was a three-time Latvian/Estonian Champion in 2014, 2016 and 2017, as well as an Eastern European League champ in 2016.
But Carter then suffered a meniscus tear that marked the end of her playing days. While making peace with the decision to part ways with playing hoops was difficult, she has gracefully eased into her new role at Texas A&M.
"I think coming back here and starting my coaching career back at A&M just made it easier because I was familiar with the people that were here," Carter says. "I had been around them for a year before I started working here, like rehabbing and everything, so the transition from just retiring to getting into the real world was pretty easy. But then once I got into a job where I hadn't necessarily done it before, [that] had its challenges.
"This is like a 24-hour thing where you have to get these kids ready for real-life after this as well. You're on call 24 hours, seven days a week—that was the biggest change for me, but it hasn't been tough."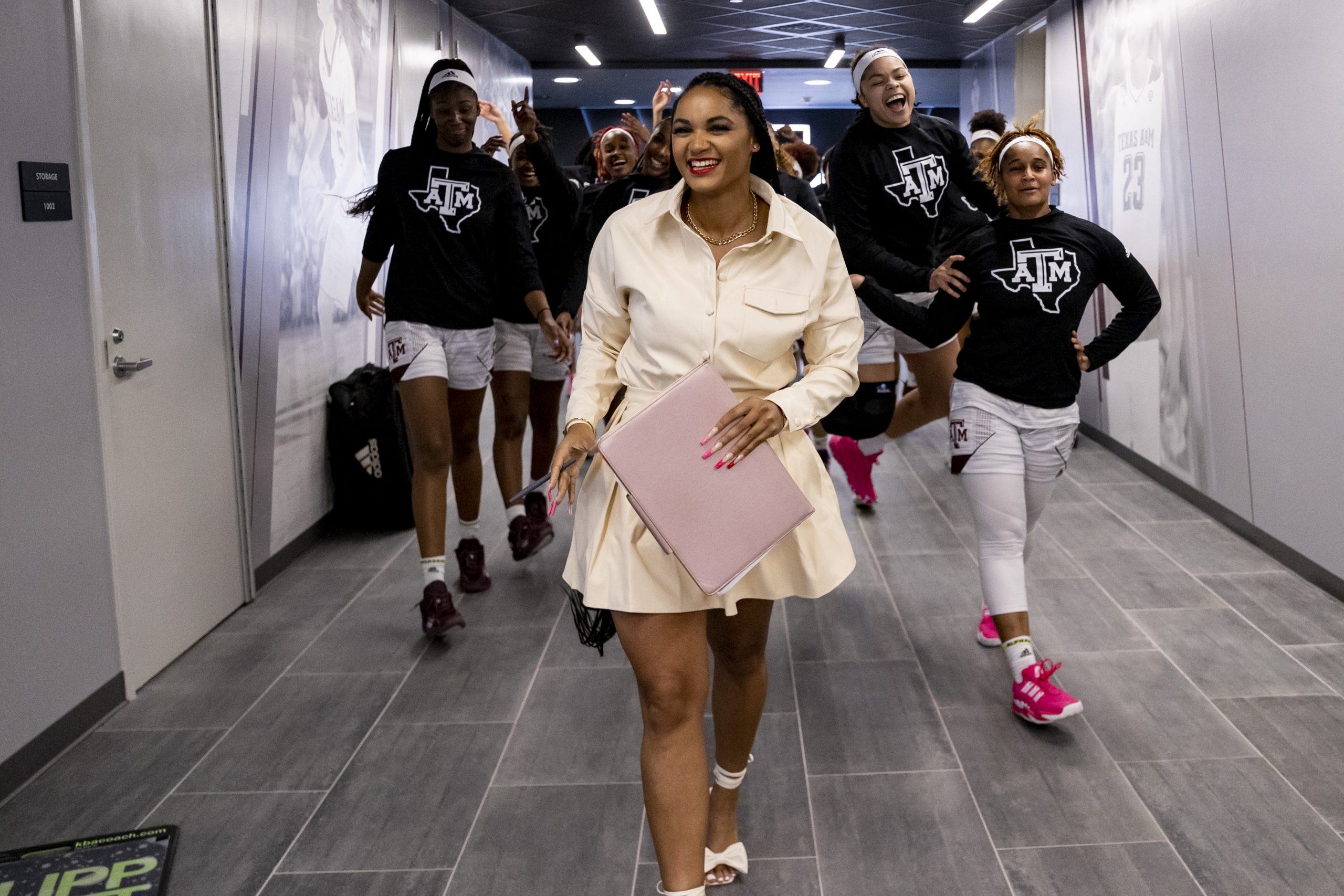 After posting a 14-15 record this season, the Aggies' loss to Vanderbilt in the SEC Tournament brought an overflow of emotions from Carter and the team. Now, she's continuing to self-evaluate and ask herself how she can be better for not only herself but her team as well to ensure that better results are on the horizon.
"I'm competitive, I wanted to win," Carter says. "So, it was tough for me, anytime we lose. I'm losing sleep sometimes to try to figure out how I can be better for the next game or the next season or the next day, so that I can continue to help who I'm around."
She aspires to one day help lead the program as a coach and gradually climb her way up the ladder.
"My goal is to have that full title of recruiting coordinator and assistant coach because right now I'm doing player development as assistant recruiting coordinator. So, I really want to have those actual responsibilities instead of kind of just aiding other people. That's definitely in my plans. And when I'm thinking big, big picture, in a perfect world, I would later on in my career be head coach at A&M because, you know, my story will come full circle. So that's the main goal."
As Carter continues to climb that ladder in her coaching career, she also wants to give flowers to all women coaches around the game, especially those breaking barriers and entering into leadership roles, whether it's coaching at the collegiate level or applying for head coaching positions within the NBA.
"The SEC has five women that are head coaches," Carter says. "You're starting to see women actually in these positions lead and showcase the types of skills that we have [and] I just think it's important to celebrate women because we are amazing at the end of the day, and there are so many different things that we can do."
"It's important to keep highlighting women because if we do, we're going to continue to see women in these leadership roles. We're not scared anymore to put ourselves out there because people are honestly and actually paying attention to and seeing what we're worth."
All the while, Carter's resilience and confidence is inspiring the next generation. Last month, she even posted a photo of a young girl dressed up as her—in shiny pink pants—while holding a sign that read, "I am Coach Carter."
"Representation Matters. I am Rose!" Carter wrote in her caption.
"I think, you know, just anybody that's looking at this or that has been inspired by my story just needs to continue to understand that you have to be happy with yourself at the end of the day. And if you're happy with yourself, put your pumps on, go to work, and walk in it."
---
SLAM has partnered with the Black Coaches Association on a content series that will spotlight Black coaches, coordinators and more from every level. To learn more about the past and present of the BCA, and to register as a member of the BCA, click here.
Photos courtesy of Texas A&M Athletics.