As Tyrrell Winston held an authentic, signed basketball from the great Michael Jordan, he was nervous for what awaited him next. He'd spent a lot of bread on this piece of sports memorabilia, which he purchased from the Upper Deck website, but it wasn't for his own enjoyment or clout. The contemporary artist was working on a piece for his Anatomy series, titled "Knock Knock," in which he explored the correlation between signatures and one's obsession with celebrity.
With a silver sharpie in hand, he began the process of "touching immortality." He double checked he was about to spell his own name right and then added his signature underneath Jordan's. A bold move.
Haters would say that he had ruined the basketball, but this was more so a statement piece for him set with intention. Winston was reimagining what it meant to idolize a legend, to respect all that he's done for the game, while knowing that he, himself, has what it takes to succeed.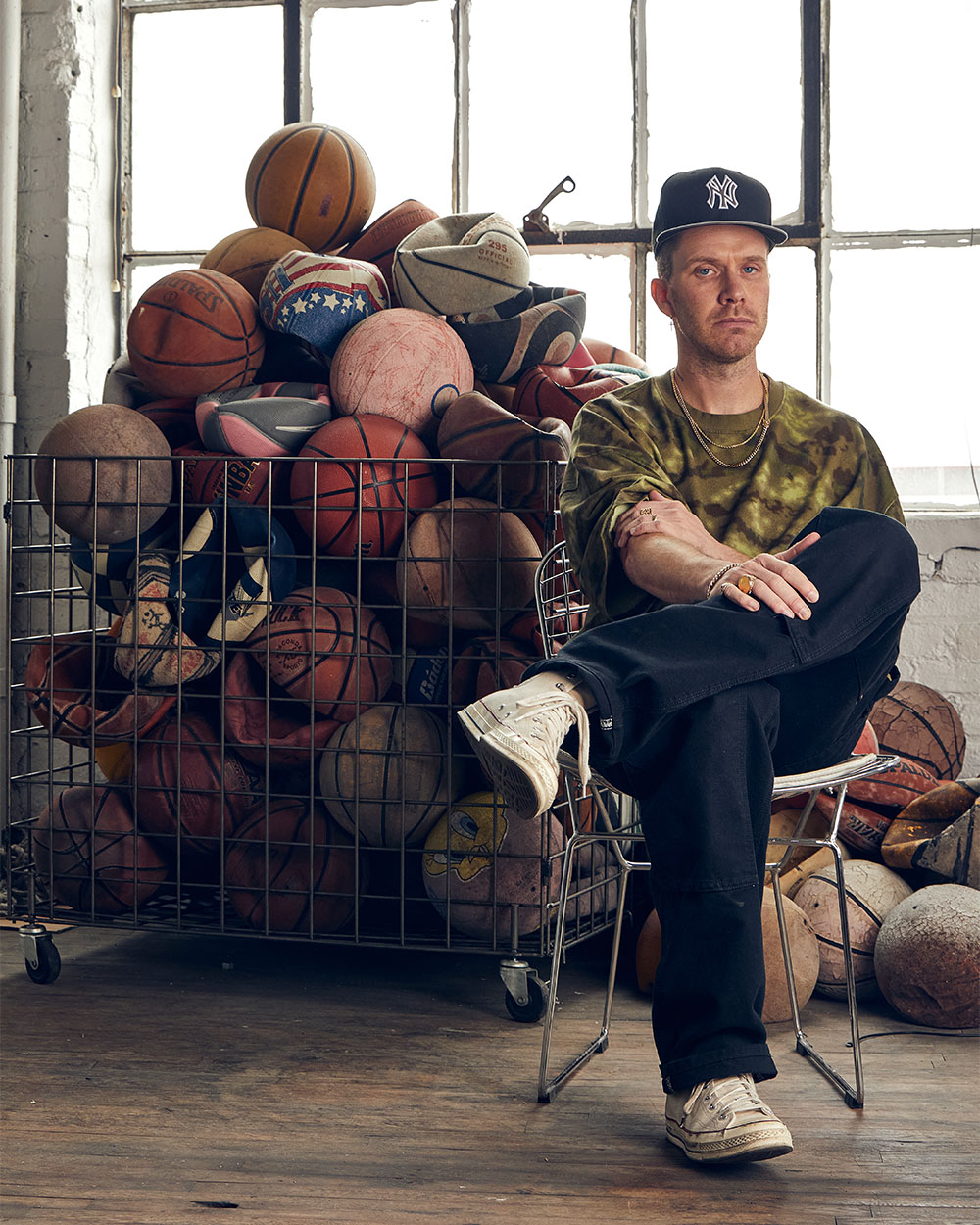 "As hard as it probably is for some people to understand it is an image, it is out of appreciation for [Jordan]," Winston said via FaceTime in October, calling from his studio that resides on the border of Bushwick and Maspeth. "I grew up collecting basketball cards, going to autograph signings. The idea 20 years ago of someone handing me a Michael Jordan basketball and then me thinking, 'Well, yeah, then you put your name on it,' that's just madness, that's just crazy. I love the reaction that some people are like, 'Well, you just ruined that ball' and it's just like, well, we'll see about that."
Winston, who grew up in California but has lived in New York City for the past 15 years, didn't go to art school and doesn't have an MFA in art history or contemporary art. Yet, through hustle and innate curiosity, his work has garnered the attention of many and has been featured in galleries across the country and Europe. His work has been included in shoots with Adidas and Pharrell as well as Louis Vouitton and the NBA.
After graduating from Wagner College, having studied art administration, Winston wanted to "make a lot of money" to pay off college debt but struggled to find a job after the housing market crashed. Frustrated, he felt like the world "owed" him something and as he walked to job interviews, he found himself noticing bits of paper along the streets on the ground. This became a catalyst for his own artistic medium, taking what others discard or scorn — trash, cigarettes, drug paraphernalia — and bringing them to light in his collages.
Yet, as Winston recalled, looking at the ground all the time got hella depressing and as he was sweeping cigs off the ground around the Marcy Houses, he heard a few kids on the basketball court complaining about the broken basketball nets. As a hoops fan, he understood their pain.
"I hated playing on broken basketball nets my whole life," he said. "You don't get to call swoosh, you know?"
So he went out and bought 10 basketball nets from Modell's and replaced the broken basketball nets with new ones. He used the discarded nets in pieces like, "Better On The Nose Than in The Eye," which exists as an act of exchanging old and new.
"That really was the snowball that created the avalanche in terms of what my work is today."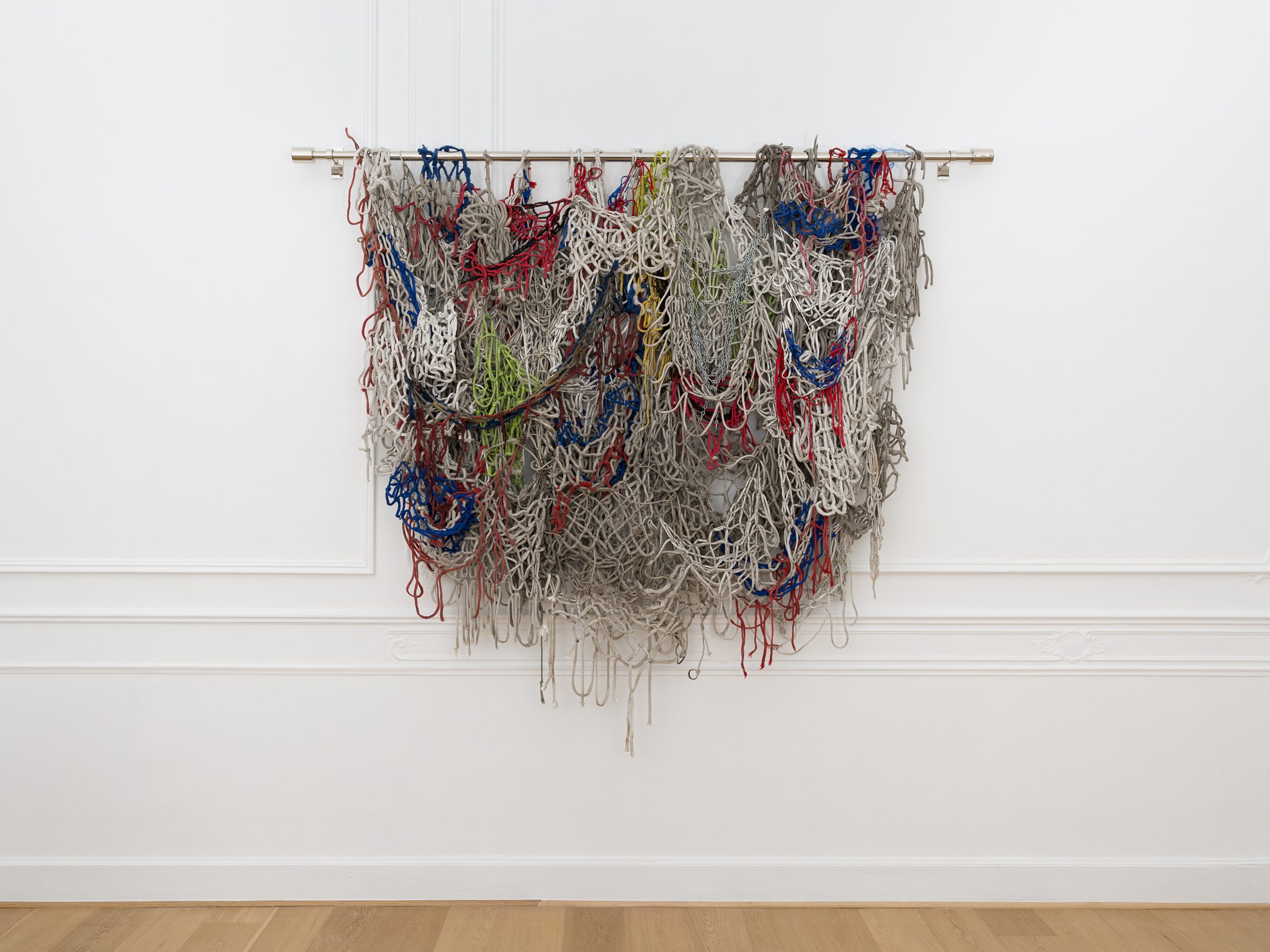 Basketballs that had been left by their lonesome on empty courts around the city also caught his eye, as if stories and hoop dreams were scuffled onto the worn-out leather. He intentionally assembles them into neat lines and "X" shapes, like beanstalks, he explained, leading you to new places.
"I think one of the things so many people are drawn to about basketball is it's one of those sports you can literally make something out of almost nothing… I do think, these pieces, for me, as kinda dark and dirty as they might be perceived are about hope."
Having grown up a Clippers, Knicks and Lakers fan (in that order), Winston like many of us, wanted to be just like Mike. There's a parallel between his work and using familiar objects, like basketballs, that others can also connect to.
"Art can be super intimidating and it can be very elitist and I want people to understand like you can do it too and you shouldn't be afraid to ask questions," he said.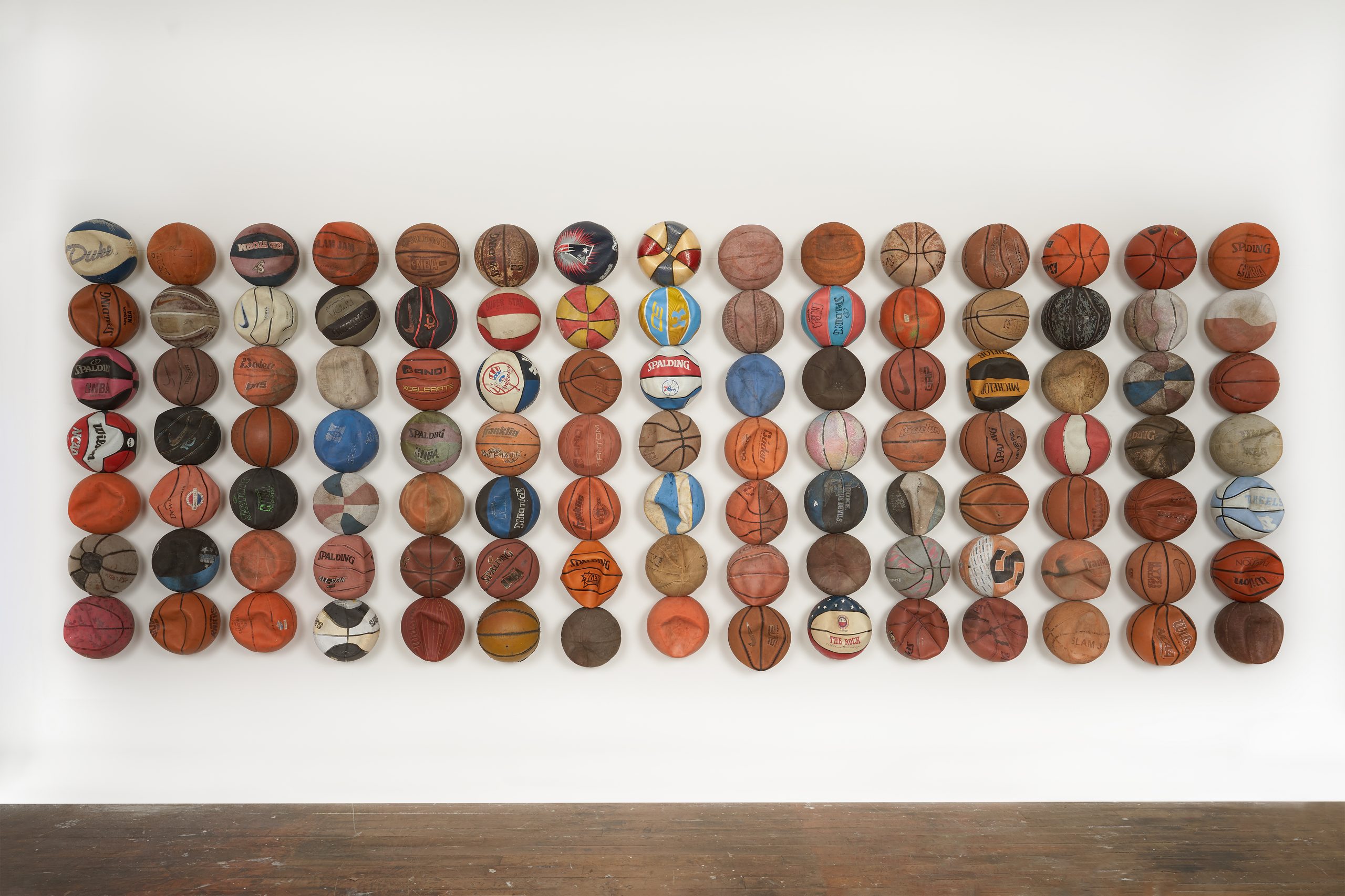 He admires the work of creatives and supporters, like Virgil Abloh. The two "met on the internet five years ago" and have had in-depth conversations about the idea of celebrity and putting people and athletes on pedestals.
"When [Abloh] had his line before Off-White, Pyrex Vision, I just remember thinking like this wild, this guy is putting Caravaggio painting on clothes, referencing Pyrex, the crack epidemic, hip-hop, bridging all this stuff together… That ethos that he has is something that I've been drawn to and I just think that he's just a really brilliant mind."
The two have also talked about how in today's era, the selfie is "far superior to the autograph." While a signed ball by Jordan is worth thousands of dollars, a selfie with him is worth some valuable cultural capital.
"If you walk up to someone these days, let's say a kid who is 16 or 17 years old, I don't think they're as floored as I would have been at the same age if someone showed me an autograph from an athlete or a celebrity that I really liked," he said. "Some of the paintings that I'm making, some of the text is now becoming blurry and I'm almost making it unreadable because these ideas that we have are dissolving about what celebrity is and they're becoming something else."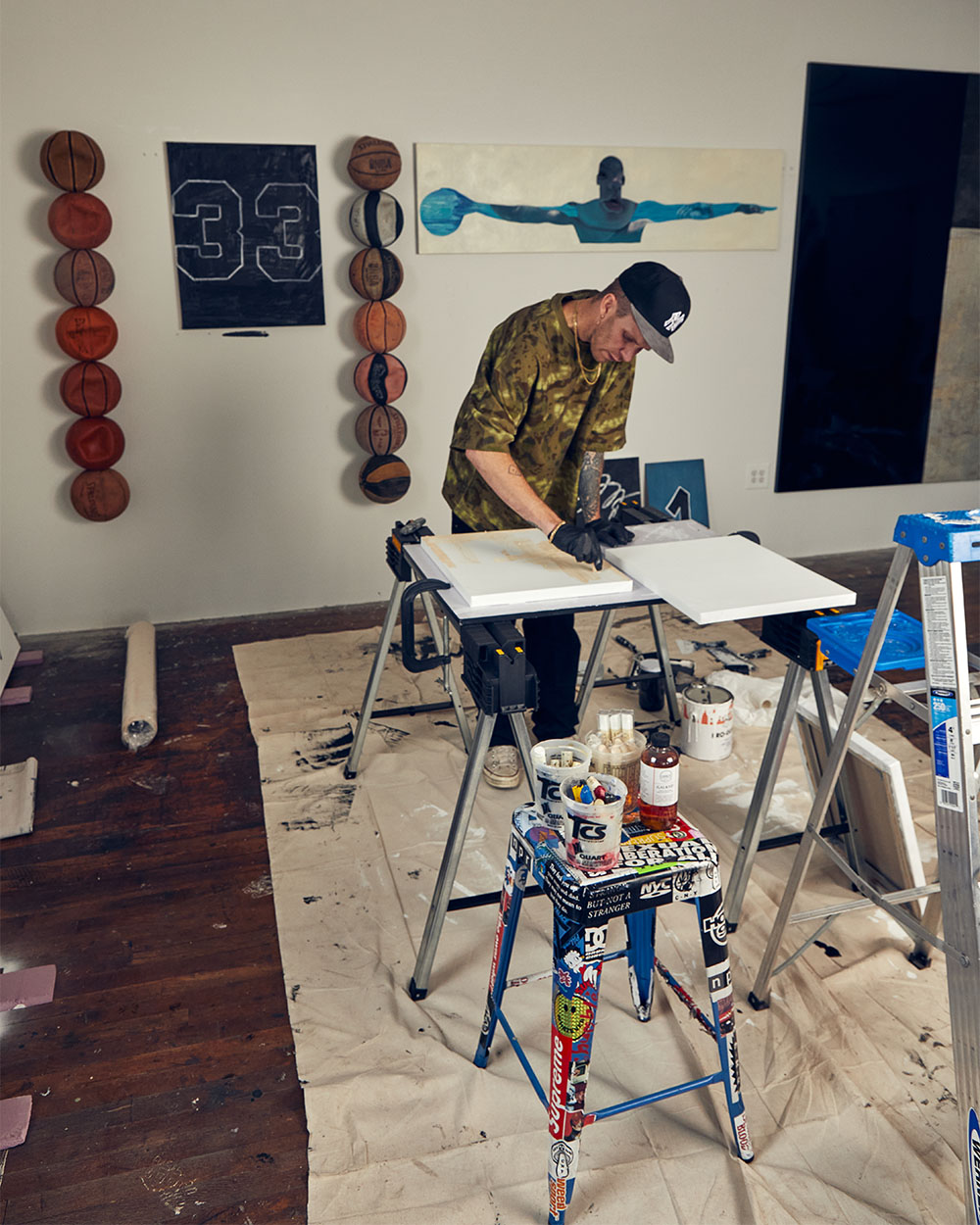 Winston said he feels fortunate to be able to do this work, to live out a dream he once didn't know he had. While he calls himself a "relatively unknown artist in this scheme of art history," he's turning heads as a notable artist all on his own hustle and grind. Sometimes you gotta AI them for your own survival, to be bold and ballsy enough to find treasure along the discarded, to stamp your own name along the greats.
"I revel in the fact that, like, I kind of figured out a lane and a system that works for me and I'm constantly tweaking it but that ball was an ode to that," he said. "The greatest athlete to me is Michael Jordan and so it's like when Iverson crossed up Jordan his rookie year or when Iverson stepped over Tyronn Lue, those [are] moments of defiance, of announcing, like, I've arrived even if the odds are stacked against me."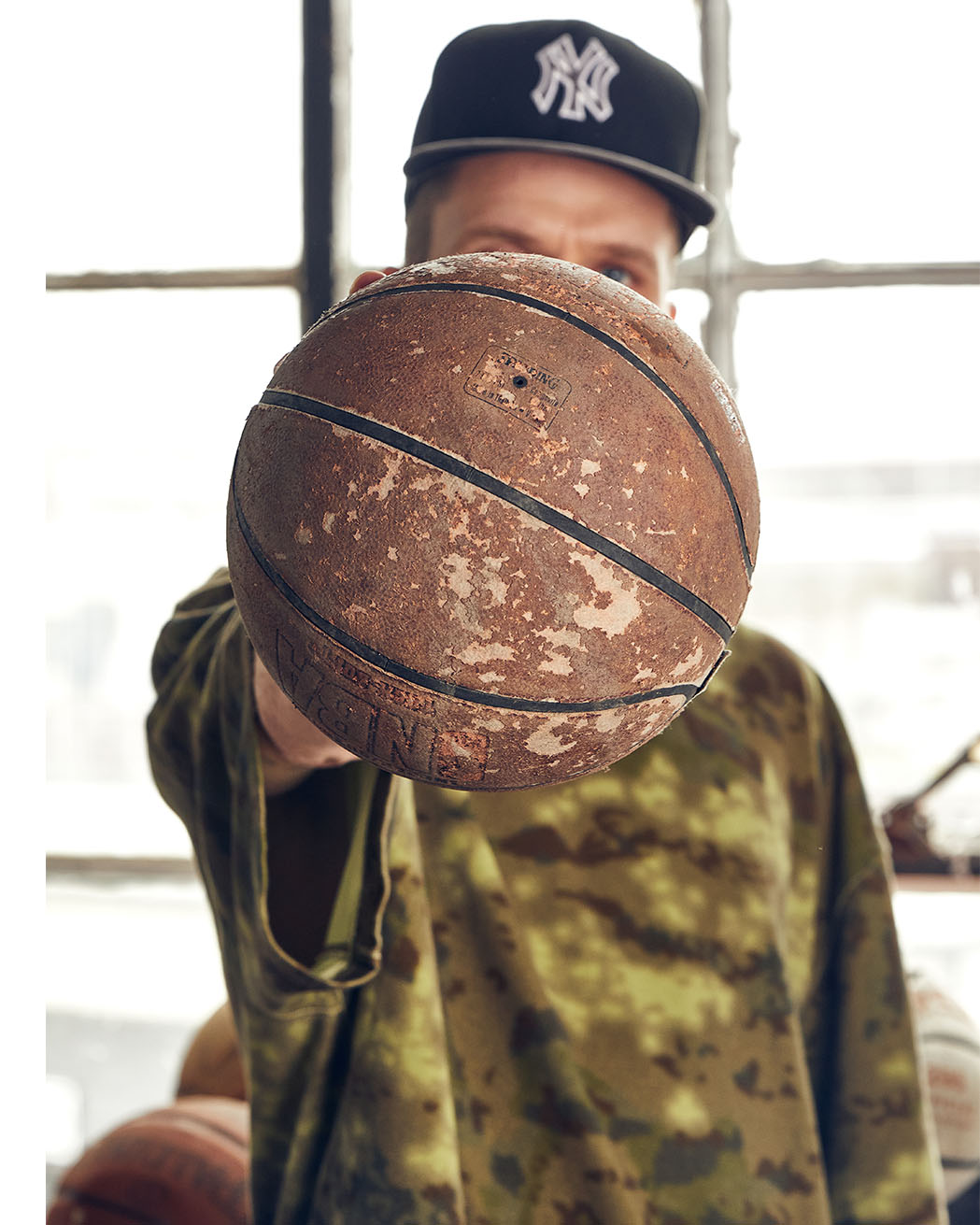 Deyscha "Sway" Smith is an Associate Editor at SLAM. Follow her on Twitter @deyschasmith
Photos courtesy of Johnny Lewis. Johnny is a Social Media Manager at SLAM, you can follow him on Instagram @johnnysilk