It's not every day that a 10-year veteran looks to hit rewind on their career. It also doesn't usually happen to or for a player who hasn't played in almost two years. But, for Tina Charles of the Washington Mystics, here we are.
Let's go back to April 2020. After six seasons with her hometown New York Liberty, it was time to turn the page to the next chapter of Charles' career. A three-team deal would bring the (at the time) seven-time All-Star and 2012 MVP to the nation's capital as the newest member of the defending WNBA Champions, the Washington Mystics.
For some, the thought of Charles teaming up with the Mystics' core of Elena Delle Donne, Emma Meesseman, Natasha Cloud and Ariel Atkins spelled the making of a potential repeat. For others, adding the aging star wasn't a smart or necessary move.
On July 17, 2020, with still so much uncertainty surrounding the landscape of sports in the middle of a raging pandemic, Charles announced that she'd been granted a medical exemption and would miss the 2020 WNBA season. Her Mystics debut would have to wait just a little while longer.
As teams started preparing for the 25th anniversary season of the WNBA, it had been two years since Charles last suited up. As expected, there were a few questions around what was left in the tank. How would Charles perform? Would she be comfortable taking a back seat to Delle Donne and maybe even Meesseman? Would there be a restriction of her minutes?
Those questions were answered right away. Looking like a younger and, believe it or not, more improved version of herself, Charles started the season scoring 20-plus points in seven out of her first 10 games. Four of those games were 30-plus efforts. Before the Olympic break, Charles put up averages of a career-high 26.3 points, 10 rebounds and a career-high 33.8 minutes across 17 games. Before this season, she hadn't averaged double-digit rebounds since 2013. For an extra sprinkle of flare, she also tallied over 1 steal per game for just the second time in her career.
The 2021 WNBA season has been filled with ups and downs for most teams. Playing basketball in the middle of a pandemic, teams have had additional challenges ranging from delayed arrivals to mid-season departures for international commitments and of course…injuries.
The Mystics are no stranger to that. Being without both the two-time WNBA MVP Elena Delle Donne and 2019 Finals MVP Emma Meesseman was not a part of the plan. Delle Donne would end up not being available while she recovered from back surgery. Meesseman was unlikely to return until after her international commitments with Belgium. Alysha Clark was signed during free agency and was considered to be a huge defensive asset for the Mystics, but she ended up being ruled out for the season after suffering a foot injury in France. Even through all the obstacles, Charles found a way to carry an unexpected load and help position the Mystics for a potential playoff spot.
Most veterans are used to being the leaders for their teams. They understand the assignment and carry out the game plan as designed by their respective coaching staffs. However, this was Charles' first season playing in Coach Mike Thibault's system.
"I think she set a great example by showing up to camp in the best shape of any player that was here to start," Thibault shares with WSLAM. "I think that shows to your team that you're ready to go." So what were the plans for Charles? What was that conversation like?
"She didn't come here planning on being the go-to player, she planned on being one of them. I think it's frustrating for her at times to see Elena, Myisha [Hines-Allen] and Alysha Clark sitting in street clothes," Thibault explains, on the initial plans for incorporating Charles into his system. "She's fought through it and has taken on huge responsibilities. I feel bad for her some days because it isn't what she signed up for. I hope for her sake we can get more of these players back because it'll make her workload a little easier and it'll make it feel like the team she wanted to play on when she came here," he concludes.
Through it all, Charles has never backed down from the challenge. Along with handling business on the court, she's been a vocal leader and her teammates have noticed.
"The one thing I appreciate is her being a professional on and off the court and just how she takes care of her body. She's the type of leader that leads by example," says teammate Shatori Walker-Kimbrough. "Seeing her put in the time before and after practice so that she's always prepared for games, it's no surprise to see her success on the court. I'm just honored to be on the same court as her. She's also open to having those discussions on how we can get better—especially in game," Walker-Kimbrough notes.
Does Coach Thibault want more out of Charles, and if so, what does that look like?
"If she can take it to another level beyond where she's at, I don't know what that would be," Thibault says jokingly. "The reality is that she'd be happy to have some of her stats come down in total numbers because that means other people are out playing with her picking up some of those numbers."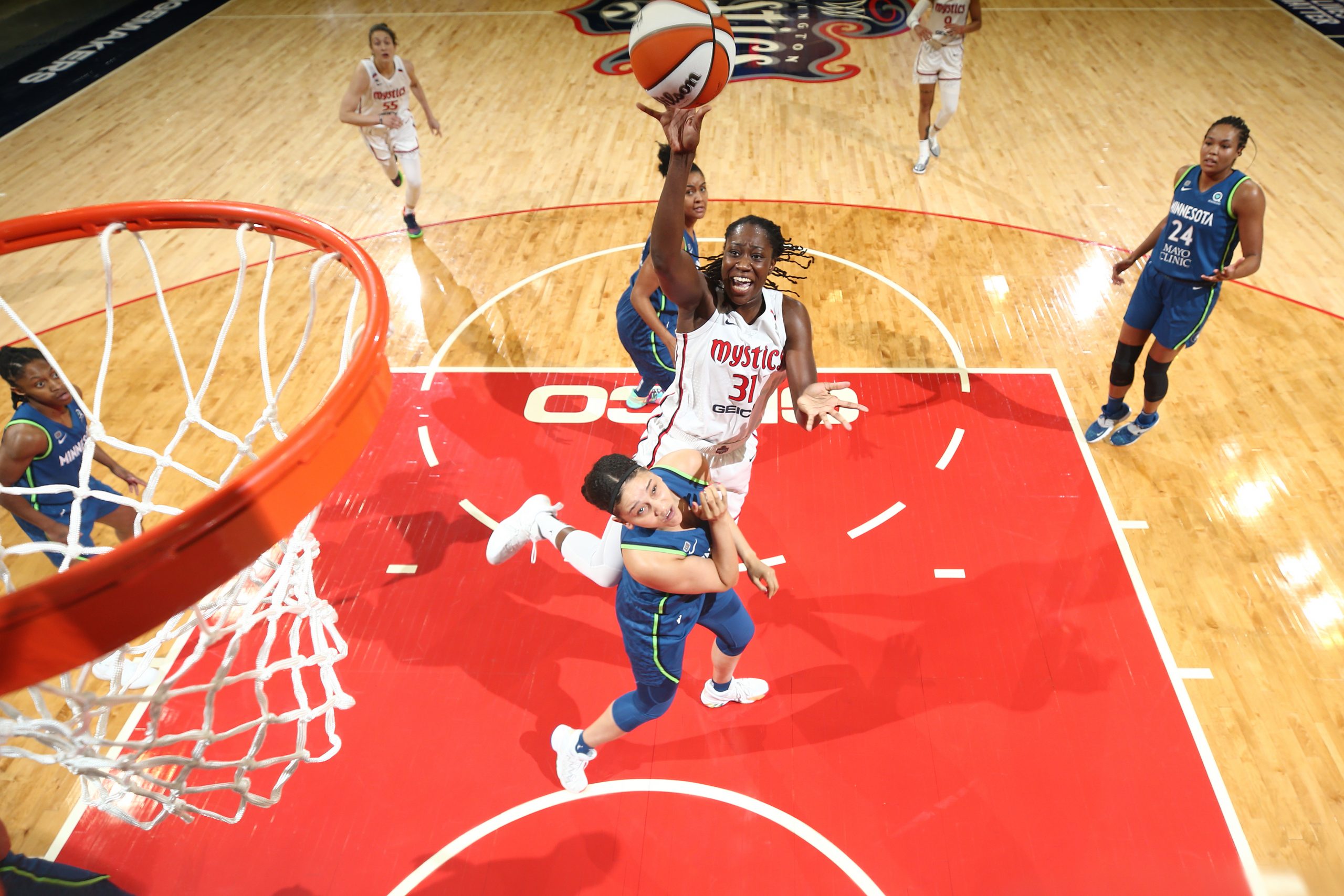 It could be safe to say that help with the load of putting up those numbers would be appreciated. In a game against the Connecticut Sun on June 29, the Mystics had only six available players in a game they'd lose 90-71. The Olympic break was just around the corner and it couldn't have come at a better time.
Still, there were no complaints.
"I'm glad that we have that type of leadership from the caliber of player as her, and especially with Delle Donne out," Walker-Kimbrough adds. "She's stepped into that role and we're very receptive to her and she's willing to take the lead."
Out of 18 games before the break, Charles missed just one—a contest against the Atlanta Dream in order to attend the premiere of her film Game Changer at the Tribeca Film Festival in New York City. She served as the project's director and producer and spent over a year completing the film.
Whether it's through her artistic endeavors, her work through her Hopey's Heart Foundation or her dominant play, the title of her movie is fitting for what Charles has meant to the Mystics.
---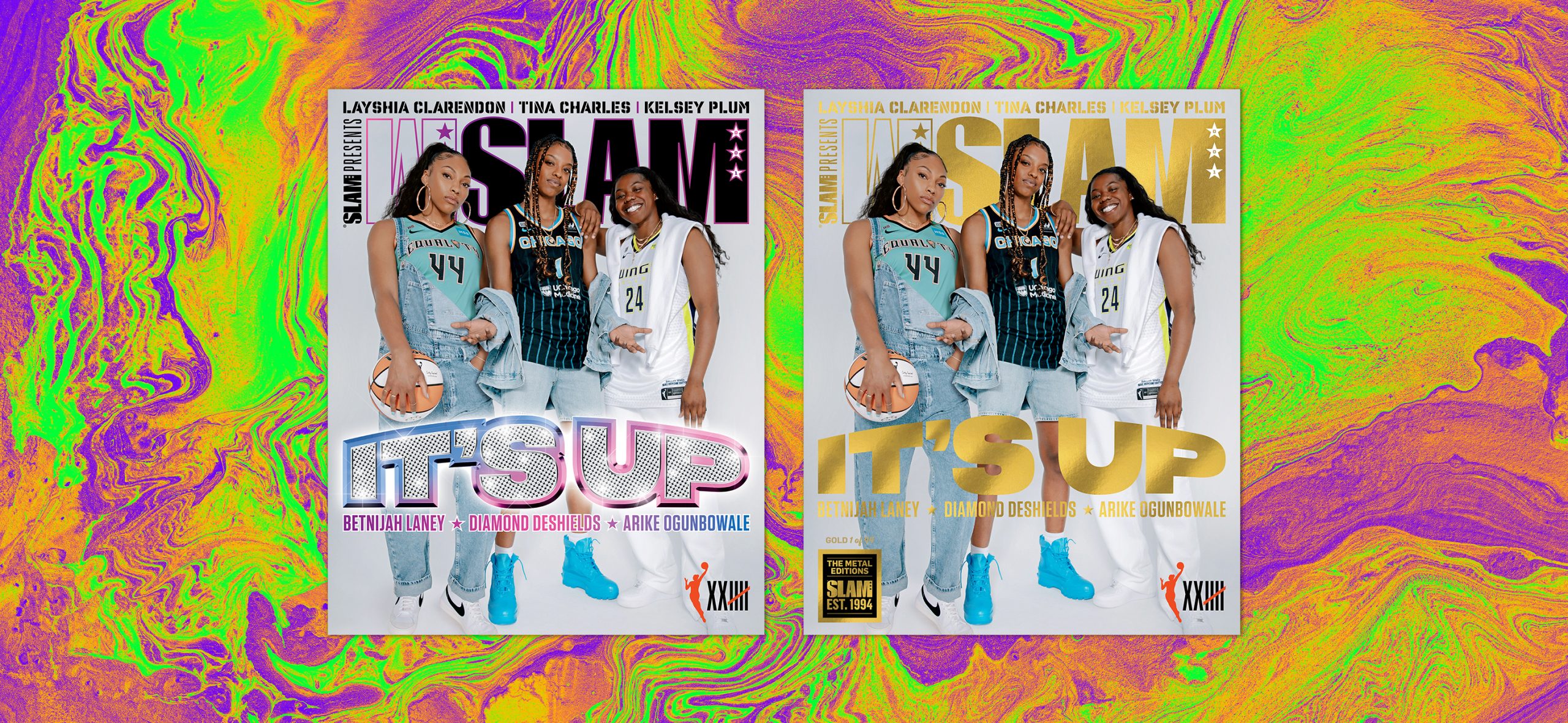 Photos via Getty Images.