EDITOR'S NOTE: This feature was written and shot weeks before the COVID-19 pandemic led to the suspension of the NBA season.
GRAB YOUR COPY OF SLAM 227 FEATURING THE RAPTORS
—
There is classical music blasting through the hallway that runs parallel to the baseline at the OVO Athletic Centre in Toronto.
A whole lot of it.
On this brisk and snowy weekday morning in late February, the Raptors players are scattered throughout the state-of-the-art practice facility. Practice is slated to start soon and some of the players are out on the hardwood stretching. Others are already getting some shots up while a couple of them are still in the locker room area.
As the team gets ready to start, SLAM's staff is simultaneously doing a location scouting walk-thru to prep for our cover shoot after practice. Between wheeling in equipment and figuring out the exact shooting location, we end up being led down a hallway, past a row of offices. It is there where we hear Beethoven's greatest hits album being played loudly. We think nothing of the classical music at first, other than it's much louder than you'd expect it to be at an NBA practice facility minutes before the start of practice.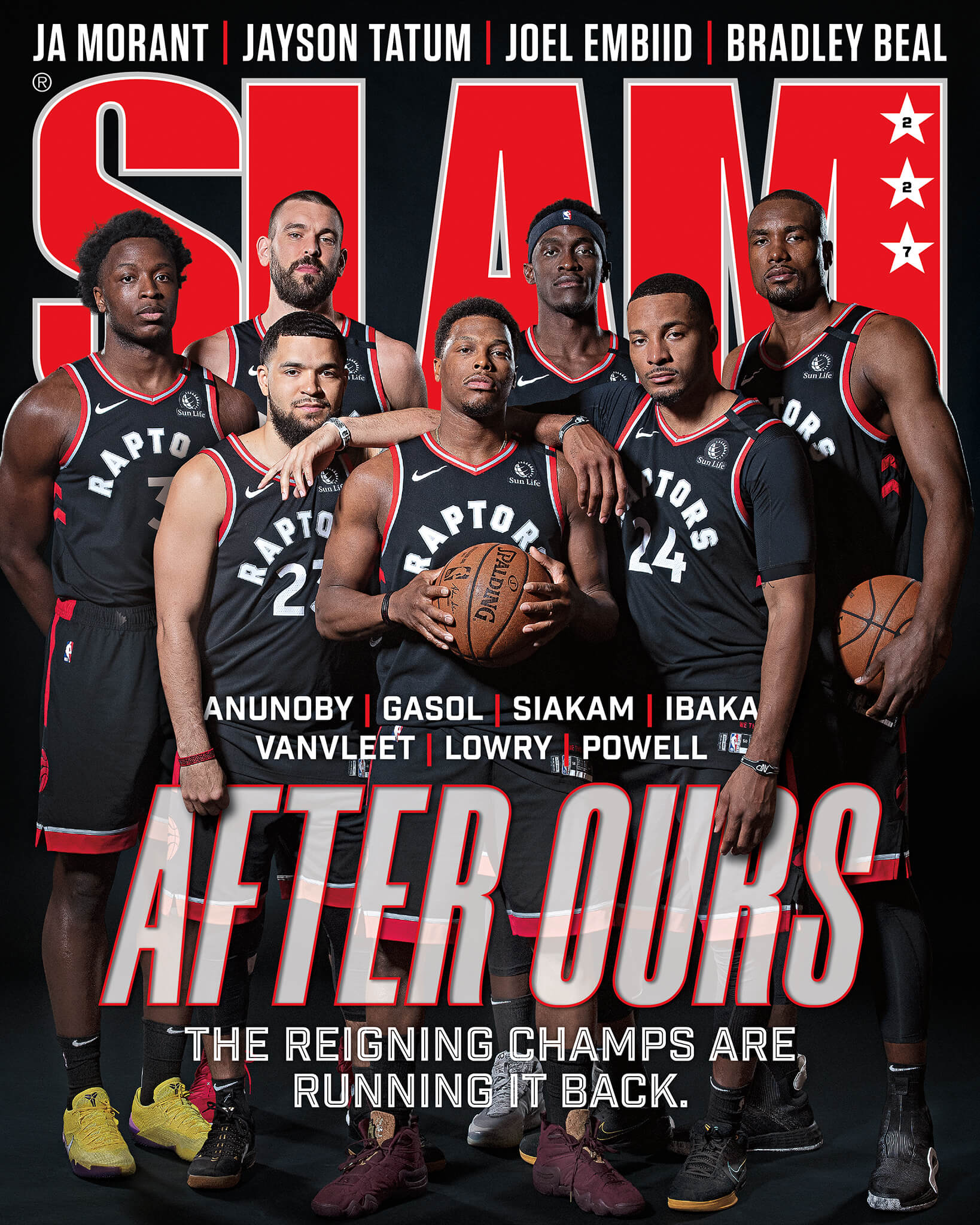 But, hey, we've seen and heard weirder stuff on set at shoots.
Then, all of the sudden, the music stops. And then it restarts for a few seconds before stopping and picking up where it left off once again.
Turns out there isn't a vinyl record playing inside someone's office. Someone's actually playing the keyboard. And after a quick glance around the hallway, we realize it's coming from the office that says "Nick Nurse" in front of it. Wearing a black hat and sitting adjacent to his desk while facing the wall, the Raptors head coach is jamming away on the piano.
No cap, he's actually good.
Last summer, just days after defeating the Golden State Warriors and subsequently leading the Raptors to their historic first ever NBA championship, Nurse joined Canadian rock band Arkells on stage during a concert in Toronto. He played the guitar with them that night, and so clearly has a thing for music.
Nurse playing piano right before practice while the guys are warming up is so fitting and perfectly reflective of where the Toronto Raptors stand in the post-Kawhi Leonard era—confident, and looking to broaden and strengthen an already impressive arsenal.
Life is good in the 6ix.
—
When the annual preseason GM survey was released last fall, the Raptors were picked to finish fourth in the East (they were actually tied with the Brooklyn Nets for the fourth seed). Disrespectful for a team that was fresh off an NBA championship and bringing back most of its core? Or fair considering that the squad had just lost their Finals MVP to the Clippers? Are they actually better off being slept on once again?
When we bring up the very same questions during our shoot, the guys point out that they had no idea about the GM survey.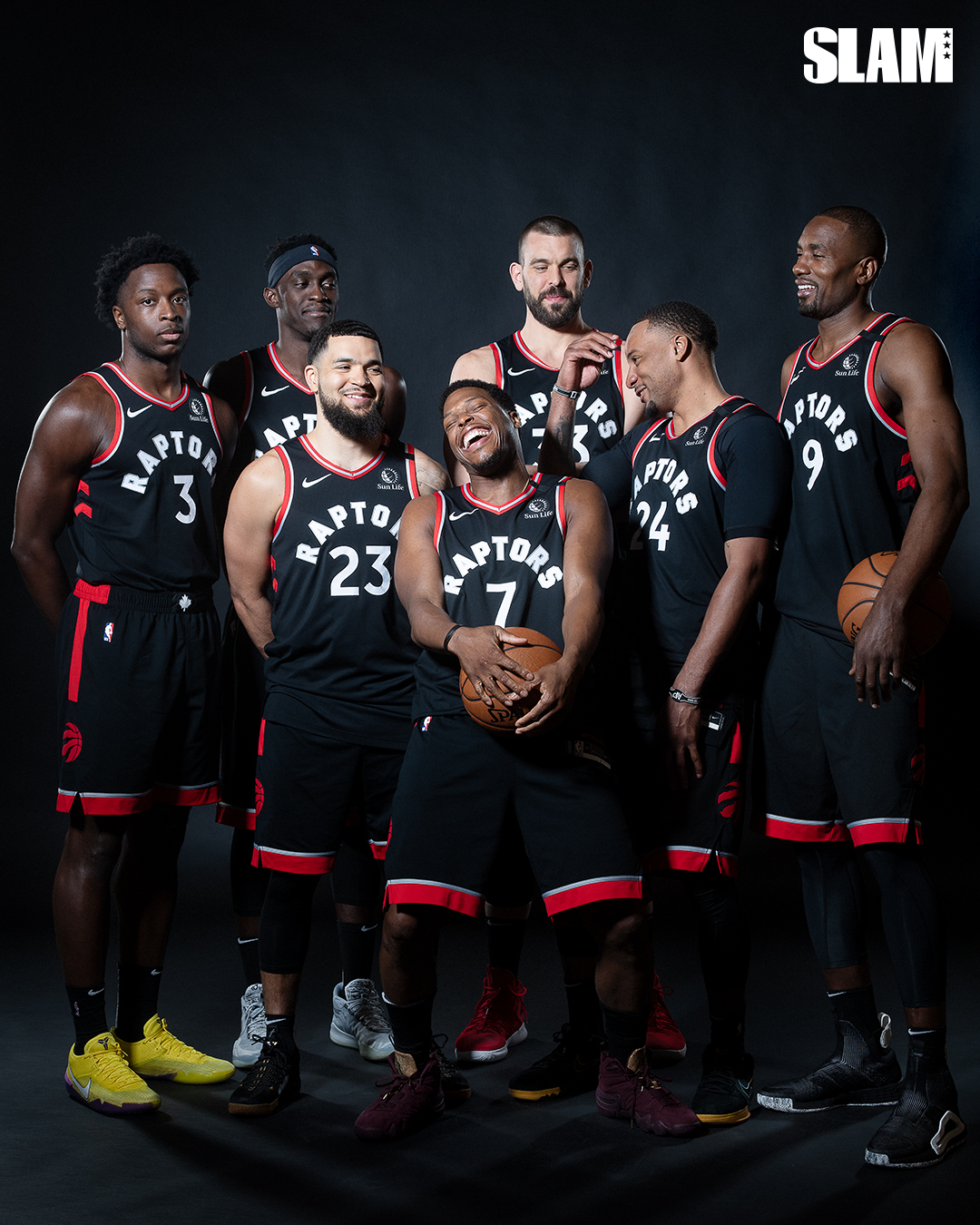 "I didn't see that," Fred VanVleet, Pascal Siakam and Serge Ibaka say in unison. They sort of shrug at whether the preseason projection was a good or bad thing. It was irrelevant.
What they did see and vividly remember, though, is all the memes, jokes and tweets that followed in the aftermath of Leonard's decision to leave the Raptors last summer. Lots of them had one common sentiment—the team was no longer even playoff-caliber, they foolishly said.
Yet, here they are on set at the cover shoot for our NBA Playoff preview issue. It's late February and the Raptors are sitting in second place in the Eastern Conference.
"I just think, overall, the stuff that came out about us not even being a playoff team, we laughed at that," says VanVleet. "Other than that, we don't really care."
Ibaka quickly jumps in: "The one that surprised me [was] when they said we're not even going to make the playoffs. To me, that was kind of funny. We [use] that as a motivation as a team. But we don't really try to worry about those things."
Regardless of the final outcome, the team has already accomplished some historic feats this season. They went on a 15-game winning streak, going a full month without losing a game. The streak not only marked the longest winning stretch in franchise history, but was also the longest winning streak by a Canadian-based franchise in the NBA, MLB, NHL or CFL.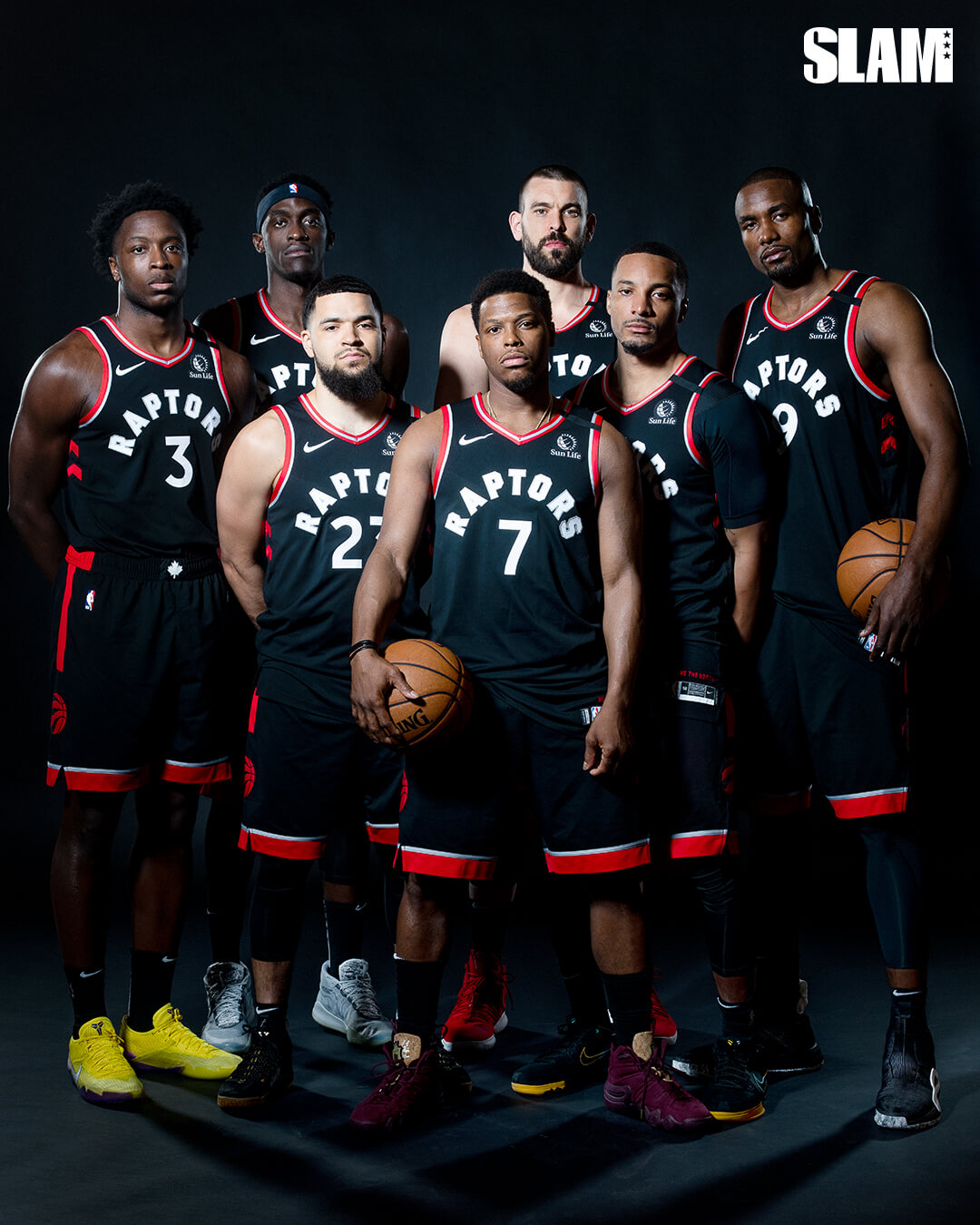 The margin of victory during that stretch was a convincing 10.6 points (including 29-point and 27-point victories), while only two games were decided by a single possession. Even more impressive was the fact that the team went on that historic run despite many of its core players missing games during that same stretch due to injuries. Four of the team's six players averaging double-digit points this season missed games during that period—Norman Powell missed five of them with a broken hand, VanVleet missed a couple, and Kyle Lowry and Ibaka missed one game each.
While the historic streak gave local fans a lot to be excited about and definitely made those who swore the team had no shot at making the playoffs look silly, the players have a different perspective.
"You want the real truth? [It meant] nothing!" says Lowry of the streak. "We hoop to hoop—to win every game. It didn't mean nothing to us.
"You know what the goal is. That's all that matters. We always know what the goal is. Now we've gotten there and we know what to do. We know what it takes. It's never going to be easier. It's going to be harder. But we know what it is and that's what we want."
For Lowry, this season marks his eighth year in Toronto. He's the second oldest player on the team behind Marc Gasol, but the longest-tenured. As he sits next to his teammates while being filmed for the latest episode of our "Point 'Em Out" video series after the cover shoot [see above], the 6-0 guard notes that he's seen every single player in the group get drafted by the Raptors over the past few years with the exception of Ibaka (Gasol had to dip after the photo shoot and therefore wasn't around for this portion). He emphasizes that he's witnessed the development of the team's core first-hand.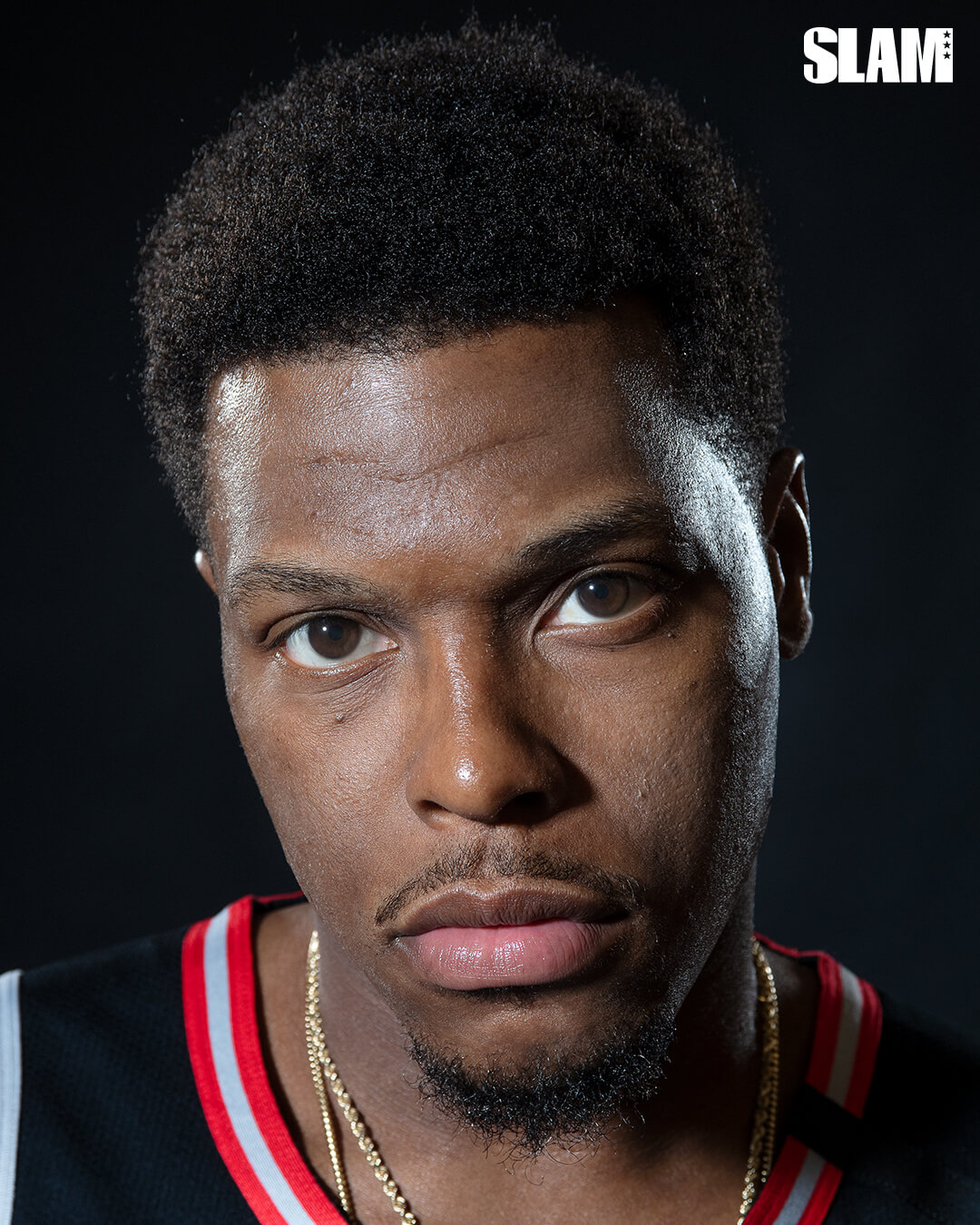 "I think the team is just different because of OG's growth, Fred's growth, Norm's growth, Serge—he's gotten better throughout the years, and since he's been here, he's changed his game and adapted with us," says Lowry, who had his Villanova jersey retired in Philadelphia the night before our shoot. "We all know about Pascal and what he's done. I would just say the growth, maturity and the confidence of what they know they could do is the thing that's different. We have a good mixture—I'm [one of] the oldest guys on the team and OG is one of the youngest guys on the team, but we all get together, we all can hang out, we can talk smack, we all can have fun with each other. We have a good mix of not being able to take things so serious. We know what our end goal is. We want them championships and we want everybody to be able to take care of their families."
The next oldest player on the squad, Ibaka, is actually posting career-best numbers this season. The 30-year-old is averaging 16.0 points (a career-high) and 8.3 rebounds per game as we head to press, while playing the third fewest minutes in his 11-year career. Despite no longer being the full-time starter he once was—he's started in about half of the games he's played this season—Ibaka seems as comfortable as ever.
"Every year has been different for me. But being here, to me, really helped my game a lot. The way they play here really fits my style. The guys here, we don't really have any egos. To me, it just motivates me. When I was watching my teammates play, the way they played, I was like, Man, if I work my game this way, it's going to help me because the way our guys play [makes it] easy," says the Republic of the Congo native. "I feel like 11 years I've been playing in the League—this is my first time I feel like I'm playing the way I want to. I used to be the kind of player where I had to play the way the system wants me to play. But since I got here, the way we play—the trust they give me—it forced me to work on my game in different ways. It's been fun. It doesn't feel like it was 11 years because I feel like it just started because of the joy of playing with those guys."
You can go down the roster list and notice how seamlessly players have adjusted to their new roles this season. VanVleet is now a full-time starter in the backcourt, averaging over 17 points and 6 assists per game, after a dominant postseason run last year. He's a constant reminder of how gritty and fearless this team really is. In an era where many teams now run with big guards, the Raptors backcourt is occupied by two guys who barely even measure at 6-0.
"You know Fred Van-De-le? You know him?" says Ibaka, purposely enunciating VanVleet's name differently and drawing laughter from his teammates. "That's a dog out there! Big Dog! He's short but that's Big Dog. He's Big Dog Freddy. Can get a bucket anytime he wants—he don't care what's your size, he's going to drive to you, hit your shoulder and bucket!"
Then there's Siakam, who just one year after claiming the Most Improved Player award is now a full-blown NBA All-Star. He's averaging a team-best 23.6 points as of early March.
Another player who saw his role change completely this season is OG Anunoby. He became Leonard's replacement as the new starting small forward. With big shoes to fill, the former Indiana standout has become the most important defender on the squad and is in charge of guarding opponents' best perimeter players. Two to four, he can be matched up at different spots in the lineup. As we head to the printer, Anunoby is fresh off a then career-high 6 steals against the Hornets, which he followed up with a career-high of 32 points and a new career-high of 7 steals the very next game against the Nuggets.
Gasol, the oldest player on the team at age 35, continues his steadily productive numbers as the starting center. Meanwhile, Powell has been a strong off-the-bench force for Toronto and has even stepped up and started a bunch of games this season because of injuries to the first unit. During one stretch, he finished with 20 or more points in eight out of nine games and is averaging over 16 points per game as of early March.
"I feel like every year we were doubted and left out, and every year we continue to change the view and prove people wrong. That's what I think is so special about this group of guys," says Powell. "Throughout their whole careers, they've been doubted and overlooked, and we keep working, we keep grinding, and we keep turning heads. We have a group of winners here."
—
GRAB YOUR COPY OF SLAM 227 FEATURING THE RAPTORS
Franklyn Calle is a senior producer at SLAM. Follow him on Twitter @FrankieC7.
Portraits by Atiba Jefferson.