The Golden State Warriors are a mess.
Have you seen these guys lately? Just days after the season ended, the team's GM, head coach and play-by-play guy—their play-by-play guy—were caught on camera cracking jokes about how their best player hasn't truly earned a max deal and probably won't stick around anyway. It doesn't help that that dude keeps overshadowing the guy who used to be their best player. And if that wasn't bad enough, the team went out and signed DeMarcus Cousins in free agency—a clear message that the stars already on the roster apparently aren't bright enough. Egos are on the line. Feelings are bound to get hurt. Whatever they think they've built in the Bay Area, it's clearly on the verge of falling apart.
At least, that's one way of looking at things.
In context, the above is obviously an unfairly harsh reading of the state of things in Oakland/San Francisco. Those jokes at Kevin Durant's expense back in June were clearly just that—jokes, if pretty lame ones—and they came during the Warriors' NBA championship parade, an event that not only marked the team's third title in four years, but KD's second straight turn as Finals MVP. And if those back-to-back FMVP trophies have thrown unintentional shade over the glow emitted by Stephen Curry—the guy whose unforgettable emergence started this whole dynasty, remember—Curry himself hardly seems bothered.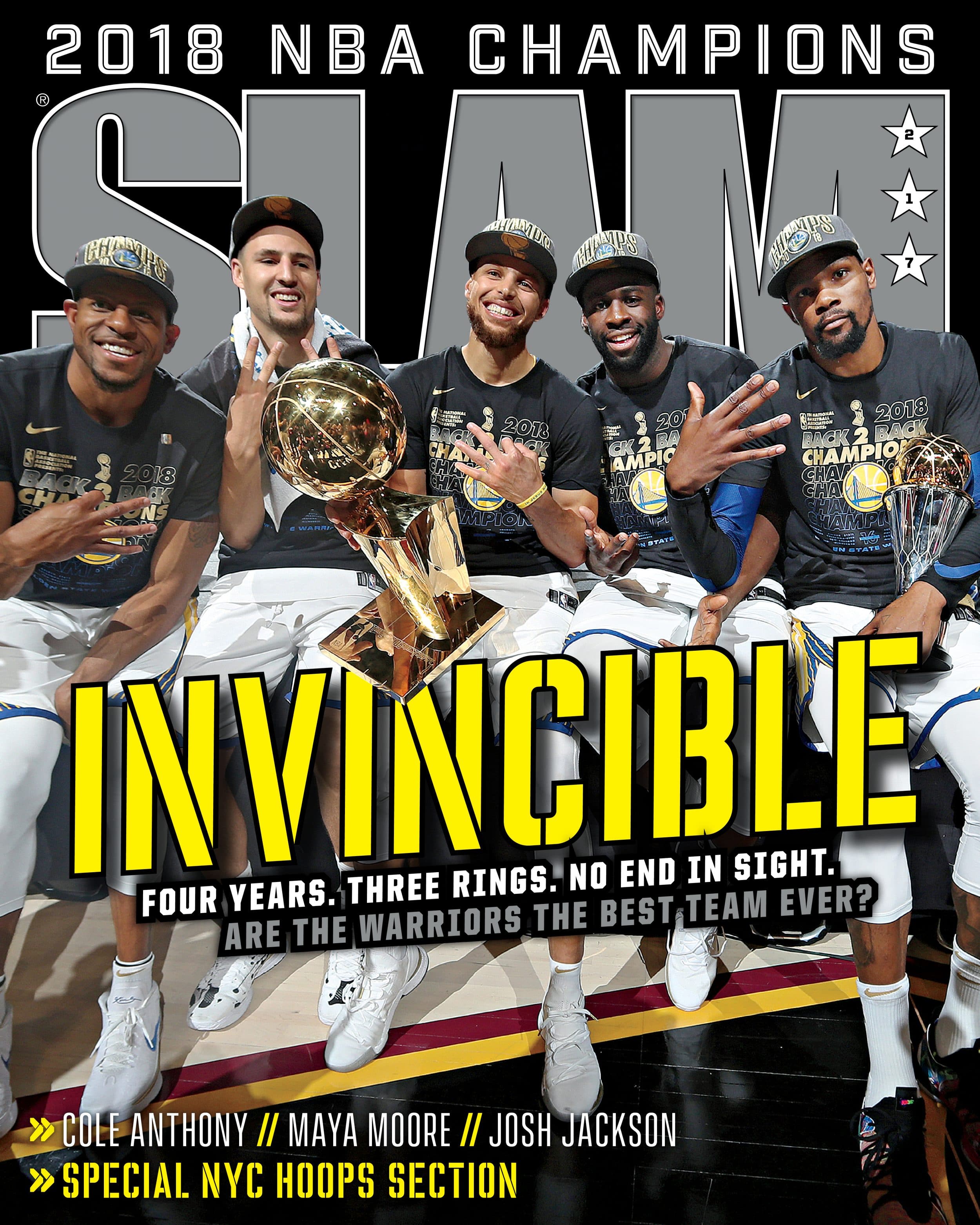 As for Cousins: The Warriors have already shown they can incorporate an MVP-caliber talent into their already loaded core. And this is a guy who averaged 25.2 points, 12.9 rebounds, and 5.4 assists before his injury in late January.
All of which is to say that the words we wrote in this space one year ago are every bit as relevant—if not more so—today: If Golden State stays healthy and intact, everyone else is playing for second.
Since the Warriors are still both of those things (and more), it seems like everyone else might as well pack up and go home. But if they don't—if the Rockets, Celtics, Sixers, Lakers, Thunder and whoever else is feeling lucky, or maybe just stubborn, decide to give this thing another shot—we figured it's worth laying out all the ways the Dubs' dynasty could, theoretically, be brought to an end. We're not actually counting on it—not yet—but crazier things have probably happened.
—
The Rockets (almost) showed it can be done.
Houston was the model. The Rockets put together a squad specifically designed to counter the Warriors' length, versatility and shooting, and that squad was damn good—good enough to breeze to the League's best record and earn homecourt advantage throughout the playoffs. That meant the potential for a home Game 7 when they inevitably ran into Golden State, and the chance for their Hall of Fame backcourt to ride that H-Town energy to glory.
They got that Game 7. And if that HOF backcourt had been intact, they might have gotten the win.
You know how that turned out. And yet even with Chris Paul sidelined for the decisive contest, it was still a two-possession game in the final five minutes of Game 7. The Rockets made it interesting, which wasn't something a lot of folks were convinced would happen this year. You can debate whether their falling short was inevitable or tough luck; in the end, it didn't matter, but it did provide the road map for future challenges.
Which team is best positioned to follow that map? Boston's young, dynamic, scrappy core nearly booked its own upset trip to the Finals, and that was without the two guys expected to lead them last season. The C's future is a bit of a toss-up, but they've already got most of the pieces to at least entertain a challenge. Philly seems eager to add a player that might put them over the top. And there's still Houston.
What's undeniable is that the rest of the League was paying attention. And taking notes.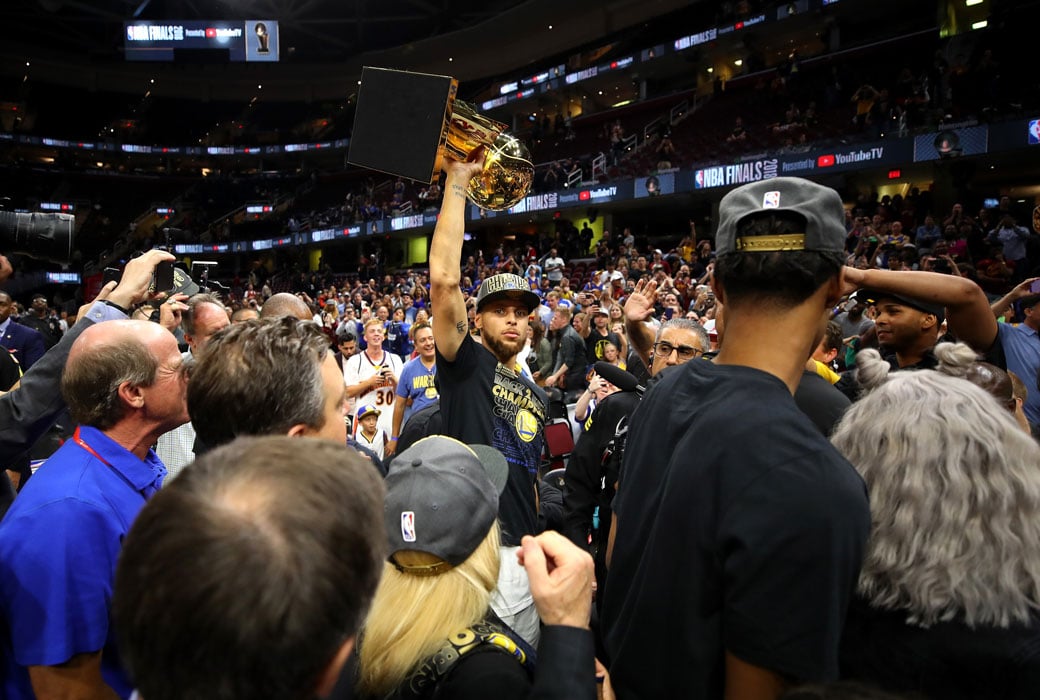 Curry's health remains a question mark.
It's funny in retrospect how Stephen Curry's midseason shelving had many folks wondering if his early-career injury issues were back in full force. True, he only played 51 regular-season games, but he put up 26.4 ppg in that stretch, the second-best average of his career. He then averaged 24.8 in 15 playoff games, suiting up in every contest that mattered. He had a couple of off nights, but for the most part he was playing like the two-time MVP he so recently was.
So what's the story with Steph? He's only 30, but Curry does have that injury history, and a substantial amount of mileage on his seemingly fragile ankles. No team with KD on the roster is ever going to hurt for a go-to scorer, but Steph's game—not just his shooting, but his mere presence—is too vital to the Warriors' offense to be easily replaced. Should his health issues become chronic, it might well be the thread that could pull the whole dynasty apart.
How much does KD need to feel appreciated?
Those awkward parade jokes were a reminder that, in the minds of many—including the team's own front office—Kevin Durant's presence in Oakland will have always come with an asterisk. The Warriors understandably take pride in how that team was put together before KD's arrival, and the blue-moon circumstances of his addition are going to be a talking point for as long as people are talking about the NBA. On some level, Durant will always be an outlier.
So far, at least, that hasn't seemed to be an issue. Could it change? Could he come to resent the sense that despite his two Finals MVPs, the Dubs are still viewed largely as Curry's team? Could he decide that his short-term happiness and/or long-term legacy require yet another relocation? It's all conjecture, and we can only take KD at his word: He says he wants to have fun and win. For the foreseeable future, there's nowhere more likely for that to happen than right where he is.
Andre Iguodala's time might be up.
For all their star power, the Warriors' depth has been invaluable to their success, and there's no better example of that than Dre. The ultimate glue guy, Iguodala has started just eight regular-season games the past four seasons, but his 12 starts in this year's playoff run served as a reminder of his value. Still, he posted career lows in points and minutes this season, and he'll be 35 when the playoffs start next spring. How much longer can the Dubs count on him? And how much will they miss his savvy, defense and leadership when his time is up?
As of now, nobody else has formed a "SuperTeam."
But things change fast this time of year. As we write this, we don't know where Kawhi Leonard is going to end up (Los Angeles, Boston, Philly?). A new team with talent comparable to last year's Rockets could certainly make things interesting for the Warriors. By the time the 2018-19 season comes around, it might exist.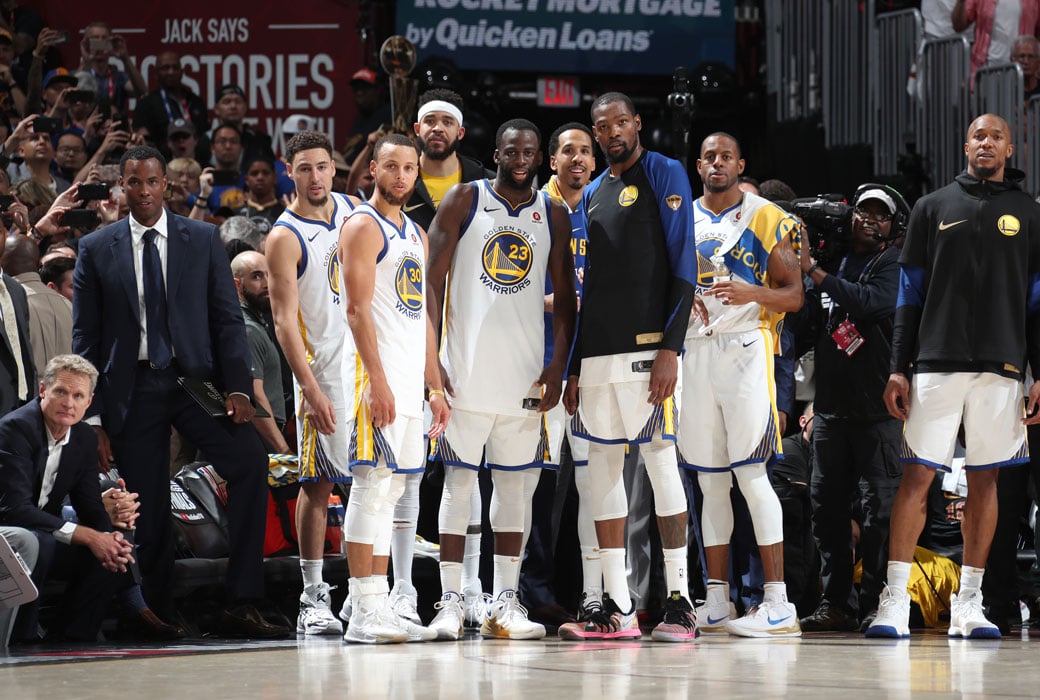 Winning never gets old. The work that goes into it does.
Steve Kerr talked about it, and his team struggled with it, before they finally figured it out. But the fact remains, it ain't easy maintaining the discipline and focus needed to defend a dynasty. At some point, the Warriors might just find they're not as motivated as they were, that the hunger that drove them to that first title in 2015, or to a 73-win regular season, or to their last two rings, simply isn't as strong. And that, more than anything, might be what finally ends this thing. Combine a diminished thirst with a couple of injuries, a quietly bruised ego or two, and the emergence of a loaded opponent whose own desire for glory is just a bit stronger, and that might finally be what does it.
Something will do it, eventually. We continue not to hold our breath.
—
Ryan Jones is a Contributing Editor at SLAM. Follow him on Twitter at @thefarmerjones.
Photos via Getty.