Here's a safe bet: If you have an Instagram or Twitter account, you've seen 16-year-old high school phenom Zion Williamson play basketball. Maybe not for a very long period of time, but for at least a minute or so, and probably for a bit longer than that. His highlight mixtapes are already the stuff of legend—it's impossible to look away as he casually dribbles through helpless defenders and dunks all over their souls. He just destroys people. It's so great.
But there's something else in those videos that I love so, so much, and it isn't the dunks. It's what happens right before them, and more so, it's what happens after them. Leading up to each dunk, you hear the entire room fade into the "Ahhh…" that a bunch of people make as they collectively realize something amazing is about to happen. As expected, something amazing does then happen. Sometimes it's a 360 dunk, sometimes it's a windmill, sometimes it's a dunk with a seemingly impossible level of verticality. Oftentimes it's a combination of a couple of those.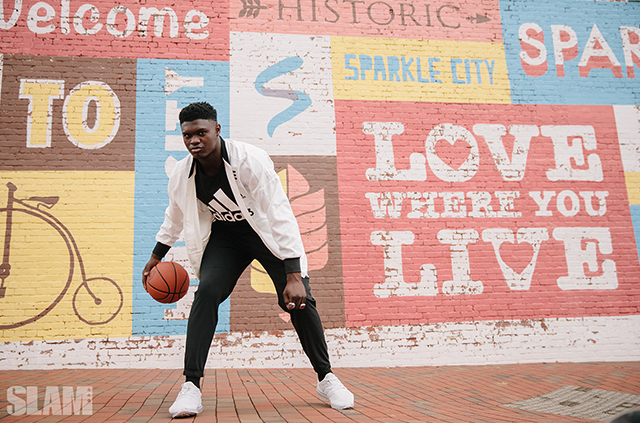 Then comes my favorite part: post-dunk, the room explodes. Children literally jump on top of each other in celebration. Teenagers hold their phones out and screech at the top of their lungs. Adults' eyes get wide as they put their hands on their heads in complete shock. It's like watching a video of hundreds of toddlers getting the exact Christmas present they were hoping for—except many of the toddlers are high school students and grown men and women, and the present is a behind-the-back 360 slam.
READ SLAM 210'S COVER STORY HERE
Zion's mixtapes reinforce something that we should all spend a little more time thinking about and appreciating: the game of basketball brings forth so much pure joy. Of course you regularly see this in arenas, and in the bleachers at streetball games, and in sports bars and local parks. But in the moments that follow Zion's jaw-dropping dunks, that happiness is just so visible, so palpable. Every time I watch those vids, I end up thinking the same thing, something like, There it is.
The fact that he regularly produces that sensation is one of the many things I like about Zion. Throw in that he's a genuinely good, level-headed kid, a true hoophead and someone whose cultural influence extends well beyond the court (for evidence of this, take Drake rocking his jersey on IG as Exhibit A) and you've got an up-and-coming prep star who I was both honored and excited to put on our cover this month. If you like any of the content—the cover, the cover story, our new issue as a whole—anywhere even close to the extent to which fans young and old enjoy watching Zion play, our job here is done.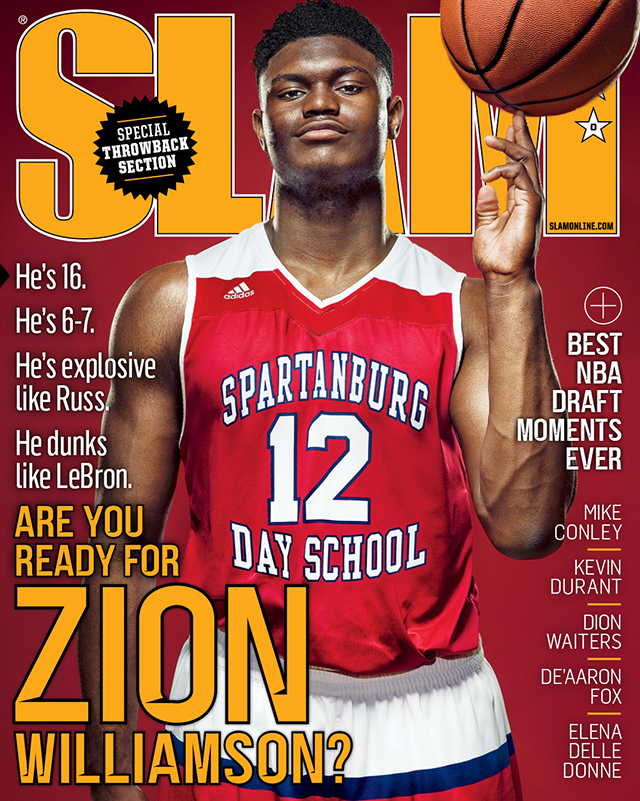 —
READ SLAM 210'S COVER STORY HERE
—
Adam Figman is the Editor-in-Chief of SLAM. Follow him on Twitter @afigman.
Portraits by Zach Wolfe
Videos by @VASHR