To celebrate the start of the partnership between the NBA and the NBA G League's 2017-18 season, Gatorade invited us out to Gatorade's Sport Science Institute (GSSI) at IMG Academy in Bradenton, FL, to participate in a physical assessment the players would receive this season during practice and games.
Upon arriving to the facility, I was greeted by Kortney Dalrymple, Senior Scientist at GSSI, who brought us into a conference room to meet with other Gatorade personnel along with NBA G League reps.
I sat in a quick briefing and learned about the partnership, what to expect moving forward from the NBA and Gatorade, and learned about the "Sweat Test," a two-part physical assessment based on one's fluid balance and sweat sodium.
"They don't take or drink enough," says Dalrymple, when asked about the biggest mistake she sees amongst athletes. "They don't take in enough carbohydrates during exercise as well. It's a lot to do with education."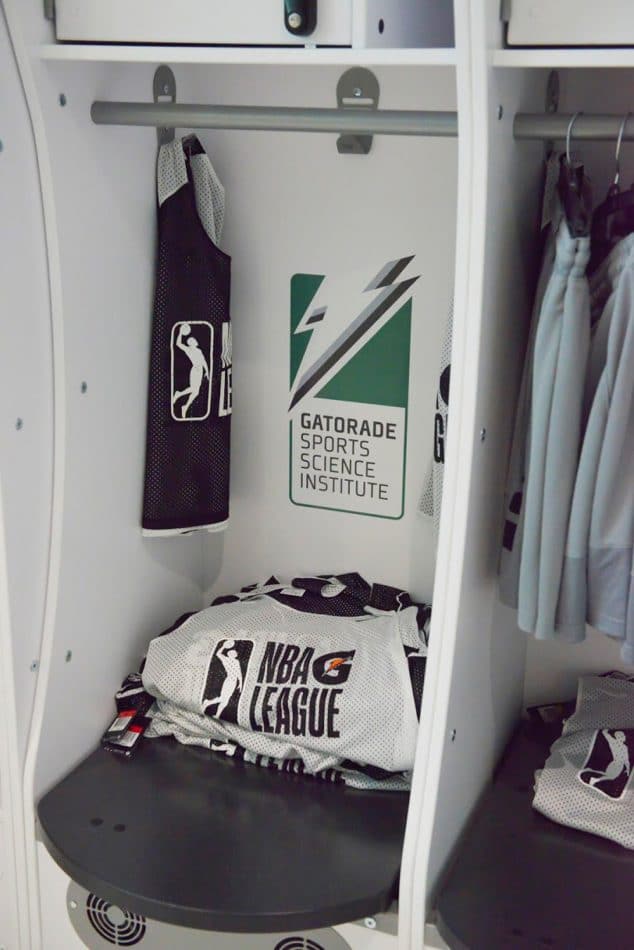 This season, each NBA G League player will receive a personalized hydration and fuel plan for before and after practices and games, as well as feedback on how well they met hydration and fuel needs.
"Those are critically important that ultimately really spoke [to] what is the best way for our athletes to fuel their bodies to not just facilitate, but accelerate the achievement of their performance goals," says Malcolm Turner, President of the NBA G League. "I think that's what we're really excited about—our ability to roll out Gatorade's Sport Science Institute."
Turner knows that a plethora of players in the NBA G League may not be cognizant of the proper nutrition and hydration their bodies need in order to compete at the highest level, but the partnership with Gatorade will change that.
"Player development is clearly the focus," says Turner. "We have a record number of NBA players being assigned to this league, a record number of times [and] rookie development is taking place at unprecedented levels."
We were asked to submit urine samples to see our hydration level before the testing process. Shortly after, my weight was taken so that Dalrymple and her team would see how much weight I lost during the assessment. We were provided with a water bottle and Gatorade, and told we could drink as much as we felt we needed to. Patches were placed on each forearm so my sweat would be taken back to the GSSI lab for testing.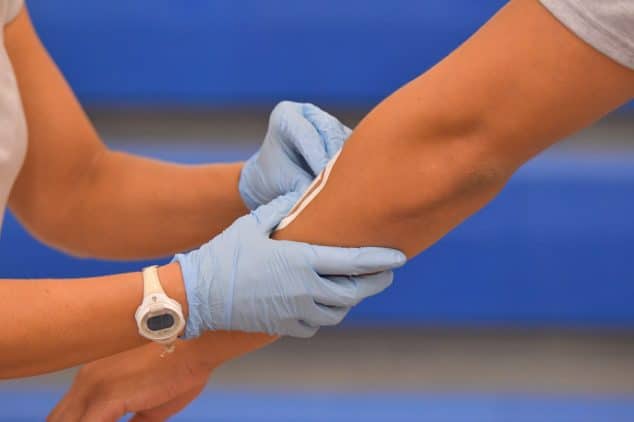 The first part of the "Sweat Test" started with some jogging and dynamic stretching before moving on to various plank workouts, followed by multiple endurance exercises some of the players do on a daily basis. The second part consisted of various games of 3-on-3. I was weighed once again after the games concluded.
Once back at the GSSI lab, I received my Sports Nutrition Report. During the pre-testing, my urine sample came back indicating that I was in fact hydrated before the workout, but my practice results came back differently. I learned that my carb intake was high (68 g/h), and both my sweat rate (1.1 L/h) and sodium rate of loss (890 mg/h) both rated as moderate.
Another key thing I didn't realize till now was I tend to over-drink on the court. My total intake was 511 milligrams while I ended up losing 875 milligrams during the hour-long testing. I lost 37 ounces but drank 52 ounces, which caused a body mass change of +0.7 pounds. Based on all the numbers provided, I received a Hydration Strategy Score of 70 due to my carb intake and over-drinking problem.
"There's a certain amount of sweat we need to run the sample," says Dalrymple. "We took the sweat patches off, brought them to our lab and we syringed the sweat out of the patch and then pipetted the certain amount of sweat into a sodium analyzer and I was able to calculate your sweat sodium concentration."
Lastly, I received pre-practice and during practice recommendations. So about four hours before, it's best to consume 20 ounces of water followed by another 14 ounces two hours before start time. In regards to during, I was given one recommendation of drinking 15 ounces from a bottle of Gatorade to keep my total sodium intake at 200 milligrams.
With the partnership and future testing, the NBA G League hopes to produce a higher percentage of athletes to the NBA with Gatorade's technology and an app that's scheduled to release within the next couple of months.
"We're a league of aspirations and opportunities, so it's a great opportunity for our players to get NBA-style coaching, training, and now with partners like Gatorade to really help plug some of the development opportunities off-court in terms of enhancing performance," says Turner. "I think all players are starting to see that."
—
Photos: Eric Nalpas/Gatorade