It's a typically frigid 22-degree January night in Russia when Angel McCoughtry dials the long-distance number to the SLAM Dome in Manhattan.
The Atlanta Dream star is spending her "offseason" in Kursk, a historic Russian city that sits on the largest known iron-ore reserve in the world.
Tucked away among the city's many universities and 18th Century cathedrals, McCoughtry has been quietly putting in work alongside reigning WNBA MVP Nneka Ogwumike, New York Liberty guard Epiphanny Prince and Minnesota Lynx guard Anna Cruz.
"I wanted to be on a team where I didn't have to kill myself," McCoughtry says of her current club, Dynamo Kursk. "Last year [in Turkey], I had to do so much for so many minutes. Then come to the Atlanta Dream, and I had to do so much for so many minutes. It wears you down."
Now 30, McCoughtry is understandably sensitive when it comes to the mileage she puts on her body.
Since entering the WNBA in 2009, she's scored more points and recorded more steals than any other player in the league. She's a six-time All-WNBA team selection and an eight-time All-Defensive teamer.
She's won two Olympic Gold medals ('12, '16) and two World Cup golds ('10, '14) with Team USA, too.
And that's only during her summers.
McCoughtry, like the vast majority of professional women's players, spends nearly eight months every year playing outside of the States.
She's now in her eighth international season—she's won Hungarian and Turkish league championships and been to the EuroLeague title game. There are the small rule changes, and it's a decidedly more finesse brand of basketball. But the biggest difference is the fans.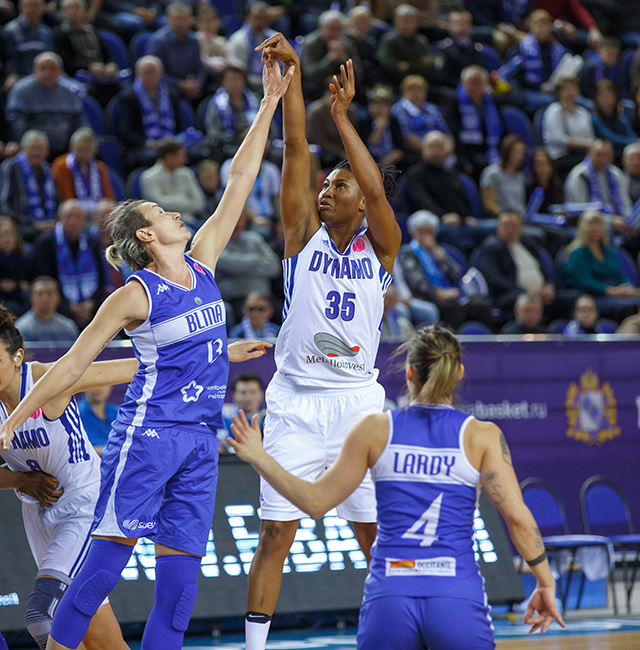 "People appreciate women's basketball more overseas," McCoughtry says. "In the States, all I hear is the comparison: You can't jump as high; you're not as fast. Well, of course, I'm a woman. Over here, they just appreciate the art of the game."
Players make a good living, and they travel the world while playing ball. There are plenty of perks, no doubt.
But the constant grind of year-round basketball becomes exhausting—both mentally and physically. Especially for a player like McCoughtry, who's asked to do so much for her teams.
Between the busy domestic league and EuroLeague (sometimes EuroCup) schedules, players have very little time off, if any at all. McCoughtry was unable to celebrate the holidays with her family for the better part of a decade while playing in Slovakia, Hungary and Turkey. (This season in Russia, she finally had a break around Christmas.)
"Going from season to season is like being locked down," she says. "But after this season, I can put my feet up and relax and do whatever I want to do. I can't wait for that feeling."
That's because once the Russian Premier League playoffs conclude in early May, Angel McCoughtry will be taking a break from basketball. Or as she puts it: "I'm free."
McCoughtry announced her decision in a letter published on the Atlanta Dream's website in early January: "This dynamic schedule also takes its toll both mentally and physically," she penned from halfway across the globe. "After much careful thought and consideration, I have decided to take time off during the 2017 WNBA season."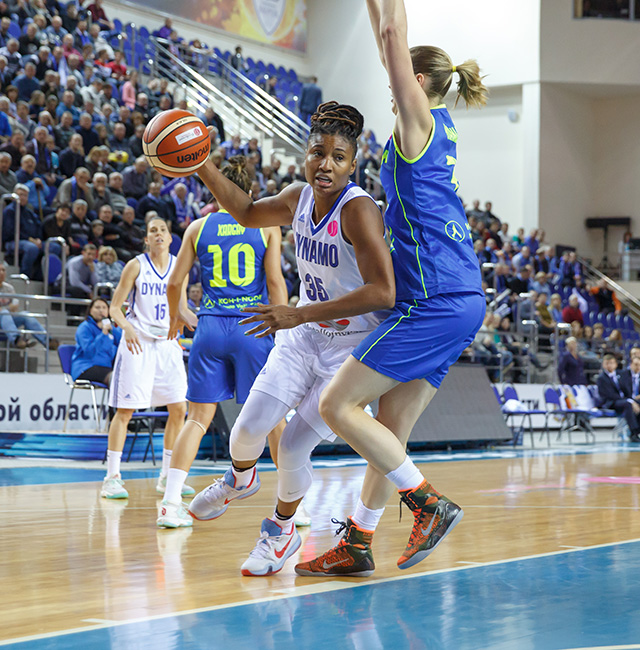 Although surprising, the news was met with only minor scrutiny, as this wasn't the first time one of the league's foremost stars has opted out during a WNBA season.
Both Diana Taurasi and Candace Parker took significant time off to rest in 2015. Parker returned two months into the season, while Taurasi, due to a contractual agreement with her international team, sat out the entire campaign.
McCoughtry thinks the trend will only continue in the WNBA, at least until things change in future collective bargaining agreements.
"I absolutely think it'll happen more because it's going to prolong people's careers," she says. "If they just keep going all year, they're going to have a short career."
For now, McCoughtry is enjoying herself in Russia. The ever-curious traveler has stayed busy exploring the "winter wonderland" and meeting new people. Her Instagram and Twitter pages are daily dispatches of local discoveries and new action shots in a Kursk uniform—the latter sure to invite confused comments from fans who only know McCoughtry as a WNBA star at home.
As we wrap up the phone call from thousands of miles away, I ask if she purposely left open the possibility of a return in her letter. With a laugh, McCoughtry says, "It's looking limited right now. But let's keep hope alive."
She's reached a point in her life and career where she's content. The commentary, the trade rumors—everything else is just part of the soundtrack to her perfectly imperfect path. "I've basically accomplished everything. All that's left is a WNBA championship," she says. "I definitely want to fulfill that goal, but if not, I'm satisfied with how my career has went."
In a league where stars can be "cored" for up to four seasons, essentially leaving players powerless, McCoughtry is flipping the script. It's rare in the WNBA for a player to call the shots. But that's exactly what she'll be doing from here on out.
"At this point, I'm going to take it year by year," McCoughtry says. "I'm not going to sign any long extension contract anywhere. Right now, it's year by year."
—
Ryne Nelson is a Senior Editor at SLAM. Follow him on Twitter @slaman10.
Photos courtesy of Getty Images and Dynamo Kursk