It's about to be unfair for the rest of the WNBA. Jewell Loyd, Breanna Stewart and the Seattle Storm are coming. The game's most explosive guard and one of its most devastating forwards are only 23 and 22, respectively. Their dominance hasn't started yet, but it isn't even that far off. Their squad is in the playoff race and they're both in the running to bring individual hardware back to the Emerald City this season.
Loyd ran away with the 2015 Rookie of the Year. Stewart's doing the same, even more convincingly. They share an unwavering sense of self and confidence. They're both the ultimate competitors. They both play with overwhelming athleticism. When they're out on the break together, opposing teams have no chance. Loyd uses blinding speed and quick hands to force steals on the perimeter. Before you know it, she's gone, getting an easy two.
Sure, that quickness is something the second-year pro was born with, but she's made it a point to continue to get better at it.
"Understanding the change of speed," Loyd mentions as one of her biggest points of emphasis. "Being able to use my explosiveness when I need to. Make the defense uneasy and unbalanced.
"The game's just slower," she continues. "I'm seeing things earlier and just really understanding the game. Having Sue Bird next to me, really telling me her secrets, has really helped me improve."
She's gotten so much better that she could potentially capture the WNBA's Most Improved Player. Her scoring has jumped seven points, her assists have almost doubled. She almost beat the National Team a few months ago.
She credits getting better to her brother—and trainer—Jarryd.
Jarryd played at Valparaiso from 2004-2008, averaging 7 points and 5 assists for his career. He's now 30 and is the Director of the Loyd Sports Academy, which he and Jewell run together. The pair has spent a bunch of nights in a bunch of gyms around the world.
"Even if my brother wasn't my brother, I'd still think he was one of the best trainers out there," Jewell says. "His ability to understand the game and break things down for each player is something that I've never seen in any other trainer. I've worked with other trainers and I haven't found anyone that's better than him."
Jewell says they watch a lot of film together, detail precise practice-plans and execute them on the court. The attention to the little things is what Loyd says has gotten her into the top-10 in points per game.
Loyd's offense is complemented by Stewart's defense. The 6-4 rookie is putting up over 9 rebounds, 2 blocks and 1 steal a game.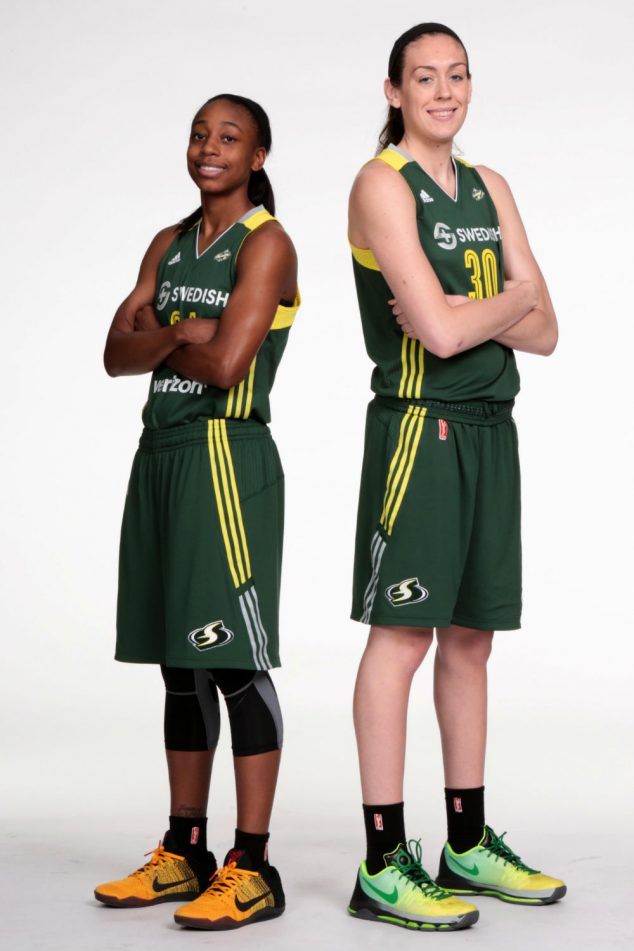 She's quickly adjusted to the speed and physicality of the next level, which she says has been the biggest difference since she came out of the University of Connecticut. Even before she was a Husky, though, defense came easier for her.
"Defense was what I was better at when I was younger," Stewart says. "I hadn't really grown all the way into my body, but I had the timing of blocking shots." She says that when she was growing up, her father would mention the way Tim Duncan controlled the paint, being, as Stewie put its, "disruptive."
"Defense is the most important thing when it comes to basketball," she continues. She learned that from Geno Auriemma, the Hall of Fame head coach at UConn.
"He was constantly just pushing me, motivating me to get better," she says about Geno. "Pushing my limits. Telling me to get into a stance more and more, even if it was a smaller guard that I was guarding. Definitely from freshman year to senior year, I improved wonders on defense."
Her blend of height, athleticism, IQ and versatility has landed her right in the middle of the Defensive Player of the Year award.
More than her skill, thought, it's her desire that's set her apart. She wants to get individual stops. She wants to bring the weak side help for big blocks. She wants to lock down her opponent.
The future is right around the corner for the Storm. And besides possibly winning MIP and one day bringing a 'chip back to Seattle, Loyd has a goal that should terrify opponents even more.
"One of my goals is to eventually get a tip-dunk in," Loyd says.
That would be two teammates being able to come down from the sky. About to be unfair.
"I'm getting there, grabbing the rim two hands easily," she says. "I definitely wanna get a tip-dunk before the end of my career."
245