It wasn't supposed to end this way. On Monday night, the defending Eastern Conference champion Chicago Sky were eliminated by the Indiana Fever on their home court in the third and deciding game of the conference semi-finals.
The Sky were slight favorites heading into the playoffs due to having home court advantage and the current league MVP, Elena Delle Donne. Chicago also manhandled the Fever in the regular season, sweeping them 4-0 and winning by an average of 19.7 points.
So, what happened?
"It's shocking," Sky forward Elena Delle Donne said following the 100-89 loss to Indiana. "We definitely didn't expect to be here and talking about exit physicals and exit meetings."
"I'm pretty shocked."
A lot of WNBA fans are shocked, too. This same Sky team ousted Indiana in 2014 to punch their ticket to the Finals—what a difference a year makes.
Without taking credit from a veteran Indiana Fever team, Chicago's early exit was mostly self-inflicted.
The Sky's second leading scorer Cappie Pondexter was not herself in the playoffs due to missing the team's last five games after suffering a concussion. A 15-point a game scorer in the regular season averaged just 6 points per game in the playoffs.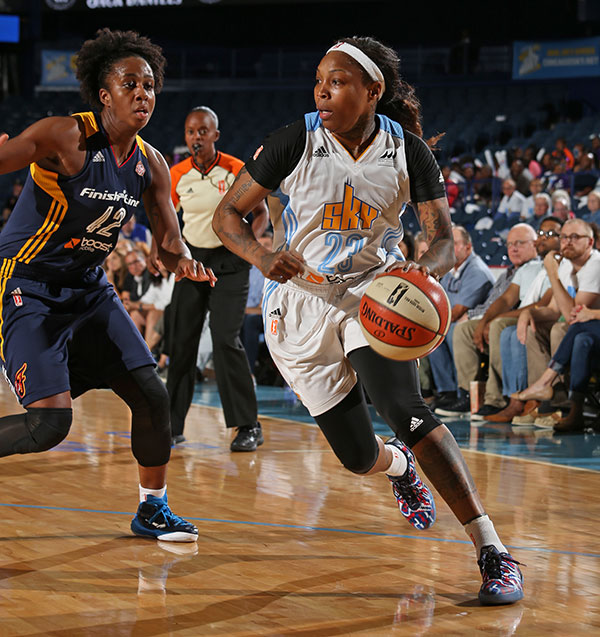 "Not being able to do anything for almost a month and hopping right in the playoffs, it affected me in terms of having to be in shape," Pondexter told SLAM. "That's everything. The game and practice are two totally different paces. I definitely lost that with the month that I was out for the concussion."
Delle Donne was stifled in the first two games of the series averaging just 12.5 points on 33 percent shooting. In game 3 the MVP looked like her normal self dropping 40 points on the Fever while shooting a blistering 68 percent from the field and going 5-10 from three-point range—but it wasn't enough.
To understand what exactly went wrong with Chicago you have to take a look at the defensive end. Throughout the season the Sky lead the league in scoring (82.9 ppg), but were never able to match their defense up with their offense.
Chicago allowed the second-most points in the regular season in the WNBA (78.8). They were also the third-worst team at guarding the three-point line throughout the season (34 percent).
Those bad habits don't magically fix themselves when the post-season arrives.
"Our defense is something that would be up and down and inconsistent throughout the whole season and tonight that showed," Delle Donne said. "You can't allow a team to score 100 points, so that's going to be the focus right from the start next season."
The Fever averaged 87 points per game in their series versus Chicago, 10 points above their regular-season average. In Game 3, Indiana was 10-20 from the three-point line. Chicago's defense was not only bad it was abysmal.
Fever center Erlana Larkins feasted upon Chicago's post players. Larkins put up 3.5 points and 4.2 rebounds per game in the regular season and averages 5.9 points and 5.4 boards for her career. Against the Sky in the 2015 Playoffs she averaged 10 points and 9.6 rebounds.
Chicago's faltering defense and lack of a post presence can be traced back to center Sylvia Fowles demanding a trade in the offseason. Fowles acted as the human eraser for Chicago, cleaning up whatever mistakes were made by wing defenders. Without Fowles in the paint teams can get whatever they want on the offensive end against the Sky.
Chicago's trio of post players Erika de Souza, Clarissa Dos Santos and Cheyenne Parker all bring something of value to the table, but combined they can't bring what Fowles does to the game. Parker has a lot to learn, Dos Santos is a center in a forward's body, and de Souza is past her prime.
Moving forward, Chicago has to implement a defensive mentality in order to make it to the next level and become a championship team.
"I think it starts with me," Sky head coach Pokey Chatman told SLAM. "In terms of emphasizing it more, demanding more, and carrying that to individual players in terms of it starting on the ball. A lot of people like to talk about the end result but it starts with that one-on-one match-up. We're all going to guard the same action, run the same action. You're going to get into a situation where you're closing out on a player and it becomes the basic fundamentals of basketball—close out, help, help the helper, and recover."
With scoring champion, Elena Delle Donne, league assist leader, Courtney Vandersloot, Sixth Woman of the Year, Allie Quigley, and the number seven scorer in WNBA history, Cappie Pondexter on the roster the Sky have their offense in order. They're going to have to get defensive in order to bring a championship to Chicago.
"I think we're solid," said Pondexter. "I like our core. I think we're tough. But individually when you think about defense it's something that has to do with pride and wanting to get stops and stop the other team. It's not about skill level, it's about the person individually."
"Like E[lena] said, we're going to get better this offseason. She told me we're going to win a ring together and I believe that."
133